Convenience has driven people to use more and more numbers of mobile applications to get thing done easily. The in fact, convenience is the key reason behind the success of on-demand mobile apps.

The on-demand mobile apps are providing a comprehensive platform to users for offering the services within the reach of their arms.
While on demand apps are getting popular and reaching their peak, food delivery, and restaurant apps are becoming a huge success.
Perhaps, for this reason, many startups are preferring to come up with a restaurant service business that lets users savor their favorite meal at their convenience, effortlessly.
There are plenty of mobile apps that work to offer and deliver food to the users at their doorstep.
It is with a successful implementation of restaurant mobility solution that makes accepting and delivering orders pretty easy.
Just a few simple taps on the smartphone and users can avail a range of meals to order from a mobile app.
Here are the 10 amazing food ordering apps that work to deliver food to users.
Yelp
Yelp was one of the pioneering food discovery apps on the iPhone, and because of its constant updates and necessary UI changes have kept it afloat from rest of the competition.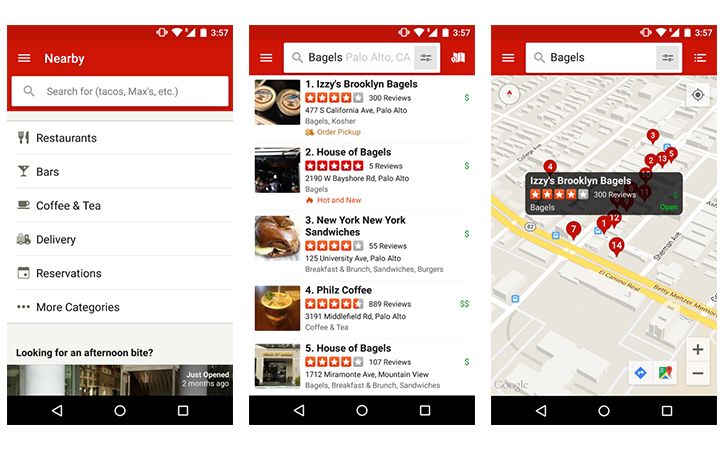 The Yelp application is designed to aid users in accessing all the functional elements that are present on its website.
It includes writing and submitting food reviews, adding other foodies to your Yelp social list, searching restaurants, access to the menus, address and phone numbers.
There are a few exclusive features that come integrated with Yelp app. Some of which includes a FourSquare-like check-in that allows users to share their restaurant location socially.
Also, there is a monocle feature that uses compass and camera to show the location of restaurants with respect to user's current location.

Epic Delivery
Epic Delivery is a dynamic app that works to deliver things instantly to the users. Although not limited to food delivery, this app works perfectly if users want to avail food from the restaurants that do not do a home delivery within the user's area.
The symbiotic mechanism works great for riders who act as a deliverer for delivering orders to the users and earning money out of each delivery.
In that case, the user just needs to locate the address of their desired restaurant and assign a nearby deliverer to pick up their orders and deliver to the desired address.
To make this app work in the desired manner users are required to login and follow the order generation process as guided in the app.
The delivery charges are to be paid but again there are options to pay online and earn cash in e-wallet for redeeming the same.
Eat99
Simply Food offers one of the best options to discover some amazing healthy places for ordering a meal.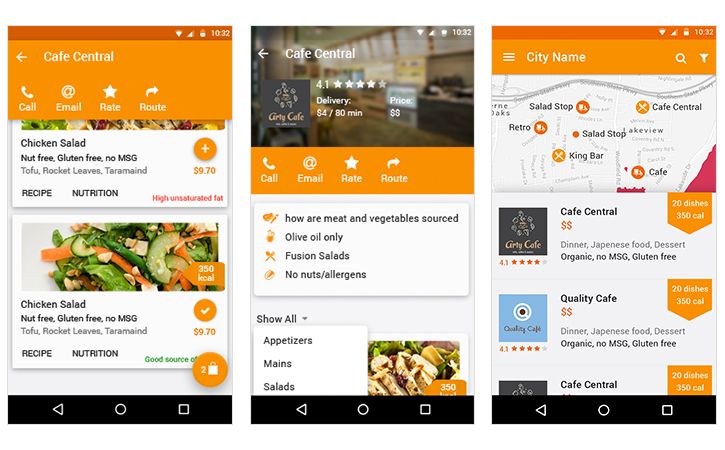 t enables users to browse through its updated menus, check out the restaurant and meal pictures, and also get to know about the other users' reviews.
It makes the entire food ordering task easy and affordable. One can simply decide upon the restaurant to order from or to use map for navigating the nearby restaurants.
One of the unique features about Eat99 is that it provides health and nutritional information about every single dish.
To make the food search easy for users, there are multiple search options that allow them to search restaurants, cafes, pubs, bars, and bistros by location or cuisine.
Users can also look up on the phone numbers and reviews to make the order decision. Eat99 works just perfect for dine-out, Delivery, and Pickup purposes holistically.
Frimb
One of the most engaging mobile app dedicated to sharing recipes with friends, family, and everyone within the social circle.
This app supports a symbiotic arrangement where users can help their fellow Frimb members to in sharing recipes for healthy cooking.
Frimb has a special feature set to notify users as a reminder to cook the desired recipe.
Once logged in with the social account, users can save the recipe making day and add it to their social calendar.
Users can post recipes with images, steps to cook that particular dish, and a list of ingredients to required.
Five OH
Five OH comes with a unique concept to search food within your budget. Because, searching for your desired mean from a restaurant that fits your pocket, or says, the ones which can get delivered under $5 was never this easy.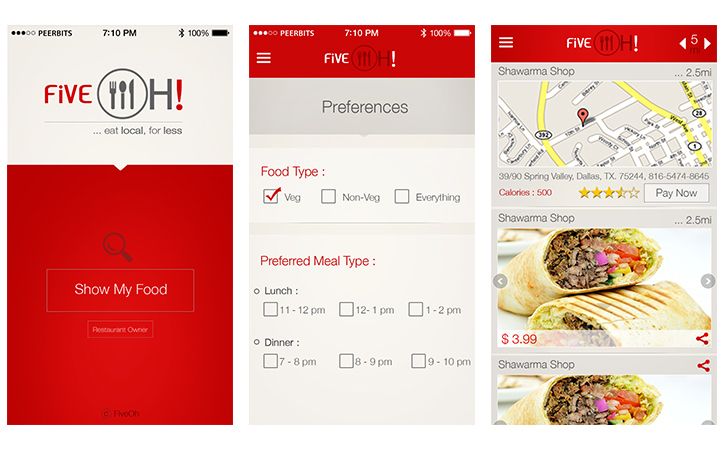 FiveOH is one such food discovery app that lets you define your budget for the meal and helps in finding the same.
FiveOH also makes it easy to locate restaurants along with the relevant information like opening hours, food offered user reviews, address, and contact number.
Food ordering gets easier for users as all they need to do is allow their location of delivery to be traced and FiveOH and the app will automatically search the nearby restaurants with one click.
With a platter full of food apps, foodies are bound to get served with their choice of meals, on their desired location, within their budget.
Mobile app development has had some significant influence on the lifestyle of people and when it comes to food lovers, these users can avail some awesome benefits by using these food apps.
Read More: How to Develop On-demand Delivery App?
Tender
Tender which is also known as the "Tinder for food" presents you with food photos along with their recipes from all the corners of the world.
It has borrowed many features from the popular dating site Tinder. For ex. you can either swipe right to save the recipe or swipe left to skip.
"We believe the art of cooking a meal has been lost by many people due to the fact that it's just so darn easy to pick up food on the way home," says founder and CEO Necco Ceresani.
"Tender helps people discover food again, get excited about cooking." He added.
Moreover, Tender provides you with several filters to obtain accurate food results like dessert, vegetarian, drinks, vegan, and other ingredients and categories.
Onthebar
Onthebar is an application which helps you to get a sneak peek into your city's bar scene.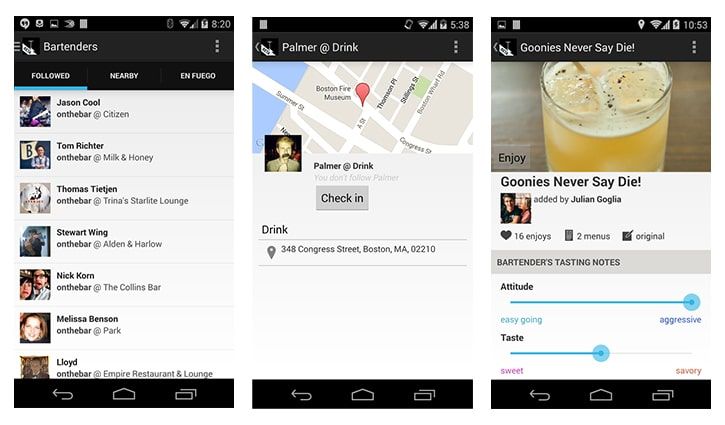 In this app, you will find different people with similar taste in cocktails. The app also keeps the record of all the drinks that you had in a year.
The app plays a pivotal role in forming a community of bartenders and cocktail enthusiasts. In this, the various members of the group share their drink recipes.
"We built [the app] because bartenders are increasingly the face of their bar, so it seemed natural that they have a tool that empowers them and gives them a digital home," said Ian Stanczyk, Founder, onthebar.
Kitchenbowl
Kitchenbowl is a platform for all the people who love to cook different dishes.
This platform allows people to learn various dishes in a step-by-step recipe along with photographs and GIFs.
The app also allows users to share and bookmark their recipes.
The goal of Kitchenbowl is "to make cooking fun, attainable and addicting," said Ryan Waliany, cofounder.
"We believe that people can be healthy, save money, and spend more time with their families by making an intentional decision to cook." He added.
In addition to all the above feature, the application also organizes seasonal recipe contests where anyone can participate and win exciting prizes.
FoodGawker
FoodGawker can be termed as the Instagram for food. People can find their favorite recipe through a curated photo gallery.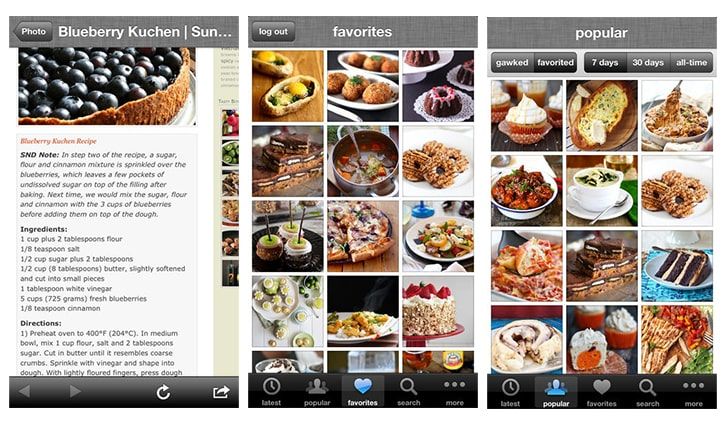 According to their website, FoodGawker receives photos from food bloggers all around the world. They feature the top photos to inspire culinary adventures.
FoodGawker has been here for quite some time. It started in 2013, but saw a major change in its design all thanks to the advent in the Restaurant mobile app development.
The newer version added many features such as infinite scrolling, enhanced search feature, and ad-free app.
The app also allows its users to use the test the enhanced features before purchasing the premium version.
Moreover, users can add notes to their favorite recipes which helps them to organize all their favorite recipes.
Uber Eats
After gaining immense popularity as a taxi aggregator service, Uber has now come up with its food delivery application, Uber Eats.
This app allows you to order food from the restaurants nearby your location.
You can narrow your search by using various filters of food types, restaurants, cuisine, and many more.
You can pay for the delivery directly from your existing Uber account. You can pay via cash, card, or wallet.
One major advantage of Uber Eats is that you can use it even when you're abroad. Its services are available in the selected cities of many countries.
Conclusion
The advent of mobile applications has transformed all our life's aspects and food is no exception.
If you're a foodie then there are many mobile applications available that will satiate your hunger and will allow you to explore dishes of all varieties and tastes.
Peerbits is a top-notch firm when it comes to development of restaurant mobile applications.
We have developed many food applications for our clients. Eat99 is one such comprehensive food app that has all the features one foodie would look for.
The 10 food applications mentioned above shows what kind of a demand they possess in the market.
So, if you're an entrepreneur then it's the best time for you to build an app and to taste some success.