Change is the only constant in the world of on-demand apps. Occasionally, it comes in the arrangement of passing trends, and at other times—out of nowhere. The invasion of AI chatbots is everything but a passing trend. After all, automated business processes and systems that support customer service is the need of the hour.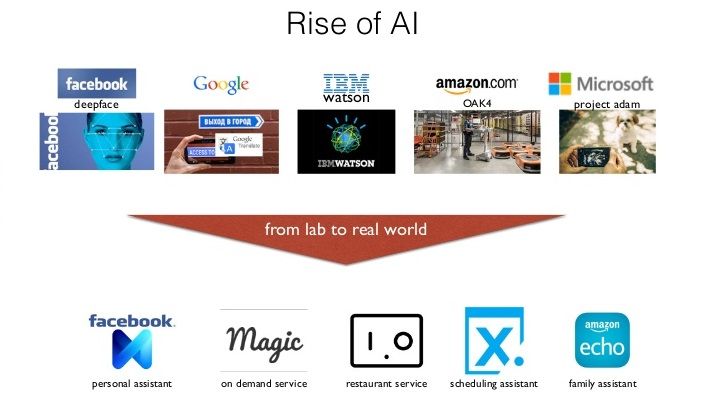 The prime motto, unquestionably, is to deliver improved shopping experiences and modernize a huge matrix of networks. Some folks even go as much as to say that chatbots are the future of the entire industry, which, as you will see, is not so implausible.
When was the last time you had a chat with a chatbot, do you remember? That's because chatbots have reached to a level of sophistication that they are inseparable from a human chat agent.
Whether you're talking to a chatbot in plain clothes or one disguising as a human, if you're not looking closely, it is least likely you will notice the difference. At most instance, they are impressive and natural in their conversation. Chatbots app development has immense potential.
Changing courts
A chatbot is a robotic program that imitate chats, answers questions, and handles specific requirements. As such, it mimics human intellectual and decision-making skill. Chatbots have been for long time now, but it's only recently that they have gained the capability of self-improvement through self-learning.
Certainly, the pace of technology-advances drives a widespread adoption, but the sudden growth of on-demand economy that forms the basis of concepts like uberisation remains a mystery.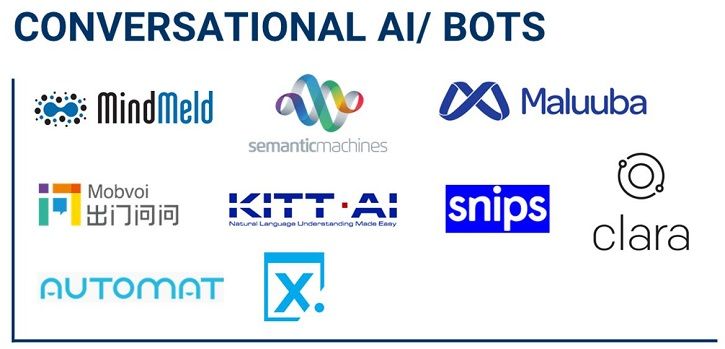 However, on-demand economy and adjoining services demand services are moving at the pace no human is capable of. While we are still far from the time when a robot handyman could fix your faucet or that leaky ceiling that drips every rainy day, a chatbot is just an entry point to the world of instant provisioning of services be it delivering grocery home, asking a doctor for instant consultation, or a calling human handyman home.
Apparently, a few messenger bots have been developed to achieve this.

Explicitly, the explosion of chatbots is powered by everchanging consumer outlooks and likings. Clients expect lightning-fast reply times and want the buying method to play out nice and simple.
Besides, the outpouring in mobile ecommerce has elevated the bar as organizations need to house ever higher amount of traffic. Chatbots have emerged as a crucial tool here, one that lets businesses to lure clients one-on-one, in a bespoke manner.
The Uber for everything example-interleaving the future
A minimalistic app called Uber has emerged as the easiest way to hail a taxi. A user requests a cab with the app, Uber app directs the requests to one of its driver partners, who upon accepting the ride picks the user from where he is standing and drops him where he wishes to go.
Read more: Improving customer service with chatbots
Uber also allows you to choose sedan over a hatch and SUV over a premium. But Sam wants to hail his girl's favourite a Yellow Mini Cooper to pick her from the airport, moreover it wants the driver to pick flowers from his florist and pasta from his favourite takeaway joint. On the way home, he wants to pick grocery.
Neither Uber nor one of its clone apps is capable to honour these many diverse demands. Moreover, no driver would agree to do that for you. Perhaps, with Uber going full self-driving mode in the future, this might be a possibility.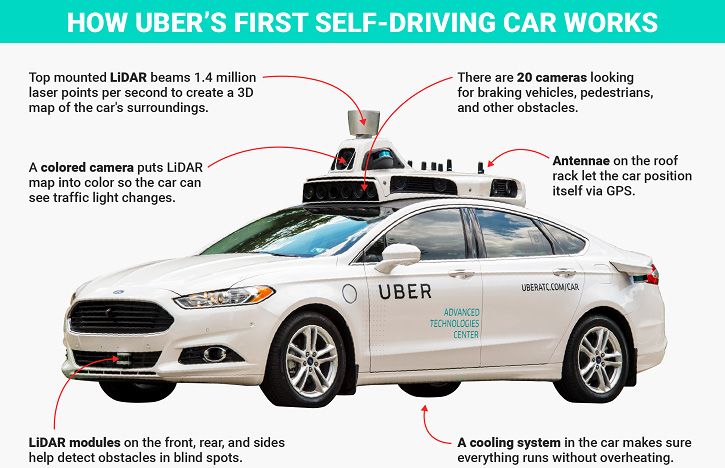 The deployment of a chatbot in the app will allow the user to chat with a friendly dude who is more than willing to help. The chatbot thanks to capability like Artificial Intelligence (AI) and Natural Language Processing (NLP) can converse like an average Joe and can honour many demands at once and provision each demand to a separate app or a functionality inside the same app.
The chatbot with the help of app integration could order pasta and grocery on Sam's behalf. The chatbot with the help of a linked app delivers flowers to Sam at the airport itself while the Yellow Mini Coopers is waiting at the airport parking.
In a nutshell, chatbots enable open-ended on-demand apps unlike the current iteration of apps.
Teach like a child
Artificial intelligence is at the core of the best chatbots, and nowadays, AI is able to process an immense flow of information from literally millions of requests.
At the same time, it comes up with meaningful responses and product recommendations as well as comparisons. How is this possible? Well, chatbots harness the acquired pool of information and feedback to improve conversations and facilitate payment processes. Deep learning technology enables them to grasp specific concepts such as product names and pictures.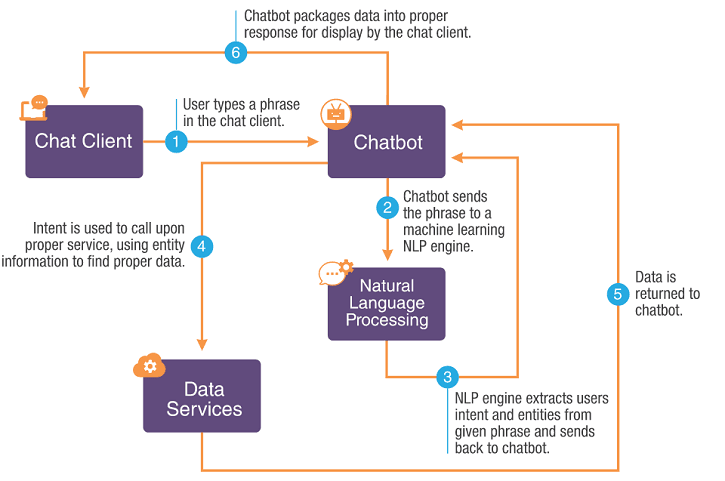 It goes without saying that data is the key to the evolution of chatbots and that it is growing beyond the wildest imagination. By feeding the algorithm with enough data, one can empower bots to stay on top of new requests and offer correct (pre-registered) answers.
Thus, we are moving beyond static data sets and entering the territory of constant refining and fine-tuning. That is why ecommerce businesses have to invest in machine learning infrastructure and perpetually gather and process new data.

AI architypes
Bringing chatbots is comparatively cheap, but developing highly efficient bot is on the upper side. To hit big, one has to be supple and take benefit of state-of-the-art chatbot technologies such as natural language processing (NLP). NeuraFlash, for example, has created a super AI chatbot that uses NLP to understand text patterns.
Many companies with a busy customer desk employ chatbots. FedEx has developed an Alexa app that lets users track packages with a voice command in the direction of Amazon Echo. Mitsuku, in contrast, is the present winner of the Loebner Prize, an annual competition in artificial intelligence that awards prizes to the computer programs considered by the judges to be the most human-like.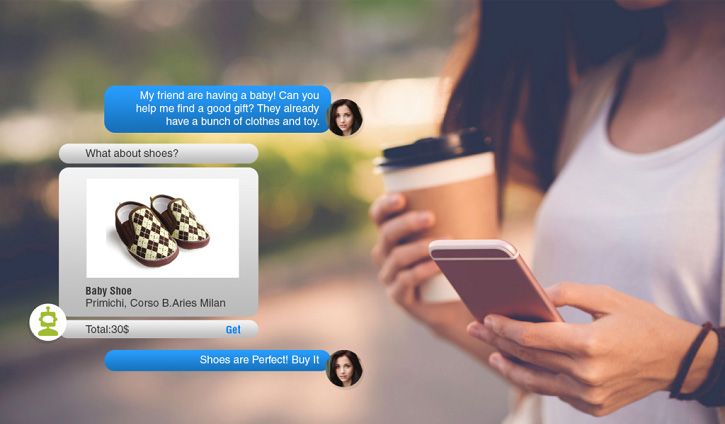 Mitsuku has also cleared the Turing test, a test of a machine's ability to exhibit intelligent behaviour equivalent to, or indistinguishable from, that of a human.
When limitations meet possibilities
The on-demand sector has taken note of it as well. Now corporations go all-out to combine digital and physical experience into one combination. They identify the prospect to enhance productivity and lessen costs. Chatbots are not a replacement to your gimmicky piece of technology.
They need the right background to comprehend client needs and ensure a right response. On the other hand, they must be built around the axis of UX and UI Design and support deep integration into the backend framework of an on-demand service.
One of the major limitations of chatbots is the inability to accurately empathize. Likewise, some people are purely tired of 'talking' to bots. That is why an on-demand business will have a human replacement prepared to jump in. This carries us to the idea that chatbots can neither replace humans yet nor websites and apps are.
In addition, they need education by people through machine learning. Nevertheless, they are an implausible strength to a multichannel chat approach and an authoritative automation tool.
What future holds?
Chatbots are ready to rock the centre of on-demand economy. They will change the fate of the industry, bringing info quicker and more proficiently than humans do. Hence, several companies are in a place to enter into unchartered territories markets and discover buying prospects.
Chatbots, however, do not produce results by their mere existence: They must aggressively contribute to the struggle of bringing customer service and experience to the next level. Lastly, they may not be perfect and best capable to tackle ordinary and boring tasks, but once they start understanding emotions, there is not limit.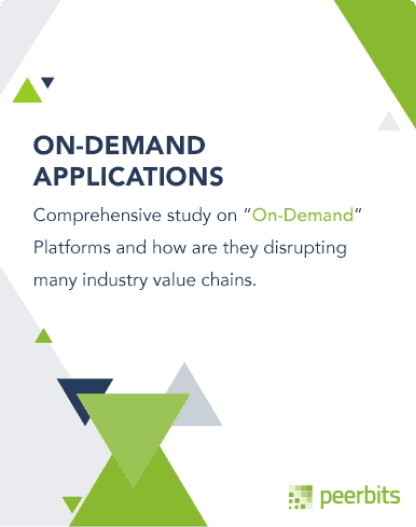 A complete guide to on-demand mobile app development
Switch from a traditional business model to an on-demand one and start valuing your customers' time and efforts.
Systematic process to enter the new economy
Interesting statistics on on-demand economy
Limitation, bottlenecks and potential threats
Tips and recommendation for SMEs and startups