The on-demand economy has been a game-changer since its inception. It has played a major role in making our lives comfortable by providing services and products at a swift pace, top-notch security, and sheer convenience.
It has disrupted many industry sectors viz. transportation & travel, food delivery, healthcare, e-commerce, professional services, and fuel delivery. In this blog, we are going to focus on fuel delivery.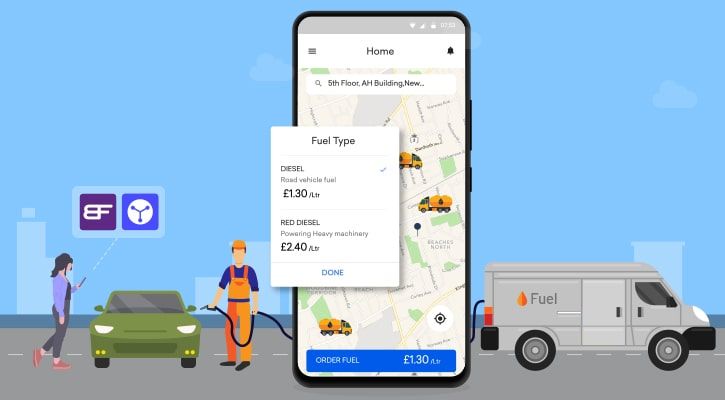 There's no doubt that vehicle fuelling is one of the most loathed activities that we all want to get rid of. If all the activities were days of a week then fuelling would probably be a Monday! No one wants it but has to go through it anyway.
Fuelling becomes even more irritating when there's a long queue. Such long queues can often eat up your time causing you to reach late at an important event.
But all those experiences will be soon in past as on-demand fuel delivery apps are emerging in different parts of the world to solve this problem once and for all. They are here to make fuelling convenient, fast, and cheap. But what exactly is an on-demand fuel delivery app? Let's dive deep into it.
What is an on-demand fuel delivery app?
An on-demand fuel delivery application allows the users to order fuel for their vehicles directly from the app. With an on-demand gasoline application in place, the users no need to wait in the long queues of fuel stations.
No matter, where they are: gym, office, home, or in the middle of nowhere, all they have to do is just make a few taps on their smartphone and the fuel will be delivered in a short period.
Once delivered, the user can make payments via multiple payment modes like cash, card, wallet payment, and many more. A fuel delivery application offers an easy, convenient, and cost-effective way of fuelling.

As mentioned earlier, on-demand fuel delivery applications are emerging from all corners of the world namely Booster Fuels, Yoshi, Filld, WeFuel, Cafu, Fuelster, and Zebra Fuels. And why not? The present time is most suitable for on-demand start-ups.
According to a report, total income from all the on-demand sectors was only $14 billion in the year 2014, which is all set to skyrocket to a whopping $335 billion by the year 2025.
In this blog, we will focus on Booster fuels and Yoshi. We will also show you how you can build your own fuel delivery apps like Yoshi and Booster. But first let's have a glimpse of Booster and Yoshi's journey until now.
What is Booster Fuels?
Booster Fuels is a start-up based in California which was founded by Frank Mycroft, Tyler Raugh, and Deigo Netto in the year 2015. Booster fuel delivers fuel to commercial fleets, universities, campus-based companies, and real estate owners.
Booster Fuel began as a huge success as it delivered more than 3 million gallons of gasoline to all its users in the Dallas-Fort Worth suburbs and San Francisco Bay.
Not only that, Booster Fuels also received $3.1 million in a funding round from a venture capital firms in 2015. In the next year 2016, they raised even bigger amount worth $9 million in a Series A funding round from Version One Ventures, RRE Ventures, Maveron, and Madrona Venture Group.
In 2017, the company had raised $20 million in the funding round, which was led by Conventional Capital. By 2019, Booster had completed its Series C funding by raising an additional amount of whopping $55 million.
Booster provides its services to tens of thousands of users who work in more than 300 companies which include some big names like Cisco, eBay, Facebook, PepsiCo, and Oracle.
Booster Fuels uses bright-purple-colored trucks that are manufactured on Isuzu chassis that are customized by SkyMark. The Booster Fuel trucks are modeled after the fuel trucks that carry jet fuel at the airports.
These trucks are much smaller than the refueling trucks we see at the gas stations. They are able to easily maneuver through any parking space.
The truck carries around 800 gallons of regular unleaded fuel. It has the capacity to carry 400 gallons of premium fuel and can fuel a vehicle within the period of three minutes.
What is Yoshi?
Yoshi was founded in 2015 and it first started its operations on the roads of Palo Alto. Later that year, they expanded their services to Nashville. The next big change came in 2016 when Yoshi was accepted into Y Combinator.
With this, Yoshi transformed from a fuel delivery start-up to a service that delivers all that a car needs while it's parked.
These additional services included car washing, swapping of wiper blades, oil change, and many more.
By the start of year 2017, Yoshi had partnered with ExxonMobil and GM. In later part of the same year, it had raised $13.7 million in Series A funding from ExxonMobil, GM Ventures, and Kevin Durant.
By the year 2018, Yoshi had launched its services in the ten states and is looking for a rapid expansion of services.
How to start your own on-demand fuel delivery business?
We just saw the journey of both Booster Fuels and Yoshi. Now let's see how can you set up your fuel delivery business. To start a fuel delivery business in any corner of the world, you must follow the 3 below steps.
Feasibility test
Carrying out a detailed feasibility study is the first step of the Fuel Delivery Business plan. This feasibility test helps you to identify all the components that you would need to build a profitable and sustainable on-demand app business.
It helps you to identify all the cheaper alternatives to buy fuel. It also helps you to determine the easiest way to market your product.
Business compliance
Fuel delivery is a business that requires a lot of compliance from the authorities. Firstly, you would need to have an official registration of your business. Secondly, you must have an official account of your company.
In few countries, you might be also asked to obtain permit and license to run your business. Just ensure that you check all the state laws and obtain all the necessary documents like licenses and permits along with completing all legal formalities before beginning your services to avoid any legal hassles.
Read More: Why develop a mobile app for your business
Business plan
The next step is drafting your business plan. To set up a fuel delivery business, you would require capital and for that you need to convince banks or investors to loan you the money.
The business plan that you define serves as a guide for your business. Hence, it makes easy for anyone to join your business as a partner.
Investment
Investment is a crucial step in setting up your on-demand fuel delivery business. It's because of the simple fact that you need to have money to buy fuel and supply tankers before you actually start delivering them to your customers.
Talking about investment, there are mainly two types of investments. At first, you would need money for the in-house operations such as fuel delivery app development, office expenses, fleet building, etc.
Secondly, you would need money for all the delivery-related expenses that include procurement of fuel, purchase of delivery trucks, manpower, and other miscellaneous expenses.
Build the fleet
The next step is to build your own fleet. You must ensure that you have the required minimum number of supply tankers that can offer the fuel-delivery services without any hassles. It's because, even if you get a deal for fuel supply but you don't have supply tankers, then you would lose customers.
Market your business
Marketing of your service is one of the crucial factors that determine the success of your business. Marketing of your fuel delivery business is important as you need to have a presence among your rival gas stations.
You need to reach out to your customers and show the benefits of using your fuel-delivery services instead of going to the gas stations. One major marketing benefit of fuel delivery business is the presence of a fuel-delivery app that itself acts as a marketing platform for your services.
Features that you must have in your fuel-delivery application
To ensure that your fuel –delivery business skyrockets, it's essential to have a feature-rich fuel-delivery app. The software for the fuel delivery business consists of three applications: 1. Customer app, Driver app, Admin panel.
We'll have a look at all the must-have features of all these three applications.
Customer app
Instant ordering: - Customers can instantly order for fuel delivery by simply entering information such as fuel type, quantity, and vehicle location on the fuel.
Scheduled delivery: - With this feature, customers can schedule their fuel delivery by setting the date and time as per their convenience.
Price estimator: - The customer can get an approximate cost before they confirm their order of fuel delivery.
Track your order: - The customer app also lets the user for the real-time tracking of their fuel delivery order.
Multiple payment modes: - Users can pay via multiple payment modes such as cash, card, and wallet.
Manage history: - Users can view and manage all the past and current fuel delivery orders directly from the customer application.
Ratings & reviews: - Customers can also share their experience by giving ratings and writing reviews about the fuel delivery service.
Driver app
Availability status: - The driver app has the feature of availability status which allows them to switch their status from online to offline and vice-versa as per their convenience.
In-app navigation: - The driver app is integrated with Google Maps which makes navigation simple and accurate.
Driver dashboard: - The driver can view information such as completed deliveries, earnings, scheduled and current bookings on a single screen.
Real-time requests: - The drivers receive requests in real-time on their driver app from various customers and dispatchers.
Generate invoice: - With the driver app, the drivers can accept the payments and generate the invoice.
Rate customers: - The driver app also allows the drivers to rate customers by rating them and writing reviews based on their delivery experience.
Admin panel
Admin dashboard: - An interactive admin dashboard that displays all the vital information in detail on a single screen.
Manage booking: - The admin can manage all the bookings by monitoring deliveries and making necessary modifications in the booking details.
Manage price: - Admin can manage and change pricing of different fuel types from the admin panel.
Fuel tankers: - Admin can also manage all the fuel tankers. He can see which tanker is assigned to which driver.
Reports and analytics: - Admin receives data-driven insights from reports and analytics that helps him to take important business decisions.
Manage payments: - Admin can manage their commission and driver's payment without any hassles.
Looking to develop a fuel delivery app like Booster and Yoshi?

Click here to get one
How much does it cost to develop an on-demand fuel delivery app
After knowing about all the must have features, I am sure that you're looking for the answer to the most important question – How much does it cost to develop a fuel delivery app?
We'll try to answer that question too. The cost of fuel delivery app depends on various factors such as design, features, app size, platforms, technology used, developer's rate, front end & backend development.
Read More: Cost to develop an on-demand delivery app
However, if you're planning to develop a fuel delivery app like Booster or Yoshi that includes all the above-mentioned features, then it would cost you in the range of $30,000 to $65,000.
Conclusion
The on-demand economy has transformed many industry verticals and fuel delivery is somewhat the latest industry to witness its effect. With various companies like Booster and Yoshi emerging as leading fuel-delivery businesses, the time is right for you to invest in your own fuel delivery solution.
This blog serves as a guide for you to step in the fuel delivery industry as we have mentioned about the industry leaders like Booster Fuels & Yoshi and their journey until now.
We also mentioned what steps you need to follow to set up a fuel delivery business of your own. This is followed by the list of must-have features that your gasoline delivery solution should have. And at last, we also determined the approximate cost of app development.
I hope you liked this blog, for more insightful content stay tuned to this space.