Uber was a huge success. Many perceive it as a landmark transformation in the taxi business vertical. However, there's so much more to it. Uber's success was a testimony to the fact that the on-demand business model is the future. Its success gave entrepreneurs the confidence to invest heavily in the on-demand business models to disrupt several industry verticals.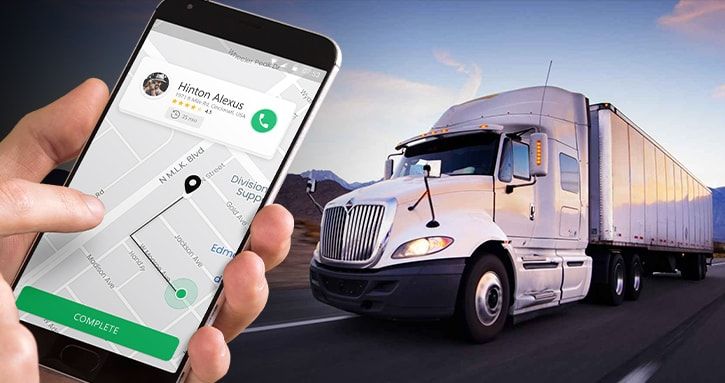 Uber for trucks is just an emulation or uberization of the truck transportation business. And in this article, we are going to discuss the same. We'll discuss in-depth about all the aspects of developing your own truck app. But before that let's have a look at a few of the most popular Uber for trucking apps.
Popular Uber for trucking applications
uShip
uShip is a popular online freight marketplace for drivers and shippers which facilitates all kinds of shipments. To get an item shipped, the user has to post it on the uShip app. The transportation services providers then place their bids to haul those shipments.
uShip works with all types of carriers, irrespective of their specialization, and also cooperates with both solo trucks as well as the large companies. uShip comes with several features like real-time notifications & tracking, price estimates, in-built payment system, and many more.
Cargomatic
Cargomatic is a California-based company that connects shippers with truck drivers. It allows planning of delivery with competitive prices that are based on various factors like size, weight, and distance of cargo. Users can also select the drivers based on their reputation, financial security, driver's rating, and equipment.
Cargomatic has two apps:
The Cargomatic financial securityenables the drivers to apply for jobs, check supply availability, look through the road, and send documents through emails.
Similarly, the shipper app also allows the shipper to view shipment history, call driver via the app, and give ratings to drivers.
Cargomatic service has mobile applications on both the platform: iOS and Android, along with a web application.
Convoy
Convoy is a Seattle based online marketplace for both drivers and shippers. In this, the mobile application is only available for the drivers. Whereas, the shippers have to sign up through a website version of the platform.
Convoy collaborates only with those tracking companies that have a DOT number & insurance and motor carrier authority.
Convoy offers drivers various opportunities like suggestions to detention pay requests, keeping trucks full, and many more. Furthermore, the solution also shows accurate pick-up and drop-off time which eliminates the need to wait for hours near the warehouse.
Read More: How to build a seamless logistics transition business?
How to develop an Uber-like app for trucking?
If you're looking to create an Uber trucking app, then it's imperative to hire a reputed mobile app development company. You have to cooperate and work closely with the professionals to get a robust Uber freight application. Moreover, there are many other things that you need to consider for building your own Uber freight application which we are going to discuss below.
Decide the type of application you want to develop
For this, there are two main scenarios:
You own a logistics business and have your own fleet of trucks. Now, you wish to streamline operations and scale your business with the help of a solution.
You want to build a marketplace that connects shippers with the carriers.
Uber Freight is just like an Uber for trucks – a marketplace that helps the shippers to easily get in touch with the carriers in the nearby areas.
Find a reputed mobile development company for your app
This is a very crucial step as it largely determines whether your business will turn out to be a success or not. It is because if a reputed company can develop a superior app that would be easily navigable, fully-featured, and user-friendly.
That's why it's important to conduct deep research for hiring any company. You must view their previous client testimonials and other portfolios to get an assessment of their caliber.
Idea validation
Once you have hired a proficient mobile app development company that is suitable for your business. The next step is to validate your business idea. For this, you have to conduct deep market research to see if your application can sustain in the market.
Also, you can see if you can deliver better results with the help of small tweaks in the app. This step is critical as it ensures that all your investments and efforts won't go in vain.
Decide on features that you want to incorporate into an MVP
A minimum viable product (MVP) is a compressed version of the application that has just enough features. You can incorporate all the must-have features in the MVP. After that, you can launch the MVP to obtain both negative and positive feedback. This feedback helps you in making crucial changes that give the shape to the final product.

Must-have features for Uber for trucks app
The Uber trucking app consists of three different applications.
Driver's app
The main objective of the driver's application is to enable carriers to fill their trucks with cargo and to facilitate seamless transportation to its destination. To achieve this, you must add the below feature for your Uber truck driver app.
Registration
For registration, you can go for various options. You can either go for traditional email registration or offer registration through social media accounts. You can also provide credentials to each individual carrier after the carrier is approved by you to make the deliveries.
Shipment details
This feature helps the drivers to view all the important cargo information before they accept the shipment such as dimensions, weight, type (fragile or spillable), date, pick up & drop-off location, time of pick-up and delivery.
Filtering and sorting
You must ensure that all the shipment details are easily sorted. With this feature, the carriers can filter shipments by type of cargo, date, pick & destination location, and many more.
Request cancellation
This feature enables the carriers to cancel the shipment in case of an emergency or accident.
Route optimization and tracking
This feature helps the drivers to track the routes in real-time. Furthermore, it also enables them to adjust their routes as per traffic, accidents, or road repairs. These adjustments make the delivery of shipment faster.
Proof of delivery
Once the carrier transports the shipment, they have to present proof of delivery to the shipper. With this feature, they can simply upload the document or a photo.
Shipper's app
The prime objective of a shipper's app is to facilitate shippers to locate trucks in their nearby areas. To create a robust shipper's application, you must have the below must-have features.
Registration
Like in the driver's application, the shipper's app will also have the registration feature. In this, you can offer simple registration options via social media accounts and email for both individuals and businesses.
List of vehicles
This feature shows the list of all the available vehicles that are present in that area along with its necessary details.
Instant and scheduled booking
You must allow the shippers with flexibility as far as the booking is concerned. It's because many shippers prefer to book beforehand. This feature will allow shippers to make scheduled as well as instant bookings.
Read More: Technology stack and cost of a logistics and transportation app.
Notifications & alerts
This is a critical feature as it reminds the shippers about the date and time of shipment delivery. Moreover, it also notifies the shippers when the cargo is finally delivered.
Multiple payment options
Offer your shippers with multiple modes of payment such as e-wallet, cash, and card to make payments for the service.
Ratings and reviews
With this feature, the shippers can rate the carriers as per their shipping experience. Ratings also help you to determine the performance of all carriers and the satisfaction level of shippers.
Real-time vehicle tracking
This feature enables shippers in real-time tracking of all their vehicles that carry the shipment.
Admin's app
This application helps the app owner to keep track of all the things that include: carriers, shippers, trucks, cargo and many more.
Dashboard
The dashboard displays all the important information about the vehicles, shippers, carriers, and orders (pending & completed).
Track drivers
This feature allows the admin to track the location, products in the shipment, estimated time of delivery, and many more.
Bill management
Manage bills with utmost ease by verifying and approving invoices generated through the application.
Notifications
With this feature, the admin can send important notifications to the carriers in regards to change in delivery location, routes, etc.
How can you monetize your Uber truck app?
There are several ways to monetize your Uber trucking app. The most common and widely used is of targeted advertisements. However, you must understand that too many advertisement banners on the application might annoy your customers as it can hinder the user experience.
One common and effective way of monetizing your app is via charging a commission for money transfers. To implement this, you would require incorporating a payment gateway in your application.
To stay ahead of the competition, you must regularly study your competitor's commissions. For example, Cargomatic charges around 20%. Similarly, Uber Freight commission charges are based on distance.
Another key aspect of monetizing is choosing the payment solution for the project. While choosing you must consider all the security issues pertaining to payments and ensure that your app is safe for the clients to make payments.
One simple way you can achieve this is by integrating existing solutions that possess high reliability. PayPal, Stripe, and Merchant Accounts are a few of the payment gateways that you can consider.
Furthermore, you can also provide some paid features for both drivers and shippers. You can offer features like 24×7 chat support, multiple language support, push notifications, and many more.
How much does it cost to develop an Uber for trucks application?
The cost to developing an Uber for truck application depends on several factors such as:
Complexity of app
No. of platforms
No. of actors
No. of hours
Hourly rates
Technology stack

According to our estimation, it would take around 4 to 6 months to develop such an app. We can break down this timeline to determine the time required for the completion of various components such as: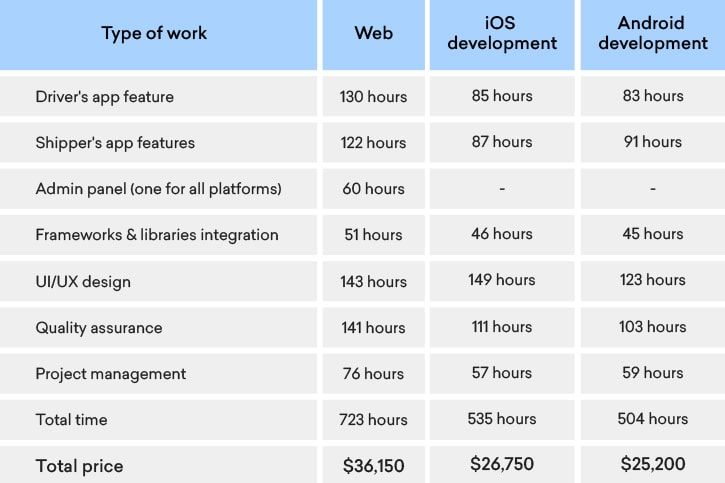 Here we have considered the average hourly rates at $50.
Conclusion
An Uber for trucking app can transform your trucking business. You can manage your fleet, carriers, and shippers effortlessly by eliminating all the hassles. Similarly, you can start a marketplace that helps carriers to connect with shippers.
There are many things that you must consider while developing an Uber for truck app. In this article, we have tried our best to highlight all those with great detail. We saw the steps that you require to develop your Uber for truck app. Then we saw the must-have features of the application. We also saw how you can monetize your application and at last, we saw the cost estimation.
I hope you got all the information pertaining to the development of Uber for truck app. If you're looking to develop one for business then do contact us.