What e-commerce was to the product industry, Uberisation is to service industry. While the concept of marketplaces has been around for a while now, it never really took off.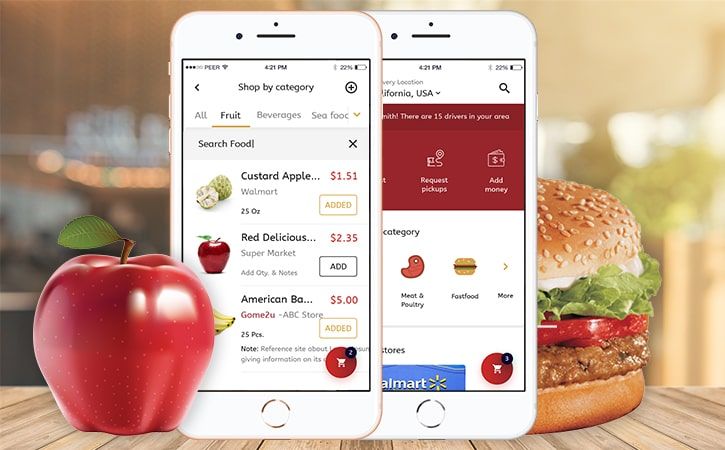 That was before smartphones came. and the era of On-Demand App Development began.
In case you're unaware, marketplace is a platform that connects buyers with sellers, customers with service providers, job seekers meet employers etc.
So the question arises what benefits do marketplaces get in facilitating the trade between the two ends of a supply chain?
Well, there are many: they receive good traffic on their website, they can make a lot of money with website ads and they can always take a cut whenever a trade happens on their platform. Consider on-demand delivery apps as fast-paced marketplaces.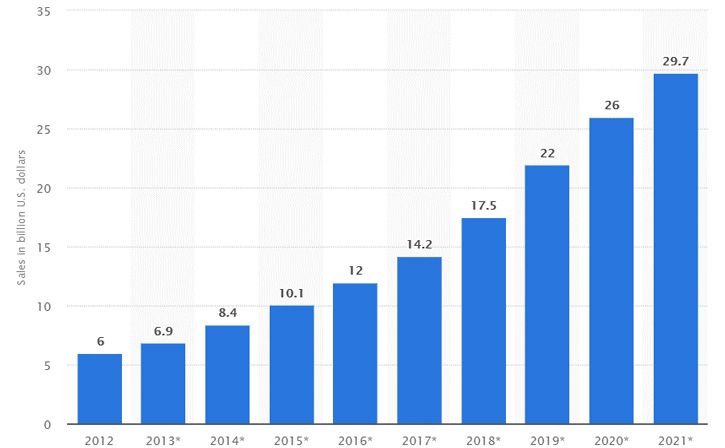 Grocery app US market growth
The grocery mobility solutions such as Instacart, Grofers and Bigbasket have already made a huge impact on the on-demand grocery market, hence there is no confusion in saying that future of the grocery delivery mobile apps will continue to bloom in the coming years.
Uber for x concept: demand and supply
Uber for X model is the biggest driver of the sharing economy and is, itself, a superset of the on-demand economy.
A minimum of two players are part of the model, which is similar to marketplace, except users expect instant provisioning of their demand. At the end of the what matters is delivery, instant delivery in this model.
An Uber user demands a car at his location. An UberEATS user demands food at his home.
An Urbansitter user demands baby sitter and TaskRabbit user demands a plumber or electrician.
So two things are important in this model–what and where.

Contemplating delivery apps in on-demand economy
If you look closely, Uber for X model isn't just about what and where. There are many crucial aspects to it.
The most important is when. If I the plumber comes a week later or the baby sitter comes tomorrow, there is no point of calling them at all.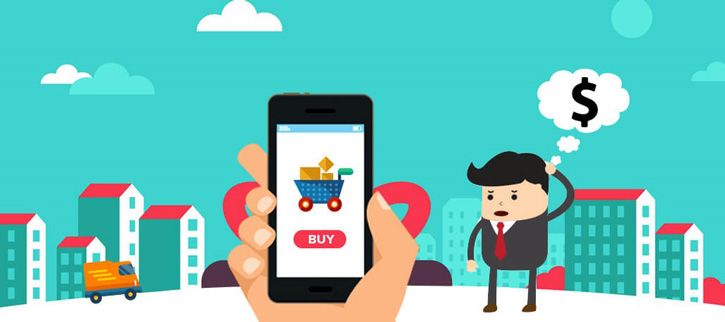 That is, I want a plumber within 30 minutes at my office or I don't. This is the whole point why instant delivery of people and things is so important in on-demand economy.
Another aspect is how. How happy are your users with the service? Doesn't Uber ask you to rate its service on a scale of 1-5 every time you take a ride?
What does it take - on-demand grocery delivery?
For instant provisioning of demanded person or thing, you must rely on local suppliers and service providers.
In case of grocery delivery, you have to strike a deal with a number of grocery store owners in each locality in your service area.
You can ask them for discount over marked price or commission over customer's billed amount.
In addition, you have to find a local delivery agency that would deliver the demand thing to the customer's place.
They charge a fixed rate for each delivery or a percentage of the bill amount. To subdue the charges of delivery agency, you can add delivery charges to a customer's bill.
Typical features of an on-demand grocery delivery app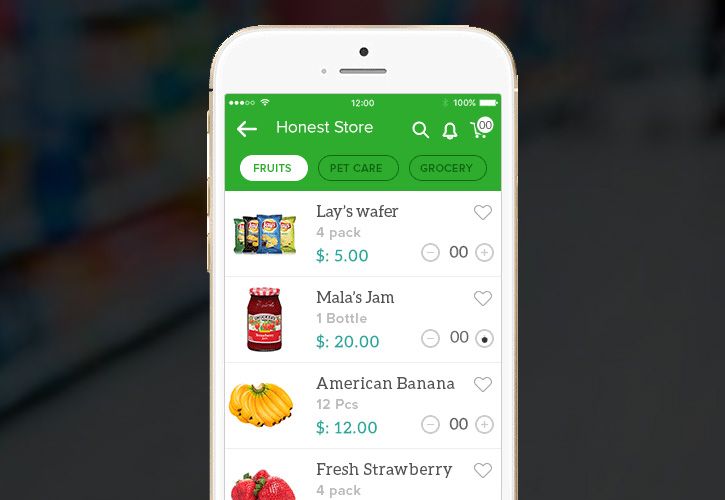 While most of them the same features as on any other on-demand apps there are few that are composite to on-demand grocery apps.
And like any on-demand app the user has to specify What, followed by where. However, the app needs to know Who, who are you?
Read More: Set up an on-demand grocery market?
for the app to identify the person ordering groceries and contact him in case of an issue
Sign up
Sign in
User Profile
Forget Password
Facebook Login
Edit Profile
Verify email and phone number
Who—to learn the customer's demand and how he would like to pay for it.
Order Menu
Product Search
Search Filters
Search Suggestions
Quantity counter
Shopping Cart
Checkout
Discount Coupon
Payment Gateway
Who—what is the location where customer wants the demanded person or thing
Customer's Location
Address Search
Switch delivery location
Set Favorites
Pin Address on map
Who—in how much time does the customer expects the delivery
Pick Time Slot
Express Delivery
Track delivery person
Contact delivery person
Cancel Order
Who—are people happy with the services, supplier or quality? If so, how much?
Rate Services
Rate Delivery Boy
Rate Product Quality
Write a review
Support and Help
What are technologies involved?
Why do users prefer grocery apps over a grocery store?
Convenience
One of the biggest reasons to use a grocery shopping app is the convenience that it provides to its users.
The users now don't need to go and wait in a queue of the grocery store. They can just order anything from their smartphone and it will be delivered to their doorsteps in a short period.
Time saver
If you've a day job then going to grocery becomes a frustrating task. It's because it could waste your entire evening as it requires you to travel to the grocery store, check things out, pick it up, and then travel back to home.
However, with a grocery delivery application, you can do your grocery shopping by just sitting at your home.
In just few minutes you can order your grocery on the phone and get it delivered on your doorsteps.
Money saver
Apart from saving time and energy, online grocery shopping apps also saves your money.
They do it because of the two reasons. First, they save all your travel expenses and secondly it offers you with various discounts, loyalty points, and many more.
Shop for others easily
Another major advantage of grocery delivery app solution is that it allows you to shop not only for you but also for your loved ones. Now you can help your sick and old aunt who faces a lot of trouble shopping for groceries at the grocery store which is located far apart.
All you must do is enter her address and select all the groceries that you want to deliver at her place. And in a short time, all the groceries will be delivered at her doorstep.
Avoid impulsive buying
Grocery shopping delivery app is a boon for all shopaholics. Many times, we end up buying that extra carton of snacks or chocolates which wasn't on our list. The grocery store is generally filled with tempting products that we find hard to resist.
However, with an app for grocery delivery, shopaholics can curb their instincts for their own good. They can buy only those items which were on the list and don't end up piling up things that they never intended to buy in the first place.
Types of grocery apps in the market
If you're coming up with an on-demand grocery delivery app for today's tech-savvy shoppers, you have many options.
Some of the most common grocery delivery apps belongs to one of the following categories.
Aggregators
Aggregators simply list nearby grocery stores to a user. The user can select one of the nearby grocery store listed on the app.
From the online menu, he can add whatever he wants in any quantity to the cart.
He checks out of the cart, makes payment with various available payment option, and wait for the store to confirm the order.
Once the order is confirmed, he can track his order in real-time until he reaches his place.
The liability to deliver the order lies solely with the store owner, aggregator merely lists the store and its menu on its platform.

Marketplaces
A marketplace grocery store is quite similar to a grocery store aggregation platform, except the marketplace has its own team of delivery boys to deliver ordered grocery to the customers' home by means of a retail mobility solution.
Single stores
In a single store app, the grocery owner commissions his own branded app and takes care of everything from maintaining the app and keeping an updated online menu to delivering the order to a customer and collecting money.
Grocery chains
Grocery chain, for example, Walmart tends to have their own on-demand mobility solution, which is similar to a single store at micro level operations.
Personalized Grocery apps
As the name suggests these apps are specially developed for shoppers. It helps them to plan their grocery shopping in an effective manner. Moreover, it helps the users in following tasks:
To create a grocery list
To set reminders
Share grocery info to your contacts
The purpose of developing a grocery delivery app is to simplify the overall process and to provide a great experience to the user.
Which is the best for you?
Well, that depends, while aggregator platforms are almost risk-free endeavors.
You risk losing brand integrity if a listed grocery owner refuses to deliver or is being rude to a customer on your platform.
So every type has its own set of advantages and limitations. While marketplaces are good to retain brand reputation, the underlying risks are too many.
Of course, the advantage is that you have full control from taking orders to delivering orders and collecting money and customers won't interact with actual sellers. Single stores are a costly affair if you don't get many orders.
So, at last, all you have to do is find an answer to the question what kind of an app you are planning to develop?
It's because once you get the answer to this question than you can decide what type would be best for your app.
Subsequently, you can hire a team of proficient developers and can discuss the cost of grocery app to proceed.
Conclusion
To sum up, from US market growth to the on-demand economy and from the essential feature for on-demand grocery delivery apps to types of grocery delivery apps and which is best for you, we have covered it all.
Every aspect that you should know about before developing an on-demand grocery delivery app is discussed and if followed right, you will end up getting the app that is loved by users and will help in converting users into customers.
The thing you need to keep in mind is select a company that has experience in developing grocery delivery apps so that you don't have to invest time in explaining what you need in fact you will get the best asap and under your budget.