In today's digital world we have a mobile application for everything. The advent of smartphone has completely changed the way we live.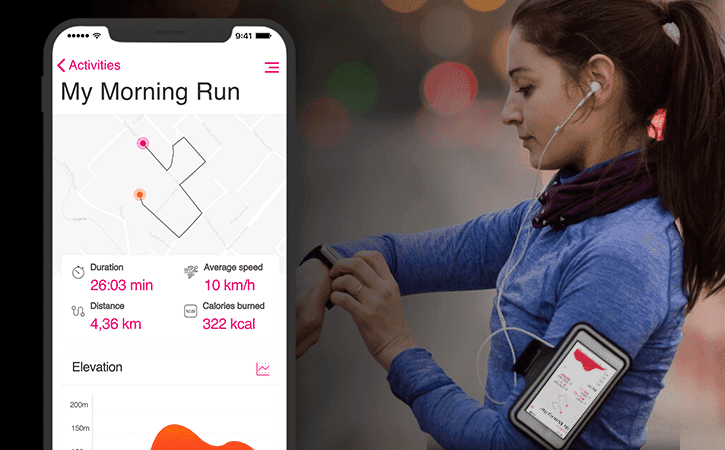 However, when it comes to health problems like obesity in children, and many other the mobile phones are often blamed.
But not every app on your phone is there to cause health issues. Recently, the trend of health and fitness apps has gained strong momentum.
According to the research done by Statista, In the year 2019, there were 68.7 million users in the US who used at least one health or fitness app. And in the year 2022, there will be 86.3 million users of health and fitness apps.
These apps are a useful tool for all the fitness freaks and to those who don't go to gym and exercise often because of its easy functionality updates and assists them to exercise regularly.
In this article we will have a look at some of the top fitness apps and see what it takes to develop them.
Health and Fitness app development
Health and fitness app development has actually taken a step ahead in bridging the aforementioned gap by providing interactive and creative solution to human problems.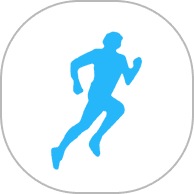 Developing need-based customized app
While health fanatics are going all gaga over fitness mobile app development, this is the ideal time to plunge into the mHealth sector by harnessing the opportunity of health and fitness tracking application development.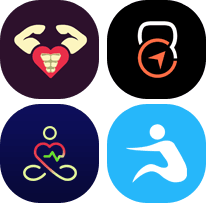 This is surely possible by systematically cataloguing health apps and fitness apps through custom app development for Health and Fitness.
There is an increase in demand of mobile apps for health & fitness which concentrates on improving lifestyle through innovative interaction.
Innovative apps for health kit and google fit
The innovation in mobile health apps has even surpassed the lifestyle quotient by taking a step forward.
Mobile apps are also providing comprehensive medical and healthcare solutions for patients in order to improve their health while keeping track of their daily progress as well.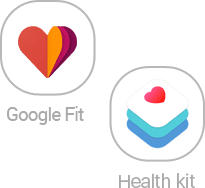 The sky is limit for mobile app developers as this holds true that medical and healthcare apps are even providing solutions which can better human lives and in fact, helps saving the same.
This all is made possible by integrating operating system with its relevant platform and framework – namely, Google fit for android and apple health kit for iOS.
Google fit
An interactive health-tracking platform by google now comes pre-installed with all the android-run devices. Google fit uses sensors in activity-tracker devices for tracking user's activity.
The mechanism behind Google fit is integration of singular APIs with different apps for generating data.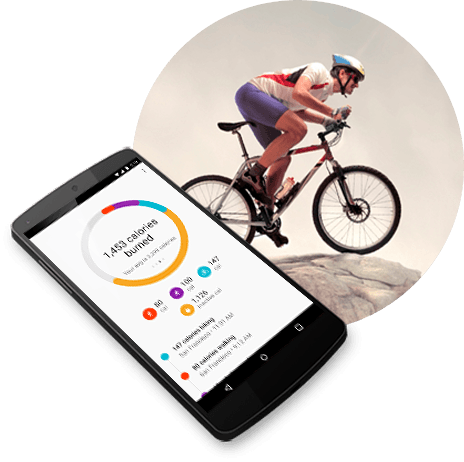 This helps blending data from different ranges of activities like cycling, walking, steps climbing, and depending on device compatibility it also curates heart-rate and sleeping patterns.
It works as a calorie counter that helps users to set targets by calculating variables in the form of total number of calories burned or a total distance covered.
With the range of partners tied up with Google fit for data sharing, it offers a wide variety of apps to select from for the users including Runtastic, Runkeeper, Polar, Nike, and Strava.
Google fit also comes with comprehensive web interface which enhances its mobility.
Apple healthkit
Apple healthkit provides a structured backend framework which when integrated with compatible app(s) gives its user an interactive and easy to access database of personal health and fitness.
With the advent of healthkit, fitness app developers can avail technological advantage by offering various health and fitness app on devices which makes app users work harder.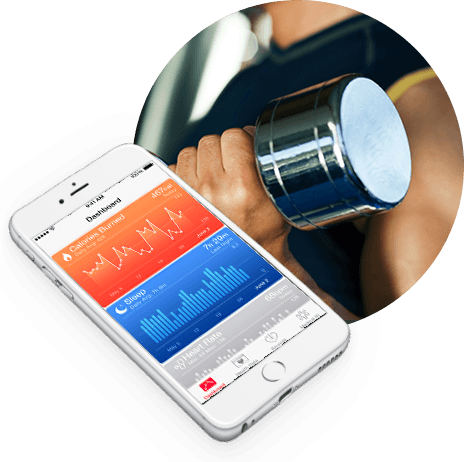 Sure this marks a revolution in health and fitness app industry where every information from heart rate to calories burned to even cholesterol are recorded within medical devices.
Here, all the health related data are put under one roof for AI to calculate for betterment of lifestyle.
By taking advantage of both the mobile platforms, developers can craft data & design driven apps for various devices. It becomes easy when one segregates various types of analytics involved on the basis of usability and functions.
Activity tracking mobile app development
Mobile applications are meant for bettering human lives and Activity tracking mobile application development makes sure of the fact that technology serves its purpose.
With the introduction of sensor based activity tracking device it has become quite possible to trace down even minute of the human movements and then app works for utilizing the same for constructive purpose.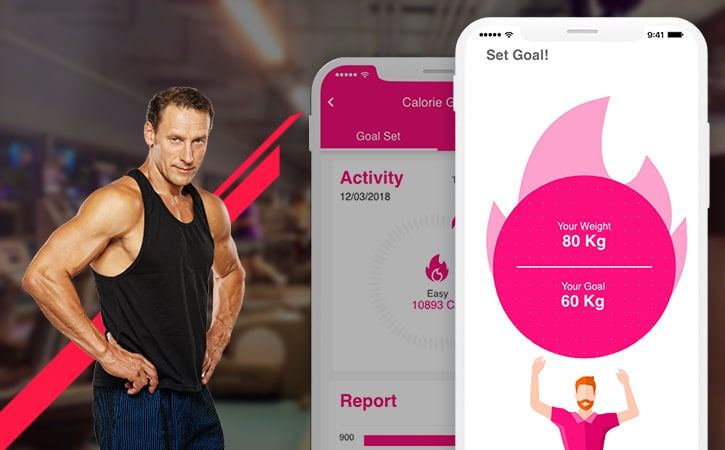 Activity tracking mobile apps aims to improve lifestyle by keeping its users aware about their health every day, every time, every single minute.
This sure breeds well informed and healthy generation who evolves by taking the best advantage of the technological offerings.
Activity tracking
Activity Tracker is a sensor based device measuring human movements in terms of calorie, steps taken, cycling activity, mountain climbing, skipping activity, sleeping activity, heart activity, and plenty more.
The job of a fitness tracker application is to gather the first hand information from real world through human interactions and ultimately be a fitness planner.
This device primarily works for monitoring and tracking fitness-related metrics which are technically fed into dedicated electronic monitoring devices synced for long-term data tracking.
The market nowadays is actually flourishing with remarkable mobile health technologies such as wearable devices, smartwatches and mobile health apps which supplements data for bettering day-to-day human lives.
Benefits
The benefits of activity tracker are such that one can yield health and fitness results for better lifestyle.
One of the biggest advantage is the goal setting option availed by supplementing apps.
This allows users to set target and work towards reaching there by following the fitness planner. For example, you have to reduce your weight by n Kgs.
And in order to achieve that target you will be given targets on daily basis in terms of calories to be burned, steps to walk, Kms of cycling to do, running n number of miles, etc. Furthermore, these things can be shared on social media platfroms as well.
It aids in killing your sedentary lifestyle by pushing you to work for improving your overall health.
Read More: Technologies that are used to build fitness tracking app
Curiosity? how it works…
Ok, so let us assume that Jack is no longer a dull boy. After using the tracking oriented Activity App for jogging he decides to hit the gym and make the most of his life and technology.
Well, it is true that such a technology can raise one's brows high with curiosity as how these things really functions.
Well, let us take a step by step approach in understanding the math behind it. Let's say, 'All work and no play makes Jack a dull boy'.
So Jack decides to work – starts with Jogging. Now Jack gets the Activity Tracking Device – smartwatch, and downloads the compatible fitness tracking app. Jack wears the smart watch and carries a mobile while he goes for jogging.
Sensors for active interactions: The active sensors in device stores information on the basis of physical activities. These sensors are highly charged for tracking down kinetic energy of body.
So whenever Jack takes a step forward, it is recorded in the device. Jack is thrilled to figure out how an app will take this recorded event of jogging into consideration.
Connectivity for data transfer Mobile Solutions. delivered: Generally, the data is transferred from device in to the mobile application via wireless data transmission technology like Bluetooth, infrared, etc.
The assimilation of data on the basis of variables generated by device are up in the app for further computation.
So here Jack's watch is linked with the app through Bluetooth. And therefore number of steps taken by Jack are calculated and transferred in the application.
Computation of data: The integrated data stored in the mobile application are up for the calculation. Here the mobile apps does the work of artificial intelligence through which it computes, suggests, and recommends actions from users.
The data computation helps in gauging the actual results yielded from the activity.
Jack's activity is computed by app's AI machine learning technologies which drives Jack to stay more focused in every steps he takes.
He knows what he has to achieve and he knows what he has really achieved. Jack is now getting things right, precisely.
Design for interaction
The purpose of activity tracker is to keep its' users updated with all the information under single place.
Therefore what is required from the users it their interactivity. For the same purpose mobile apps are designed to enhance the interaction of virtual and real world by bridging the gap creatively.
The mobile app design solves the purpose by making all the information handy for its users and thereby involving user to adopt the fitness program.
The minimalistic design focusing on user interaction depends heavily on symbolic icons for ease-of-information input. Instead of putting too many words, it is always a great idea to involve easy to understand symbolic graphics.
Engaging in daily routine
For Activity tracking device and app to function efficiently it is required for users to engage the same in daily activity.
Right from following the sleep patterns, to small activities like walking and even heart beats are integrated in the device tracker to trace down the first world data.
This data is of course derived from human activity and therefore it is essential for users to engage these systems in their routine.
Then only it will be beneficial in drawing the desired results from app and device collectively.
The beauty of developer's creativity lies in utilizing the innovation for healthier human lifestyle.
Check out how developers tapped on the idea of TracMojo for developing coherent fitness and lifestyle mobile app which efficiently utilizes the available resources.

Bodybuilding, Gym and Workout Apps
Well, this one is making the fitness fanatics go crazy by assisting them in gym and workout.
Never was this thought that a mobile app can take the place of gym instructor but nowadays more and more tech geeks who are focused on body building & workout are going for this sort of apps.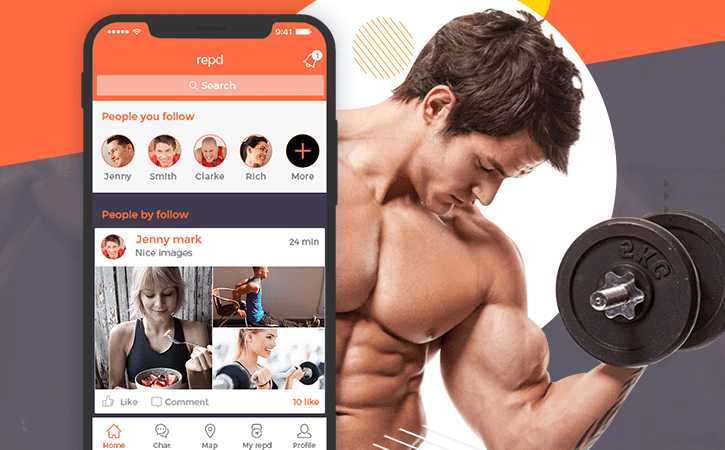 Not only is this restricted to Gym and workout but it can also be your yoga instructor.
Ranging from cardio-based training to heavy weight lifting, bodybuilding and gym focused apps provides ultimate advantage to those who are up for the challenge.
It takes into account the user's vital stats and thereafter it suggests where all the user is required to focus.
Thereby it ultimately aims to drive bodybuilding fanatics for achieving desirable target.
Activity tracking
Like the fitness activity tracker, gym activity tracker considers the data input on the basis of exercise, counts, cardio rate, stamina, and pulse rate.
Easy bifurcation of data on the basis of activity is possible in gym and bodybuilding mobile app by integrating various elements of user's schedule.
This can be easily integrated with Fitness planner in order to know which body parts are to be focused on which particular day.
This helps in setting targets, working out for desirable results and bridging the gap if required.
Benefits
Well, let's be honest. We know that gym instructor charges bomb for personal training. Now one does not need to pay heavy fees for personal instructor as bodybuilding and fitness apps will drive users to the desired results.
With the help for tracking device it becomes easy to keep the check on number of counts for each exercise which ultimately lets one focus on the exercise rather than manually counting efforts.
There are bodybuilding apps which signals accomplishment of certain tasks through beeps, vibrations, and other interactive sounds. This helps in yielding desired results from gym and workout apps.
Read More: A social app that connects all the gym enthusiasts.
Curiosity? how it works…
Ok, so kets assume that Jack is no more a dull boy. After using the tracking oriented Activity App for jogging he decides to hit the gym and the make the most of his life and technology.
Jack installs mobile app for gym and bodybuilding. But he is curious as to how it will help him to become fit. Here's what happens.
Sensors for reading exercise: The mobile health device sensors works for reading the gym exercise by taking particular exercise into account and counting the number of efforts.
Now sensors records the information from Jack's exercise. For example, Jack is using cable woodchop for abs then sensor will read the series of movements performed by Jack. This will get recorded in the bodybuilding and workout app for further analysis.
Workout Data transfer: Again, the Bluetooth will transmit the recorded information to mobile app. Jack is smart so he has already connected the device with mobile app.
This allows Gym and workout mobile app to collate and analyze information to help Jack in reaching his target.
Gym and Workout Data computation: Only recording and transmitting data won't do any good if the same is not integrated with overall fitness plan.
The purpose of gym and workout app is to utilize this data through integration of AI.
Here in case of this Cable Woodchop exercise, app records the details of calories burned, number of counts performed, stamina used and effect of the same on Jack's overall fitness plan.
Design for Interaction
Gym and workout apps which focuses on the bodybuilding comes along with the number of exercises to choose from.
All these exercises are described in the app whereby user just need to tap on the one of those before performing the same in gym.
Once activated it will take into consideration all the user activity performed for that particular set.
This in turn will generate results for that particular exercise which goes into the user's profile. The interaction part is very much important here so as to read user's activity correctly and collate the same.
Engaging in gym routine
Users can now avail the advantage of integrating their workout routine on the basis of overall fitness plan.
Engaging fitness planner with gym and workout app will result into composite data which works towards personal health goals achievement.
Calendar plan of each and every exercise will assimilate personal data on the basis of fitness plan meant to help users to keep the routine handy along with the fitness statistics.
It is important to manually feed the data on initial basis but once the process is standardized it becomes easy to track the progress on day to day basis.
The beauty of developer's creativity lies in utilizing the innovation for healthier human lifestyle.
Check out how developers tapped on the idea of Fitness app for developing coherent fitness and lifestyle mobile app which efficiently utilizes the available resources.

Consumption of nutrition and diet app
Mobile technology and machine learning develeopments will not only set to replace your fitness coach, gym trainer and yoga teacher but also it is set to kill the livelihood of dieticians.
Diet and nutrition mobile app development focuses on various aspects of healthy living by holistically utilizing resources for Diet & Weight Loss management, Food & Recipes, Vitamins & Supplements along with the facility of finding suitable healthy recipes.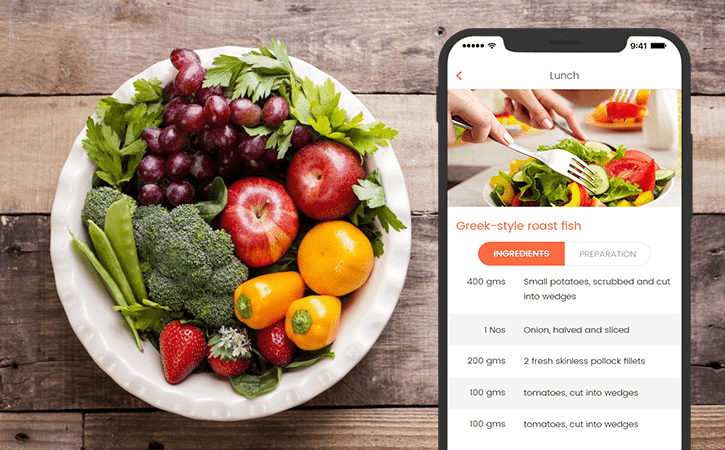 Now imagine the activity-tracking mobile device calculating your fitness activities on the basis of calories burned while nutrition and diet app takes care of your daily food intake.
And then, now imagine the integration of data through cross-application functionality. Yes, this now completes the whole cycle of your health and lifestyle.
From calculating your food intake to calorie usage, mobile apps are revolutionizing the fitness industry.
Let us check out how effectively one can use the diet and nutrition consumption application and how the user experience can be improved.
Accumulating food intake
The diet and nutrition type of app serves as a one stop pit for recording all the food intake.
Not only this, but it also gathers and analyze data on the basis of how much food is consumed as to how much is required.
The balancing-off acts are suggested if in case you have surrendered to gluten urge someday.
Here, through cross-application integration of diet and nutrition apps with fitness trackers, food intake is supervised on the basis of activities and diet training plans.
Food intake is accumulated in app on meal-to-meal basis whereby mobile diet app will process the dietary information fed by the user. This in turn will provoke user interaction for further utility.
Benefits
Diet and nutrition conscious individual can avail most comprehensive solution to their problems by installing dedicated mobile application for checking their food consumption.
One can benefit from mobile application information segregating the food intake on the basis of its dietary values.
One can easily keep a check on the intake of fat, calories, proteins, fiber, etc. users can yield the benefit in form of balancing diet for weight loss.
Again, this app will suggest food & recipes for the purpose of achieving target weight loss and when integrated with gym and workout mobile application this will help in deciding Vitamin & Supplements intake.
Hence, the cumulative benefits of fitness planner and dietician can be reaped off with diet and nutrition mobile application.
Read More: How to Develop a Diet and Nutrition App
Curiosity? how it works…
Let us bring our good old lazy friend Jack to help you solve this curiosity. Forget about being a dull boy, our little Jack is now aware of his food intake too.
Therefore whenever he consumes any food, he makes a note of it in diet and nutrition focused mobile app which he uses for the purpose of balancing his diet.
Recording the Data: So for example, when Jack east Pizza, he enters the value in app in terms of size and type of pizza consumed along with variables such as base-type (brown, white, etc.), toppings, veg/non veg., etc.
So when Jack inserts the food intake as '6 inch meat pan pizza' then the values are automatically generalized to the entry where food and diet mobile app will calculate the dietary values.
Data transfer: The data from Jack's input in case of 6 inch meat pan pizza will be transferred as 'calories = 265, calories from fat=109, cholesterol = 21Mg, Carbs = 27g, dietary fiber = 1.4g, protein = 10.46g' and of course the vitamin intake for the same. So when Jack sees this information he will know what he is consuming.
Food & Diet Data computation: Here the same data is fed into Activity tracking app and Gym & Workout app. So accordingly the exercises are altered and new targets for the same are achieved.
Here, jack has consumed more fat today, so tomorrow to burn the excessive fat he will have to work more on cardio.
Design for interaction
The Diet and nutrition app will work towards interacting with users for data input. Here, users are required to enter the food consumption where the design will complement the same by using interactive symbols and advanced features.
Users are expected to update diet & nutrition consumption after every meal so as to make optimal use ofthe fitness application.
Therefore the design and basic features for the application should be easy to understand and features for health and fitness apps should be creatively integrated.
Engaging in meal consumption
Meal consumption information are very vital for diet & nutrition app to function effectively. But the ultimate aim is to engage users in every meal.
This can be achieved by featuring reminders for meals and also avail daily meal planner.
The active engagement of users are necessary so it becomes mandatory for users to engage regularly with diet and nutrition app.
This will ensure proper dietary intake and alerts will inform users for taking meal.
Also interactivity can be increased by engaging users with additional nutritional information requirement for each meal.
This also helps in aligning meal plan in accordance with user activity, and Gym & workout plans.
All-in-one apps
Downloading multiple type of fitness app to achieve your health goals doesn't seem a good idea, as it can drastically slow down your smartphones. But what if there is an all in one fitness tracker application where you can get everything under a single roof? Yes, it's absolutely true! There is all in one app that let you avail all your fitness facilities under a single roof.
An all one app lets you track your workout by enabling you to create a custom timetable for workout sessions conducted by an expert fitness coach. Besides this, you can track progress in specific lifts. Also, there is a BMI calculator that lets you figure out the ideal weight and whether you're underweight, overweight, or within range.
Branded fitness club apps
Branded fitness club apps are mainly used by gyms and fitness clubs for productive interaction with their clients. Such apps should be able to:
Offers payment convenience in personal training subscriptions
Useful articles
Video instructions
Diet Plans
Individual progress tracking
Live video from training sessions
Wellness app
This category of health and fitness applications include yoga, meditation, spiritual activities, and home exercise sessions. Generally, a majority of these apps post photos and videos. Apart from this, the wellness app comprises the below-mentioned things as well:
Motivational blogs
Sleep tracking
Meditation practices
Mindfulness therapies
Conclusion
Mobile apps for health and fitness businesses added advantages in terms of promoting services in this sector. There are many businesses in the sector of fitness and gym broadcasting their services with the help of mobile applications.
Leading health and fitness startups are looking forward to integrating mobile apps to forecast the targeted audience.