On Sept. 28, 2017, Clutch, like every year, announced the leading agencies and app development companies in India for 2017. I am glad to announce Peerbits is featured in not one but two categories: top 20 iPhone App Developers in India and top 10 app developers in Ahmedabad.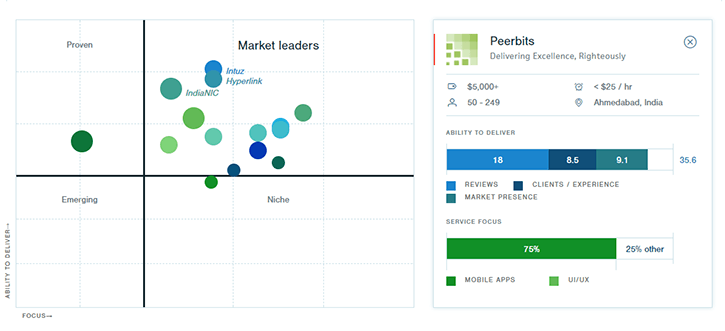 Clutch is a B2B research, ratings, and reviews firm based in Washington USA. The report, "Leading Indian Agencies & Development Companies," was released on 28th Sept 2017 and lists top app development, designer, and digital marketing agencies in India, including Peerbits.
Clutch employs a complex research practice to evaluate each participating company on various qualitative and quantitative parameters. At the time of evaluation, Clutch analysts speak directly with each company's existing and exclients and conduct their reviews so that a potential client have an insight into their strengths and weaknesses.
Peerbits was evaluated in two parameters 'Ability To Deliver' and 'Service Focus'. Clutch's 'Ability To Deliver' is scoped around three parameters is awarded out of 40 Points: Reviews, Clients/ Experience, and Market Presence while 'Service Focus' is awarded in form of percentage.