When you think it is time to involve software solutions in your business, it is important to know the difference between commercial and custom software development. For starters, commercial software is one size that fits all software solutions a business can purchase.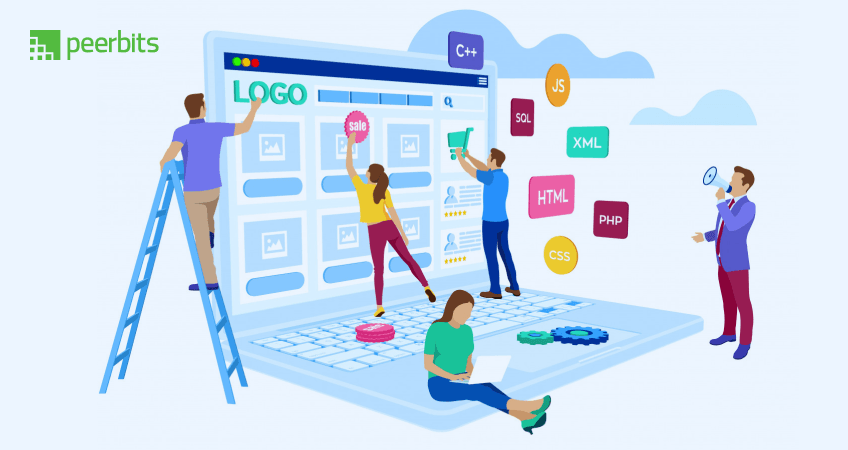 On the other hand, custom software development solutions are created by hiring software developers who can tailor the software to meet business requirements. Often, the software development services are involved where the company creates an exclusive property that cannot be resold to other companies.
Custom software development company provides software solutions that are a class apart from the commercial, ready-to-sale tools. The key to effective custom software development often involves its use cases, company requirements, and budget planning.
Before we dig in, let us understand the difference between custom and commercial software.
Understanding commercial software
Any piece of software that is intended for widespread distribution is considered commercial software. It is easy to find commercial software online or in stores. Operating systems like Microsoft Windows and Apple's OS X, as well as word processors like Microsoft Word and Adobe Acrobat Pro, are examples of commercial software.
Understanding custom development
Custom software is the one that is made just for your business to help boost productivity and service quality. It paves the way for businesses to embrace cloud-native application development that uses service-based architecture, microservices, and containers.
Unlike ready-made software, custom software development services will not include additional features or trimmings. Hire custom software developers to help top management and core teams focus on performing key business operations as experts integrate features and capabilities as planned.
How can custom software development service help your business?
There are a few considerations to evaluate when deciding whether to invest in commercial software versus choosing a custom software development solution. Here are some of them: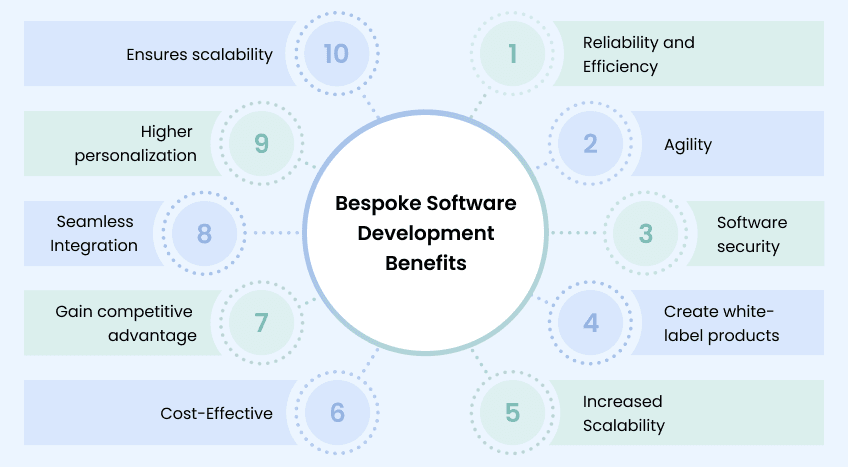 Reliability and efficiency
When compared to commercial, custom software development processes take longer to implement because of its different aspects — UI, design, usability, etc. - require time. But once it's up and running, it should perform more quickly and effectively since it was designed specifically for your business requirements. And since these are highly tailored to meet your business needs, efficiency is guaranteed.
Most off-the-shelf software is limited in its ability, but custom-made software solutions can accomplish much more due to their flexibility, usability, and security.
Buying commercial software puts you at the mercy of the maker. It leaves you with no control over the prices, the terms, or the company's future.
Think of how your business would be affected if the software company suddenly goes bankrupt or ceases upgrading the product. This can put your business in a stressful situation looking for new software.
Custom software needs less frequent updates since you create it specifically for your business purpose. This will help your business leverage custom software for as long as possible without further expense.
Agility
As your business grows, your requirements increase. In this case, updating custom software is quick and easy. It can help overcome obstacles that you'd otherwise face with ready-made software.
Because of its adaptability, custom software applications can significantly outperform off-the-shelf alternatives. An enterprise-specific software may facilitate automated tasks and improve teamwork.
One of the most important aspects of running a successful company is having access to bespoke software that helps maximize productivity and drive agility with utmost efficiency.
Software security
Software security is a major issue for businesses that use commercial software. Hackers can break into the database of commercial software, leaking your key data and information. While every company is taking precautions to prevent hackers from exploiting their custom software development, it offers robust security.
You can hire a dedicated custom software company that helps businesses take further steps to protect their data from hackers and disgruntled employees.
As part of the custom software development process, the software development company places a strong emphasis following
Security measures that involve putting up spam filters and intrusion detection
Secure network passwords and their validation
Inbound traffic filtering firewalls
Quickly accessible login data
All source codes created by custom software development companies remain in a secure location, usually on internal servers accessible only by VPN or other forms of secret access.
Create white-label products
The work and effort you put into developing a unique internal solution may pay off in the long run if you license it to other businesses or provide it as a White Label product for a flat fee to other companies.
Since you own the custom software, you can choose what you want to do with the source code. When you create and sell a product with the exclusive right to use it under another company's label, you are said to have created a "White Label" product.
The only snag is settling when you are in the early adoption phase. When starting, white-label solutions might be useful but may not be a sustainable approach if you are in a competitive space.
Increased scalability
The volatile business climate necessitates ongoing adaptation to maintain a competitive edge.
While commercial software products may be adequate for the short-term, they may not provide the flexibility and scalability for the company's requirements in the long run since they are not easily adjusted.
Personalized software is designed to cover all your required functionalities. Thorough analysis during the discovery and prototyping phase allows you to consider different scenarios, even if your needs change over time.
Whether you want to add new features, increase your production capacity, or simply support the growing demands of your company, custom solutions can fully accommodate your requirements.
Cost-effective
In terms of cost-effectiveness, initially, off-the-shelf solutions seem cheaper. But hidden costs involve training, licensing and modifying existing software infrastructure. All these are to avoid any compatibility issues. This will add up expenses, eventually exceeding your expected budget.
On the other hand, opting for custom software proves to be a more cost-effective and less painful decision if you consider the long-term benefits. It allows you to plan the entire software development process by deciding the important features to add to the software.
It enables you to break the process into smaller phases for testing and review purposes. In the longer term, this will mitigate the cost of using the custom software.
Read More: Effective tips to reduce custom software development cost
Gain competitive advantage
When you implement custom software for your daily operations, you can get everything to bring the best and most out of your business. Choosing custom in place of commercial software allows your team to thrive with greater efficiency, thereby offering more value to your customers.
Moreover, when you get your custom software development done, the solution will have capabilities that your competitors might not. This makes you stand out in the industry regarding your current services and drive value (as compared to not using custom software).
Regardless of the type of organization you run, custom software helps stand out because it lets you specifically target all the aspects of your organization for growth and effectiveness.
Seamless integration
A study suggests that 86% of workers and managers point to ineffective teamwork and communication as the root cause of workplace issues.
For instance, production will have operations different from marketing, and then you have human resources that act as a focal point. Without custom software, each department may run in isolation. However, if one department uses certain commercial software that needs to be integrated with other departments, you will need a custom one.
For instance, your marketing and sales team must work together to close the deal. When they are working with commercial software, it gets tough to integrate workflow. The solution involves hiring a dedicated software development team that creates a product to promote seamless integration. It offers seamless collaboration and data exchange.
Higher personalization
One of the key reasons to invest in custom software development is that you develop a product that addresses your exact needs. It is not unusual for businesses to choose an off-the-shelf software option just to realize that it is not a value-for-money deal.
Every business is unique, and it is hard to find a one-size-fits-all solution when it comes to software. Choosing to work with tailored software doesn't only give you a lot of space and possibilities to grow, but it also means prioritizing your company's growth and success. The personalization enables faster processes, intuitive UI, and a glitch-free user experience.
Ensures scalability
Your business growth also impacts your needs, compelling you to make changes to your system. Commercial software solutions become a problem if they fail to support your business or become too expensive to renew or buy new licenses.
Off-the-shelf solutions are a better fit for small companies that are in the startup phase. Therefore, it is useful when operations are not yet stable, and the focus is on making the business viable.
Instead, crafting a scalable custom solution for your business can offer greater ROI. It allows your team to redefine business processes that do not stay limited by software. Even though it requires more time for development and investment, in the beginning, it will save you time and money when the time comes to scale your business.
Start with identifying challenges and barriers your business faces and, accordingly, get your custom software made to address those.
Key Examples
Businesses raked billions by using custom software development services. This includes Uber, Amazon, Microsoft Office, etc.
Over here, we will take a quick look at successful yet not-so-heard-about examples of bespoke software development. These examples show how your business can leverage the right expertise and support of custom software.
OfficeLink360
OfficeLink360 offers high-touch service and support, making it easier and faster for small companies to enroll workers in benefit plans. Also, it helps manage those programs for certain sets of employees. Companies can use OfficeLink360 for compliance, onboarding, reporting, documentation, personnel, and vendor management.
OfficeLink360 handles most of the paperwork by digitizing and customers need just register. The idea of such custom development also came to the OfficeLink teams when they had their teams burdened with paperwork. Such a custom solution helped their teams work in tandem and increase efficiency.
HyreCar
Hiring a custom software development company is smart if you want to compete in the transportation business as it demands impeccable experience.
HyreCar created an app based on customized software that connects vehicle owners with drivers for rideshare services like Uber and Lyft, as well as those who deliver food.
Both owners and drivers benefit from this arrangement; the former can earn money from unused vehicles, while the latter can leverage their skills to drive people to their destination.
UPMC
Telehealth involves using technology services that make it possible to deliver healthcare to a remote patient. The telehealth program at the University of Pittsburgh Medical Center (UPMC) helped doctors and patients to communicate from afar using electronic devices like computers and mobile phones.
The backend software manages patient data, helping health practitioners access records of prescriptions, medicinal allergies, and other key information. The UPMC telehealth app is an example of proprietary or internal software, meaning UPMC owns the software and has rules about how they use and share it.
Netflix
It is hard to believe that BlockBuster would have bought Netflix long back. But Netflix thrived on original productions like Stranger Things, House of Cards, and Jessica Jones. From thereon, Netflix continued developing cutting-edge software.
Here are the three key features that Netflix leverage to improve its viewership
Increased content views using personalized thumbnails and suggested videos based on previous viewing history.
Automatically create subtitles in multiple languages.
Backend technology allows for a consistent viewing experience on every device.
Ultimately, what makes Netflix successful is its ability to gather massive amounts of data about viewer preferences and let viewers access these files from anywhere. It houses a proprietary video technology that leverages AI and ML to predict what a particular user would prefer watching based on their browsing history.
EA Sports' Frostbit
Electronic Arts (EA) sports provide gamers with the power of next-gen gaming with Frostbite technology that works as the foundation for all games. The company analyzes gamers' preferences to standardize innovation throughout its portfolio. This led Electronic Arts to create a proprietary gaming engine dubbed Frostbite, made of unique code.
So far, EA sports has successfully published over 30 titles on numerous platforms using various versions of the Frostbite game engine. To stand apart from competitors in the gaming industry, EA aims to expand via acquisitions and have developers use the Frostbite engine to standardize the language.
Conclusion
Designing software from scratch allows you to quickly solve and fine-tune the bulk of issues you experience with out-of-the-box solutions. Furthermore, if there is a feature you want but cannot find in any of the pre-packaged solutions, it is simple to include in your custom software package.
Consider hiring a software development expert who can include any features you want for your software solution.
Connect with Peerbits to discuss your software requirements, as we have an experienced team of experts equipped with the right tools and skills. Hire dedicated software developers who are open to adopting novel approaches that can create a significant influence on a business.
Maintain a competitive edge by switching from standard software to tailored solutions. Partner with our technology experts who can help your organization succeed using the right tools and solutions.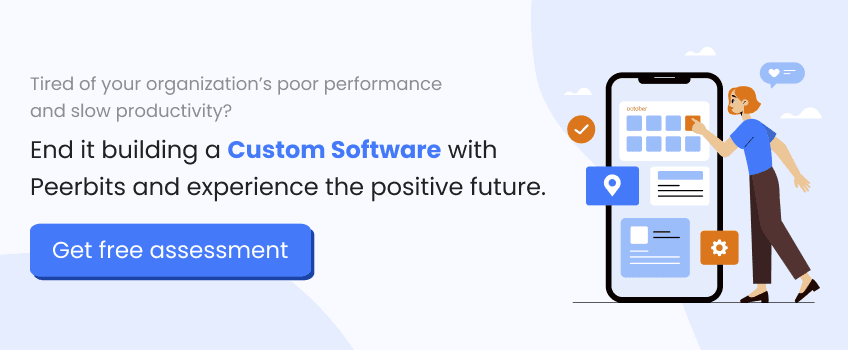 FAQs
Custom software development is made to fit the business operations and not the other way around which happens when using commercial software. Therefore, the target audience and specific business requirements take center stage in custom development.
In contrast, commercial software is readily accessible software on the market which is not customized. Custom software development involves hiring dedicated software developers and creating software for an organization's users. It is developed to meet user needs and is more effective than commercial software.
The cost of developing unique software depends on the level of complexity, the number of systems that must be integrated, the number of users it can host, maintenance cost, etc. Therefore, without understanding the requirement/SOW (Statement of Work), it is difficult to come up with a precise cost for custom software development.
Choose commercial software if you need a solution quickly or want to use it for generic tasks like sending emails, automating processes, etc. You don't need to wait for them as they are readily available with basic features. But, you should always try to find the one that works best for you inside the organization, and this is why you should consider offshore software development that offers a cost-effective option.
Before choosing the custom software development solution, you can consider scalability, client infrastructure, current platforms, data types, etc. Your choice should be based on your unique company requirements and the features you anticipate receiving from the custom software.
The maximum amount of time required to create a highly customized software depends on the kind of complexity, task-specific requirements, and costs involved. You can consult a team of custom software developers and discuss your requirements to get a precise timeline.