The COVID-19 pandemic has immensely impacted various industry verticals including the IT industry. Several IT companies are forced to work remotely to maintain social distancing norms.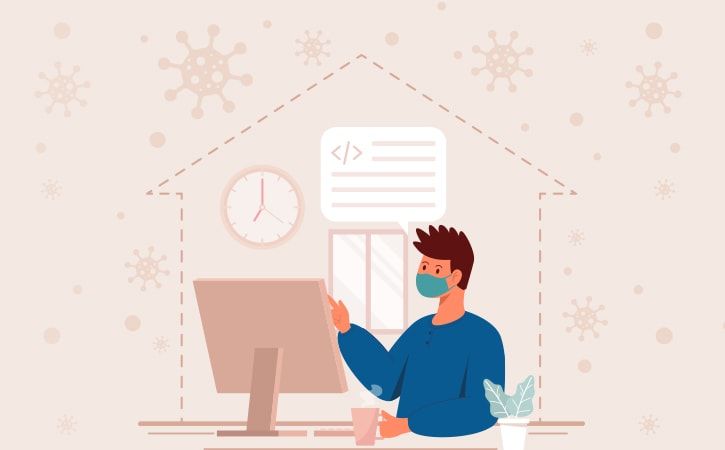 This has caused a massive loss in opportunity for numerous companies who have international clients and dealers. Many IT companies who had never worked remotely before are finding it hard to cope with this new normal.
Apart from impacting IT companies, this pandemic has also caused cancellations of several tech conferences across the globe. These conferences were huge partnership opportunities for so many companies. It' estimated that the cancellation of such major tech conferences amounts to the loss of US $ 1 Billion.
In such gloomy times, offshore developers have come to the rescue of several IT companies around the world. They are helping them to combat the adverse impact caused by COVID-19.
If you're also one of such IT companies which is struggling to keep up with all the consequences of the COVID-19, then this blog is precisely about you. In this blog, we will discuss each and every aspect of hiring remote developers in the times of COVID-19. So, without any further ado, let's begin.
Top 5 reasons why hiring offshore developers make sense in the times of COVID-19
Implementing the right model
Companies have already started to look for an alternative model for team extension. Companies don't want their productivity to go down. However, at the same time, they want their employees to stay safe and healthy.
Software companies are facing difficulty in ensuring that their employees are able to perform all the required critical functions without risking their health. The productivity of these companies is also suffering when they don't track the productivity of their employees working from home.
By hiring an offshore development team, these organizations can overcome all the challenges posed by COVID-19 and boost their profitability, efficiency, and productivity.
For example, if you're looking to build a mobile application then you can hire mobile app developers from a prominent outsourcing firm.
Here you have two options, either you can completely hand over the project to the remote team or your in-house and the offshore teams can work together on the project. Whichever choice you make, you'll be able to totally manage and control the team.
Teams are equipped with the right technology
The pandemic has immensely impacted productivity due to global shutdowns. This is why IT companies are facing difficulties in keeping up with industry competition. IT companies can ramp up their productivity by choosing the right offshore firm.
These firms are the best choice for IT companies in the current pandemic scenario. It's because they have the right experience of working on wide range of projects. Moreover, they have the right technology in place to manage your projects remotely.
Their tools and technologies enable them to collaborate virtually and work remotely with utmost efficiency as they have been following this business model for so long.
Adapting to changing customer habits
Due to the COVID-19 pandemic, many businesses have to move at an unprecedented speed in order to serve their customers with quality. Companies are now evaluating how to deliver top-notch customer experiences.
They are also contemplating on leveraging digital channels to support their business' continuity in the pandemic and beyond.
This fact is not hidden from anyone that the global pandemic has changed all our experiences and behaviour. It has even changed the way how clients buy and is causing rapid structural changes in the industry.
Once we overcome the threat of this pandemic, the companies have to assess the impacts of the changes caused by the COVID-19. The assessment will include everything from the way we communicate, build, design, and experience.

By hiring dedicated developers, companies can:
Expand their existing offerings
Accelerate pivot towards digital commerce
Establishing new lines of service
Develop resources to tap new opportunities
In the current scenario of the pandemic, IT companies need to act rapidly along with finding new opportunities. Outsourcing development is the need of the hour for every IT company as it enables them to take immediate action to combat challenges posed by short-term liquidity.
Moreover, it will also help them to generate profitability. This is a critical time as decisions taken now will have an immediate impact on the very survival of the IT Company.
Strengthen technologies for future
The changes introduced or to say forced by the COVID-19 pandemic is pushing every IT company to come up with new ways of operating. At this time, many IT companies are still not able to identify or set their priorities due to which they are not able to make real-time decisions to mitigate risks.
This is the right time for IT companies to strengthen themselves by establishing long-term strategies with a top-notch offshore development company. This alliance will help them to learn and grasp lessons from these offshore firms.
Later on, IT companies can apply these lessons to create roadmaps and systems to prepare themselves from similar disruptions in future.
Top 4 best destinations to outsource software development
There are many factors that decide which is the best destination for hiring remote developers. So, without taking a hassle to consider all the factors let's have a look at data of some prominent offshore software development companies.
This data shows that around 41.4% of the developers lie in the US and the rest are scattered to different parts of the world as shown in the figure.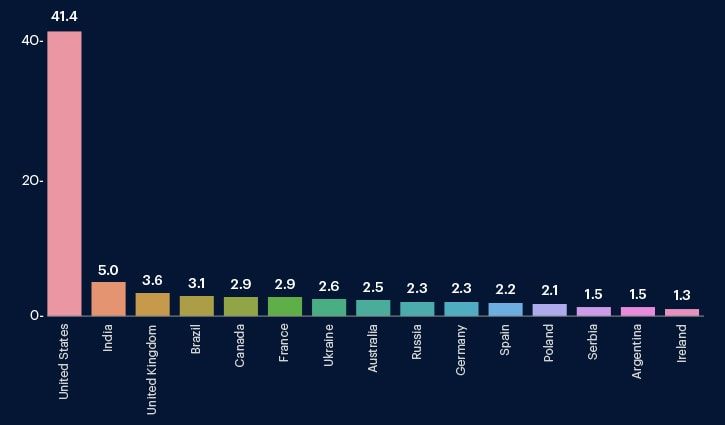 We already saw that the US is at top. Now's let's have a look at some other outsourcing destinations.
India
India has emerged as the first choice when it comes to hiring offshore developers. India is an ideal choice for clients in the UK and the US for outsourcing as it's the second-largest English speaking country in the world.
India's education system also heavily focusses on mathematics that's the reason why they produce as many as 2.6 million STEM graduates in a year. According to research by Gild, Indian developers outscored American developers in logic assessment and math by 11%.
However, their scores were significantly lower when it came to HTML and PHP. As per PayScale, the average software developer in India takes home an average salary of $11,139.
Brazil
Brazil has almost 6.18 million English speakers in the country. More importantly, Brazil has around 38.18% of the population under 24 years of age which makes it an emerging hub for software development outsourcing.
Brazil is a great place if you're looking for junior developers; however, if you want developers for advanced projects then you must consider other countries. The average salary of a Brazilian developer ranges from $6,009.26 to $33,054.78.
Ukraine
Ukraine is another destination which IT companies prefer when it comes to outsourcing. According to HackerRank's statistical analysis, Ukrainian developers achieved an average score of 88.7% across all the HackerRank challenges.
Apart from that, Ukraine has the most number of C++ developers in the whole world. Moreover, almost 80% of the IT community speaks English which eliminates the language barrier. Apart from that, the time zone of Ukraine also partially overlaps with that of the UK and the US.
As per the PayScale, the average salary of a Ukrainian developer is in the range of $11,936 to $46,787.
Canada
Canada is a county which has a strong educational infrastructure with dedicated emphasis and focuses on technology. Approximately 18.6% of annual graduates in Canada have STEM degree.
If we look in terms of skills, then HackerRank has put Canadian developers on the 21st rank. Calgary, Halifax, and Toronto are the three Canadian cities which are among the top 50 of the Tholons Globalization Index.
Additional benefits which Canada offers are easy communication with US clients due to similar time zones and easy collaboration due to fewer cultural differences. The average annual salary of a Canadian developer as per PayScale is around $47,659.67.
4 Tips for hiring offshore developers
Hiring offshore developers can be tricky. That's why we have brought you top 4 tips that will help you in hiring offshore developers without any hassles.
Understanding difficulties
First, it's very important to understand why and for what you need an offshore team. How it can be useful to you? For example, if you only want mobile app development outsourcing services, then it's better to opt to outsource as compared to in-house development.
Offshoring can be extremely effective if you set crystal clear expectations. Offshoring does come with time and cultural differences; however, it may also work in your favour. Offshoring can do wonders for your IT company if you strategize it well by keeping clear objectives and goals.
Don't look at profits all the time
It's no secret that offshoring is highly cost-efficient. However, you must also remember the fact that you have to choose such an app, web, software development outsourcing services that are experienced, skilled, and capable enough to do the job.
Going after cheap offshoring contractors or teams which are experienced can cause repeated delays and missed deadlines.
If you're getting services of a quality offshoring development team then you shouldn't shy away from increasing your budget. Many times, companies settling for lower prices has to pay a huge price later on in the form of substandard products or services.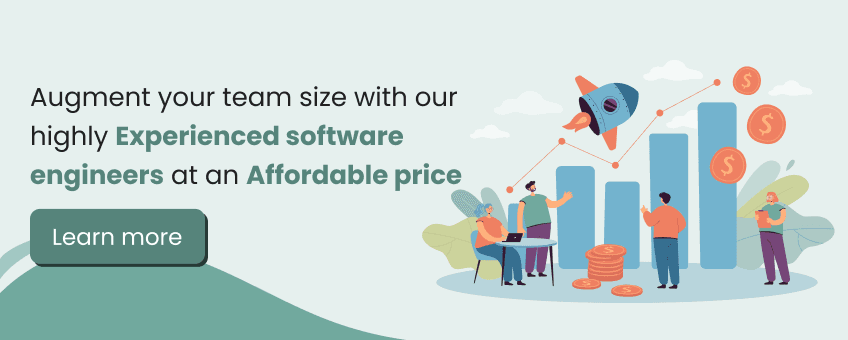 Search for reliability and invest
Don't pick your web or software development outsourcing services in a hurry. Have a closer look at their previous works which includes their most successful as well as most challenging projects. Try to understand the candidate properly.
Once you select, then provide them with clear requirements because unclear requirements can lead to false expectations. Establish a seamless communication channel with your offshore team to achieve optimum results.
Lack of communication can cause errors or any other problems. You must also invest in the training of your offshore team to ensure that they are well aware of your company values and ethics.
If you follow these steps then you can get the best results as per the standards set by you. Moreover, you will achieve these results well within the deadlines.
Discuss contract details carefully
You must understand that offshoring is not a solution to all your problems. Even offshoring has its own share of challenges and problems that you should be aware of. One of which is the fact that you might lose the control of your work at some point in time.
Moreover, you might also need to share your intellectual property along with client confidentiality agreements. This is the reason why it becomes imperative you do proper research on understanding the legal concerns and repercussions.
Furthermore, you must also define the scope of your project in the contract which would also involve all the negotiations that are agreed upon.
Steps involved in hiring an offshore development team
Hiring an offshore development team is not an easy task. That's why we will discuss all the various steps in detail that are involved in the hiring process of offshore developers.
Put out precise information of the requirement
Hiring an offshore development team is quite different than of hiring UI/UX designer, project manager, or an experienced software developer. For example, when you hire a sales or HR employee, their primary communication skills are a clear indicator of their experience.
However, when it comes to programmers, you cannot understand the expertise and skills level without undergoing a rigorous test. The first important step is to put out accurate and precise information about the vacancies on various industry sites and large portals.
Read More: The significance of having a right team for your project?
Filter out resumés
This step becomes extremely difficult on global resources as it takes a massive amount of time to find out the right specialists.
Social networks can make your job easy. Recommendations like friends of friends are a credible way of finding the right people. You can also put out vacancies on thematic groups. This method has also worked for many.
Check the candidate's portfolio
When it comes to portfolios, you need to be extra careful about the completed projects. Many times, there are candidates who have a massive number of platforms and languages listed on their resume', but have very low instances of completed projects.
Similarly, there's a possibility of a huge number of developers are interested only in the tools and languages that they have used and not the results of their very own work.
Read More: Get a glimpse of our success stories.
Interview
If you have shortlisted a resume' then you can invite that developer for an interview. The interview can take place in multiple stages such as email, online communication where a group of technical specialists ask the candidate about several aspects like experience, development process, technical knowledge, etc. Once that is over, then you can have face-to-face meetings.
You can ask questions to that candidate as per what is expected out of him/her in a particular position. Initially, it's better to ask basic questions to evaluate the overall level of the candidate. Later on, you can give the candidate a test task to check their skills and quality of the code.
Candidate sorting
Interviews help a lot to screen out a large number of candidates thus leaving the few quality ones. Many times, it happens that a professional developer with a decent wage knows a particular platform and languages but is completely unaware of the basic stuff.
This is a huge problem as it can affect the performance, application security, and code quality at the very beginning of the project. That's the reason why the basic questions about the structure of a language, security, and patterns of object-oriented programming are enough to get an idea about the candidate's level.
Top 5 benefits of hiring a dedicated team of developers
Hiring offshore developers come with a cluster of benefits for the IT companies. Let's have a look at some of the top benefits.
Specialized talent
There's an overwhelming surge in the new technologies like IoT and AI. This is creating a demand for businesses to make the most of these cutting-edge technologies by recruiting the right talent. However, finding such talent is a huge challenge for businesses around the globe.
Read More: Top Skills a Dedicated developer for a Product Development
Offshore recruitment of specialist has come to the rescue for these businesses. Now, they don't need to go through all the troubles and cost of hiring an in-house developer. They can simply reach out to any prominent offshore development team.
Cost-effective
Hiring a dedicated team of developers also helps immensely in reducing the overall costs. As per the estimates, a dedicated team of programmers can reduce the overall costs by up to 70% for an IT company.
This is quite clear from the fact that a junior developer in the US earns more salary than a senior developer in India. Moreover, as these junior developers gain some more experience, they are out of reach for smaller enterprises. That's the reason why hiring offshore talent is the best option for them.
No need to hire full-time developers
Many times, it becomes difficult and expensive for companies to manage short-term projects with a full development team. Whereas, companies can stay in their budget by outsourcing specific projects to the offshore development team which saves them from making big investments in maintaining the full-time team.
However, for this to happen, companies need to have a full scope of the project which includes clearly mentioned deliverables that are mutually agreed upon.
Enhances scalability
Hiring a team of dedicated developers is also a business scaling strategy that has a very low risk. We already discussed how it is cost-effective. Moreover, it also saves you from firing your employees whenever there's a slowdown.
It also means that they can afford to go with their new initiatives without any slowdowns. A dedicated team of developers can manage everything from website development to extension builds or development of a new app.
In today's fast changing technological age, the average life of any technology is 4-5 years. It means that you would require an agile workforce that can quickly update their skillsets and start working on new technologies as soon as possible.
The offshore dedicated team also solves these problems as it reinvents the corporate training by allowing quick creation, updating, and deployment of new training programs.
Stay focused on your core business
Companies can invest more time on their core business when all majority of software development activities are managed by a team of remote developers. Dedicated teams have their own developers, designers, and project managers.
It means that they can take up a fair amount of responsibilities on their shoulders. This reduces additional stress on the companies and helps them to focus on other important areas such as sales, marketing, and business expansion.
Conclusion
COVID-19 pandemic is rapidly changing the way IT companies work. If anyone wants to sustain in this period, then they must take quick and right decisions. One such quick and a no-brainer decision is to go for a dedicated team of developers.
In this article, we have tried to provide you with all the useful information, stats, and insights as to why you must go for an offshore team. We have also discussed as to how you can approach for hiring an offshore software development team.
If you're also looking for a reputed firm that can offer top-notch offshore development services then Peerbits is the name that you must consider.
Peerbits has a pool of skilled and experienced developers who have proven expertise in various latest languages and platform. So, what are you waiting for? Just contact Peerbits and take your business to another level.