The advent of technology has made our generation sedentary. Due to the cost of app development technology, the amount of physical work has almost diminished which is the root cause of various problems.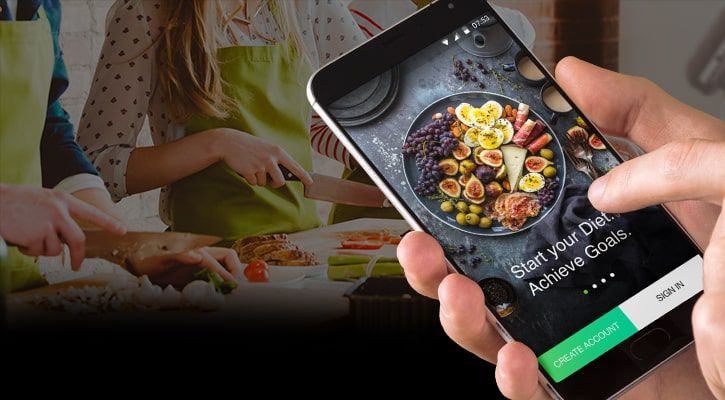 As per World Obesity approximately 2.7 billion adults get obese and around 177 million adults will severly gets affected by 2025.
These stats show that we are living in the dark times and the agenda of Health & Fitness is in desperate need of a push. You can see this push in the form of increasing number of Gyms and nutrition centres across the world.
Gyms have been a huge success. However, everybody doesn't have the time to join the gym. Moreover, some do join on the New Year's Eve and then procrastinate for the rest of year.
For such audiences, the diet & fitness app is a saviour. They assist the users to follow a proper diet and to keep build Health and Fitness Apps a check on their calorie intake.
To take full advantage of the situation mobile app development firms have started to. Some apps are already doing well by helping app users at their best however, there are so many opportunities left for you to explore.
So, if you're an entrepreneur who is looking to develop a health & fitness App, then this article will provide you with a complete guide and professional's tips on how to do it.
What is a Diet and Nutrition Tracking App?
Diet and nutrition app is a type of nutrition tracking app that helps users lose weight, be healthy, and get stronger. There are different nutrition apps, including a calorie counter, diet trackers, nutrition planner apps, and marketplace platforms that connect users and nutrition coaches.
Apart from this, there are also apps designed for niches: app-based food diaries, pregnancy nutrition apps, bodybuilding nutrition applications, vegan nutrition apps, diet-tracking apps, health activity tracker apps, etc.
Market Stats
The nutrition and diet planner app is becoming popular among users because of its great usability and amazing convenience. According to Statista, the revenue in the Nutrition App sector is $631.83 million (approx.) in 2021.
Moreover, this segment shows a promising CAGR of 6.10% (approx.) for the period of 2021-2025.
Apart from this, the user penetration in the diet and nutrition app segment will reach 9.94% (approx.) by 2025. So from these stats, we can say that nutrition app development has a promising future.
And that is why it is the best time for you to invest in health apps and fitness apps.
You can hire a nutrition app development company or a nutrition app developer to build health and nutrition applications for your business.

Have a glance at some best diet app ideas
There are various kinds of Diet Apps available on AppStore and the Google Play. These are apps which have minute difference in their basic functionality.
Moreover, they cater to different target audiences. We've prepared a list of some diet and nutrition mobile apps which tops the chart.
Calorie calculating apps
As the name suggests, the main function of calorie calculator apps is to count the calories. In this app, the user enters his/her goal which is usually the weight. Later they add other information such as their activities and the food products they consume.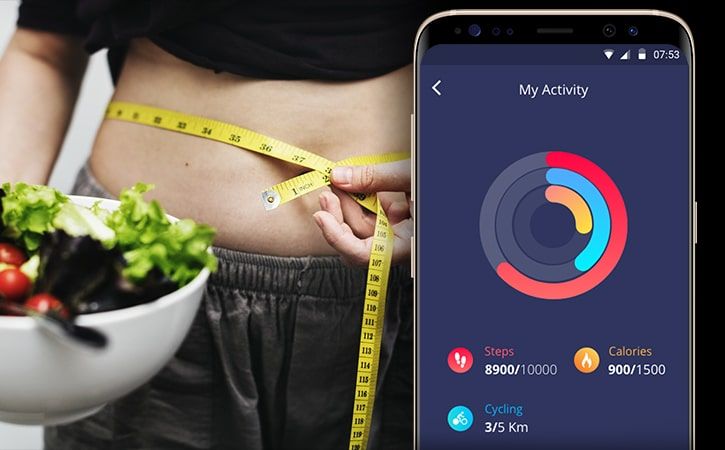 The app measures the number of calories absorbed and burnt and then suggests them with dietary recommendations from the comprehensive food database.
MyFitnessPal and Apple Health is the perfect example for such app. It's widely popular and its 11.7 million users are its testimony.
Read More: Planet of the apps: skills in the era of tech innovation
Moreover, it ranks first in the Health & Fitness category in the AppStore. LoseIt! is another app in this segment which has created a lot of buzz by its engaging design and interactive User Interface.
Apps for meal planning
Meal planning apps are different from the former ones as they monitor the calorie intake of their users even before they eat. In this app, users must fill data such as desired weight, diet, and food preferences.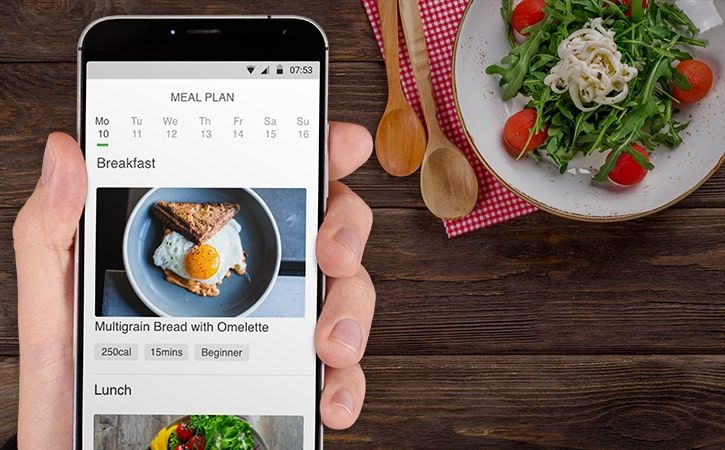 The app then creates a diet chart for a day, week, or a month according to the data filled. Diet Assistant and Eat This Much are the two apps which falls in this category.
Social platform apps
This is a social sharing app that connects users with diet & nutrient coaches. These coaches provide them with suggestions and nutrition tips.
Rise is an example of such app in which the user pays to the diet coaches and experts so that they can guide them to follow a strict diet regime and track their progress.
Diet & fitness apps for niche audience
Most of the apps that we saw were common for all the audiences. However, there's another approach to diet apps. These are known as special diet apps. It allows you to effectively narrow down your target audience.

Wager apps
Money is by far the biggest motivation for weight loss. Betting apps are the answer to this question. In this app, the user bets a certain amount of money that he'll achieve a certain weight goal in a certain amount of time.
If they lose that much body weight, then they get their money back otherwise, they will lose the money. DietBet is one of such app.
Diet suggestion
Instead of developing a common diet and nutrition app, you can narrow down your app niche to target a specific customer segment. You can create a diet application, a nutrition planner app or you can create an app that provides virtual diet consultation by fitness experts.
All of these can enable users to fill in the healthy meal habits that let them create the best diet plan.
Food and physical activity logging
These applications help users lose calorie and weights without harming their health. In other words, they mainly focus on healthy eating. They let users record meals and daily intake of water, monitor calories burned and consumed, select a fitness program as per health conditions, and monitor its implementation to get healthy foods.
Diet & Nutrition Analyzer
With diet and nutrition analyzer apps, you can analyze your client's current goal of diet and provide them with effective feedback on what to improve.
It is possible to create personalized meal plans and healthy recipes and generate nutrient analysis reports by using barcodes and other relevant nutrition tracking tools compared to the users' nutritional requirements.
Special diet apps
Special diet apps are launched for pregnant women, diabetic patients. There are various apps such as fooducate that will help you to develop, monitor, and analyze diet plans for all the patients.
They also track the progress of pregnant women and keep them healthy. These types of special diet apps target a certain audience and are highly effective.
Nutritionists Live for Suggestions & Tips
Amid the coronavirus pandemic, life has suddenly halted as governments were enforcing lockdown. As people are urged to stay indoors, physical activities have been reduced.
So, to stay healthy and keep immunity strong and minimize blood sugar levels, allow your customers to exercise through live virtual sessions of health experts via your mobile device.
Such experts will offer excellent diet tips to the users which will eventually improve their health and fitness.
In-app recipe book
An in-app recipe book is the best thing both for the customer and the business owner. So, add a section of recipes to cook healthy meals. Also, you can encourage the customers to add or upload their recipes as well.
Food making videos and audiobooks is also a great choice to boost user engagement.
Shopping assistance
This feature is directly connected to different healthy food recipes. When a customer selects a recipe, the ingredients and materials of this recipe get added to the shopping cart by default. However, the shoppers can add the materials on their own as well.
Provide community platform
It is really amazing when users know that there are other customers too who are also on the journey of dieting like them. And nothing is better than a blog to share useful information related to fitness, diet and nutrition within your app.
Also, you can integrate a user forum or thread into your app or other supported devices to share healthy eating habits.
Target Audience of Diet Planning App
Before you proceed with diet planning app development, you need to define the group of your customers for whom you want to cater. Do you want to serve aged diabetic patients? Or would you like to target working professionals by providing them with meals? Think about the answers to these questions to get better clarity of your target audience.
Besides this, you can target gym trainers, nutritionists, fitness centers, people who want to lose or gain weight, etc. Getting a clear idea of your target audience helps you plan your app's design, structure, and strategy of marketing.
After this, you need to define the set of features that you want to integrate into your diet and nutrition applications.
Features that you're app must have
Registration
Whenever you enroll in any gym or nutrition centre, the first thing they do is the registration. Similarly, in a Diet & Nutrition app, you must a registration feature where all the important information of a user will get stored.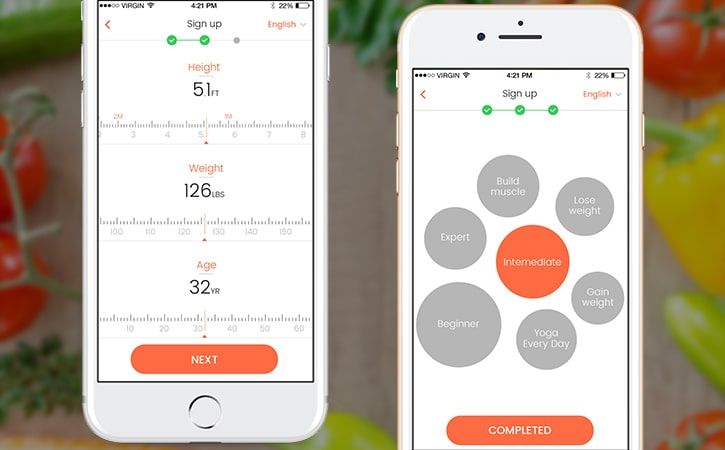 This information includes age, body weight, height, food allergies, weight loss goals, desired weight, preferred diet, and many more. Moreover, there must be a sign-up option via email, Facebook, Twitter, or manually.
Dashboard and food logging
This feature can make or break your app. Before I tell you why to let's see what it is. After registration, the first thing your user should encounter is a screen or dashboard where the user can find all the information such as food intake, his/her progress in achieving fitness goals, and various nutritional and healthy eating tips.
Now, coming to the question why is it a make or break feature for your app? It is due to the fact the more appealing and interactive would be your dashboard the more successful your app would be.
So, make sure you invest a lot of time and money in the UI/UX and customization of this feature.
Read More: 10 Must Have Features for Your Fitness Tracking App
Integration with fitness trackers
Fitness Trackers or Wearable Devices have emerged as a global trend for all fitness enthusiasts. As per Statista, the global spending on wearables is expected to reach over $90 million (approx.) by 2022.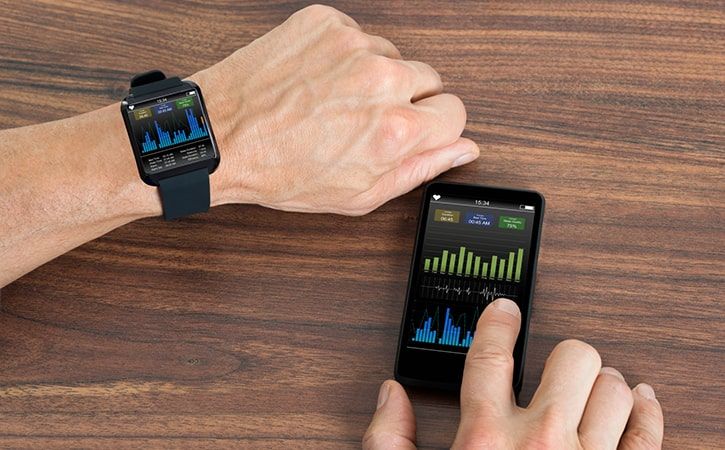 Wearables are essential as they record vital information such as blood pressure, heart rate, blood fluctuation, and pulse automatically. Without wearables, the user must manually fill the data which would be both tiring and inaccurate.
So, one thing is clear that, if you are thinking of a Health App Development then it must have a feature for integration of wearables or fitness trackers.
Push notifications
Push Notification is an important element of any mobile app as it is well-known for customer retention. However, you must understand the essence of it and realize how you can utilize it for health and diet app development.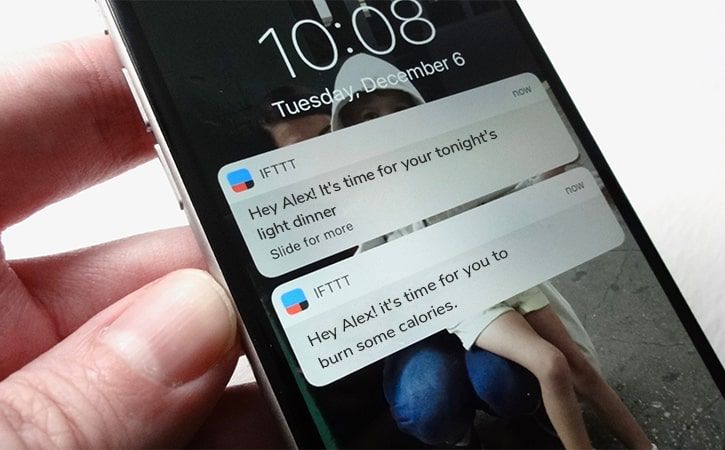 You can use Push Notification to remind your user of their daily workout sessions or meals. Additionally, you can use it to motivate them to push more. Push Notification is like a double-edged sword.
It is because if you overuse it then there is a high possibility that it would annoy your customer. In worst cases, this annoyance could result in him/her uninstalling your nutrition and diet tracker app.

Diet plan or user's goals
One of the most basic functions of such an app is to guide its users towards a healthy diet and assist them to achieve their health goals.
So, once your user specifies the goal like desired weight goal, body type, food habits, and preferred food items, your app must suggest them with a proper diet accordingly.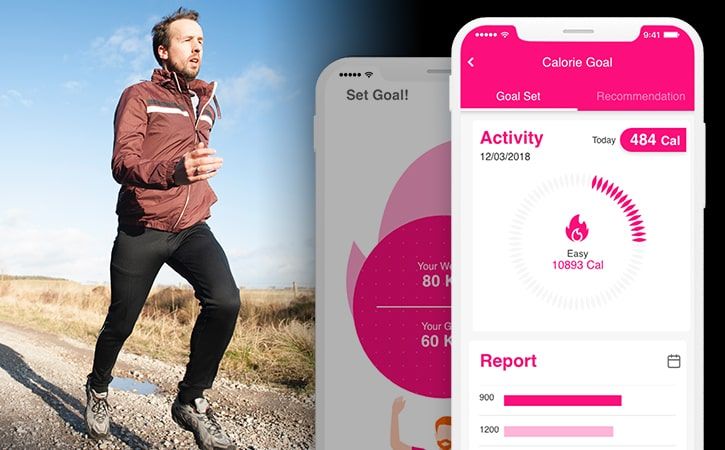 The diet must include all the elements which match the user's preferences. Ensure that this feature of your app has a high effectiveness as it is the most basic function.
Barcode scanner
Embedding a Barcode Scanner would be a great feature for your app as it would assist your customers in shopping.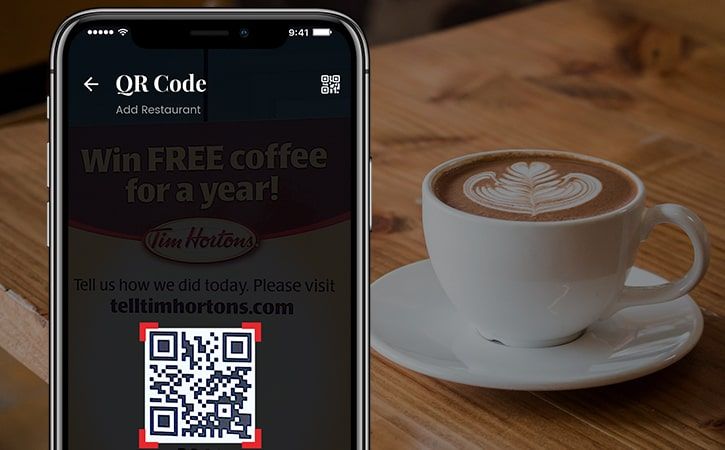 It would provide important data such as calories and ingredients of the items with the help of your phone.
Help
Usually, the generation Z is expert in using all kind of apps. However, you simply cannot assume that. It's because mobile apps can be complicated at times and you must build a kind of trust that you're always with them no matter what.
Read More: Fitness mobile apps can help in improving your fitness
You must have help sections which must include all the FAQs along with a tutorial video which would act as a user manual. You can add a chat service too in case, a user still has some questions.
Feedback
Feedback section is a must for any mobile apps and Diet & Nutrition App is no exception. To receive feedback from your users is the way to improve and to make your app smoother.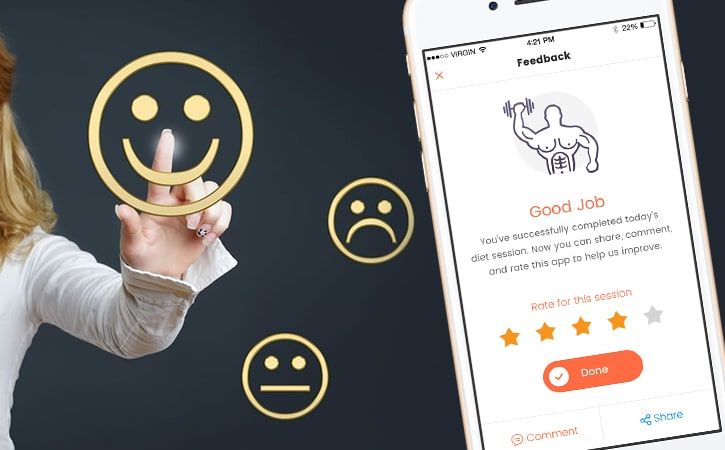 The users can help you to identify some loopholes if any. Moreover, they can suggest you some extra features which would they like to have on the app.
Business models for diet planner and food tracking app
Diet planning and food tracking app solutions promise to buy us time and save us effort. They deliver convenience as a comfortable customer touch-point and simple service attribute. Here are the popular business models of food tracking and diet planning apps:
1. Self-owned
The self-owned app business model is limited to a single app owner who sells only his products and services. It is a self-owned nutrition tracker mobile app platform that is dedicated only to a single brand.
2. Aggregator food & health tracking app
It is a networking sort of business model where the specialists such as dietitians, fitness trainers or nutritionists meet with the clients under one roof and can sell their services under the brand name of the application itself.
This model is restricted to sell services and products that are uniform in price and quality.
How to monetize your diet app
A great monetization program can help you get your investment back at a faster rate. Choose the monetization model that is the best fit for your diet and nutrition application.
However, you can benefit even more by implementing several money-making ways:
1. Paid Membership
You might have launched your diet and nutrition app over Android, iOS or both. However, a paid membership is the most popular way of monetizing an application.
Make your app look attractive to stand out in the competition. Under this method, you will get your share and the marketing team will get theirs.
2. eCommerce
In this method of app monetization, you can sponsor the products of a brand that offer something of a similar industry.
3. Commissions
The app owners ask for a certain amount of percentage from each transaction that happens over the application. As there is transparency in entire diet and nutrition app transactions, the app owners can figure out the percentage the sellers owe them in return for providing them with the platform for selling.
4. In-app advertisements
Once a mobile app does well, it offers other brands space on its landing page and inside pages for advertising its products and services. These in-app advertisements don't take long for implementation and one can make easy money through these.
5. Freemium Business Model
Freemium model attracts users with basic and advanced features and after then lures the user to pay in order to access more content. It includes the minimal time required to create a powerful user experience, and it is a flexible user model that can be implemented in apps of various kinds.

Cost of app development
At the end of the day, it all boils down to the money. It's obvious that you want to develop an app with a minimum cost without compromising on the quality. So, let's see what would be the cost of app development for diet & nutrition.
It is difficult to determine the cost of any app as it depends on many factors. The most significant factor is the nature of the app: whether is it simple or complex. The cost of an app would keep on increasing with the increase in the complexity. To give an idea below are the estimates:
Charges of developers in the UK & US: Approximately $75 – $265 per hour.
Charges of developers in Europe: Approximately $55 – $155 per hour.
Charges of Developers in India: Approximately $30 – $85 per hour.
Conclusion
In this article, we discussed all the aspects of Health & Fitness applications. Straight from the different app ideas, must have features, ways to monetize the app, and the Cost of app development we covered it all.
As discussed earlier, there are few existing apps that are doing well. However, they are a few cons that those apps have. To succeed you must study these cons and come up with an app which can resolve all those issues.
To achieve all this, you would require the help of a mobile application development firm that can deliver it in minimal cost. Peerbits comprises a pool of talented professionals who would deliver all your requirements with their top-notch skills combined with our cutting-edge technology.