On demand applications solve problems of average people with real world solutions. Uber's on demand taxi service, accompanied by a couple of apps, lets you evade the queue outside taxi ranks.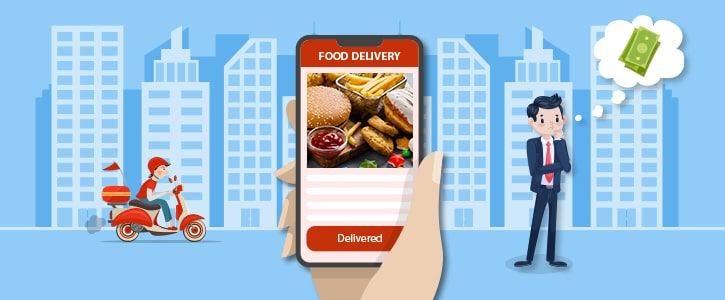 There is a reason on demand apps are sometimes called Uber for X, where X can be any service or product that is to be delivered at the customer's end.
On demand services find relevance in industries previously unthought of. For example, Chime connects nearby babysitters and parents on a Saturday night.
Glamsquad delivers professional hair and makeup artists to your door, with appointments booked with the app. Soothe sends a massage therapist your home within an hour's notice.
Not to mention, there are countless on-demand food delivery app , home, same day ecommerce, parking, and beauty/ health services in the market and many more in the verge of uberisation.
Catching up with the market trends
The On-Demand economy grew at a rate nobody fathomed, considering Uber introduced UberX only 5 years ago.
U.S. Census Bureau's American Community Survey shows some impressive numbers: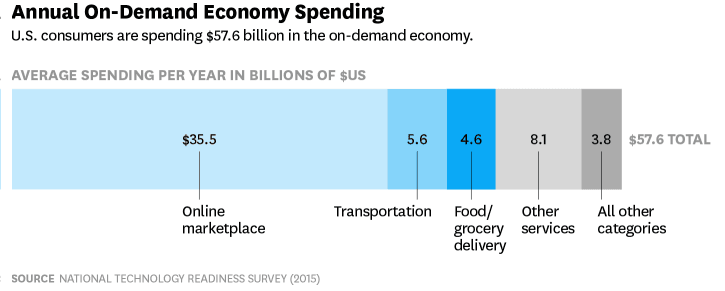 Although millennials still are the most demanding users of on demand services, elderlies are catching fast, particularly, with the advancement of on-demand healthcare apps.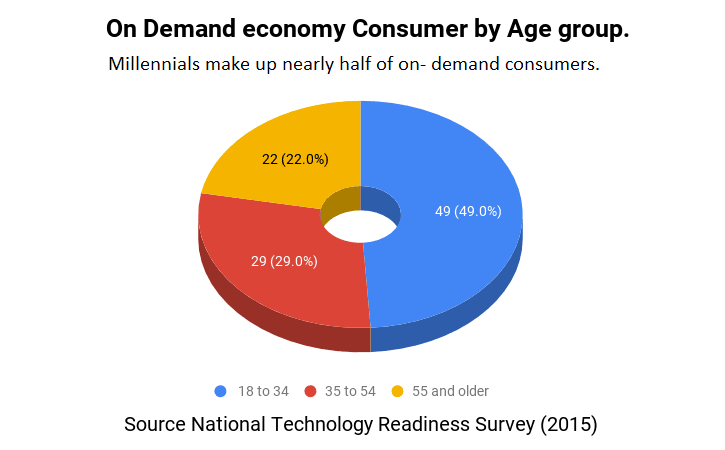 On demand economy is reaching an assorted geographic spread in the U.S., with 39% of its consumers from rural areas, 30% from outer suburbs, and 31% major cities. This is indeed a good sign for businesses looking to investing in it.

On demand apps = greater investors' interest
If your business works as a bridge between a set of buyers and sellers or service providers and receivers, you must invest in on demand app development without giving a second though.
Even if you're a startup trying to come up with some unique ideas to impress investors, you can develop an idea across the on-demand model, leverage on the booming on demand and app economy, and ultimately get funded.
In fact, most of businesses investing in on-demand apps are startups. Grocery and Food delivery app is an exciting space to start with despite immensely competitive market.
39 US-based private food startups with $5 million or more in funding are into food and grocery delivery business although Uber and Airbnb still rule. Apparently, they all are startups.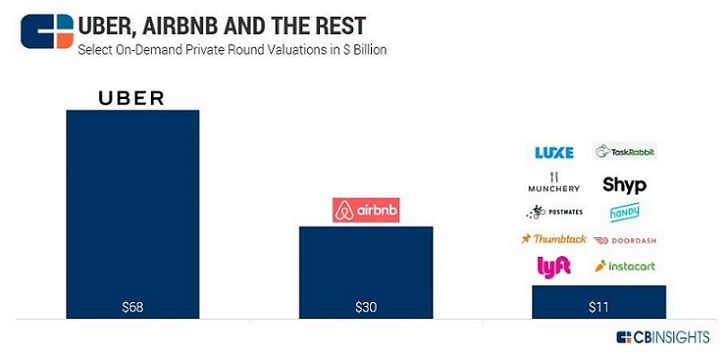 Getting started with on demand app development
Figure out what you want to be
On an on-demand platform you could be anything from a mere aggregator to end-to-end on demand service provider.
UberEATS works around aggregators to provide delivery service to restaurants that don't have delivery boys of their own.
McDonald's McDelivery app is an example of end-to-end or a full-service on demand app.
McDonald's takes care of everything the very moment it receives an order from a customer to the moment he receives it.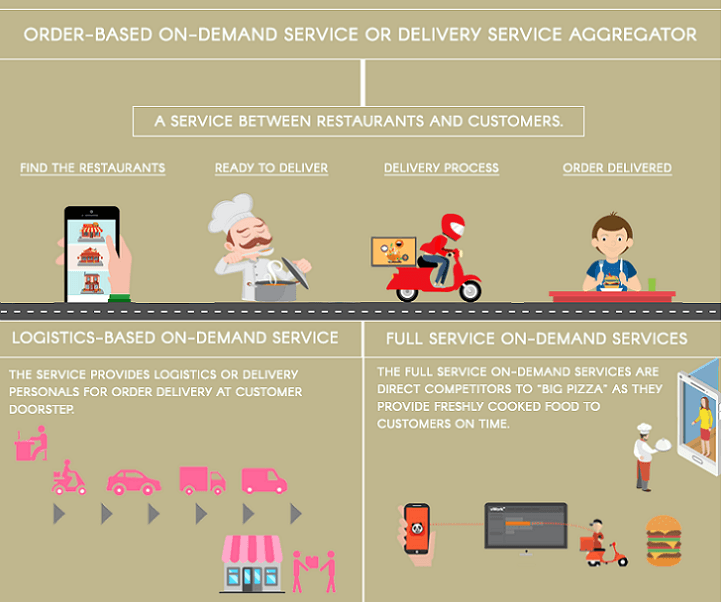 Food Panda is a classic example of an aggregator app. It aggregates local restaurant on its platform which is available to its customers by means of web development for mobile apps.
As soon as it receives an order it passes the information to the respective restaurant. From that moment, the obligation to deliver the order lies with the restaurant.
With more control comes greater risks. Startups love to mitigate risks as much as possible in their initial stages. No doubt, aggregator platforms are so many.
Work around what you have
If you are a business into some sort of retail business and use a POS System for day-to-day transactions, you can contact your POS vendor if it provides 3rd party APIs to developers.
Most POS vendors provide API access to their partners and customers for a fee or free depending on the subscription plan.
API access to your POS system will let an independent mobile app development by developer a customized app that can call functions to the POS system.
The same system that you use every day to handle and fulfil orders will now let your customers make orders directly from the app to the POS system, minimizing hassles.
Without API access the coding that goes into your app's backend increases substantially and hence the cost.

Business benefits of an on-demand method of delivery over traditional methods
mobile-first user experience
fast delivery of products or services
cheaper prices than traditional service providers or sellers
independent contractors working part-time
frictionless payment
actionable rating systems
Features typical to on demand mobile apps
Client Apps(s)
Delivery App(s)
Booking Delivery
Accepting Order (and Rejecting)
Price Calculation (or Fare Calculation)
List of Order/ Requests
Real-time Tracking
Maps and Navigation
Payment Gateway Integration
Delivery Confirmation
Review and Rating
Peerbits' recommendation
Start at the local level
For your on-demand delivery app to succeed, it's important that you start at a local level. A small area having a dense population would be ideal.
This will allow you to test your concept, advertise, and even recruit the contractors with utmost ease. Once you create a good amount of user-base, you can easily scale it.
Market your app properly
Before you launch your on-demand delivery services, it's important that you market and promote your app properly.
You can do this with the help of referrals, social media, or offline advertisement.
Establish trust
To ensure that your Uber like delivery service succeeds, it's important that you earn the trust of your customers.
You can do this by screening drivers, getting good reviews, or by offering customer support services,
Have a robust business model
To make your on-demand delivery app a success, it's important that you back it up with a robust business model.
You must ensure that your business model is able to compensate for the high delivery prices.
Read More: Why on Demand Business is Successful for Startups
Cost of development
The amount of money that goes into developing an app goes depends upon the number of hours that go into developing it.
While we can't give you an exact number unless you have discussed your app requirements in detail with us, we tried our best to give you a fair estimate based on the typical features mentioned in above section.
Like I discuss, the backend part is needed to make the frontend part (user part of an application) of a software solution work—web and mobile apps in this case. A UI design screen make designer or the front of the app.
The owner of the application (often the app publisher) needs a panel to control every module of the software solution.
In addition, an app requires integration with many 3rd party services for example Google Maps, Payment Gateways depending upon the features agreed upon.
Moreover, separate apps must be developed for providers and end users. So, all in all, 4 apps must be developed—2 each for iOS and Android.
If we multiply the number of hours with the average per hours rate in various country, you'll have an idea how much does it cost to develop an app.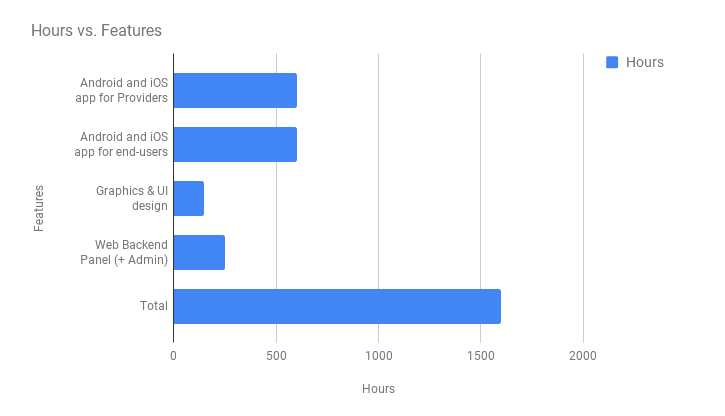 Peerbits has a development center in India if you're looking to develop cost-efficient on demand apps. Contact us for info.

White label solutions cut development costs
If you find those costs on a higher note, you can procure a white label app solution.
A white label app solution is basically a ready-to-go pre-developed, pre-tested app solution that in a little time can customized to your requirements.
Most white-label vendors offer end to end solution. They go through your requirements and customize every module of the solution accordingly.
Once you're satisfied with the prototype, they brand the solution so that it looks like yours, runs in a test environment and, once satisfied, publishes it on app stores and provide support in the form of regular updates or individual support.
Peerbits' white label on demand apps
Peerbits' has not one but two white-label on-demand apps targeted to Taxi and restaurant business.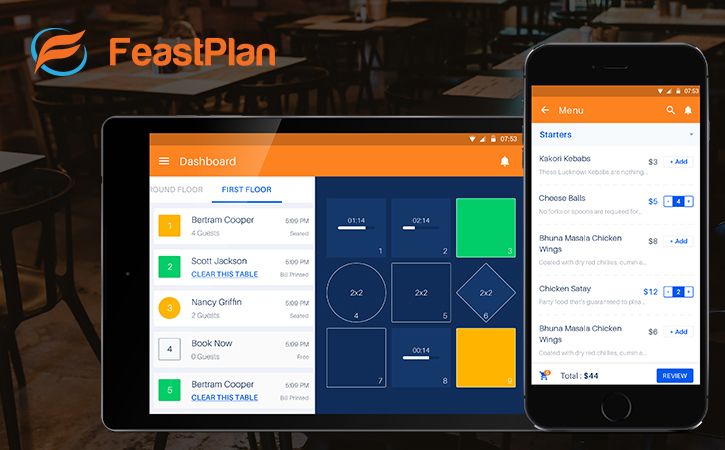 Feastplan is essentially a ready-to-go, customizable from top to bottom restaurant management software.
It consists of Restaurants fPOS, Table Management system, apps for diners, Staff Management system, and Kitchen Management system. Any feature can be enable and disable at your discretion.
YelowTaxi is an Uber for X app by Peerbits. The white label solution has been developed with business requirements of startups, enterprises and taxi operators in mind is apt to manage any type and size of fleet: trucks, taxis, limos, etc.
In addition to on-demand functionality, the solution also has dispatcher panel and taxi scheduler.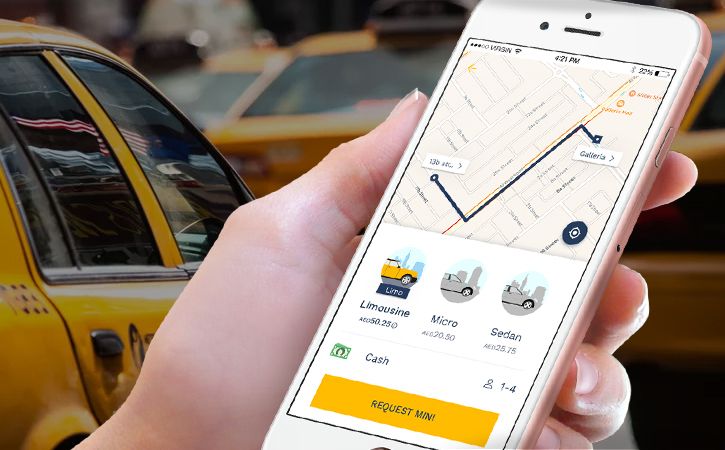 If you're not interested in a white label solution, Peerbits has developed a number of on-demand apps.
EPIC Delivery is an app developed by Peerbits as Perth's first delivery app.
"Epic Delivery is a new service that allows you to have anything you want from nearby merchants, delivered to you in minutes.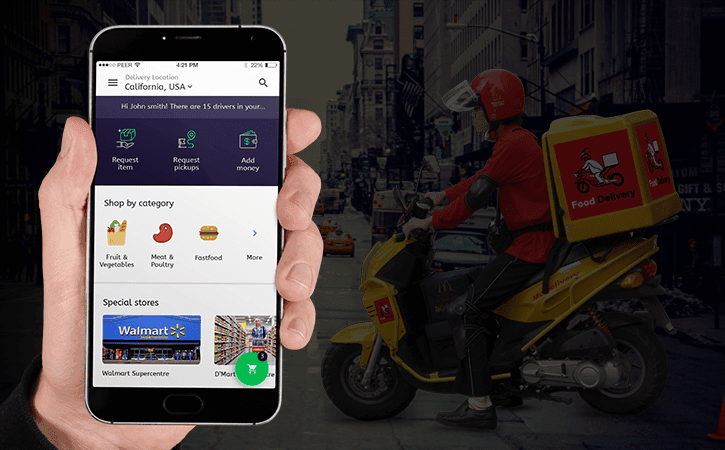 It's a super-fast, affordable, and convenient delivery service like no other."
Even though an on-demand delivery business requires a balanced approach to achieve profitability, chances are you'll build a successful app if you consider your predecessors' mistakes.
Start small and gradually scale your business. Think about how you'll minimize expenses and ensure a sufficient number of couriers.
Hiring a professional development team is one of the key aspects of your project's prosperity. We'll happily make a contribution.
Conclusion
To ensure that your on-demand delivery business succeeds, you must adopt a balanced approach that can lead you to achieve profitability.
Taking in account all the past mistakes of your predecessors can also help you to guarantee the success of your on-demand delivery app.
Small and humble beginning can help you to gradually scale your business. You also need to think of various ways by which you can minimize all the unnecessary expenses.
I hope this article presented you with a crystal-clear picture as to what factors affect the overall cost of an on-demand app.
If you want more details on how much it would cost you to develop an on-demand delivery application, then you can simply contact us.