Smartphones and internet penetration is rising in Latin America. According to Statista report, there are 343 million people who are using mobile internet in Latin America which is projected to be 424 million by 2025 with a growth rate of about 70%.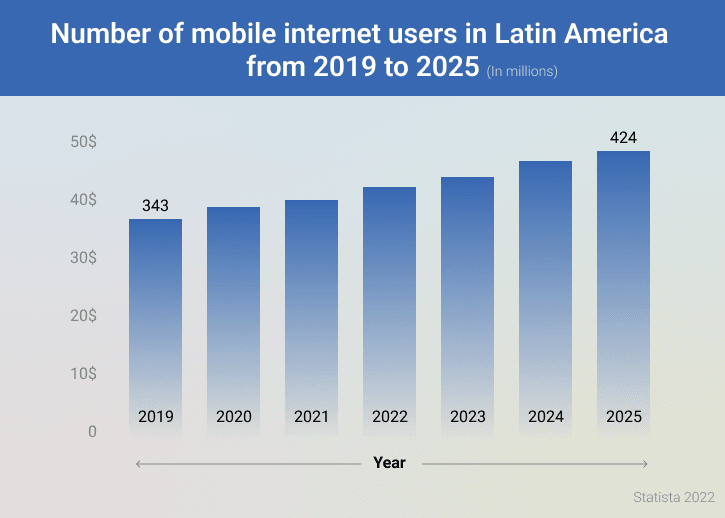 This shift towards mobile lifestyle is happening amidst the series of challenges posed by rising levels of economic uncertainty.
The steep devaluation (62%) of the Peso against the Dollar is starting to exert a significant pressure on inflation. It is estimated that in 2016 there will be a 7 percent increase. This trend is expected to continue as the price of goods gradually increases to reflect the higher production costs of many locally manufactured goods that rely on imports.

Higher inflation rates are being confronted by the Central Bank (Banco de la República) with strict monetary policies leading to higher credit interest rates and thereby making credit significantly expensive for consumers and businesses alike. Higher interest rates will keep businesses from investing and consumer from demanding goods and services.

The oil sector makes up to 17 percent of the government income and until recently accounted for half of the Colombian exports. All-time-low oil prices have left a hole in the government finances leading to the imposition of new taxes in already highly levied business structure.
It is no surprise that the business community in Colombia is preparing for a rough landing and many SMB are not aware of the fact that even within a bleak economic outlook, mobile trends will continue to accelerate.
Technology is touching each sector in very profound ways; successfully incorporating mobile into your company's strategy will eventually determine which players are left standing.
Customer centered companies understand technology as a strategic way to stand out and get ahead of the competition, wherever it may come from. The first step is to build and implement a comprehensive digital strategy that reflects the core values of the company to consumers in a meaningful way.
That is on its own a great challenge for Small and Medium Businesses (SMB) serving the Colombian market, as it requires a realization of how the web 2.0 has shifted power to the consumer and what it means in terms of brand communication in an era of mobile lifestyles.
Colombian tech entrepreneurs in the midst of this change are looking for effective ways to reach out to dissatisfied customers with new value propositions in an effort to disrupt traditional industries like financial and health services.
To accomplish these immense goals, startups must satisfy customer needs in innovative and compelling ways.
This means getting to know 'a day in the life' of your customer and swiftly incorporating these insights to your product development plan and from a marketing standpoint, fine tuning your value proposition. (See Steve Blank and Bob Dorf, The Startups Owners Manual)
Although SMB and Startups have distinct needs regarding software development, they share the search for a scalable business model that generates, delivers, and captures value from customers.
Take a look at these three-step approaches to product development by Peerbits – it pretty well sums up what matters for a business:
Build a strategy that identifies what are your goals while ensuring your product delivers a strong ROI by hitting those goals.

Craft a product that catches your users attention and delivers the best UX with an incremental process that saves valuable resources.

Work out the design and structure of the product by deciding the right technology stack to maximize future development and growth of the company.
Your product should provide the following benefits for your business:
Keeping track of customer loyalty points and coupons

Keeping track of customer favorites and informing them about specials offers

Engaging customers to share their experiences on social media platforms by uploading photos and reviews

Takes orders round-the-clock and from pretty much anywhere

Giving directions to new customers
This type of interaction drives higher engagement with your on-the-go customers by connecting with them in a timely, open, and direct two-way communication.
For example, a Doctor using the app to stand out amongst the other doctors by making it easier for customers to book appointments. Or, take the case of a small business owner rewarding his frequent customers with an in-app loyalty program or helping people to discover/locate his shop.
The aim of a digital strategy is to increase sales revenue through increased awareness, improved customer service and higher customer engagement. But more often than not, businesses and non-technical founders overlook the importance of choosing the right software provider.
Any business looking to establish their online presence requires more than just an engineering talent, the right technology partner can be a competitive advantage for SMB and early stage startups.
Generally, SMB and Startups will hire or partner with a local freelance engineer whom they personally know, or perhaps, referred by an acquaintance.
The service provider will generally attempt to complete the whole project and give you a solution that lies within his or her own comfort zone, thereby, affecting the quality of solution given and how the client's needs and priorities are met.
One of the biggest issues with service providers is that they want to get compensated for their time and unfortunately not for their results.
This will require a lot of leadership and technical involvement on your part because you most likely will be the project and product lead if you have a small team. (Citation needed)
Taking this route generally leads to waste of time and money as it is very difficult for an individual developer, no matter how talented he or she might be, to be proficient in all the right combination of development frameworks and programming languages to implement the client requests and respond within an acceptable timeframe.
Not to mention a closed-loop approach to product development which leaves the client unaware of the key decisions determining the future development and growth of the company.
Building a consumer product requires a team – comprised of a business analyst, UI/UX designer, engineers and quality assurance professionals.
Each of these roles is highly specialized and key to any product development. (Citations needed)
On the other side of the spectrum are the well-established development companies in Colombia that cater to multinational corporations offering quality, full stack solutions, but unfortunately due to the high markups on their services, are out of reach for most of the early stage startups and SMB.
As a non-technical co-founder, in the past I have gone through this and discovered how difficult and frustrating it can be to try to execute a go-to-market strategy for a web or mobile product within a very limited software development as a business ecosystem.
Fortunately there is good news for CEOs, Marketing Directors, non-technical founders, and CTOs out there, you can outsource the tech portion of your startup to the best talent available, avoid giving equity at an early stage, and match talented consultants to your specific needs instead of hiring a generalized full-time contractor.
Hiring an outsourced software development company generally yields additional benefits as compared to hiring individual contractors.
By outsourcing to a software development company you can reduce your risk and lower your overall operating expenses; contractors pay their own taxes and cover their own benefits.

No need to give out equity because they work for cash.

Work tends to be of higher quality since you can presume that company works according to the industry best practices.

Management – the software development company will usually provide their own product or project managers who will ensure that the contract stays on schedule and so you don't have to spend much of your time doing it. This allows some great amount of your time for strategy and operations.
In short, the work tends to be a lot more professional. If you are serious about your business pursuit and don't want to be locked into a long-term employment contract yet, an outsourced software company is probably your best option.
Especially, if it is a complicated project and/or if you are building your first product from the ground up, and particularly if you don't feel comfortable having to actively manage developers yourself.
I researched blogs from industry experts to see what tech providers they had successfully partnered with and found out that Carter Thomas, who built 400+ iPhone apps in his first two years as an IOS marketer, recommended a company called Peerbits.
I saw that in their portfolio, Peerbits already catered to Colombian clients like the real estate company Luis H Londoño, which has been recognized by Oriente Magazine as the best company in this sector for 3 years in a row – all thanks to an innovative digital strategy.
Based on this information, in October 2013 I decided to contact Peerbits to talk about a game development idea; later known as Oi Mundial! – A trivia game themed on 2014 FIFA World Cup that I launched on iPhone and iPad as the 'Mundial' started.
During development of the app I was amazed to discover the fact that at a budget overlooked by digital agencies and established software companies, working with Peerbits, I had at my disposal the best online tools to track my project on day-to-day basis along with the opportunity to interact with a project manager responsible for timely completion of pre-assigned tasks.
After several projects and 760 plus development hours, I can say having the right technology partner has allowed me to take full advantage of a team of highly professional people, with excellent communication skills, that are flexible enough to accommodate to clients needs without compromising quality.
Now I am joining forces with Peerbits as Colombia Sales Partner to help SMB and Startups in Colombia bridge the development gap and get the most from their web and mobile presence, in their own language and local time zone.
With a portfolio of 200+ mobile apps projects in 24 industry verticals, it is likely that Peerbits already has experience related to your idea of a mobile or web app:
Automation
Catalogs
Entertainment
Games
Lifestyle
Photo& Video
Shopping
Tools
Books
Communication
Finance
Health & Fitness
Medical
Productivity
Social
Travel
Business
Education
Food & Drink
Job Search
News & Magazine
Real Estate
Sports
Transportation
Having a technology partner with this kind of industry experience, gives SMB and Startups founders a way to jumpstart their businesses and a clear headspace from project management to focus on important aspects of scaling a business like understanding how customers interact with the brand through the various technology-aided touch points.
If you are ready to take your brand, or are aware of the need to enhance your online presence, let us help you achieve your business interests with a product that improves your customers experience and generates more revenue for your business.
COLOMBIA ADDRESS
Cra 43 A # 1-50 Torre 1 Piso 6,
San Fernando Plaza,
Medellín
Email: jose@peerbits.com
Office: +57 4 605 2431
Mobile: +57 314 615 5984
Look at how this Colombian companies benefited from choosing Peerbits as their technology partner.