When it comes to retail shopping, you can make buying decision very easily, courtesy of the price tags easily viewable on each item. You buy whatever falls within your budget.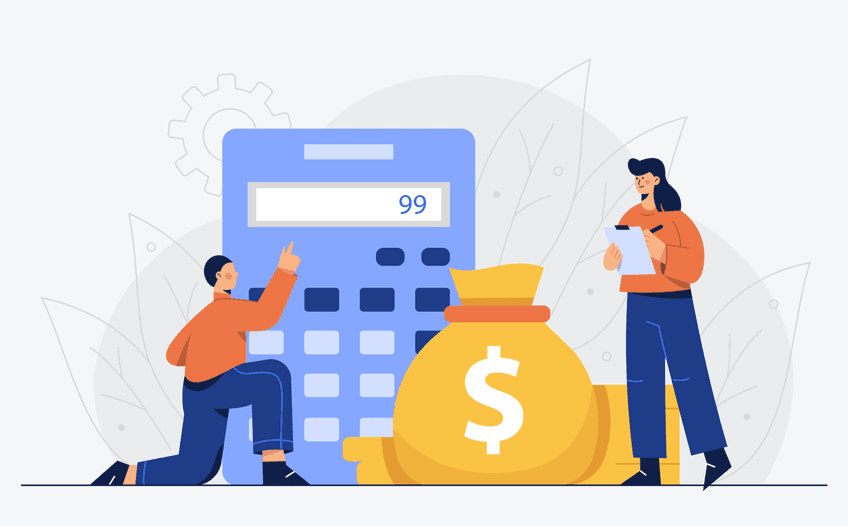 Wish it were that simple with app development, right?
Oh, wait! With Peerbits' fair cost estimation method, it can be.
Of course, with a service-based product like app development, there isn't a base price for every app – because no 2 apps are the same in terms of specs.
At Peerbits, you won't have to wait days for an estimate. You can have the rough estimate for your app in your hands, within a few hours.
All you have to do is, tell us a bit about what you might want in your app, your budget limit, the service you're looking for (app design, development etc) and your contact info. And, you're done!
Our senior project manager Aadarsh Bohara will be in touch within a few hours with a rough estimate, the Work Breakdown Structure (WBS) Summary, of your project.
The idea is to outline how much time each feature will take to be developed. The estimation varies according to the type of platform used for the project. We provide two types of estimations WBS Summary (Work Breakdown Structure Summary) & WBS (Work Breakdown Structure)
What is a WBS Summary?
In a WBS Summary, once you submit your project requirements you'll receive a ballpark estimation within 24 hours. We break it down based on the technology stack & the app development platform.
The main benefit of WBS Summary is that you can find out how much each platform would cost you. Based on these estimations, and in lieu of your budget, you can decide whether you want us to develop the project from design to launch.
Or, would it be more suitable for you to have certain aspects of the project (like design, web service etc.) done prior (e.g. in-house) to handing it over to us.
What does a WBS Summary Include?
Just because it uses the word "Summary" doesn't mean we'll cut corners and leave you hanging for important details. Take a look at what exactly a WBS Summary includes.
It mainly includes 4 sections:
Section 1: Project Estimation Summary

We specify the estimated hours required & the respective hourly rate for developing the project according to platform, design, analysis, QA etc. This'll give you an idea about how much time each task will take, and its estimated cost based on hours worked. Combined, these factors will give you a rough cost for your project.
Section 2: Payment Milestone

We specify every payment milestone beforehand, with cost and expected release based on tasks delivered. This way you'll know when and how much you'll need to pay as the project progresses. The first milestone is a specified percentage of the entire project cost i.e. the Advance/Upfront payment.
Section 3: Additional Terms & Notes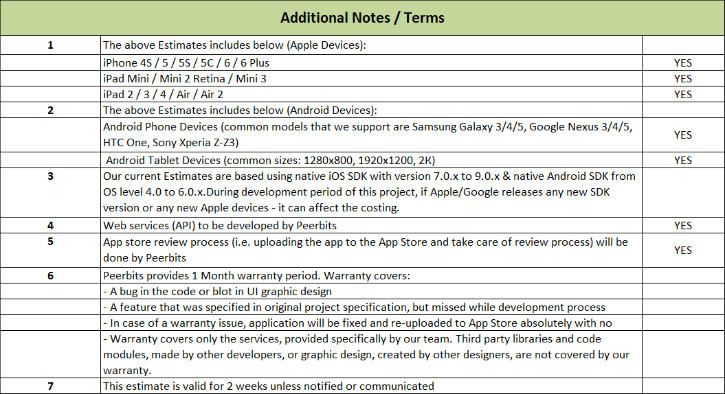 We include a complete list of expected project requirements. We want to make sure that we are on the same page when it comes to the nitty-gritties of the project.
For example, does the app need to be compatible with iPhone and/or iPad, which OS version do you want it to run on, what 3rd party payment gateways will be integrated etc.
This section clearly outlines the extent of the expected services to be delivered.
Section 4: FAQ
We answer all the basic questions you may have about how we do things on our end, before you even have to ask them.
WORK BREAKDOWN STRUCTURE
Here's what you can expect from our end before we hand over the WBS…
We'll start off with brain storming sessions, led by our BA and Technical Lead, wherein we'll be discussing your project needs and throwing ideas around about how best to meet them.
Once done, our guys will start conducting relevant research and figure out which features will be perfect for creating an outstanding app; an app that meets all your visions to a T!
Estimates for design and development will be based on hours worked. While the estimates for the QA are based on project size, approximately 15%-20% of total project cost.
What is a WBS (Work Breakdown Structure)?
WBS includes a detailed breakdown of the features of the application & the respective hours of work required for each task based on a particular framework. It includes hours of work required for:
Analysis

Design

Development

iOS
Android
Website
Admin Panel & Web service etc. (Based on project requirement)

Quality Assurance

Deployment (Based on project size)
What estimation methods do we use for WBS?
There are a couple of different approaches that we use for WBS. For example, giving an estimate based on modules (i.e. Order Module – 40 hours, Chat Module – 64 hours etc..) while the other approaches are feature-based i.e. defining in detail the different elements of each screen and the number of hours needed to develop it. For example:
Welcome Screen (this comes after the splash screen, when the user opens the app for the first time)
This screen will contain the following aspects/elements:
Infographic about the app (Carousel view to showcase the app features and how to use them)

Sign In & Sign Up Option

Skip Option (If the app concept has the feature that users can access the app without login)
Mostly, we use a hybrid approach. It combines, both, the module based estimation approach and the feature-by-feature estimation approach.
We use the module estimation approach when we are not certain how much time, exactly, a feature will take. For example, a survey from can have only 10 fields but because of other factors, it can end up having a 100 other necessary fields.
In such circumstances, we won't be able to give an accurate estimate of the number of hours needed to accomplish the task.
While the features we can give an accurate estimate for hours worked, we use the feature-by-feature estimation approach.
App Flow i.e. Hierarchy of Features:
To explain the flow of the app features, we prepare a table for you detailing how many levels each feature will have to accomplish its main purpose. For example:
1. Login & Registration Module
Login

Login with Facebook

Registration

3.1 Name

3.2 Profile Picture

3.3 Capture Using Camera

Select from gallery
If there is any feature we have a doubt about, we'll have it cleared with you before we begin developing and we'll mark them as Need To Discuss in the Hierarchy table.
In the same vein, if there's a feature for which a 3rd party SDK needs to be used, we'll mention it. We'll be giving our suggestions in such instances, but you are more than welcome to suggest/request an SDK of your own choosing as well.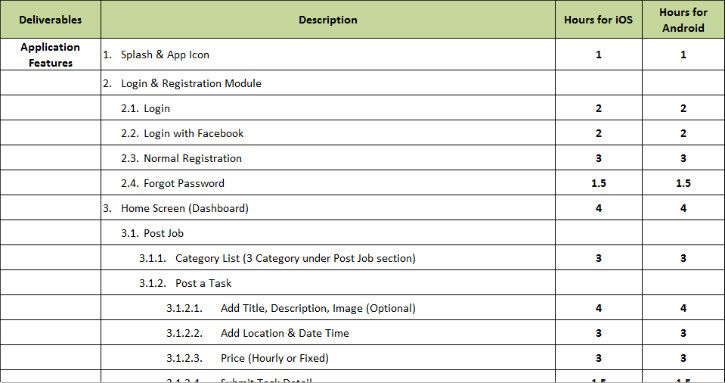 Module wise Hours Estimation Format: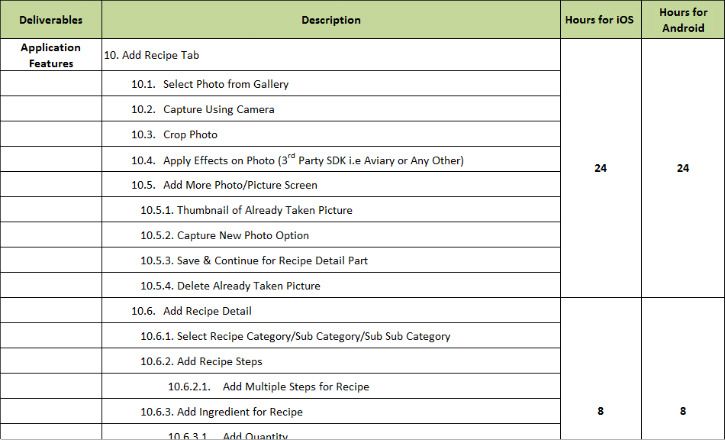 Read Also: How much does it cost to make an app?
Advantages of WBS:
A clear picture of functionality & features

A clear picture of the app flow

Fewer Risks – because of its detailed nature, it'll decrease the chances of missing/overlooking any features
Notes: If any other features, not already defined in WBS, are requested to be included into the development process, the appropriate cost based on the expected hours and hourly rate will be included into the final cost.