Nowadays, technology and business growth seem like a paradox. Because technology is an ever-changing thing, business growth needs to be continuous.
And this is the reason why a business needs to balance the equilibrium by harmonizing both the variables relentlessly.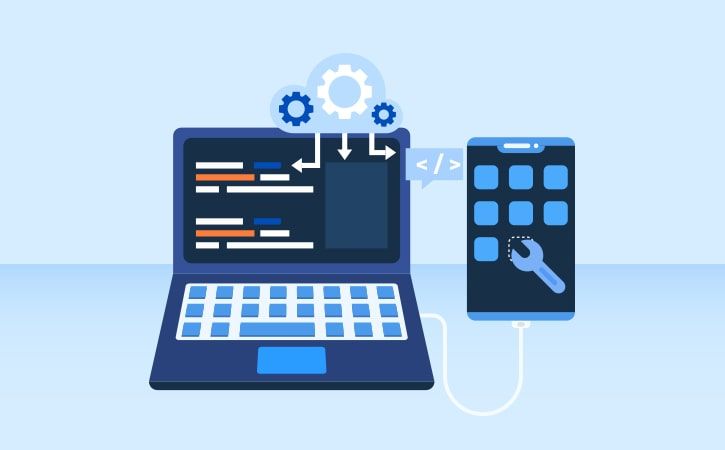 While we talk about this, one of the most successful and fiercely growing technology is mobile application development. Remember how excited we used to get while playing games on mobile phones? Or remember those days when common tools like calculators and conversion charts used to appear damn awesome?
Well, what was incepted as just an add-on feature to the normal phone, is now becoming one of the most scalable business growth options with the advent of smartphones.
And therefore, whenever businesses stand at the crossroads, on whether to go the app development way or ditch it and follow their own, the enigma gets even more perplexed.
No matter how small or big your business is, having only the web presence will not suffice the business growth. The online activities are continuously shifting to mobile devices.
Or let me put in a better way – mobile apps have become too precious a marketing tool for businesses to do without.
But don't you worry, because, we have the solution. If your business goals have any of the following things, then for sure, you will require mobile app development.
If you want to be in constant touch with your customers – Mobile app development is the only way. Be it push notifications, alert messages, or interactive in-app pop-ups. Mobile app can literally put you in constant touch with your customers.

According to the Gallup Survey it was revealed that 52% of smartphone owners check their devices few times an hour or more. And well, if they happen to be young customers, then there is no other way than the app development way.
Because, as per Pew Research Center, more than 90% of mobile phone users between the age of 18-29 uses their mobile phones to avoid boredom.
For any business to retain their customers, it is important to remain present at customer service, 24X7. And nothing can beat the mobility of applications.
If you are focused on 'current success scenario' then yes, your business will be all fine. But talking about future, it is projected that all the business activities will be shifting to mobile apps.
Also, in one of the latest research by KPCB mobile technology trends, it was revealed that 90% of user activity with mobile phones happens over applications.
Now we all know, marketing and branding go hand in hand. When you market your business, you market your brand as well.
So does your business needs some branding?
Then mobile app development is the perfect platform to let your brand shine.
In layman's term, a mobile app is like a blank billboard sign. A kind of open space on which you possess a complete control; make it stylish, hip it up, make it functional, shock-struck users, to be informative. It is a blank canvas in the hands of the finest artist.
So, build an app for your business and spice it up the way your customer would love. While at the same time make sure you brand it beautifully, keeping it well designed.
Opting for a mobile app development certainly helps you brand your business in a better way. And a brand always gives face to the business.
Mobile Applications are a great means to get invaluable customer insights
One of the biggest advantage of developing a mobile application is that you get vital insights and stats that play a significant role in improving your services.
Collection of data from the mobile application can show which are your most promising demographic segments, areas that show great promises, and most importantly the customer requirements.
The collected data helps you to take insight-driven decisions to make your services better.
Moreover, after you implement the changes you can track the improvement and identify if those changed made any difference in the overall progress of your business.
Read More: Significance of loyalty app development in retail industry
Who doesn't want recognition?
Even a small child gets elated with the claps around him. Then, why shouldn't your business get one? If you already want your business to become a brand, then you need brand recognition as well.
And now that you need your face to be recognized, you need a mobile application for user retention.
Mobile apps are perfect way to increase your brand recognition. The more you involve your customers with your business through intuitive apps, the sooner they will buy/purchase your services and products.
There is a theory of Effective Frequency. This states that exposing your potential customers to your brand for more than 20 times can lead to desired actions.
Now you know, if your business needs a recognition and a constant reminder to your customer, then mobile app development is the right way to go.
But, any new business initiative comes with a price and so does a mobile application development.
Customer experience is always a prime motto of any business and with mobile applications you can ensure better consumer experience. To improve your services, it's important to look from a customer's point of view.
Just imagine if you're a customer then what would be your requirements? The first would be to access the services or product with utmost ease. Mobile applications are synonymous to ease.
A good mobile application with quality UI/UX can make a huge difference in improving your consumer experience which in turn results in better customer engagement and customer retention. Mobile apps have an advantage over web as they are easy to use.
Smartphones of users are usually flooded with several applications which they keep on adding and removing based on their experience. And it's difficult to win their trust.
However, if you manage to do it, then you'll be in a constant touch with your customer.
You can capitalize on this proximity by sending push notifications to make them aware of all the updates and by providing all the personalized services.
Cultivate Customer Loyalty through mobile application development
An important factor why you must consider to develop mobile application for your business is to cultivate loyalty among the customers and hence increase in the percentage of addition and retention of customers.
Customers are exposed to plethora of options. A small segment has millions of companies competing.
In such scenario it becomes vital that you can retain your existing customers. You can achieve this by cultivating a sense of loyalty amongst your customers. Loyalty can be induced by seamless services for sure.
However, many companies provide that but all of them are not successful. It's because that's not the only factor. The other factor is to provide them with incessant personalised experience.
Personalised experience makes your customers feel special and they are more likely to use your products & services if you follow this path.
But, there is a vast scope for lucrative ROI…
We know you invest almost everything when it comes to business. This is not only limited to capital and finances, but also the time and energy you put into business. And for that, it is possible to maximize ROI through mobile apps.

Considering the possible scalability of mobile applications, it is possible to gauge the returns through reverse process mechanism.
For example, you can forecast the revenue generation from the mobile apps and compare the same with your investment in the same.
And once you decide to go ahead with mobile app development, the need is to get customers and retain then. However, it's important to Hire mobile app developer who can deliver to all your requirements
Don't worry, because…
Mobile Applications are the pathway to increasing the customer base and creating a community.
How many times have you thought to bring all the prospective users under one roof? Mobile app development is one such process, where it is possible to create a community for the products/services you offer.
This is one of the most lucrative ways to yield an effective customer base. This customer base not only becomes an engagement tool but also your loyal trumpets.
Engaging customers in community through mobile applications serves two purpose – first, it keeps on the flow of customers, and second, it allures prospective customers to become the part of a community. Look how THRONE made fortune out of a community driven mobile app.
If you are a small business, and still contemplating on whether to invest in app development, then let me tell you, that the future of mobile apps is certainly bright. And, it is capable enough to generate rocket high revenue.
In order to match with the speed of technology, every business needs to move ahead with fierce pace.
And to ensure that business grows in everlasting competition, one must step out of conventional thoughts and take risks. It all starts with the first step toward developing a mobile application.
So, what are you waiting for? Just Find the Best App Developer and discuss the cost of app development. Consult before your competitor does.