Enterprise mobility solutions leverage different technologies like the cloud, mobile applications, web applications, process and management software etc – to create a core, organization-wide IT infrastructure.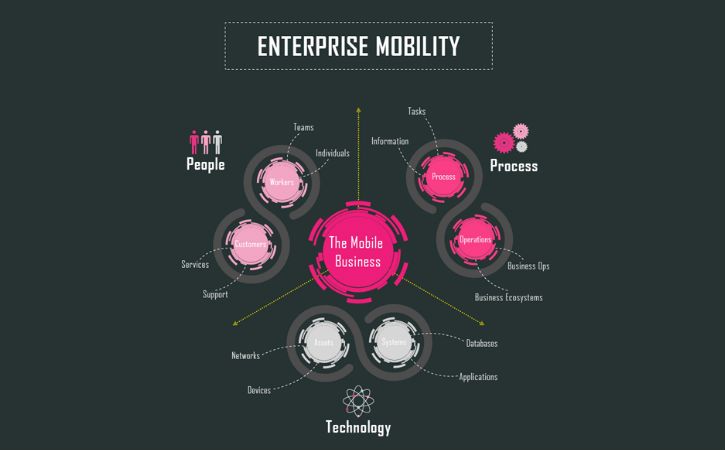 This infrastructure (enterprise mobility) gives all its employees access to company data and information through their personal smartphones, office desktops and tablets thus so that it looks natural facilitating real time decisions, remote teams and an agile working environment. Managed IT Services Provider Power Consulting
Why more businesses are encouraged to use enterprise mobility?
There are multiple benefits offered by enterprise mobility. Here are a few points about why businesses use enterprise mobility:
Enhanced customer satisfaction and relationship
Minimal cost for operation
Better productivity
More effective collaboration
Swift data collection
Enterprise app development that is developed with enterprise mobility can avail these benefits.
According to Dimension Data's recent survey, 90% of the US organizations surveyed claimed that their employee productivity increased greatly after implementing an enterprise mobility solution.
At the same time, 44% stated that they were unable to access all applications required to perform job functions using personal mobile devices due to security concerns.
71% of the 1,600 global IT and Security professionals surveyed by Dimension Data named data security as their greatest mobility related concern.
In an effort to minimize these security challenges, a similar study conducted by Gemalto concluded, 92% of organizations restrict users from accessing sensitive corporate resources and data from their personal mobile devices.
Top 3 Security Threats to Enterprises
In recent years, there has been an increase in cyber crimes. Large organizations such as eBay, Home Depot and Target have been a victim of corporate hacks.
Not just organizations, countless celebrities have had their intimate pictures hacked and leaked over the internet. More often than not, from cloud based applications – which demonstrate the vulnerabilities the cloud is still prone to.
Clearly, it's no surprise that an enterprise mobility infrastructure would be vulnerable to data theft and other security breaches, as well. Here are the top 3 security threats faced by organizations implementing enterprise mobility strategies:
1) Device Loss/Theft
Enterprise mobility makes use of the BYPD trend. In this respect, the organization has as many mobile devices as there are employees, perhaps even more.
With the storage capacity of each device ranging from 32GB – 64GB, imagine the amount of data that can be compromised or lost simply because one of the devices was stolen, or lost.
A study conducted by the Ponemon Institute. estimated the loss of just one corporate file/record, can set the company back by $250. Similarly, Symantec's mobility survey.
Reported that an enterprise is set to lose an estimated $429,000 because of a security breach and while the figure is at $126,000 for small businesses.
Of course, loss/theft of device is a factor that is out of the enterprise's control. However, there should be protocols for damage control in such situations.
Installing application and file management software/solutions is one way to limit the damage and regain control over the data lost or compromised.
2) Mobile Applications
Mobile apps are now a fundamental part of a person's life. An average person has anywhere from 33-60 apps in their devices. Be they gaming, entertainment, business or productivity apps – they pose a threat to the enterprise, simply because they exist on the user's phone.
This threat stems from the fact that many of these apps require certain permissions. Like the permission to access the user's camera, their contact information, their email contacts, their location etc.
Another security threat arises from the possibility of injecting/exposing malware to the company's network.
This threat can be neutralized to a certain extent via Mobile Application Management. A successful MAM solution can secure various mobile apps on the user's personal device, authenticate the identity of the end-user, and close/retire apps that interfere with the corporate network.
3) Access Control
Because of the BYOD culture, it's becoming increasing difficult for organizations to keep track of all the devices that access the company's network.
To avoid security breaches that stem from unauthorized access control, organizations allow only approved personnel to access critical corporate data only when on the premises. This location limitation coupled with restricted access severely hinders the productivity and efficiency of the organization.
The solution to this problem lies in stringent identity authentication. Organizations are now looking to implement 2 factor authentication protocols for accessing cloud based applications.
Supporting this strategy, Francois Lasnier, SVP identity protection at Gemalto said, "Users are likely to do what it takes to get the job done, with our without permission, so when corporate resources are scattered across different sites, the need for strong authentication and as a service delivery will serve vital functions in making this happen securely."
Conclusion
Since the emergence of enterprise mobility, organizations have improved their productivity immensely. However, the recent phenomenon that is Bring Your Own Device (BYOD) to work, practically every employee uses their own personal mobile device to connect to the company network.
This presents huge security risks such as data theft, compromised data, lost/stolen devices, privacy and compliance violations etc.
MAM and MDM are the tech world's current security solutions, but even these are sometimes rendered inadequate. However, organizations are still willing to face the potential risks because a mobile working environment gives them a significant competitor advantage.