If you ask this question - how much does it cost to make an app? To a developer, you will never get an accurate answer. You possibly will hear the words like "It depends".
It depends on the type of app, size, the technology you choose, and hours it takes to develop and so on.
Some websites offer "guestimate" for the cost of developing an app. But they are usually marketing tools designed to just give you a raw idea. In reality, the cost depends on many factors that include the type of app, functionality, number of features, the country and experience of the developer you hire from, and more. However, the average price of an app development varies anything between $2k to $250k.
Be it any type and size of the app, development needs resources. But unlike material things, that resource is time and skills. 'Time is money as the old saying goes and this is certainly true with App development.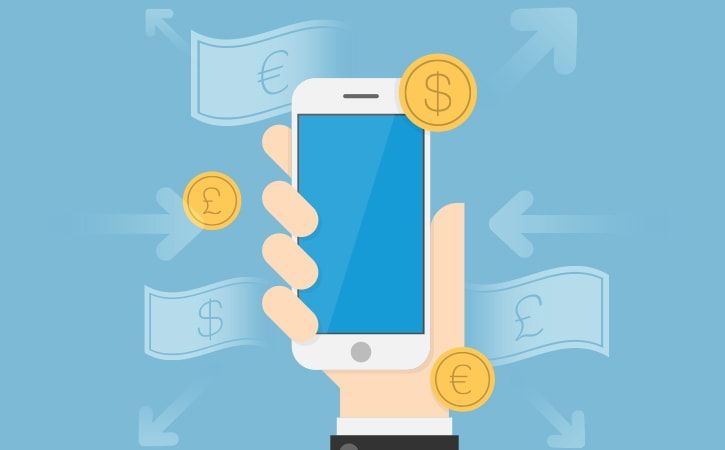 A basic App starts at $15K, increasing to $20k – $50k for one of average size. For a more complex App, you are looking at north of $50k.
The estimated TIME of adding common features
Time is the key. And the main factor that defines the app development cost is time. We need to consider the volume and complexity of an App.
The number of features and functionalities like screens, buttons, fields, plus logic will define development time. Complex solutions may require bespoke coding and/or third-party APIs.
Standard features on the other hand can be cut and pasted or adapted from common templates.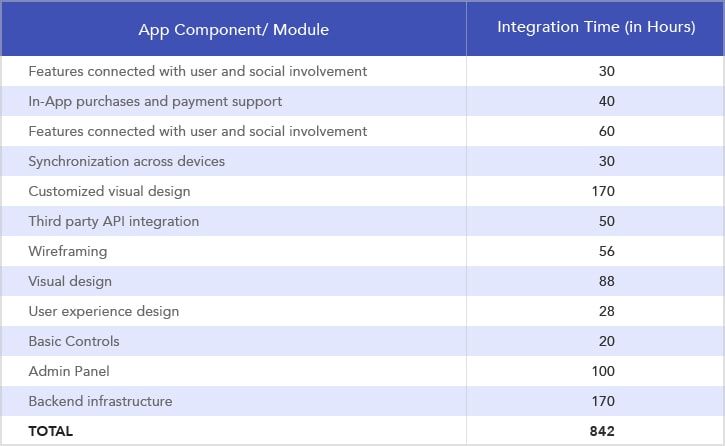 Surprised? No matter how hard a mobile app development company makes you believe that developing an app is no child's play. It takes extended hours, and you must make a lot of people work together. It needs exceptional display of people's management. I did not even include testing time.
On average, a development team works 40 hours a week. That's 21 weeks or five months for just development. I did not include pre-development and post-development procedures. I assume regular should take around 8-10 months to develop.
App development rates vary from anywhere between $20/hour to $250/hour, depending upon the country you hire a developer from. For this article, let us consider the per-hour development rate of $50/hour.
Read More: Point Affecting the Cost of Mobile App Development
Let's take a look at the common types of apps in the market and how much it takes to develop them. For example, Uber-like apps are in great demand these days.
Cost to develop a ride-hailing app (e.g. Uber, Lyft, Careem, Lyft etc.)
To completely understand the pricing factor for development, let's delve into its functionality. The first thing you should note is that Uber actually consists of two separate apps – Uber Driver App and Uber Passenger App.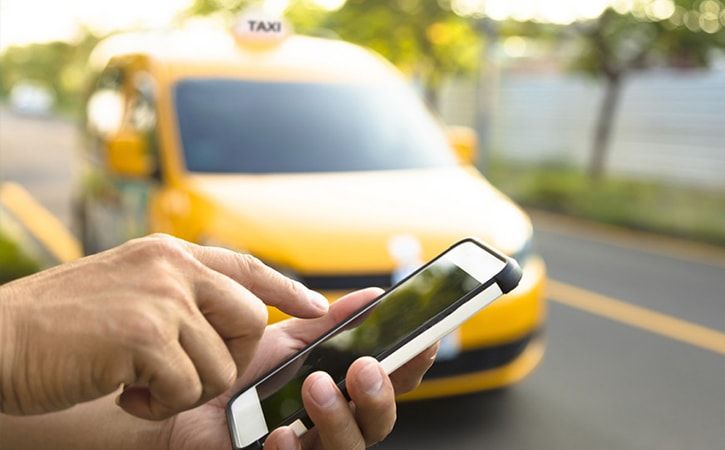 There are tens of core features and several optional features you can integrate into the passenger app. The same goes for the Driver app. A few months ago, I drafted an article on the cost of building an on-demand taxi solution. Fortunately, it covers every aspect of developing an on-demand taxi solution.
There is so much that goes into developing an Uber-like app. As you intend to develop an on-demand car-hailing app, you cannot do without location identification and routing. In general, GPS technology is used to determine the current location. Besides, users can find the car with map integration and positioning. To know the distance and run the routes, you need the routing server, etc.
Cost to develop an on-demand delivery app (e.g. Postmates, DoorDash, GrubHub, etc.)
So, if you are looking for opportunities to start your own food delivery business like Postmates, you must be interested in how much you will have to pay for Postmates-like app development! And let's discuss what must-have features it will need to integrate and what business model you should apply.
As for the business model. Do you know what this is? This model will help you arrange your business in the right way.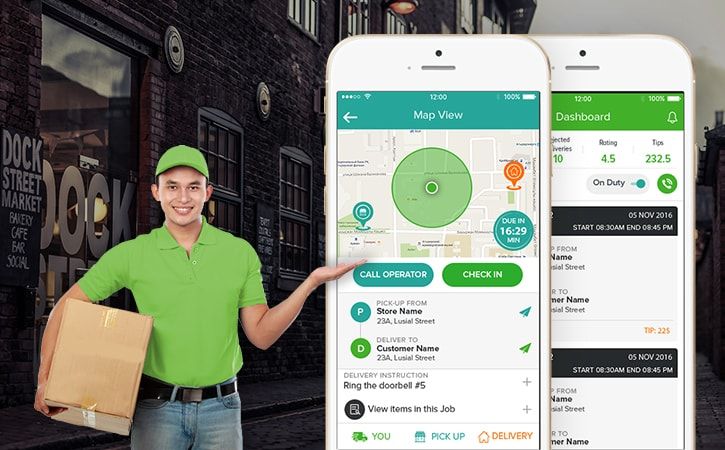 The business model "canvas" can become your assistant for that moment. The canvas has a few segments that need to be elaborated on thoroughly. Moreover, it will help you succeed in your future business.
When you start your app, it doesn't mean you have to buy a delivery car immediately, hire a driver and so on.
If you have a limited budget for on-demand app development, it would be preferable to integrate only MVP features. The first main feature can be social sign-in. Many apps require registration.
But not so many people like to fill in long registration forms. Here is where social media comes in.
Read More: How to Develop On-Demand Delivery App?
Using a profile on Facebook or Twitter, your users will be able to register for several seconds. Convenient and simple! And you can add as many social networks support as you need.
The development of the sign-in feature can take up to 125 hours and the cost can be up to $6,250. The next feature is geolocation. Hungry people are nervous people, don't forget it.
They need always to know where their food is when they are waiting for the order. So geolocation feature allows tracking all routes of delivery. Development of this feature may cost you $2,850 and take 57 hours.
I wrote an article a couple of months ago on the cost to develop an on-demand delivery app. It should help you find the rough estimation and the time it will take to develop along with the essential features.

Cost to develop instant messaging app (e.g. WhatsApp, Telegram, Slack, Signal, etc.)
Singing up is the first feature you usually bump into when opening an application. For WhatsApp, registration and address book formation are inseparable.
Once a user enters his phone number, the application sends an SMS for authorization. The Android version of the application opens and processes this SMS automatically.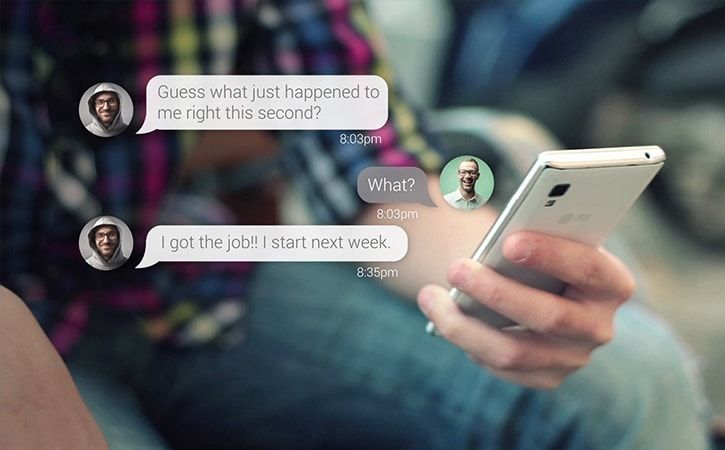 If you intend to develop a messenger like WhatsApp, it's pretty obvious that the opportunity to start a dialogue has to be provided.
Once a user presses a dedicated button, a contact list has to appear in order to choose a person. Also, there should be an option that allows you to create a group chat, where users can add a chat picture and provide the subject of conversation.
You may also want to add some spice to your message exchange functionality, like Stickers, for example. A sticker is worth a thousand words.

On WhatsApp, a user is usually informed about two things. When the user is invited to join a group conversation or when a new message arrives. That's performed by way of pop-ups or push notifications if the device screen is locked.
WhatsApp users can send short voice messages, pictures, and videos. If you want your application to have the same functionality, you can include a multimedia file transmission feature.
Another very cool thing you may want to consider. You can integrate a geolocation feature into your app because it can be really helpful for users. You can integrate another feature into the app. Users can exchange contacts and save them to their address books.
To be up to date and to attract more users, WhatsApp added free voice calling in January last year, (for different platforms the date varied). But it will take more time and money to integrate it.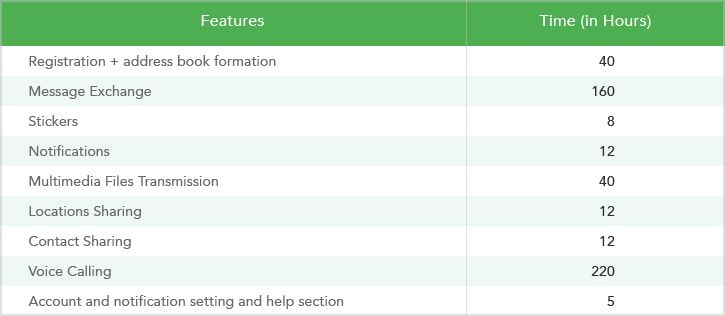 We can conclude that the development process can take up to 606 hours (+ 2 weeks for deployment). Given this, the approximate cost to build an app like WhatsApp messenger can be calculated as 606 hours x $50, which comes out to approximately $30K for a single platform. Double this sum if you want to develop an app for both iOS and Android.
The more versions of your application you want to release, the more money you will need.
Cost to develop a search-and-discovery app (e.g. Yelp, Foursquare, Yellow Pages, TripAdvisor, etc.)
It allows you to find quickly on the map all establishments you need. And it doesn't matter what you are looking for – whether for the most luxurious city restaurant or for the gas station.
Furthermore, you can read reviews and see the rating of every pizzeria, hotel, shop and any other place to choose the best one.
Yelp clone app should have 4 main features: activity stream, geolocation-based search, user profile, and reviews and ratings. But if you want to build a really powerful and multipurpose app that should draw potential users, you must add some functions like:
Social sign-in
Reservation
Pictures and video uploading
Filters integration
In-app purchases.
Mobile app development costs depend on many factors, but we can define an average market price – $50 per hour – for the calculation of this hard-working and inspiring process. So, the final price may vary from USD 25,000 to USD 55,000 for iOS and Android platforms depending on the number of features.
Cost to develop an online marketplace and hospitality app (e.g. Airbnb, Trivago, Vacasa, etc.)
Airbnb is a travel App designed for booking hosts all over the world. It provides services in more than 190 countries. Using the hotel booking services, you can book a room or rent out your room or house.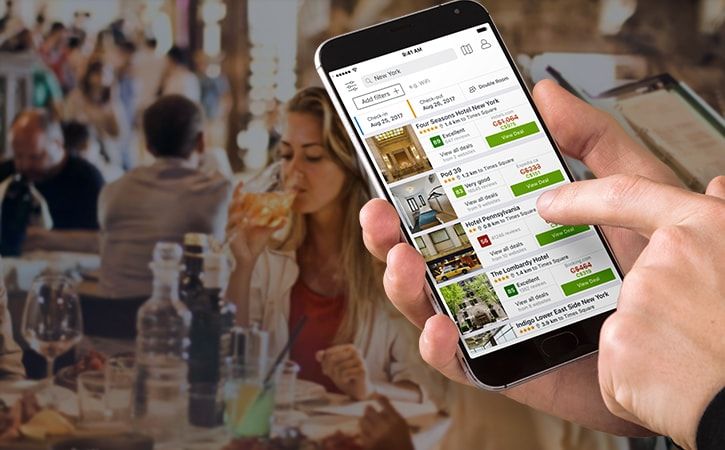 Let's find out what features it has and the cost of their implementation. I've included the time for business logic, UI (User Interface) and testing in our figures.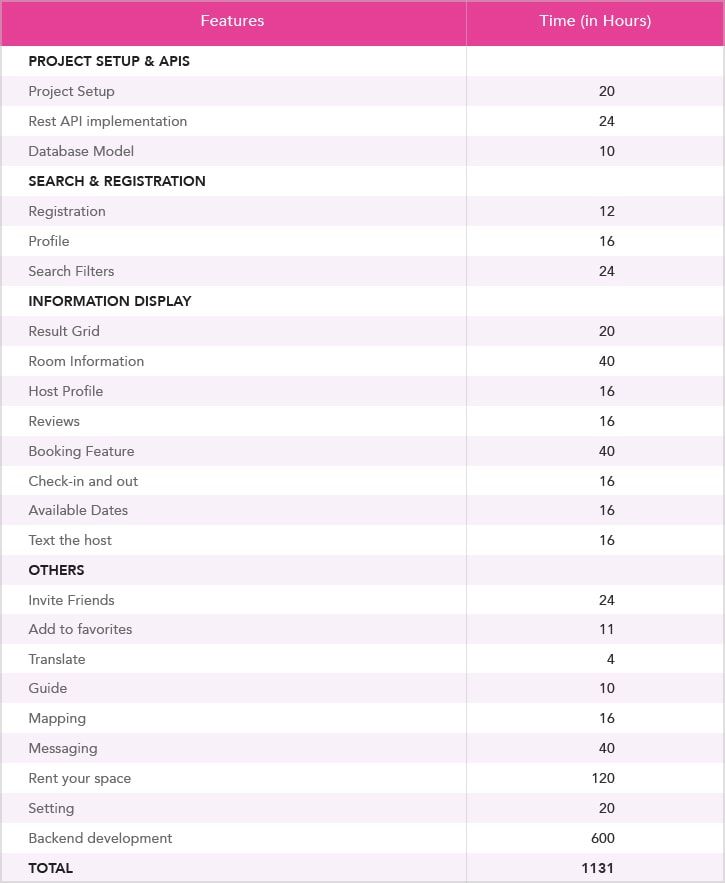 Now we can calculate the total. Having summed up all the time required for development, we get a figure of 1130 hours. For the blog, we have considered $50 per hour. Thus, we can calculate how much money you need to develop an Airbnb-like product. Are you ready? If we multiply the number of hours required by $50, we get $55K.
This figure is just a rough estimate for an application of this type. To know the exact cost to create an app, the best exercise is to consult an expert, discuss your requirement and get an accurate rate.
Besides, even the implementation of the same functions may take different amounts of time, because in combination with other features they can work differently.
Cost to develop a photo sharing app (e.g. Instagram)
We are going to consider how much it costs to create an app like Instagram. What is Instagram and why did it gain such stunning popularity? In my opinion, the secret of its success lies in the set of interesting features, the simplicity of the interface, and great app performance.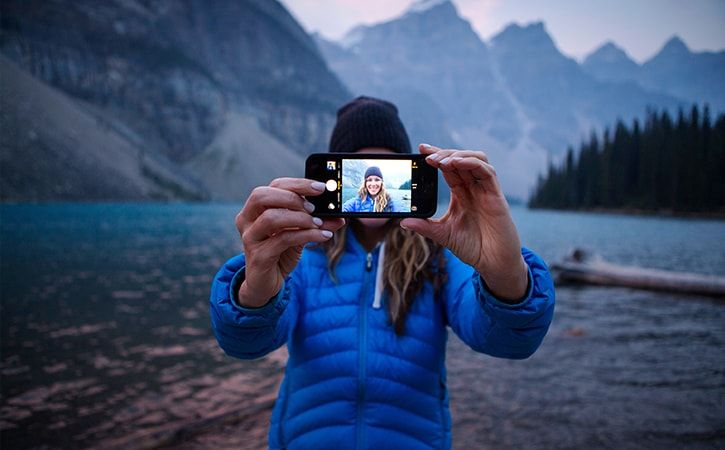 But let's not go into too much detail or consider everything. To start the development process, you should be clear about which features your app should have.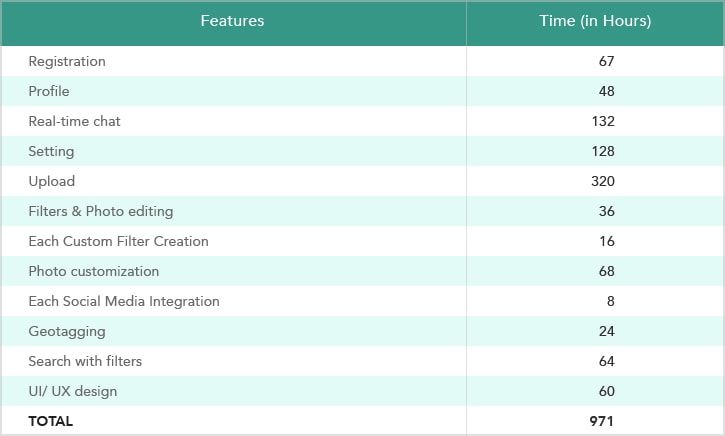 As with the rest of the blog, we have taken a $50/ hour rate of development, which makes it around $50, 000.
We recommend that you create a native application since this is a sure way to provide the best user experience. In view of this, consider multiplying the development time based on the number of operating systems you want to cover. At Minimum, you should double the cost to create both iOS and Android platforms.
Cost to develop a photo editing app (e.g. Aviary, Photoshop, Fotor, etc.)
Can you imagine the modern world without Instagram, Facebook, Twitter and so forth? When something unusual happens, the first thought of many people is to take a picture of it and post it to Instagram or some similar App.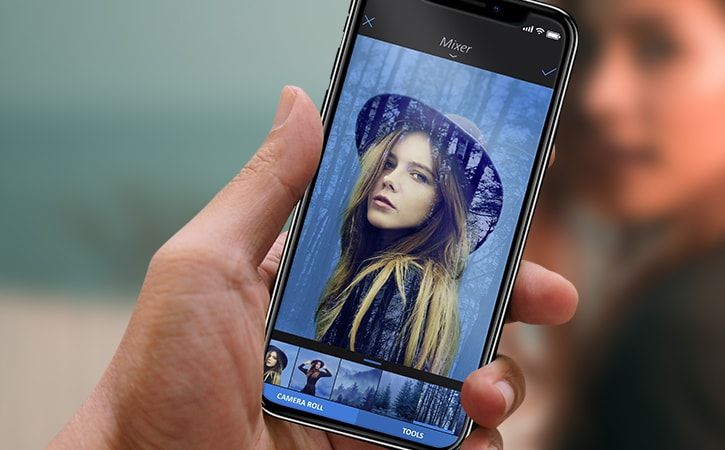 Let's be honest – people do that even if there is nothing unusual going on. In a time of really cool cameras on mobile devices, we want to make our photos creative and exceptional.
That's what the photo editor by Aviary was created for. As you remember, time is money, so the time required for the development of an App like this needs to be converted into the price you'll pay for it. Aviary has a lot of different functions. Let's find out just how much time is needed to implement each of them.

If I multiply this by $50, the average cost for an hour is $21,000 in total.
I would like to draw your attention to the fact that this is the average cost of developing an app that can become a flagship product. Your set of features can be completely different. So, the price may differ significantly.