A few years back, fitness became a new religion for people across the globe. Looking at the mass interest, the creators in the app world began to come with fitness tracking apps. There are a lot of fitness tracking app development companies offering various types of services to the clients. Fitness mobility and tracking solutions are the latest tech innovation along with several other health related applications. If you want to build a fitness app, this blog is for you.
Types of Fitness Apps
There are several types of fitness apps designed to cater to different aspects of health and wellness. Here are some common categories: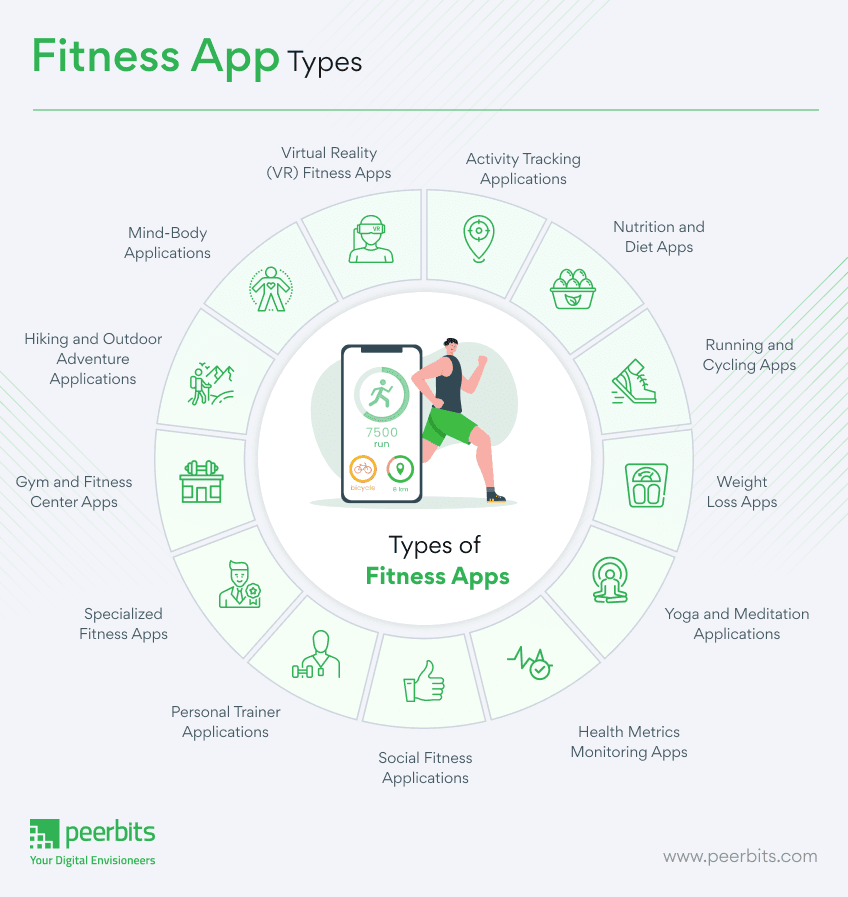 Activity Tracking Applications
These apps focus on tracking your physical activities such as steps taken, distance covered, and calories burned. They often use sensors in smartphones or wearable devices to monitor movement.
Workout and Exercise Applications: These apps provide users with various workout routines, exercises, and fitness plans. They can be tailored to different fitness levels and goals, including strength training, cardio, yoga, and more.
Nutrition and Diet Apps
These apps help users track their diet, calorie intake, and nutritional information. Some apps offer meal planning, recipe suggestions, and guidance for maintaining a balanced diet.
Running and Cycling Apps
These apps specifically target runners and cyclists, offering features like GPS tracking, route planning, pace monitoring, and progress tracking.
Weight Loss Apps
Weight loss apps focus on helping users set weight loss goals, track their progress, and offer guidance on diet, exercise, and healthy habits.
Yoga and Meditation Applications
These systems provide guided yoga sessions, meditation exercises, breathing techniques, and mindfulness practices to improve mental and emotional well-being.
Health Metrics Monitoring Apps
These apps integrate with wearable devices to monitor health metrics like heart rate, blood pressure, sleep patterns, and more. They offer insights into overall health trends.
Social Fitness Applications
These solutions incorporate a social aspect, allowing users to connect, compete, and share their fitness achievements with friends or a community of like-minded individuals.
Personal Trainer Applications
Personal trainer apps offer virtual coaching and personalized workout plans tailored to users' specific goals and preferences.
Specialized Fitness Apps
Some apps focus on specific fitness niches such as pregnancy workouts, senior fitness, rehabilitation exercises, and more.
Gym and Fitness Center Apps
These apps are developed by gyms or fitness centers to provide schedules, class bookings, membership management, and virtual training sessions.
Hiking and Outdoor Adventure Applications
Geared towards outdoor enthusiasts, these apps provide trail maps, navigation tools, and information about hiking routes and outdoor activities.
Mind-Body Applications
Combining fitness and mental well-being, these apps offer a holistic approach by including exercise, meditation, mindfulness, and relaxation techniques.
Virtual Reality (VR) Fitness Apps
These apps leverage virtual reality technology to create immersive fitness experiences, making workouts more engaging and dynamic.
The choice of type of health and fitness application development depends on your target audience, market demands, and your unique value proposition. Whether you're interested in comprehensive fitness app development or a niche-specific solution, understanding your users' needs is key to creating a successful app.
Apart from this, such apps also monitor your daily coffee consumption and body fat content with the help of light sensors. They will also create a shopping list and draw up recipes in order to provide healthier lifestyles.
Also, these activity apps can track your sleep and assess your sleep quality. You can also take help of a digital alarm to make your waking up easy and quick. Furthermore, these apps offer you the voice control feature too.
How many made their way into the hearts of the people?
We all are well aware of the status of the flooded apps world. The arena has the same number of contributions from fitness apps developers, but not all find their way to the shore.
The major reason behind this is understanding of the need of the target audience (fitness enthusiasts) by the fitness app developers to serve them with additional features and benefits.
As per Statista, there will be 86.3 million (approx.) fitness and healthcare app users in the United States only. With the increase of the COVID-19 virus, more and more people became health-conscious than ever before.
An outer look at the above data reveals that the primary reason behind the trend of fitness tracking apps is the awareness and motivation. However, it's better that we won't jump to a conclusion directly and go through all the linked aspects of fitness app development.
How to create a successful fitness activity tracking app?
When we talk about an activity tracker app, the wearable market steps in. While building fitness applications, one needs to ensure that they are well compatible with wearable devices.
A recent report reveals that the wearable market has increased drastically in the last couple of years.
However, the question arises, how many made it to the end? Or rather, how many made it as they dreamt/planned?
I guess not many.
18 Must Have Features for Fitness Tracking Application
Well, once you have made up your mind to build a fitness tracking application, you may be wondering what features your app should have. You can brainstorm a lot of ideas and talk to a few fitness app development companies to get a better understanding of what is required.
Here are some tips that you need to keep in mind, during the process of fitness application development:
A personalized experience
When it's about tracking the user's daily activity and further evaluating the user's fitness, the application needs to have the user's personal information like age, height, gender, and weight.
These factors will help the application in ascertaining the accurate details.
With these, allow users to customize the application as per their need. You may include essential features like:
Making user profiles
Planning personalized exercise routines
Saving the statistics, he/she gets
Setting goals
Comparing the performance/progress
Customized Diet Plans
Customized diet plans are tailored as per your specific energy consumption needs. Also, a customized diet is designed just for you. So, if you have any preferences, food intolerances, specific requirements, or food allergies, they are all taken into consideration. You will be more likely to stick to a plan that includes the kinds of foods you enjoy.
With customized diet plans, you can effortlessly avoid the pitfalls that come with simply browsing through the market with no obvious intention or purpose.
That's why the shopping list and recipes that come along with a customized diet plan are so helpful. They save you time by making the planning and shopping experience easier and more purposeful for you.
Read More: A complete guide to develop a diet & nutrition app
Nutrition Tracking
Nutrition is the core of every fitness activity. There are many nutrition tracking apps available in the market that allow your users to control their weight by providing them with the data of burned calories, controlling water balance and motivating the users to encourage healthy food habits.
Personal goal setting is one of the basic features of fitness apps. If a person is facing trouble with the time sticking to healthy nutrition, the app will help to create grocery shopping lists and even collect healthy food recipes.
Integrate geolocation
This feature allows the user to track his walking routes, and to build them and record workouts.
By availing this platform your fitness tracking app can make an invincible space in the hearts of its users, as this will allow them to track their fitness progression over larger periods of time.
Push notification system & reminders
Anyone who is working out regularly would never want to miss a session. However, keeping up with our busy lives; sometimes, it slips out of our minds. In such cases, a push notification from the app can be very useful to remind us of our workout session.
This is the very reason why many Fitness application development companies are investing a lot of capital and time in the notification system. However, they must keep one thing in mind: Push Notifications work as a double-edged sword.
Pushing the Push Notifications too much could annoy your users; they even might leave your app to never return.
Gamification
We all have pushed five crunches or push ups the moment the gym plays our favorite song. Moreover, we tend to push ourselves more whenever there is a target to achieve.
Just imagine what if you can complete these targets and win rewards which are a part of a game in your fitness app?
This game will have several tasks which you have to complete. Failing to complete these tasks would lead to penalties. These penalties could be in a form exercise like 250 burpees or in the monetary form.

Social Sharing
Who doesn't like to brag about his achievements on social networks? In the era of social media platforms, it is tough to imagine fitness apps without social media integration.
Customers often prefer to share their achievements with others on social media. This makes them more fulfilled and motivated to push themselves to work out more.
And that is why fitness apps enable individuals to share their daily fitness progress, chat with near and dear ones, and group-based interaction will allow the users to spend a good amount of their time over fitness tracking apps.
Besides this, fitness apps are integrated with third-party apps of social media to make content sharing smoother.
Multi-device synchronization
Like Fitbit, you can allow your fitness app to synchronize with different mobile devices. This feature will give your app an extra edge as it will get the nod of those users who want to work out by synchronizing their devices.
So, the mobile app development firms while they build an app must consider this point very significantly.
Goal Setting
Fitness apps are aimed at helping users to bring measurable results from their daily workouts. The user sets the desired results themselves, so the process of goal setting should be simple and clear.
Besides this, fitness apps also focus on sports activities and nutritional goal settings. For effective utilization of such applications, the user needs to select a daily task, input goal value, or you can decide a specific date to achieve the goal. Furthermore, they show the task performance statistics.
Progress Tracking
You cannot achieve your fitness goals properly unless you do not measure its progress. Repetitions, sets, calories, hours, kilometers, kilograms, pounds – everything can be counted.
The app owners can track their progress in the aforesaid measurable units, become motivated by this information, and continue using the app to achieve more.
The most important thing here is that fitness apps do not track unnecessary amounts of data to avoid data overload. A graphical overview of the metrics provides the entire fitness routine summary to the user at their fingertips, including the route map with the color codes showing the most active segments.
Deep heart monitoring
For many years doctors, athletes, and astronauts are using heart rate monitors to measure stress and other health metrics. Nowadays, a majority of fitness apps use optical heart rate monitors.
Welltory is a mobile app which helps its users to measure their heart rate variability at any time and anywhere.
It provides its users with the best heart rate monitoring & diagnostics results with 33 stats. These stats are personalized and explained in detail.
Sleep tracker
This is a must add feature looking at today's busy lifestyles. The feature tracks the time the user didn't get the sound sleep. This implies the moments he is active during sleep.
To use this feature in the fitness tracking wearable, the individual will have to wear the band and activate it before going to sleep. Hence, to get this thing to work well, you might need a little extra discipline to have a healthy lifestyle in return.
Altimeter
This feature is useful for the users who climb stairs instead of going with an escalator or a wheelchair. The feature measures the stairs climbed and the change in height (altitude).
This feature is also helpful during jogging or running, in order to measure the efforts made and the final result ascertained.
Food tracker
By adding this feature you'll allow app users to log their food intake. This will help them in the real time tracking of their calorie intake and the exact requirement as per their body.
The integration motivates and guides the user, and thus has an impeccable space in the market.
Water tracker
The water tracker is a unique feature which is certain to get green signal from most of the users. Fitness trackers can include it and take its advantage. Water is a very essential yet neglected element of our diet.
We all know that roughly 60% of our body is made up of water. A human body requires 2-3 liters of water in a day.
This app reminds the user to drink water and stay hydrated during different stages of a day. It considerably helps in assisting the user to achieve their goals by ensuring proper intake of water in their body.
Online consultation & chat
Physical exercise often becomes tricky in absence of a trainer. The user may have a plethora of queries regarding different exercises. In such cases an online consultation & chat feature can really help your users.
They can clear any of their queries at any time through online consultation. Moreover, with the chat system in place they can talk with the fellow workout buddies and can share their experiences and progress.
Live Streaming or Video-on-Demand
A fitness application caters to a diverse range of users that prefer to access multiple information on a platform. For those who want to access visual information, the app can implement video tutorials that show the techniques for specific workouts.
Furthermore, these videos are also motivating and contain music that cheers up the users.
SWEAT, Grokker, ClassPass, Physique 57, TRX Workout app, etc are some of the popular fitness mobile applications.
Tracking Number of Steps Taken
Steps tracking is a must-have feature for startups who want to create an app that helps users with their workout tracking. With this feature of a fitness tracker application, users can check their total steps of an entire day and calories burned while doing different fitness activities like walking, running, and cycling.
Wrap Up
These are the final words for the blog to help you understand the importance of physical mobile fitness app development and this awareness turned into a modern fad or craze that will continue for several years to come. With time people have understood the importance of physical fitness and have already started adopting the apps to improve their lives and live healthier.
This segment has a promising future in the form of tech-savvy tools like development sensors, switch control and digital atmospheric pressure meters.
Being a visionary entrepreneur, you must cash in this opportunity; you can contact any mobile app development firm and discuss the cost of fitness app development including the hourly rates and all the mentioned advanced features.
Moreover, you can conduct market research and contemplate adding some key features which will make you stand out from the existing fitness apps.
So, the key ingredients to make a successful app is wise strategy and an app with standout features.

FAQs
A fitness tracking app is a mobile application designed to help users monitor and manage their physical activity, health metrics, and wellness goals. It typically includes features like tracking workouts, counting steps, monitoring heart rate, providing nutrition information, and setting fitness goals.
Integrating with wearable devices like fitness trackers and smartwatches enhances the user experience by automatically collecting data. It's not mandatory, but it can attract users who prefer using these devices to monitor their activity.
Peerbits, a leading fitness tracking app development company, offers a range of services, including:
App design and user experience (UX) optimization
Native or cross-platform app development
Integration with wearable devices and health data APIs
Backend development and database management
Testing and quality assurance
Maintenance and updates post-launch
Reputable development companies like ours implement robust security measures, including data encryption, secure authentication methods, compliance with data protection regulations, and thorough testing to identify and fix vulnerabilities.
The cost of fitness tracking app development depends on factors such as app complexity, features, platform(s), design complexity, development team's location, and additional services like backend integration and wearable device compatibility.
Yes, we offer mobile app maintenance services after the application is developed. We provide additional support and maintenance services for fitness tracking applications.