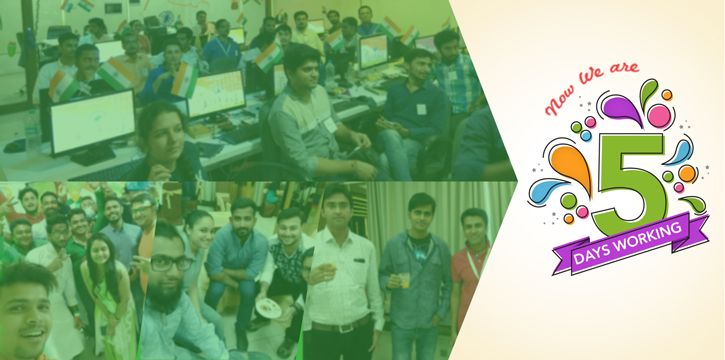 On Jan 1, 2018, the first day of the year, Peerbits become one of the few companies in Ahmedabad to extend 'five-day work week' policy to every employee unlike other technology companies in the city that restrict the policy to a few employees or don't introduce it at all.
Work-life Balance
Maintaining a work-life balance is the biggest challenge in today's work environment. A 5 days work is least we can do for our employees.

Thanks to the HR Team and Management
To implement a uniform 'five-day work week' policy across the board, the HR team and management had been working on the reorganization for the past many months. We wanted the perfect new year gift for our employees. Gladly, HR's announcement, "we have decided to move to a five-day work week'" was met with much cheers, claps, and uproars.
To bring you closer to a Global IT Work Culture
They never asked for it but we knew this is something they anticipated. Our clientele come from countries where 5 days work week is a norm by law. By introducing the same work-day policy to our employees, we are bringing Peers closer to the norms and ethics that global workforce abides to.
Not to mention, a single Sunday is not enough to wash away the fatigue of working over the week. Life outside work remains dreary, almost non-existent and Sundays go into routine household chores, buying grocery or going to a nearby restaurant.
Indeed
5 days week boosts productivity among workers. Working long hours does not boost productivity rather working on a Saturday drops productivity and is a known to cause strain, fatigue and burn out, which affects cognitive performance, hence, productivity.
Peerbits recommends every technology firm to follow the path of five days work week.