On-Demand Services have transformed numerous businesses. After Cab Service, eCommerce, and Food Delivery Services, it is the time for the Grocery stores. Earlier, people were skeptical about the on-demand model incorporation with Grocery Stores. However, few On-Demand Grocery Apps have made it huge and have left a positive impact.
On-demand is not limited to selected industries. It plays a vital role in simplifying the life of people. Focusing on the same, it has automated grocery stores and is making the life of people easy.
The last few years weren't particularly kind on the retail industry. The industry absorbed far more changes that it anticipated.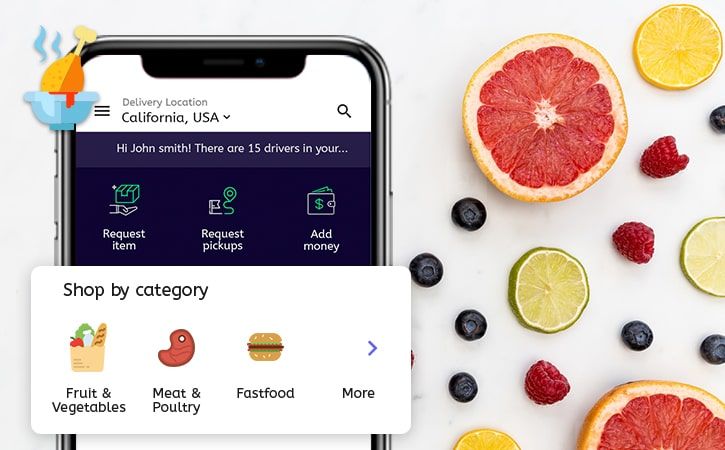 When the majority of the retailers were almost convinced to make move to a web store from a brick n' mortar store, mobile apps took the industry by storm.
One of the industries that skipped the web store part and found solace in retail mobility solutions was grocery delivery app.
Chances are someone at your home is already using one of those apps to order fresh vegetable while you're reading this.
They are quite popular and you know how hard to grab fresh vegetables and fruits these days.
According to the Mercatus survey report, the online grocery retailers are rapidly rising and market will have 11.1% with $1,124 billion of overall grocery sales in 2022 and will be projected to 20.5% by 2026.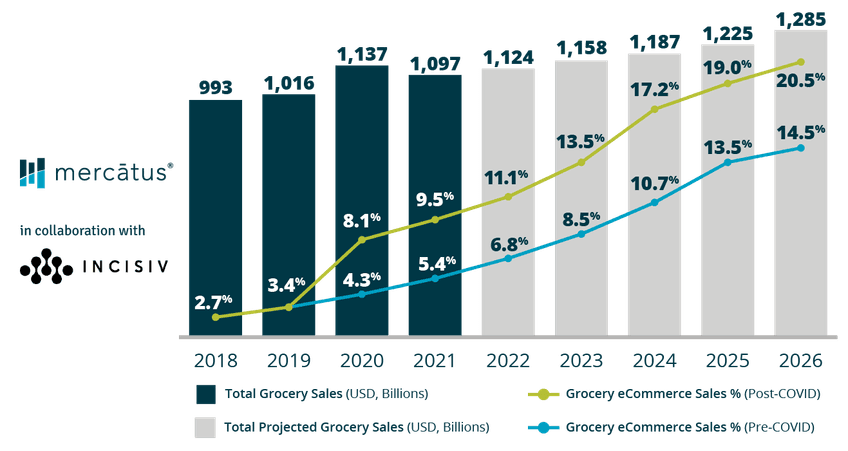 "One-quarter of global participants order grocery products online, and more than half (55%) are keen to use it in the future.
The milkman is making a comeback, but this time around he may come home driving a digital vehicle."
A typical grocery app may imitate the functioning of a regular brick n' mortar store—a grocer lists grocery on the app, attracts buyers on the app, waits for an order, and delivers an order to the buyers place.
However, a majority of the grocery apps these days work as a marketplace.
That is there are huge number of sellers and n numbers of buyers on a platform. The app connects them by means of clever marketing techniques pillared on trust, discounts, and quality.
At first glance, a layman may find a grocery app not very different from other app based retail mobility solutions in the market, typifying eCommerce apps.

While in reality, there goes a lot of underneath coding in building grocery shopping apps that, usually, involves grounds up coding efforts than customizing an existing app engine.
Even professional developers might mistake On-demand app development for Grocery to over-customizing eCommerce apps to business needs.This is seldom a case.
In most cases, to build an app for grocery needs work from scratch unlike e-commerce app development that has support of various readymade, cross-platform, open source solutions available in the market.
The market of consumable goods is pretty different from consumer electronics or books and gifts.
People need a constant supply of grocery and apps often subscribe to their regular grocery needs to abstain the need of continual ordering.
On top of that, nobody likes to wait a week or so to receive a dozen of apples.
As a result, grocery apps often supply deliverables in slots to cut cost unlike sellers on eCommerce platforms who resort to personalized delivery services.
The margin on grocery is much lesser than that on non-consumable goods.
Thus, for online grocery stores, the competition with local grocery stores is stiff considering factors like low margin and shipping charges.
In grocery, the changes triggered by e-commerce have been adaptive rather than innovative.
The evolution of grocery e-commerce has overtaken the brick and mortar retail not only in developed but also in developing countries.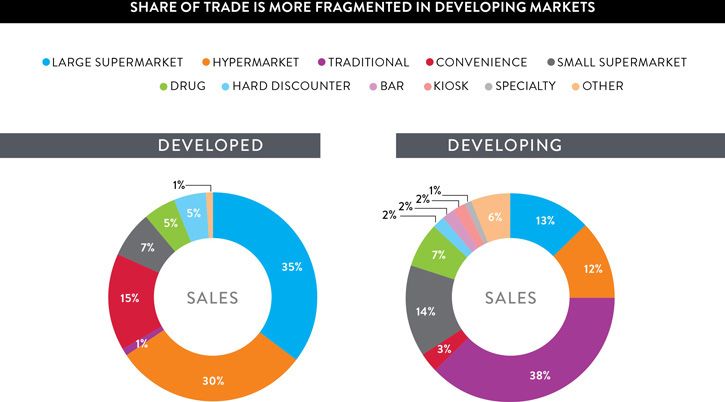 As per Nielsen Global E-Commerce and The New Retail Report APRIL 2015 online grocery shopping is particularly popular in Asia-Pacific.
Inclination towards digital retailing options in the future is utmost in the developing markets in the asia-pacific (60% on average), latin america (60%), and africa & middle east regions (59%), and lags in europe (45%) and north america (52%).
According to the Statista report, the overall landscape of online shopping in the Asia-Pacific region has changed in the last decade.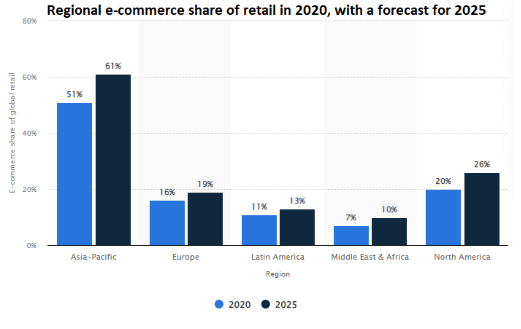 With the popularity of online shopping, the Asia-Pacific region has become the leader in eCommerce usage and the share of eCommerce in retail sales in Asia-Pacific is expected to grow by 10% by the year 2025.
Growth of online grocery shopping is compelled to some extent by the maturing digital natives—millennial and Generation Z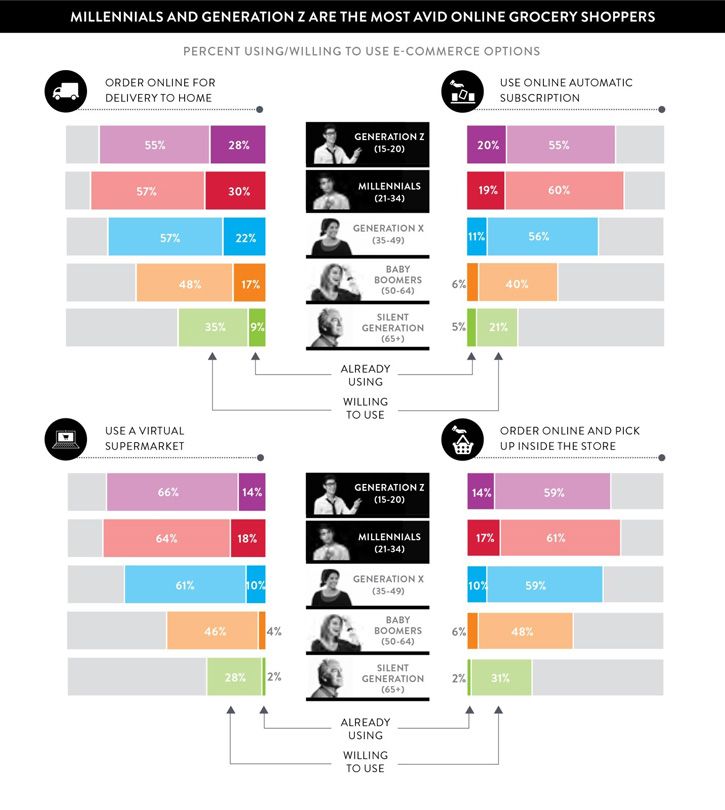 E-commerce is suitable for stock-up and specialty needs selling as it can offer abysmal product selections than may be offered in brick-and-mortar stores
Usage of online or mobile coupons and mobile shopping lists are the most quoted forms of in-store digital assignation in use these days
Imagine a grocery store where you get special attention and lucrative offers as soon as you enter, where checkout takes seconds and you can pay even when you no idea where your wallet is. sound far-fetched? It's nearer than you contemplate.
Lines between the physical and digital worlds are blurring. shoppers are growing comfortable with digital in other retail settings and want the same level of comfort in groceries as well.
Well-informed retailers are winning by leveraging technology to improve the shopping experience and meet grocery buyers' budding desires.
Read More: Emerging Technologies Are Transforming Retail Sector?
Why you must go for a grocery app?
Convenience
Convenience is one of the biggest benefits of using grocery mobility solutions. People who go for work find it extremely difficult to buy grocery.
This is because buying groceries from the supermarket is time consuming.
However, with an online grocery shopping app, anyone can buy groceries directly from the app just with the help of few taps on the mobile phones.
So, there's no need to make your customers wait in long queues. Make a grocery app, market it, let your customers download it, and allow them to enjoy the benefit of shopping grocery from anywhere. Deliver the grocery directly to your customers' door.
Rich variety to choose from
It's quite frustrating when you go to the local grocery supermarket but fail to buy items like jalapenos or goat cheese or many other items which are not popular in your region.
In such scenarios, developing a grocery delivery applications for your grocery business can provides you with a wide array of options.
Offer discounts
Another benefit of having an online grocery shopping app is that it allows you to offer discounts and rewards to your customers.
These offers play a pivotal role in attracting more customers to buy from your app.
Personalized offers
Customers are more likely to use your services if they feel special. You can offer your customers personalized discounts by analyzing their shopping patterns.
You can also enhance your customer's grocery shopping experience by suggesting them with similar products.
For example, if a customer buys a certain type of bread, you can show various other types of bread hence giving the customer a plethora of options to choose from.
Recognize that change in the industry-wide and grocery app development is the first step towards
The evolution in grocery delivery app industry is not just an alarm for retailers, but the entire CPG industry.
Existing grocery sellers need to adjust their marketing, retailing, supply, and operations models for the new selling landscape.
Success will require collaboration between grocers and grocery delivery app developers with each party leveraging the assets of the other to deliver services and assistances associated with evolving customer prospects.
Conclusion
The Grocery store owners have slowly understood the importance of the On-Demand Services after the massive success of Uber. Instacart has justified this expectation by disrupting the grocery store sector.
Moreover, the Grocery sector had to adapt with time. The traditional way will never work when there is such a heavy Digital & Technological influence over all the major industries.
Apart from that, the nature of the Grocery store industry is very suitable for the On-Demand services.
So, if you own a grocery store and are looking to expand your business in quick time then building an On-demand app is the way to go.
However, it is kind of risky because failing at this would be a huge disaster.
However, you can minimize the risk by consulting a reputed On-demand app development firm which will guide you to move forward.
You take guidance from them and shape your app to make it more effective.
So, what are you waiting for? Just contact them and enquire about the cost of the app development and get started!