The On-Demand Economy is an economic movement that technology companies started to satisfy customers' demand by the immediate provisioning of goods and services.
Supply is driven by an effective, in-built digital mesh on top of the infrastructure network in place.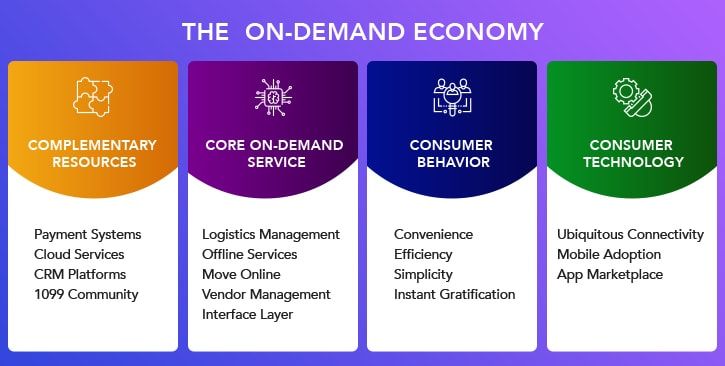 The On-Demand Economy is revolutionizing the way supply chains works and people perceive newer technologies.
The amount of companies, categories they represent, and the growth of the industry is mounting to an accelerating pace.
The industries in this new economy signify the manifestation of years of technological innovation and a progress in consumer actions.
The new on-demand models make real-time delivery of goods and services a possibility, which customers have accepted with open arms.
The question is no more is, will the on-demand Economy transform the way users transact or generate thousands of jobs or move governments? … this is already happening.
It is "when" will the services the economy offer will benefit outside of tech-savvy, enthusiasts circle.
The fast-moving technology companies contending in this battleground have developed newer models that are changing industries which were historically slow to innovate.
The logistics, grocery, and food industries are key examples of fast-growing categories in the on-demand world — growth in large part is the application of new technologies over existing infrastructure

On-demand privileged have shaped effective business models which can gratify the requests of consumers in a far more profitable, scalable, and resourceful manner than their precursors.
The new on-demand businesses have more effectively leveraged technology while exploiting standing infrastructure.
The always on, always connected "smartphone revolution" has made suitability, competence, and ease serious elements in procurements.
Messaging services, news, and gaming raised smartphone adoption. mobile commerce will only follow the suit.
Regular purchasing on smartphones will cause one of the most revolutionary moves in consumption patterns in consumer history — for the first-time consumers can buy anything they want at any time with a tap on the screen.
The organized investor group's belief in the on-demand economy is unambiguous.
Car services, the most volatile area within the on-demand economy, are helping people understand the its market cap.
Uber's growth is even more noteworthy in view of the awareness level of the on-demand car services and on demand dispatch service.
At the same time, Feastplan are a threat to the $683 billion US restaurant industry with substantial triumph.
Alternatively, on-demand delivery services have extended a restaurant's reach far beyond its physical location.
Read More: Future of on-demand economy lies in these industries
Types of on-demand service apps
Let's have a look at the different types of on-demand applications and understand how they have left an impact on their respective sectors.
Food delivery
Food delivery apps have increased significantly in the past few years. And restaurants owners have utilized this trend quite effectively to expand their business.
In a on-demand Food delivery app, the consumer orders food from a restaurant after going through a series of options. Once the order is placed, the restaurant starts preparing the it.
Meanwhile, the delivery boy also reaches the restaurant. The delivery boy then takes the order and delivers it to the consumer's address.
One of the biggest reason for the success of food delivery app is the convenience it offers to its consumers. On the other hand, it also offers a wider reach for the restaurant owners.
Retail
Retail and eCommerce is another sector that has been heavily disrupted with the on-demand economy.
According to a research by Walker Sands around 54% of US citizens under 25 consider the same-day delivery as their first choice.
With the advancement in the On-demand and logistics technology, this percentage will surely go up.
An on-demand application based on retail enables its user to buy almost anything with a cluster of options and a short delivery duration.
Grocery
Over the years, people have chosen grocery delivery apps over grocery stores.
And why not? Buying groceries from these apps saves a lot of time and money as you don't need to go to the grocery store and wait in that long queue.
You can just search for the groceries you want, select it, and buy it. Within few hours it would be delivered to your doorsteps.

Beauty
This application is a savior for someone who needs to be at their best in a short time.
With the use of On-demand beauty apps, you can call a beautician, stylist, or makeup artists just by making few taps on your phone.
Healthcare
Healthcare sector has seen tremendous advancements with the aid of the cutting-edge technology.
This sector is witnessing a yet another revolution and this time it's due to the on-demand healthcare apps.
These applications allow its user to avail medical services 24*7 via a smartphone. These services include: doctor's advice, buying medicines, and calling doctor home in case of emergency.
Taxi
The sector which has benefitted the most by the on-demand apps is the taxi and transportation sector. The advent of Uber and Lyft has changed the game forever.
These on-demand taxi app solutions help the users to book a taxi in a jiffy. All they have to do is just enter their destination and that's it.
A driver would be allotted the ride request and will come to pick them up from their pick-up point.
Identify the target audience
The target audience could be collegegoers, rich kids, family guys, business owners, frequent travelers, night owls, nomads, single etc.
Whomsoever they are, they must be in good numbers, willing and have collective issues.
Identify a problem common to them
Well, everybody has certain problems in their life. Many people coming from different wakes of life may have a collective problem.
For example, before Uber came, drivers had a hard time finding a passenger and vice a versa.
Uber took away both the problems in a single shot. They both become actors on their on-demand taxi solution app. Uber targeted city travelers, who don't have a car. The rest is history.
Likewise, you can target lazy teenagers who too lazy to move their lazy asses to a nearby supermarket and would glad to order grocery from a store online. Night owls would love a late-night pizza delivery service so will gamers.
Singles for example hate cooking themselves and would love an app that delivers home-made food. Rich kids need new toys to boast themselves with on social media.
Business owners are busy people and want to make maximum of their every minute. So come up with a more comprehensive solution.
Read More: How on demand apps are shaping the world
Define on-demand's actors
Every problem is a two-way factor. I am often late to the office. That's a problem I have to face every day.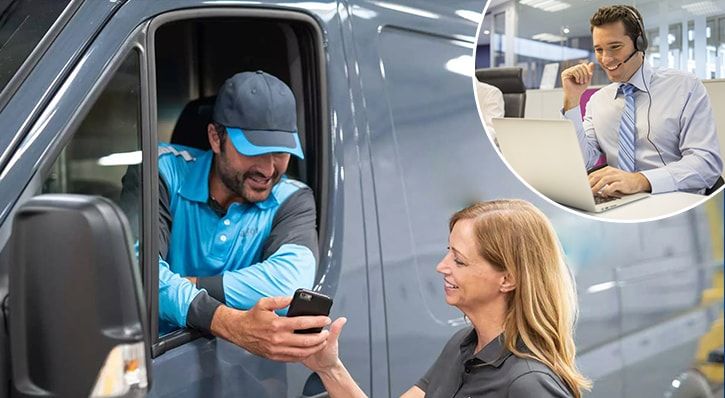 However, there so many reasons to it: My vehicle is slow. I oversleep. I don't have a vehicle and have to often rely on public transport which are unpredictable.
One actor here is people who commute on the same route. Now to find the second actor and in a way to establish the solution, you must find the other actor. In case of Uber, individual drivers were.
In this case, car owner who are ready to pool would make for a good second actor. In case of food delivery, you may need more than two actors.
What if the party delivering the order and preparing it are different.
In addition, the business owner must have a control of over state of affairs and thus a admin app is a must in on-demand solutions.
Create feature-set for each actor
Once you have defined the actors, it is time to define the feature-set of each set of applications, web or mobile. Below are some important features for each actor that you must include.
1. Customer app feature
Push notification
Push Notification is an integral part of any On-Demand Application. It helps the users to know about the arrival of their product or service.
Real-time tracking
This feature allows users to track the status of their order or service in real-time. Thus, it ensures fast and reliable service.
Payment system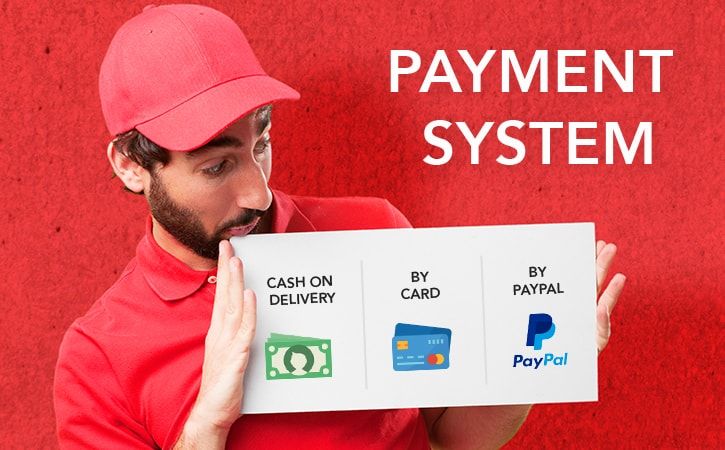 Payment is a significant part of an On-Demand Service. Ensure that your payment system is fast, secure and reliable. Multiple payment options make a user's life easy.
Favorites
This feature helps the customers to mark their favorite service provider or product.
It helps them to find them out quickly and saves their time & energy by searching them all over again.
Reviews and ratings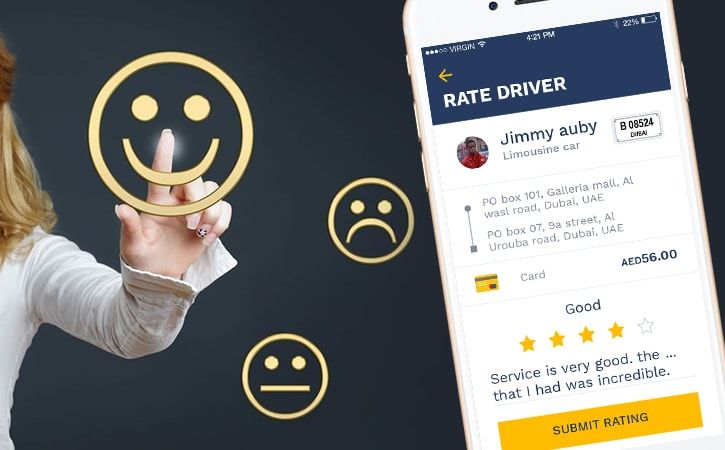 Review & Ratings is a must for On-Demand Apps; it helps customers to rate their experience which serves as a feedback for the service providers.
Help and support
You must integrate a Help & Support feature as it assists customers in case of queries. It enhances customer service by solving their problems.
2. Service provider app feature
Push notification
In this a service provider receives an alert as soon as a user avails for its service or product.
Accepting & rejecting requests
Service providers must have the authority to accept or reject a request within a given period.
Start & end service
The service provider must have a module to start the service and to end it as it gets over.
Track earnings
Service providers must have a feature which helps them to track their earning. It helps them to plan their day in a more efficient way.
Work on your schedules
This feature provides the service provider with the flexibility to work whenever they want. They can select their schedule and start working on that period.
Select your availability
The service provider can choose its availability. They can decide when they appear available and when not for a service.
3. Admin app
Dashboard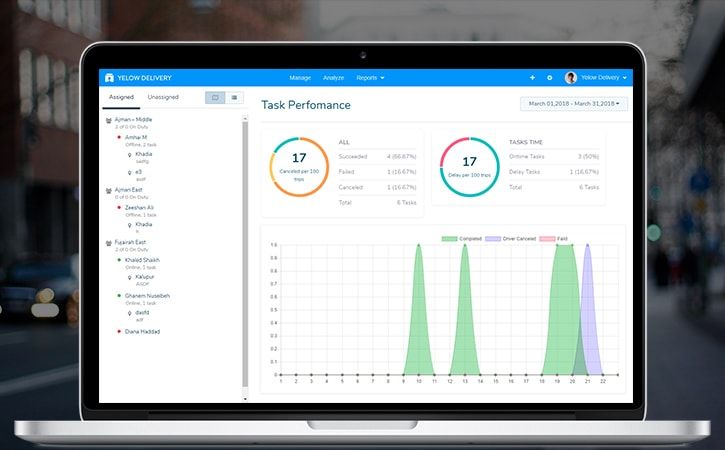 Your app is incomplete without an easy-to-access and customizable Admin Dashboard that can easily navigate to different sections managing both service providers and users efficiently.
The matching algorithm
It is the matching logic which helps in matching a suitable service provider with every new customer request.
Either you can go for automatic matching where matching is algorithm based, or you can go for manual matching where administrator matches both the parties manually.
Manage users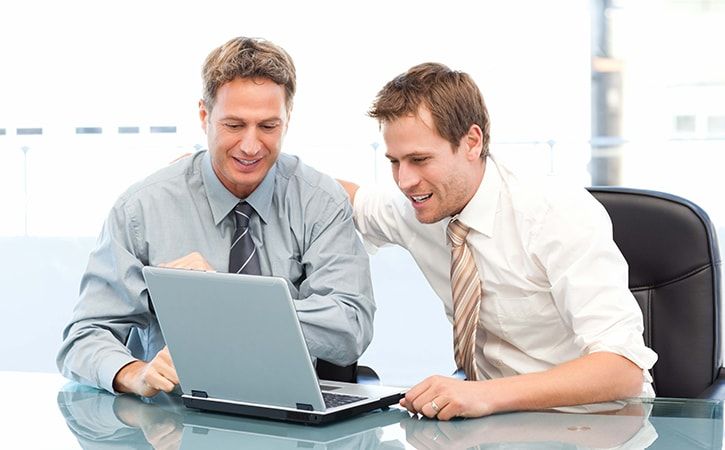 Admin can manage all customer's affairs from payments, discounts, cancellation charges to solving any escalated query.
Manage service provider
Admin can manage all service provider's affairs from incentives, earning to penalties.
Manage pricing and commissions
You can manage pricing depending on the demand. Secondly, you can also set the commission charges which will ensure smooth transactions and drivers' profit sharing.
Analytics & reports
Analytics provides information such as no. of services availed, canceled and repeated. It also shows which section of the business is doing well and which one is struggling.
It helps in acquiring essential insights which help to avoid all the bottlenecks and to enhance your services.
Read More: How much does it cost to develop an on-demand app?
Once every app is happily coded, integrate them with you existing management system and make them work in unison and intended.
This may require some additional coding to the apps backend part and setting up compatibility layers.
This may be a few hours to few hundred hours depending upon number of actors, age of existing management system in place, number features, etc.
Test and launch
Test the solution for consistency. Start with your developers. Then internal testing team.
Let your developers' community play with it in a closed beta and eventually release the public beta.
Replay this chain whenever you introduce new features or go for app revamp to ensure minimum bugs in the final product and higher customer satisfaction.
Publish
Once your app is ready to go, publish on the respective app stores. If one of the apps get rejected, work on the feedback, remedy the issue, and reapply. Apple is infamous for rejecting new applications.