Fitness tracking in no longer a wave, instead it has become a base that keeps the world today over it. Its popularity in no time brought the two smartphone OS giants Apple and Google in the competition.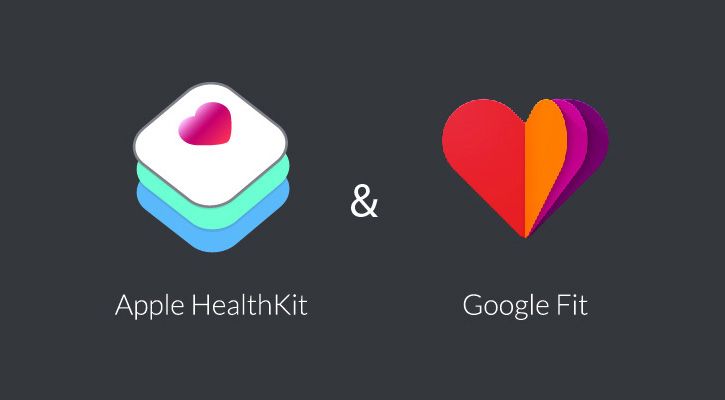 Leading a healthy lifestyle is getting popular and it has also increased the demand for fitness and healthcare apps.
To maintain your health now you can store health and fitness data together, no matter which fitness activity trackers we use. And nowadays its development process is becoming easier.
While on one hand, Apple's HealthKit is playing the Health Guru, on the other side it's Google Fit. Each of them is claiming to deliver best in segment services. However, which of these is the best for you will indeed call for a close analysis.
Learning more about them
Before we move ahead to find which one's better, let's study them individually;
Google Fit
It originally entered as software designed to help hardware makers and fitness app developers to log and display health-related data with the least possible coding. However, right before the start of 2015 it left the labs of developers and became a dedicated consumer-focused offering.
Since then Google Fit has evolved itself as a fully developed mobile app, which not only tracks your steps but also assists during gym sessions.
HealthKit
This also works in the same way as Google Fit. It accumulates all the data linked with your health and uses it further to give better health related suggestions.
Read More: How mobile tech is revolutionizing healthcare industry
So, what's the difference between Google Fit & Healthkit?
Here are some key differences between the two:
1. Design
Google Fit : It avails a user-friendly and simple design to the users. However, the glitch here is that the user will have to swipe the screen every time he/she wishes to access new information.
To overcome this, the team ensured that user gets detailed information about his/her activities.
Apart from this users are also allowed to enter information manually. The interactive part here is the animated snippets, which come as a reward for users upon achieving a goal.
HealthKit : The details again are similar to the one offered in Google Fit. However, there's one inclusion which makes Apple stand a bit tall. We are talking about the feature with which users are allowed to compare their attained metrics on a single screen.
With this, the users can have a better experience as they can avail more information with much ease.
2. Security
Google Fit : The data stored in the application can be shared with third party applications. However, before doing this the app requires user's permission.
HealthKit : The information stored in the application can be shared only by user's permission, which makes Apple take the similar stand as Google. However, as an addition, the mobile applications which are built using HealthKit have the data stored in an encrypted format.
3. Types of data
Google Fit : As shared officially, it covers the type of activity and time consumed, wheel speed, calories burned, distance covered, pedaling rate, weight, height, power generated in a workout, elevation, heart rate, and steps taken.
The major point which comes out here is that Google Fit enables the applications to create their own customized data types.
HealthKit : HealthKit in this point takes a lap ahead by adding blood alcohol level, glucose, diet, sleep analysis and more in its list. However, it doesn't allow the app developers to customize data types according to their wish. By any means, they'll have to stick with the official list.
4. Partners
Google Fit : Adorned with an impressive list of partners, it gets accompanied by Asus, Adidas, HTC, Fatsecret, Intel, Basis, LG, and much more.
HealthKit : Apple here also takes a step ahead by having health-focused partners also on the list. This includes EPIC software and Mayo Clinic. To name others we have Fitbit, Withings, Runkeeper, and Nike on the list.
Before we Sign off
Saying that healthKit is ahead of Google Fit or vice-versa won't be right. This solely depends on your choice.
No doubts that both the platforms are in a way providing a better landscape to developers and users via better healthcare mobility solutions.
The decision to choose one solely depends on your client base, app development budget, and the services/features you wish to avail.
Conclusion
Healthcare and Fitness Apps industry is growing rapidly. We can expect big changes in the coming time. Keeping this in mind, it is believed that this is the right time to join the market and get a healthcare and fitness app developed and join the market before it gets late.
Remember, early you join the race, more are the chances of you to stay ahead. All you need is well planned and executed health mobile application.