The software and mobile app development industry is booming and that means one thing that software development companies across the globe have tonnes of work. And to complete this work many a time they don't have enough resources.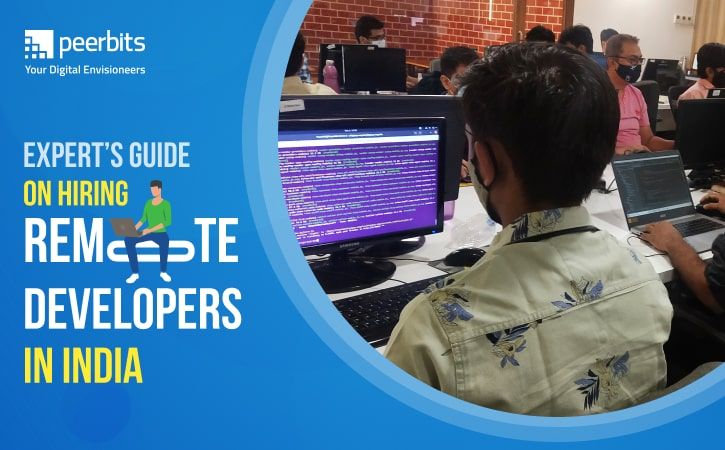 This is where offshore remote teams come into the picture. Companies hire offshore remote developers to upscale their overall development capabilities.
The practice of hiring remote developers was quite common but the COVID-19 pandemic further boosted this growing trend.
Due to social distancing norms and lockdowns, most of the IT companies across the world started working remotely and this encouraged them to hire more and more remote developers since it enabled them to continue their work amidst pandemic and also because it's a highly productive and cost-efficient option.
IT companies in the US and Europe find it very costly to hire an in-house developer and that's why they are looking to hire remote developers from other countries at a cost-efficient rate.
Over the years, India has emerged as the first choice for IT companies that are looking to hire highly skilled and experienced developers at a cost-efficient rate.
It's a no hidden fact that India is considered the hub of highly skilled developers and companies across the world. And that's the reason why IT companies are looking to gain profits by tapping this humungous pool of top-notch developers.
But before you consider hiring remote developers from India, there are a few things that you must keep in mind. In this blog, we will provide you with a complete guide on how you can hire an offshore remote development team from India. But before that, let's have a look at why you should hire remote developers from India.
Why hire remote developers from India?
Over the years, India has emerged as the number one destination for IT companies across the globe for hiring offshore remote developers. This is because India offers a huge pool of experienced, skilled, and cost-efficient developers. Let's have a look at other reasons as to why companies prefer India for hiring remote developers.
Access India's top talent from across the world
One of the major benefits of hiring remote developers is that you get a chance to access top talents from across the world.
Companies specifically choose India for hiring as it has a huge number of skilled developers and engineers. These developers are well adept with all the cutting-edge technologies and tools.
The majority of the developers that companies hire from India are either BCA graduates or B.Tech. In some cases, companies also find postgraduates of certain specific fields. The major reason behind this abundance of skilled developers is the fact that in India almost every household has a programmer or an engineer.
This is precisely the reason why companies get access to such a huge pool of developers and that too at very cost-effective prices.
Save time and money
Hiring remote developers in India can save a lot of time and money. This is mainly due to the difference in the time zone.
The remote developers hired from India can work even when you're sleeping. This ensures that there is never a delay in the development process. It also ensures optimal use of time which ultimately results in saving money.
Cost-effective developers
Hiring offshore developers from India is an extremely cost-efficient option. It's because there's a steep difference between the rates of developers in the US and India. In the US, the rates of developers are around $65,000 to $1, 50,000. Whereas, in India, the rates are comparatively lower.
Read More:Hiring dedicated developers reduce development cost
Not only this, but you can also save a huge chunk of budget as you don't need to spend anything on the office infrastructure and equipment.
Companies across the world prefer hiring remote developers from India as they are highly qualified and knows how to work in accordance with the industry standards of the US and European countries. Furthermore, they are known for their high productivity, quick adaptability, and flexibility.

Things to consider while hiring remote developers from India
There are few things that you must consider before you hire remote developers from India. Let's discuss these factors one by one.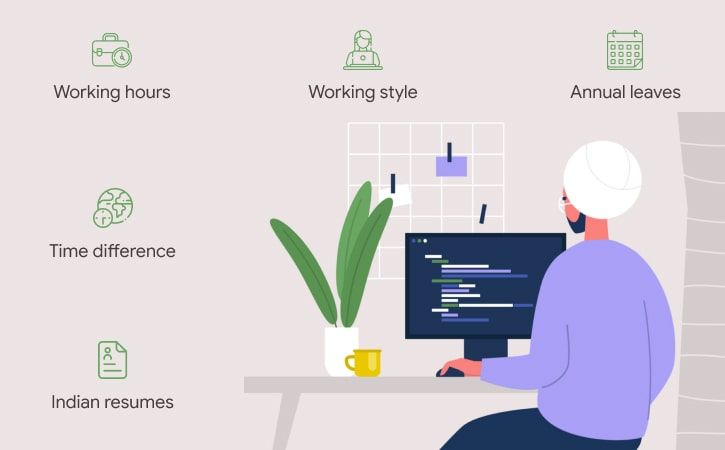 Working style
Most of the employees in India use a hierarchical top-down employment structure. Furthermore, they are used to the environment where they are given clear instructions of their job roles and things that are expected out of them. In India, it's quite common for employees of similar stations to have frequent water cooler conversations.
Unlike in India, the working style in the US is quite different. Here corporates display a strict adherence to all professional work relationships. In the US, the employees indulge in casual conversations only during the break or after office hours.
Working hours
Working hours in India are typically in the range of 10 AM to 6 PM, Monday to Saturday. Some companies also offer off on Saturdays. However, many employees are known to arrive late and stay late at the office to complete their assigned work.
In big IT hubs like Delhi, Mumbai, and Bangalore, traffic is a major issue due to which employees may reach late at their work. This is also the reason why there's a huge market for remote developers in those cities.
Especially, if the workers have stable broadband connectivity then working from home becomes a luxury for them as they can have a better work and life balance.
Time difference
If we talk about the time difference between India and United States then India is 9.5 hours ahead of the East Coast and 12.5 hours ahead of the West Coast.
Indian resumes
You must be aware of the fact that Indian resumes are different from American ones. Unlike the single-paged American resumes, Indian resumes tend to be longer. In some cases, they can span to be two to three pages long.
Indian resumes consist of details like career history and positions held previously. Some resumes might also have personal details such as gender and race.
Annual leaves
In India, employees generally get 15 days of annual leaves along with 12 days of public holidays and casual paid leaves.
The casual paid leaves also constitute sick leaves or leave taken for emergencies, family, and personal reasons. It's important to note that annual leaves don't expire but move into the next year, although it has a cap of 30 days.
The Hiring Process of Remote Developers in India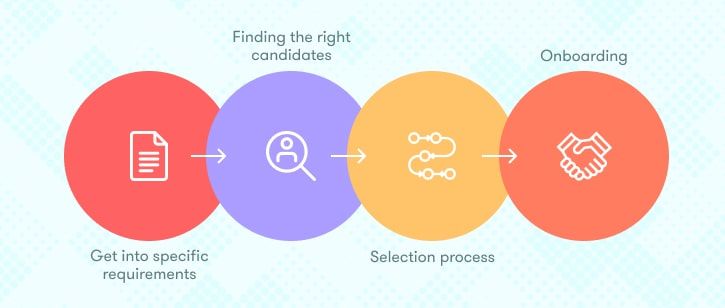 If any company is looking to hire remote developers in India then they must know the entire process. Here, we will discuss each step for hiring remote developers in India in detail.
Get into specific requirements
The first step is to establish specific requirements for your ideal remote developers. To achieve this we have to follow the below steps:
Prepare a proper job description
Before you start hiring it's important to know what exactly you're looking for. You can start by preparing a proper job description.
For this, you have to mention the qualification requirements of the developer, their technological exposure, and many more. Also, you must mention all the skills that you want in a remote developer.
Payment specifications
When you hire a remote developer, it is very crucial to decide the payment frequency (hourly/daily/weekly/monthly rate or fixed salary).
Make sure you mention the mode of payment as well as the day of the month when you'd be making the payment to keep things clear. Be transparent on the working hours – full time or part-time as well.
After you plan out the specifics of the job, you are ready to reach out to the candidates. In addition to this, make sure you are prepared for this change in the work culture.
If you already have a remote team of employees, then you know how to work and manage them. But, make sure you know the details of working with a remote developer if you don't have any prior experience.
Finding the right candidates
Once you finish evaluating open positions for the developers, it's now time for reaching out to the right candidates. For this, you can use several online platforms such as Upwork and Remotely.
Read More:Significance of getting a right team for your project
Apart from that, you can also find remote developers as per your requirements on We Work and FlexJobs.com. All you have to do is simply post the job description of the candidates that you require.
Social Media Platforms
If you're thinking to connect with remote developers in India through social media then LinkedIn is the best choice. You can use a recruiter account to post your job requirements. Moreover, you can also post job openings on your company's social media platforms like Twitter, Facebook, Instagram, etc.
Offshore staffing
Nowadays, many IT companies save themselves from the hassle of searching for remote developers by leveraging the services of offshore recruitment firms.
These offshore recruitment agencies are known for providing remote developers on a full-time and part-time basis. They also provide you with different engagement models like Time & Material, Controlled Agile, and Dedicated Team as per your project requirement.
These offshore recruitment agencies offer you remote developers that can easily fit in your work culture, ethics, workflow process, terms of commitment, etc.
Furthermore, to double-check if you're hiring the right candidate, you can ask them to work on demo projects. This will give you a crystal clear idea about their working potential, skillset, etc.
Selection process
Setting up the right selection process is vital for hiring remote developers. Here we will discuss various steps that you can have in your selection process.
Resume/Profile-based selection
Take some time to finalize the total resumes or profiles. After that, choose the best five to ten CVs from the rest based on various criteria like technical experience, remote work experience, work timings, etc.
Telephonic or video interview
After selecting the right candidate, the next step is to contact them. You can interview the candidates to understand their portfolio. Furthermore, you can also find out if the candidate matches your expectations or not.
You can ask such questions whose answers provide you with the candidate's entire career journey. You can also brief the candidate about his roles & responsibilities, company culture, work process, etc.
Test candidate's technical coding skills
Once a candidate goes through the initial screening, you can test their technical coding by conducting a test.
For this, you can take the help of a technical head or anyone from the in-house tech team to prepare a coding test. You can also take the help of online test platforms such as HackerRank to find the best candidates.
This round helps you to test the coding skills of the candidates which would be required in the upcoming project. Through this test, you can evaluate a candidate's time management skills, problem-solving capabilities, algorithmic knowledge, and many more along with their coding skills.
Read More:Must have skills for successful product development
Final HR interview
After testing the candidate's technical skills, it's now time for the final HR interview. In this interview, ensure to discuss some key aspects like work culture and organizational specifications.
In this round, you must ensure that you're bringing everything to the table and conveying your expectations clearly to the candidate. Here you can discuss the below important aspects:
Working hours
Deliverables
Salary expectations
Required resources
Mode of communications
Take the final call
Once the final interview is concluded, you must sit with your management team to take the final call. Before you make a final call, you must consider these below factors:
Past Track Record
Communication skills
Technical skills
Readiness for on the job learning
Past remote work experience (if any)
Commitment level
Onboarding
Once you hire the right candidate, the next step is to onboard them. The main objective of any onboarding process is to assist the new employee to get familiarised with your work environment.
You must understand that the onboarding plan for a remote employee would be different from that of an in-house employee. Also, you must consider the fact that remote developers might take longer to acclimatize to your company's working culture since they don't have access to in-person onboarding.
Before you come up with any onboarding process, you must consider all the above factors discussed. Also, you can include some of the below aspects in your onboarding program:
Software Support
Hardware Support
Personalized Welcome Letter
Password management and data encryption tools
Employee handbook
Plan role-specific training
Conclusion
India is a country from which every IT company from across is looking to hire remote developers. In this blog, we have clearly mentioned why that is the case. Furthermore, we have also offered top things that one must consider before hiring remote developers from India.
In addition to that, we have also explained the entire procedure to hire a remote developer in India and that too in great detail.
If you're an IT company that is looking to expand or scale its development capabilities then you must contact Peerbits. Peerbits is a leading offshore development company in India that offers highly experienced and skilled remote developers at highly cost-efficient rates.