This million dollar question has the unenvious reputation of coming up with answers that may actually end up befuddling the questioner.
While it may not be actually possible to approach this question in a binary manner and come up with a response, it is possible to narrow down the response through a series of filters into a funnel and come up with a ballpark that is very close to the actual app development cost.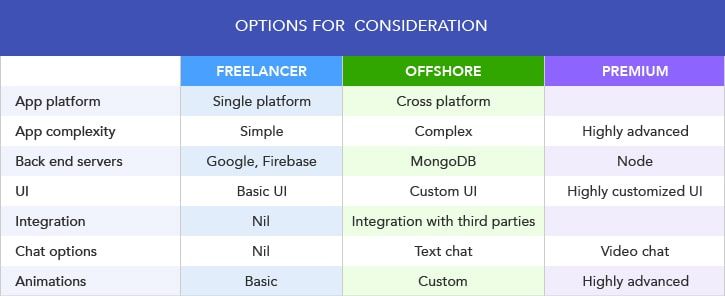 Deep diving into app development costs
As is the case with complicated posers, this question can actually be replied through a combination of questions that will help to unravel the response.
The questions will typically follow a sequence to come up with a logical response. Before estimating the cost of developing an app, it is important to know how the app is intended to be developed.
For instance, the app can be developed by a pricey development centre, or by a resourceful team or it can also be put together by a freelancer. This will make a huge difference to the app development cost.
But before you try to contact a freelancer or an agency, hold your horses, it is time to first check out your needs, before you speak to anyone.
The business model
The course of every mobile app development begins from the revenue plan. After all, you are here to make money.
The revenue or business model is the biggest factor that influences the cost of app development.
Here are few question which must have an answer to decide the cost of app development.
Which platform does your target audience prefer?
What's the product that you're trying to sell?
Are there any devices which are needed to integrate to make your app more responsive?
Is your app free or paid?
Does it have any in-app purchases?
Does your app provide any advertisement?
You must have an answer to all these questions to decide the cost of your app. These factors have a direct impact on the cost.
For example, an app that requires in-app purchases is difficult to develop as compared to a paid app. Similarly, an e-commerce app involves more investment of time and cost.
Where are your customers
At the end of the day it's the customers that will buy or access your app. So, it becomes essential to know your target audience well.
You need to identify the problem that your app is solving. This will help you to find your target audience.
There are various examples where a company had failed to identify their audience and they were soon defeated by their competitors who streamlined their services specially to cater their target audience.
Paid apps, free apps or e-commerce?
Talking about the free apps first, they make money through various ways such as: advertising, sponsorship, and email marketing etc.
eCommerce apps make money mostly by selling their own products and by getting commissions from the sellers.
Similarly, the paid apps make money directly by the no. of downloads. Moreover, it's important to set a right price for the paid app.
You can determine the right price by identifying the customer's willingness to buy the app.
Single or cross platform?
To begin with, you can look at getting your options finalized and fix pricing accordingly. The first question that should cross your mind is – do you want your app to work in a single platform, or be a cross platform option.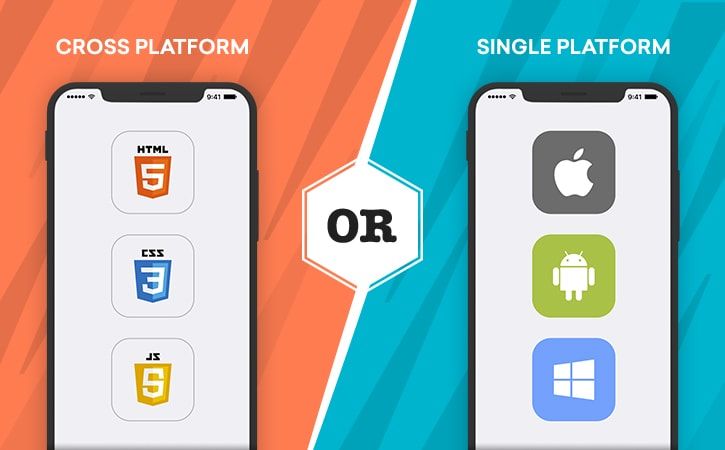 Here it needs to be remembered that this will need to be decided on the basis of various factors.
The persona of users of devices have been extensively profiled. This can be tapped into to understand the preferences of users.
Versions within OS
The availability of the app within each platform to different versions needs to be factored. This can be tied in with the technical requirements, and can also be used as a filter.
For instance, if the app is more technical in nature and is intended to perform certain actions that can be executed best with advanced versions of OS, then it may be a good idea to restrict the availability to the particular versions and keep app development cost low.
Similarly, though iOS may appear as a single platform, there are various updates and versions that need to be considered.
You may choose to go with the latest versions only, which can keep your development time and costs low, or embrace all users.
If you've a big pocket then you must go for both the platforms. However, if that's not the case then you must choose any one out of the two.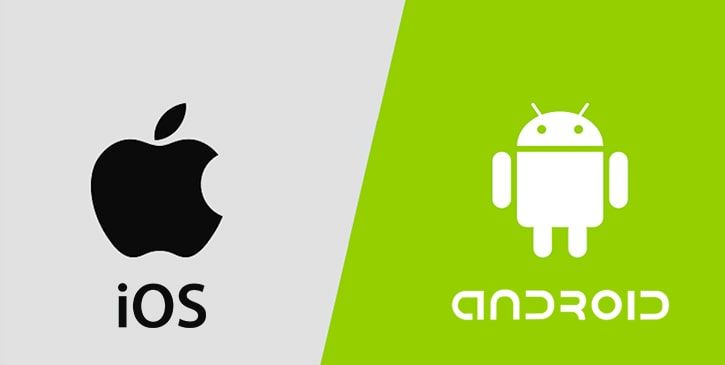 Let's have a look at the pros and cons of both Android and iOS that will help you in making this tough decision.
iOS applications – pros
iOS apps generally cost less than that of Android apps and are quicker to build.
iOS audience is usually affluent and spends more money, which means that paid apps are more likely to be successful on this platform.
iOS users are more loyal as compared to that of Android.
Apple has a strict guideline which ensures the quality of apps on the app store. iOS version of an app usually does more business than that of its Android counterpart.
iOS platform is more interactive and easier to use in general.
Android applications – pros
The no. of users for Android exceeds that of iOS by a great number, especially in the Asia region.
Android has lower cost per download as compared to that of iOS.
Android has low maintenance cost as they are not required to be updated regularly like that of iOS.
Guidelines for Android are more lenient which reduces the cost of app development and hosting on Android market.
iOS applications – cons
High hosting cost for iOS. It can get close to $200 for iOS as compared to that of $25 for Android.
Less no. of iOS users in Asia-Pacific region.
Difficult to get the approval due to strict guidelines.
Android applications – cons
General Android users prefer free or economical apps. Due to which the paid app may not perform well on this platform.
It takes a longer time to develop an Android app.
So, to choose any one of the two platform you need to understand what audience you are catering to and what are their behavior.
These are two major factors for choosing any platform.
Types of applications
The cost to development an app also depends on what type or category the application falls under. Let's have a look at the different types of applications.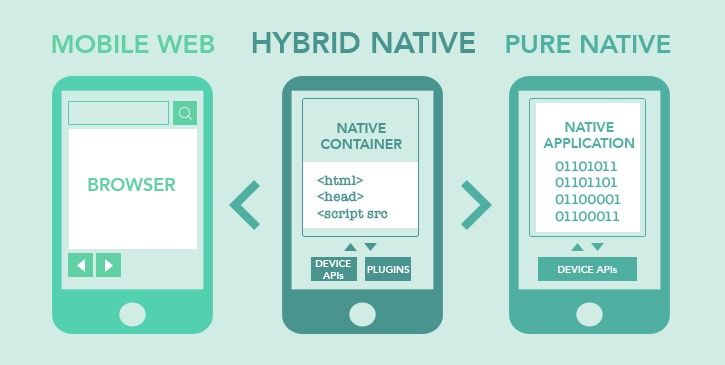 Web application
Web apps are nothing but the websites which are optimized for mobile users. Many surveys show that 80% of smartphone users prefer mobile apps over websites.
Native application
It is a type of app which is developed for a specific OS whether Android or iOS. These apps are complex in nature and provide rich user experience.
Hybrid application
This app is simpler in nature as it functions on a single programming language. However, unlike native apps it can work on both the platforms.
They are easier to manage and develop. However, their user-experience is not as good as that of native apps.
Outsourcing or In-house development
The choice of in-house development of an app or outsourcing will have the greatest impact on the overall cost of development. An app is critical to the success of processes, and intrinsic to the business model.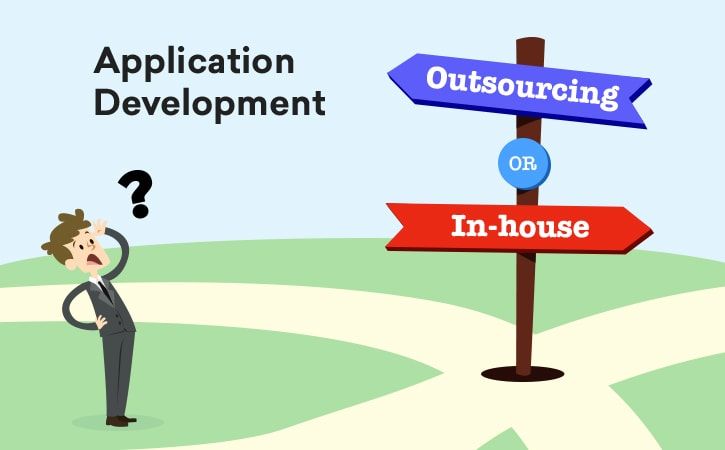 It is therefore not a good idea to risk a delay in rolling out the app due to a poor decision of choosing the wrong developer.
The savings in cost that may be achieved with a low cost solution may be nowhere near the possible loss of revenue as a result of the decision.
Businesses typically look at in-house development as the first choice, in an effort to retain the benefits.
The decision to develop the app in-house or through outsourcing needs to be weighed very carefully, keeping in mind the consideration that the decision will determine the costs of app development.

Deeply entrenched hourly rates across nations
You could be looking at hourly rates that swing anywhere between $10 to $250 per hour. This is a standard by itself. The highest priced rates per hour are actually 25 times than the lowest priced hours.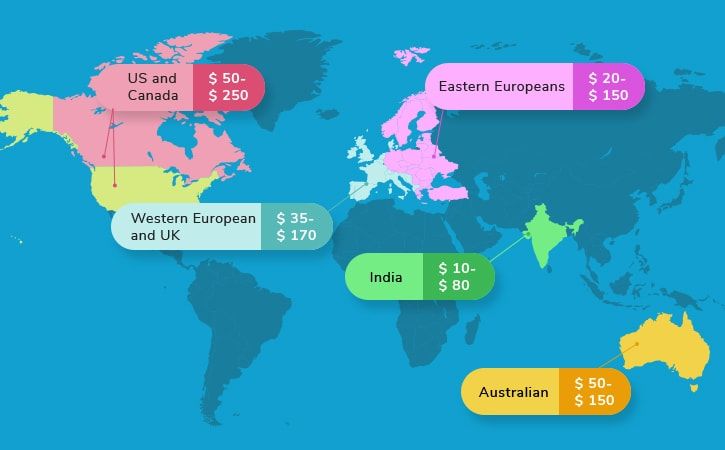 However, without giving a judgmental twist to the price bands, it is important to understand, that all the categories will meet different requirements.
If you have a shoestring budget and would like to cut down the frills, and make do with reasonable quality then you can look at the lower priced options.
However, if you have the budget and would like to get an app developed with all technical complexities taken care for a great user experience, then it would be a good idea to go high up pricing ladder.
Costs across locations
The US and Canadian-based companies charge from $50 to $250 per hour
Australian app development agencies offer their services for $50-$150
Western European and UK-based app developers are charging rates between $35 and $170
Eastern Europeans (that's where we are) are pretty happy with $20 – $150
Indian rates of $10-$80 per hour are enough attractive
Considering that the average time for design and development can be anywhere between 300 to 600 hours, this will be a useful benchmark to arrive at the costs towards hourly rates.
It is important to understand that the time taken for development of the apps may differ depending on the complexity of the app.
The different stages of app development in terms of costs
While there are different stages of app development, when it comes to the technical aspect and the lifecycle of app development, it is necessary to look at the different phases in terms of cost of app development and the amount that needs to be disbursed at each stage. The five different stages of app development are: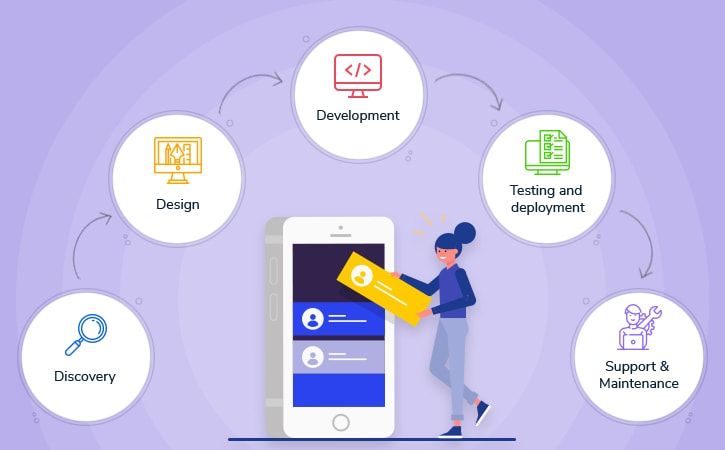 Discovery/pre-research stage
Design stage
Development stage
Testing and deployment stage
Support & maintenance
An understanding of the cost of app development across each stage will help to plan your budget accordingly.
It will not be a good idea to tinker with the amount that needs to be spent within these phases as the development progresses.
Actual development time required
While the average time required for design and development of an app can be anywhere between 300 to 600 hours, the time that is required for complex app development with all the features and integration phases, can take a lot more time.
Effectively this means that simple applications can take upto 600 hours, while complex applications take up to 800 hours and the highly advanced ones may require more than 1000 hours.
Read More: A complete guide for Estimated costs of Apps by its type
This is where you can get a better benchmark before you decide to create an app.
You can take a call on the complexity of the app that you intend to develop and the kind of resource that you intend to use for the development.
Taking these two into consideration you can easily work out the app development cost by factoring in the time and the total hourly rates.
This will give you a figure that is very close to the costs that you need to shell out for the development.
Factor in additional costs
Additional app development cost is to be expected after the development of the app.
For instance, you will need resources and budgets to market the apps, you will need budgets for backend support and you will also need to spend additionally towards updates.
Have these mandatory requirements in sight before you sign off on your budgeting.
More often than not, businesses look at the immediate expenses to build an app and ignore the planning that is required for taking the development into the crucial stages.
An app can be considered as complete only after it has launched fully and when all the support functions are in place. Leaving out the crucial aspects will defeat the purpose.

Compiled ballpark estimates for development
This ballpark is only intended to give you an idea of the costs that you are likely to incur when for mobile app development.
Depending on your actual needs and your choice of various options including the options listed out in the table above, you may actually find that the amount will differ.
You may end up paying a lot lesser or a lot more, this entirely depends on your needs. It is the very complexity of this question that makes it a million dollar one.
Cost of developing an app by a premium app development company – Anywhere between $500,000 to $1 million
Cost of developing an app a middle sized offshore centre – Anywhere between $150,000 to $400,000
Cost towards app development by a freelancer – Anywhere between $10,000 to $25,000
Conflicting survey results add to the confusion
To compound the problem, various surveys conducted by companies throw up conflicting responses and results about the costs to build an app.
Some quote the figure of $30,000 towards development, while others quote the costs towards development to be around $275,000.
This makes it difficult for companies to place a finger on the figure. However, you can come very close to the approximate amount, and then go ahead with discussions with the shortlisted developer or agency to zero in on the amount, right to last zero.
The cheat sheet will give you a broad idea of what needs to be considered, and depending on your choices, you can whittle down the costing to the actuals.
Here is a granular look at the costs in terms of percentage of total development costs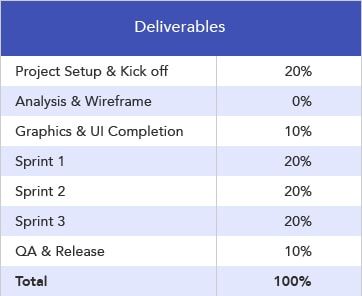 This will help you to manage your budgets better, in time for various stages for seamless development and conclusion.

Use informed inputs on online calculators
The use of an online calculator to arrive at the costs will help you to also get an idea of the costing. However, the calculations are on a premise of certain standards.
This may differ from client to client and an uninformed input may fetch you an incorrect figure and you may end up getting the wrong idea. Therefore, before you use the calculator, understand the features and the options properly.
For instance, if you choose an option that you do not require, on the assumption that it is necessary, you may end up with a higher estimate, and if it does not fall within your budget, you are likely to go in for a cost cutting exercise on other areas.
Similarly, if you are unaware of certain features and the need to incorporate them, you may leave out the features and assume that everything will be taken care of with the estimated amount. This may leave you stranded.
Talk to an expert, get valuable insights
When you talk to an expert, who has the knowledge of the business side as well as the technical side of app development, you will come closer to your figure.
For instance, some features may be interlinked to a hardware component, or third party support. Without this intricate knowledge of technicalities, it would be difficult to get the right figure.