Yesterday, I suddenly realized that I hadn't withdrawn any cash for the last 15 days. It made me happy as I thought I finally learnt to minimize my expenses. However, my bank balance didn't agree with this assumption. Later, I found out that in those 15 days, I had made most of the payments via my mobile wallet app.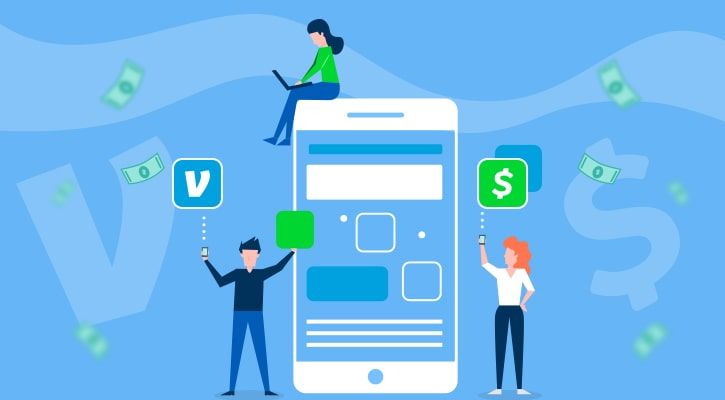 I am sure many of you would be able to relate to this anecdote of mine. This simply shows us the impact of mobile wallet apps and our dependence on them.
For the past few years, mobile wallet applications have seen tremendous growth and have given rise to a market in which new players are emerging every day.
Venmo and Square Cash are two of those major players in the mobile wallet app market. In this blog, we will see how these two applications work. We'll also draw a comparison between the two to see which one has the edge over the other.
And finally, we will tell you how you can make a mobile application like Venmo and Cashapp of your own.
Read More: Top 5 most prevalent digital wallet trends
Let's start with Venmo first.
Venmo
Venmo is one of the leading P2P payment apps in the world which enables users to send money to their friends & family, pay for shopping, or split a bill. All a user must do is link his bank account or debit card to the app.
Venmo is extremely popular among the millennials as it comes with an emoji-themed payment description and a "newsfeed" that shows all the payment records.
Venmo was founded in 2009 and was acquired by Braintree in 2012. Later in 2013, Paypal acquired Braintree thus making it the owner of Venmo. Venmo gets its name from the two Latin words:
"vendere" which means to sell in Latin and "mo" which is simply the short form of the word mobile.
Venmo allows sending or requesting money to or from another person or business via an app, email, and through the web. Venmo doesn't charge any fees for signing up unless you're using a credit card for your transactions. In that case, Venmo charges a fee of 3 percent per each transaction.
Square Cash
Like Venmo, Square Cash is another big name in the world of mobile payments. It's a product of Square Inc., which is considered as one of the largest payment processing companies in the US.
Square allows its users to send money to other users instantly. It also allows businesses to accept payments made via card.
Square Cash is not a software or application that Square has created. They also have Square app marketplace and Square register app, and many other applications which enable businesses to incorporate Square features.
Square has managed to create an ecosystem by releasing multiple applications. These applications complement each other well and result in robust customer support.
Square Cash charges nothing when you're sending money to your friends and family. However, it does charge 2.75 percent of the commission fee for each transaction made via a business account.
Moreover, in 2016, Square Cash came up with a virtual card that gave each user a Visa debit card number. This number could be used to pay at all the places where a user would usually pay with Visa.

Square Cash vs. Venmo
We had an overview of both the applications. Now, let's compare both to understand its working and differences better.
Customer Service
Let's take customer service as the first parameter. Venmo comes with a phone number – 855-812-4430, which allows its users to connect with their live agents in the time interval of 9 AM – 5 PM on weekdays. It also provides an option to chat with their support staff. Venmo's user can also send an email to seek help.
Square Cash, on the other hand, doesn't have any toll-free number or chat option. Square Cash solves all its customer inquiries over emails, and this process usually takes several days.
Fund transfers to the bank account
When it comes to funding transfers to the bank account, Venmo doesn't offer instant transfers. It generally takes one business day to transfer funds. However, this period could be longer or shorter, depending on when you sent the funds. The app does show an estimated arrival date.
Square Cash provides multiple modes for funds transfer. The first one is called standard speed, which generally takes from 1-3 business days. The assignments made with this mode are free of any charges.
The second mode is called instant transfers, where funds are transferred at an instant. To use this mode, the user has to pay a fee of 1 percent of the total deposit amount.
Sending and receiving limits
Both Venmo and Square Cash has a limit when it comes to sending or receiving the money. Venmo has a weekly limit of $299.99 that can be sent or received. In case, a user wants to exceed the limit; then the application will ask the user to confirm its identity through ZIP code, DOB, and the last four digits of the user's security number.
Once verified, the user's limit increases to $2999.99. There's also a separate limit of $2000 for Venmo card transactions and authorized merchant payments.
Square Cash also has limits quite similar to Venmo. Square Cash asks the user to verify their name, DOB, and the last four digits of their social security number in case the user send more than $250 in a week. However, funds transferred using a designated Cash for business accounts are exempted from this.
Similarly, for receiving money, Square Cash asks the user to verify if they received the amount that exceeds $1000 in 30 days. Even here, the funds received by using the Cash for business accounts are exempted.
Fraud protection and safety
Safety and fraud protection is one of the major concerns as users are always asking the question as to how safe Venmo and Square Cash are. Answer of this question is that both Venmo and Square Cash use data encryption to protect their user's data.
When it comes to fraud protection, Venmo advises its user to accept payments only from their family, friends, and people whom they trust. Venmo doesn't offer any buyer protection. So, if you buy a counterfeit product or never receive any product, then there's nothing that Venmo can do.
Read More: Mobile financial solution – potential security threats and solutions.
How to build an app like Square Cash and Venmo?
After studying the success stories of both Venmo and Square Cash in-depth, we've come up with a set of strategies that will guide you in P2P Payment App Development.
Start smaller
The first strategy to build a successful app is to start small. Targeting a smaller regional market allows you to find the optimal product and to analyze how the users respond to your product or services.
The other benefit that it provides is the fact that you don't have to worry about competing against the giants like Paypal or Square Cash.
It's essential to notice that not all successful Peer to peer money transfer apps were global. There are many cases in which a regional bank creates an app like SquareCash for themselves.
Read More: Why wallet app startups fail? – things you must consider.
Security
Security is one thing which you must get right. It's because you might get away with a slightly sluggish performance or sloppy UI. The users won't mind it that much. However, when it comes to security, the users won't compromise even an inch. They would want all their money and personal information absolutely safe with you.
To gain the trust of the customers on security, you can get certified as per the requirements of the payment card industry. Getting a certification will also add on to your reputation along with ensuring that all your services are taken seriously.
Read More: 9 ways to improve security of mobile banking apps.
Go with 3rd party APIs
It doesn't make sense to invest a tremendous amount of money into developing various features from scratch when you aren't sure if your final product will be successful or not. Third party APIs comes here to the rescue.
They allow you to accomplish several tasks; for example, the Synapse Pay enables you to manage compliance, send payments, and build secure accounts. Whereas, the Dwolla API allows you to integrate your platform to the US banking system.
Exploring revenue sources
In case, if you're building a single app and not a part of the overall system, then it might be difficult for you to ignore the potential revenue sources such as paid ads. It's crucial to find the most suitable monetization model for your application, and at times it can get tricky. That's why it's essential to explore and accept revenues from several other sources.
Retaining customer trust is a must
You can gain and retain your customer's trust by providing several support channels through emails, online chats, and by ensuring to respond to all the requests made and feedback given by the users. Your users might not like it if their transaction doesn't go through.

How much does it cost to build an app like SquareCash and Venmo?
One question which all the readers would like to know is how much does it cost to develop a peer to peer payment apps like Venmo and Square Cash. We'll try to give you a rough amount. To calculate the cost, we need to consider various factors and essential features that affect its cost. Below mentioned are some of the most critical features that will affect the total cost.
Unlock the app with a security code or fingerprint lock.
Link bank accounts to the app.
Send money to other users as well as third parties with an email addresses or personal code.
Request money from third parties and other users.
Earn reward points whenever your friend starts using the app with your invitation code.
Pay via virtual cards in online stores and
If you've the above features in your application, then the total cost to develop an app like Square Cash will be around $20K to $150K. The range is massive as many other factors like the size of team, geography, rates per hour vary a lot.
If you're interested to create an app like SquareCash or Venmo,
then get in touch with us for the same.