Mobile applications have become a game-changer in every industry, and the insurance industry is no exception. Insurance digital transformation has been possible because of technological advancements. Mobile applications help bridge the gap between insurers and policyholders in the insurance sector by providing smooth and quick solutions.
The new online insurance system allows consumers to view their insurance information quickly. They also drive insurance agents' productivity by enabling them to close requests faster.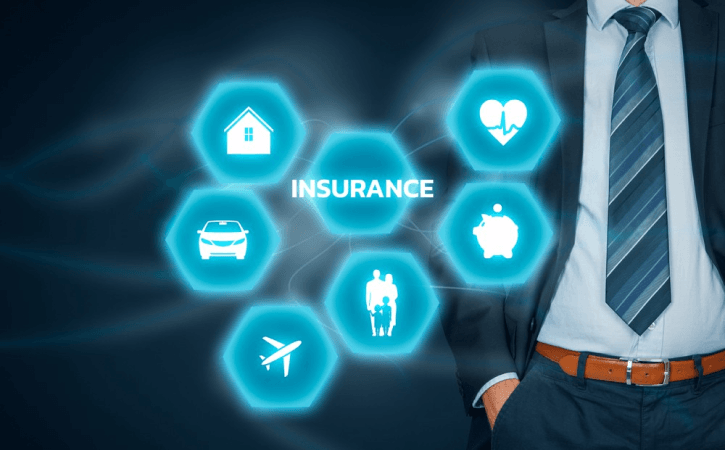 Insurtech, a relatively young sector of finance, is increasingly gaining traction. The market for insurance applications is expected to reach $164.13 billion by 2023, driven by customer desire for easy, rapid, and reasonably priced insurance.
Despite the ongoing COVID-19 outbreak, insurers are generally upbeat about the future of the business and are embracing technology. The idea of insurance app development is to make services customer-centric as the sector grows increasingly reliant on technology.
Here are some of the key stats that demonstrate the rise of insurance management software and applications.
A CAGR of 51.7% is forecasted for the worldwide insurtech market between 2022 and 2030. It is expected that the market would be valued at USD 3.85 billion.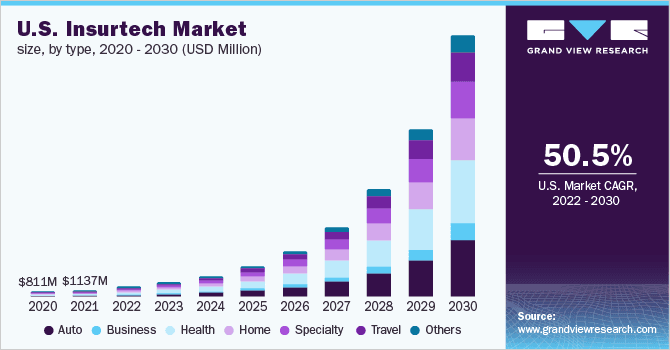 North America, particularly the United States, contributed 41% of total sales in 2019. In 2020, the US Health & Medical Insurance industry's overall market value will be $1 trillion.
In the medical industry, Covid-19 has had a very beneficial influence. Due to the worldwide pandemic, there has been a 50% increase in inquiries about health policy.
Why is it important for the insurance company to use digitalisation?
People nowadays spend a lot of time on their phones. But, the process to develop a mobile app involves a lot of complexity. With 230 billion mobile apps downloaded in 2021, the latest data reveal that apps account for 90% of all time spent on mobile devices.
Digital transformation in insurance industry is benefiting users and companies in many ways as below: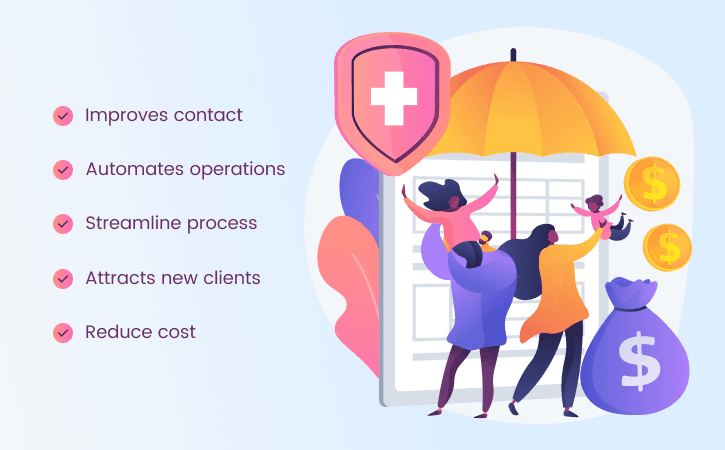 Improves contact between a firm and its customers using an insurance app.
Automates the activities of insurance agents and clients.
Removes the tedious process of filling out policy documentation.
Assists you in gaining new clients.
Reduces an insurance company's operating expenses while increasing income.
What are the issues that insurance companies are facing right now?
New technology, data-driven procedures, and increasing client expectations have all contributed to the current state of upheaval in the insurance sector.
Many of these developments have been positive, such as the digital transformation of insurance and the benefits it has brought to both firms and consumers alike. However, some of these changes have led to new issues for the sector.

The need of the hour is to make use of the vast amount of data
Insurers now have access to data from various sources, making it difficult to determine whether it is useful. The influx of data is daunting, and businesses require sophisticated analytics tools to turn it into actionable insights. Insurance management app can leverage the vast amount of data.
Customers want a hassle-free experience
Customers believe that buying insurance is a tiring process. And they are searching for more enjoyable experiences. They need contact with their insurance carriers to be as smooth and convenient as possible since they make insurance claims at some of the most difficult times of their lives.
Business requires efficiency and acceleration
Many activities are still carried out manually, and there is a great deal of paperwork. Accelerating underwriting and claims processing while retaining accuracy and efficiency.
Insurance software is no longer a passing trend in this sense. Apart from linking insurers and clients, mobile applications for insurance help organisations improve a variety of procedures, allowing them to take their services to a whole new level.
How can insurance businesses leverage customised software solutions?
From the beginning to the finish, insurance software development guides your organisation's digital transition, helping you turn your ideas into reality.
Insurance software solutions help you with the ideal software solution for your company, build it, install it, and offer ongoing support for it. Improving your client connections and increasing your profitability.
The functionality of the insurance software
Insurance technology has made it easier for the sector to carry out day-to-day operations and concentrate more on governance. When comparing custom insurance software development, there is a lot of variety in the capabilities.
Some of them focus on dynamic functionality and work as all-in-one software. In light of this, the following software modules supplement the functions of the contemporary era insurance sector.
Effects of technological advancement in the insurance sector
The usage of insurance software is enhancing the industry's value. It has improved upon the previous method and has become a primary driver of change, resulting in significant efficiency improvements.
It has a considerable influence, as seen by the following advantages. Online insurance system can streamline all the processes that can save your time and resources. Benefits of insurance mobile apps are numerous.
Solid and far-sighted decision making
The insurance sector has always been a labour-intensive industry. Insurers use actuarial analysis to determine pricing, risk, and capital management decisions.
An accurate and critical study is impossible to do without specialised insurance agency software. The research has improved as a result of the availability of dependable Software.
Companies can collect data in bulk and process it in various ways. It has simplified risk and capital management. Insurers can obtain information more quickly, making better business decisions.
Insurance management software can let you make faster and more reliable decisions.
Better operational efficiency
Insurance software solutions save a lot of time by storing all of the data in one searchable database and automating time-consuming operations like invoicing and reporting.
Standard regulatory committee
The manual technique of keeping up with ever-changing rules is impractical in terms of insurance app development cost and time. On the other hand, the insurance agency management system immediately identifies any issues that need to be addressed.
Enhanced data security
Because of the Software's encryption and user authentication features, bridging the security gap is tough. As a result, important customer data and corporate information are protected from leakage or loss.
Seamless communication
Implementing tech solutions like task management, automated alerting, and communication tracking helps reduce and prevent communication breakdowns while dealing with customers, carriers, or others.
Better customer service
Customers want insurers to provide timely, accurate evaluations of their conditions and the opportunity to complete self-service requests. It is possible to provide these because of the insurance mobile app features that makes the user experience better.

Available digitalisation for insurance apps
When individuals talk about digitising the insurance industry, they also refer to application development. Life insurance, travel insurance, asset insurance, and other forms of insurance are all available through mobile insurance applications.
While this categorisation makes sense to some extent, an insurance app development company is likely to handle all of these and many additional policy variations.
Should these businesses create a different solution for each type of coverage they provide? Both yes and no. We'll come back to that eventually. For the time being, let's look at the various sorts of insurance applications from a different perspective.
Application for insured
Online insurance app that can help users buy insurance and process claims are the most popular. In a moment, we'll go through the characteristics that are perfect for such applications, but for now, keep in mind that these apps serve as a liaison between insurers and the insured. There are many types of insurance apps in the market.

Insurance agent app
If you've ever seen the software agents use, you know it's not designed to be used on a mobile device. It is important to build a mobile insurance app.
Simultaneously, you must understand how a mobile-optimised CRM linked with back-end processes may assist agents in closing more sales.
All data about prospect and client policies, the history of their claims, and anything else that agents need would be stored in the insurance agent app. Insurance broker software can also benefit the industry.
Application for vehicles
Customers are being asked to download specific applications that function with sensors installed in vehicles. It is one of the recent trends in the insurance industry.
his is done so that their driving behaviour can be tracked and analysed, and their insurance premiums may be dynamically adjusted.
You can anticipate seeing more IoT-based devices emerge when more sophisticated sensors, such as water leaks or gunshot detectors become accessible.
Why not have sensors communicate data wirelessly to the cloud instead of requiring a separate application? Because the app uses an energy-efficient BLE connection, making operating these smart devices considerably easier and data collection much more dependable.
P2P apps
P2P insurance app is when people pool their premiums without a central authority deciding on compensation in the event of an accident. The Lemonade app is a fantastic example of a successful peer-to-peer insurance programme.
There are many types of on-demand insurance mobile apps that are running successfully across the globe.
Read More: Hire app developers to build your smart insurance software
How does the insurance business digitize with a software solution to help customers?
Underwriting, issuing policies, managing teams, tracking claims, complying with laws, and updating policy information are all part of the administrative side.
On the other hand, the client-side allows your consumers to log in and perform simple actions like checking their policy eligibility, applying for insurance, filling out forms, making online payments, and so on. With insurance policy management software, the process becomes smooth.
Insurance agency software will cover everything from the basics. It involves customer relationship management and business processes that makes everything easier.
Top insurance software development packages such as LeadSquared Insurance CRM, SEMCAT (formerly Applied Rater), Insly, and Jenesis Software serve insurers in many roles.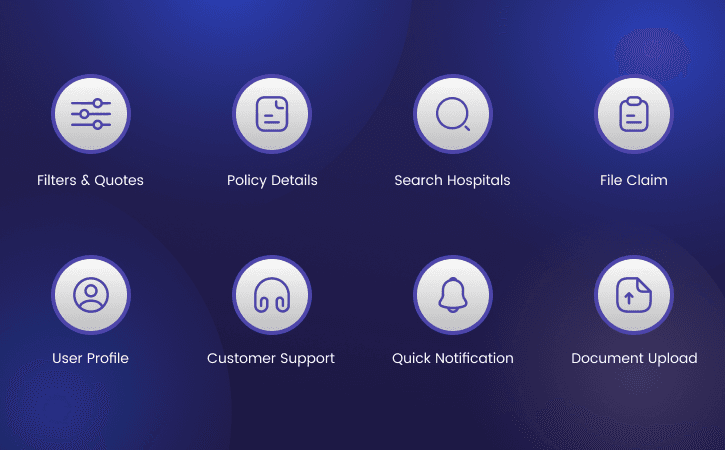 Filters and quotes
This is a very important feature in the building of insurance apps. It enumerates the types of data that an insurer may acquire with a mobile app in the preceding section.
The Quote-tab has a function that allows the app to pull your information from its database and either link you with an insurance agent or directly announce the cost of a policy.
If the organisation has the means to deal with Big Data, it may offer clients cheaper rates or additional perks based on how frequently they inquire about new policies.
Policy details
This page shows the policy's specifics and the manner and scope of your benefits. For instance, automobile insurance apps for Android and iOS users will show the information on several policies that a single user may be registered in such as one for a car, another for a bike, etc.
Search for in-network hospitals and doctors
It's never easy for people to discover doctors, hospitals, or clinics that work with their health insurance carrier. That's why it is necessary to have health insurance app development.
As a result, your insurance app should allow users to examine the whole database of in-network physicians (name, experience, qualification, specialisation, etc.) to get the finest medical treatment possible.
Include many search and filtering options for a better consumer experience. For example, you may search by name, location, specialisation, experience, fees, etc.
You may also activate geolocation so that users can use the app to identify the nearest doctor, hospital, or clinic in the event of an emergency.
Filing a claim
A crucial feature that your customers would anticipate from an insurance app is the ability to file a claim. They can do so with the help of insurance claims software. Your consumers should be able to file a claim as soon as the covered occurrence occurs.
If the insurance is for a car or a house, the app should allow users to snap images and submit documentation proving the damage.
User profile and dashboard
Collect basic information like name, age, height, weight, and so on to create a rudimentary user profile in the programme. Under their profile area, your clients should be able to check their policy details, nominee data and access their insurance ID cards at any time.
Customer support
Chatbots are no longer exceptional. For routine inquiries, automated solutions serve as a simple resolution. But what if anything happens by chance? You can't expect a stranded user with a broken car to rely on pre-programmed responses.
Include request a call-back or connect with a representative option as an alternative. Such in-app call capabilities will help the app become what it is meant to be: disaster-avoidance and quick-response equipment.
Quick notifications
Users should be able to get information regarding the phases of the claim settlement process after making a claim. Customers may reduce their fear and develop trust by understanding how claims are processed.
Storage and document upload
If the insurance application development did not include it, how would consumers submit their documents, let alone a photo? The mobile app must be able to upload documents from local file directories, but it must also be able to import documents from third-party servers, such as emails.
What would be the insurance app development cost?
Of course, other sectors will have their requirements; you probably know your clients' demands better than anybody. Without AI, the cost of an insurance app development would be in between $70,000 and $90,000.
Except for an AI assistant, such an app would cover almost all of the characteristics we outlined in this article.
There is no such thing as a one-size-fits-all solution when it comes to app development. To estimate the cost of custom insurance app's design, you must consider features, demography, project complexity, business size, and more. Keep the cost of app development in mind before making any final decision.
Cost to build an insurance app can depends on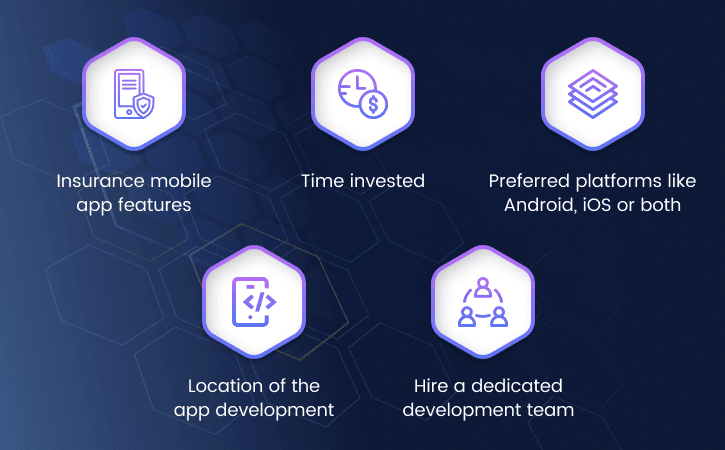 Insurance mobile app features.
Time invested.
Preferred platforms like Android, iOS or both.
Hire a dedicated development team.
Based on the considerations mentioned earlier, the MVP cost for a single platform (iOS and Android) insurance app development will begin at $30,000.
If you decide to create for both platforms, the cost might go from $50,000 to $60,000. There are a lot of minor factors that can impact the cost of an insurance app development.
Conclusion
Health insurance is a sector that welcomes new ideas. One of the best ways to boost engagement, quality of service, and overall customer experience is to establish a health insurance app.
As you can see, many moving pieces in this process must be managed. Everything is achievable with a well-versed and seasoned staff on board.
When you contemplate a technology-driven existence on the one hand, and a pandemic on the other, customer desire for a better experience and remote access doesn't seem out of place.
Mobile applications are useful tools for managing large amounts of data and providing a competitive advantage in the market. Find the right insurance app development company to build the best insurance app.
You probably think it's a smart idea to create a medical insurance app when there are currently so many on the market. The answer is unmistakable yes.
A brilliant company concept is to create a health insurance app. Why? Insurance needs are only going up because of growing healthcare expenses, more knowledge of insurance advantages, and government measures to extend health coverage. Find a software development company that can build you an app as per your need.