Traditional supply chains are unreliable and, often, work on a logistics firm's low-cost distribution model. The firm might have the right infrastructure to run the logistics operations but lack a proper digital infrastructure and, thus, access to necessary digital tools and analytics software to optimize the chain, obtain real-time data, shorten replenishment cycle times, optimize deliveries and predict future demand.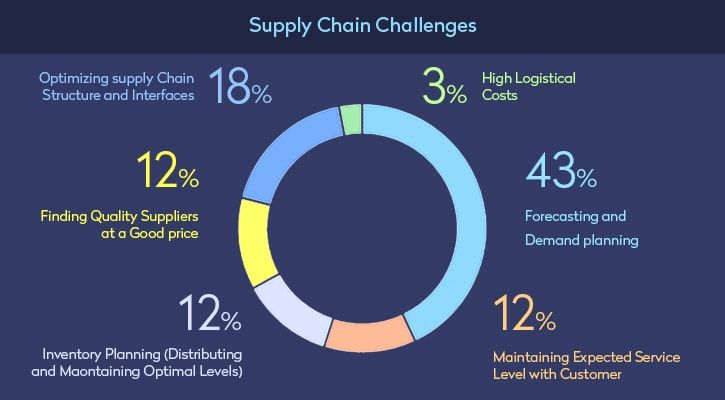 With the help of digital supply chains and owing to greater transparency in the logistics operations with the help of integrated fleet and asset tracking solutions and real-time information about the available stock, a logistics firm can, immediately, cut retail cycle times by 20%.
Once the digitization is adopted in every phase of the cycle, it can reduce that time to 60%.
By introducing digital technologies into their supply, logistics firms can improve their service levels while cutting costs up to 30%.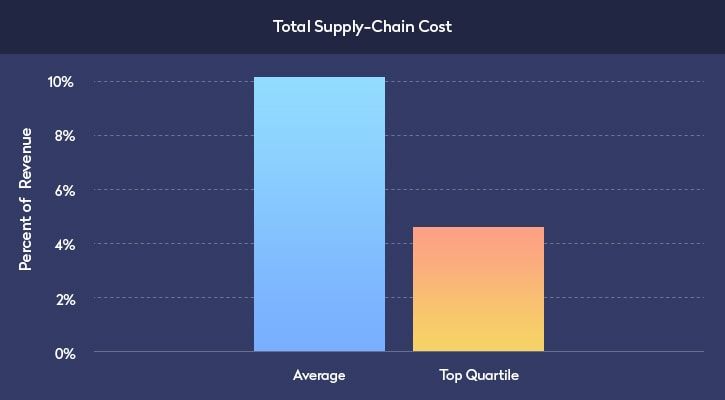 Source: Bain and Company
An unexpected virtue of ignorance
Nevertheless, many logistics operators shy away from digitalization and seem content maintaining their traditional supply chain. This may work for some time. But in a long this is a business suicide.

What's perhaps most disturbing is this that so many senior managers believe they're doing a great job with their supply chains. More than 40% of those polled by Bain felt that they outperformed the competition in terms of service, cost, and asset utilization. What's happening here?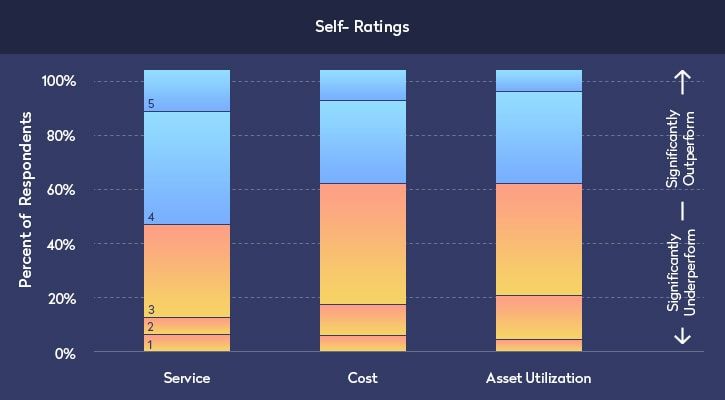 Source: Bain and Company
Only 25% have what they would describe as full information on their supply chains; nearly 45% of respondents admit to having little or only basic data. In a separate finding, there is evidence that managers are reactive when it comes to the big picture.
They are alert to the needs for accurate production planning and on-time parts-delivery forecasts.
But, in a separate survey by the Compass & Garfield School of Management, less than half (45%) of the managers queried said they had "most elements" of a supply-chain strategy.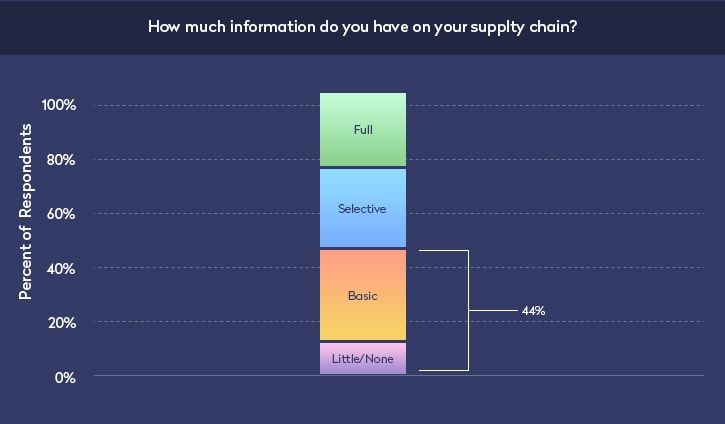 Digital transforming of Supply Chain
In traditional supply chain, the flow of goods and services include sourcing raw materials, designing products, estimating the demand, arranging sales and conducting logistics. After all these operations, the customer will get the visibility of their orders.
But on the contrast, the digital supply chain offers more visibility into the status of customer's ordered products.
It is the process of integrating and applying advanced technologies into your supply chain operations right from procurement of data to transportation and distribution of goods.
The customers can access the tracking details and get instant updates of the location of their goods.
The ultimate goal of supply chain digitization is to enable insights for greater efficiency, streamlining supply chain operations and achieving business scalability.
Logistic companies with digital supply chain can better move their resources, employees, assets, inventory to where they are needed, reducing costs by proactively responding to manufacturing risks.
The companies can also reduce carbon footprint, saving time, money and resources with contactless deliveries.
Everything that matters and not
An upright place to jump when determining a digital policy is bring thoughtful of the industry context and the logistics firm's origin. For instance, numerous firms start with obsolete, legacy IT systems.
Substituting those with the state-of-the-art mass-produced digital tools can produce new source of revenue, raise responsiveness, grow efficiency, and decrease the entire cost of possession for IT infra.
Read more: How does Warehouse Management System works?
Leading firms develop the ethos, data policies, and IT infra to back their digital strategy and business goals. They chase definite goals with short-term values while implementing a vibrant view of their digital point. And they are ready to pivot as their trade progresses.
An Ideal Future State
The key to create supply chains that will be profound in 5 -10 years is forestalling transformation. Logisticians contemplate where the business is going and recognize the supply chain abilities they want to get there.
Accurately, forestalling change is a calculated move into future. A fleet management solution can measure what their firm may look like in three, five and ten years. The 3-year idea is probable to be more tangible, while five-year and ten-year visions will be more on an abstract side.
For many vendors and FMCGs, for instance, it is evident that e-commerce has elevated customers' outlooks and that outdated retail delivery and refill models are can't meet the requests of their regulars who are demanding tinier lead times.
Effective firms duck incremental moves by visualizing just how risky the imminent might appear. Let's say, what would occur if the whole business stirred from high sales margin to low sales margin or if it moved from ordinary products to custom products?
These situations can support supply chain players classify what the firm would need to do in a different way and what new competences any such vicissitudes would mandate.
Identify the voids and loopholes
Finding the model future state for a supply chain permits logisticians to recognize lost abilities and start building them. In our knowledge, firms that make the exact small-term investments to raise supply chain presentation create substantial savings to fund longer investments.
Retailers place that practice to decent use when a mature supply chain shaped complications for its business. The business had underinvested in its supply chain for ages, and its undeveloped infrastructure was in meager state of affairs.
Consequently, service was way mediocre to that of modern startups. 15% of the firm's orders reached later than assured, and purchaser loyalty was corroding quickly.
The management team understood it must substitute its aged delivery centers with numerous high-performing ones, but it couldn't pay for to make the complete investment in a single go.
It initiated the switch rather with the 5 major distribution hubs, participating in digital tools and creating top-notch delivery processes.
The pilot enhanced service levels by twenty percent while lessening costs by twenty percent. The firm now wants to accomplish its performance goals in these facilities within 9-month, resolving many of its late-delivery complications and its repute for deprived service.
Over the following 3 years, the warehouse management system will fill the voids, cutting supply chain outlays by twenty to thirty percent. Attaining that goal will generate a war chest to back further investments.
Filling voids with latest digital supply chain trends
Most of the logistic companies have heavily invested in web and mobile apps to transform their digital supply chain. However, they must need to invest in these latest trends that go beyond improving your logistic operations, productivity and performance.
Read more: GPS vehicle tracking can transform fleet management?
Ecommerce integration
These latest technology enables the modern-day logistic to connect with B2B sellers and resolve the inefficiencies in their supply chain models.
AI/ML
These artificial technologies can help you to create a toolbox that understands complex content, enhance human performance and take over your routine tasks.
IoT
Stay connected with every operations happening in your logistic company. Improve your warehouse management, fleet tracking, inventory control and even maintenance with the help of IoT.
Create a cloud-based applications that help you and employees to access everything and keep everything organized.
Blockchain
It has been incredibly beneficial for your business to minimize the supply chain disruption and enhance customer experience. Businesses like carriers, shipping lines, logistics have experienced immense benefits by integrating this technology.