The Internet of Things, or IoT as it's popularly known, is proving to be one of the strongest disruptors in tech so far. To many, it may still seem as if IoT is in its nascent stage. But it already comprises 7 billion devices and is expected to grow to 50 billion objects by 2020. IoT is not going anywhere and it's going to affect nearly every industry possible.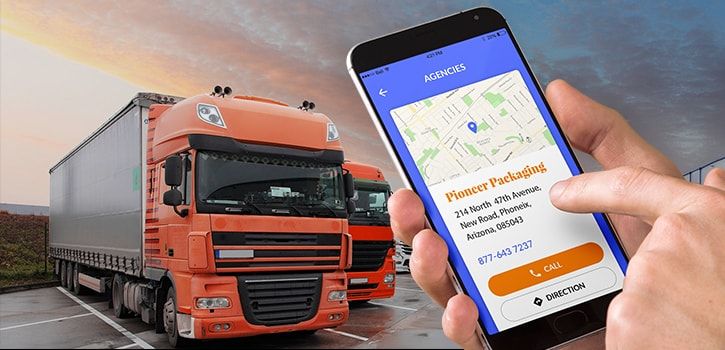 IoT, in simple words, means smart-everything. Every object in your vicinity, your home, workplace, and city can become a smart object and can be connected to the already existing network of smart-objects to exchange data and information.
This could include vehicles, home appliances, street lamps, and numerous other objects connected via sensors, actuators or software (among other things). The possibilities are endless.
Logistics is one of those industries where IoT is already seeing early adoption. This had to happen since logistics in its simplest form involves transporting objects to and from places and people in the most efficient way possible.
Manufacturing and logistics are areas where IoT potentially finds extensive avenues of adoption simply owing to the number of objects there are to connect.
If all the objects in a logistics system could be connected, imagine what that kind of harmony and synchronicity would enable their users to harness.
Speculations aside, we are here to discuss how logistics providers, supply chain managers others in this field can embrace the Internet of Things to maximize the potential this technology offers. Here are some areas of supply chain and logistics where IoT will undoubtedly make its presence felt:
Read more: The role of a warehouse management system
four ways logistics providers can embrace IoT to differentiate themselves:
1. Warehousing
Warehouses are an integral part of any supply chain. Any improvements and developments in warehousing have a multifold effect on the cost incurred in the entire supply chain. Warehouses are looking for better utilization of their spaces and better inventory management.
IoT enables them to optimize their spaces. By fitting machines like forklifts with sensors, these machines can take inventory decisions faster.
Safety and security are also of critical importance in warehouses. With IoT, these requirements can be strengthened and elevated. IoT sensors will allow warehouse managers to remotely control doors to the warehouse, and any suspicious or unusual activity will be detected immediately.

Similarly, IoT would also reduce the risk of accidents in warehouses to a great extent. In warehouses, workers are surrounded by heavy equipment and machinery. The risk of accidents and injury is sky-high. Machinery that is connected to IoT could alert the user immediately on finding a defect.
Thus, labor management is optimized and their conditions are made safer in a potentially hazardous work environment. The following image illustrates the beauty and efficiency of an IoT enabled warehouse.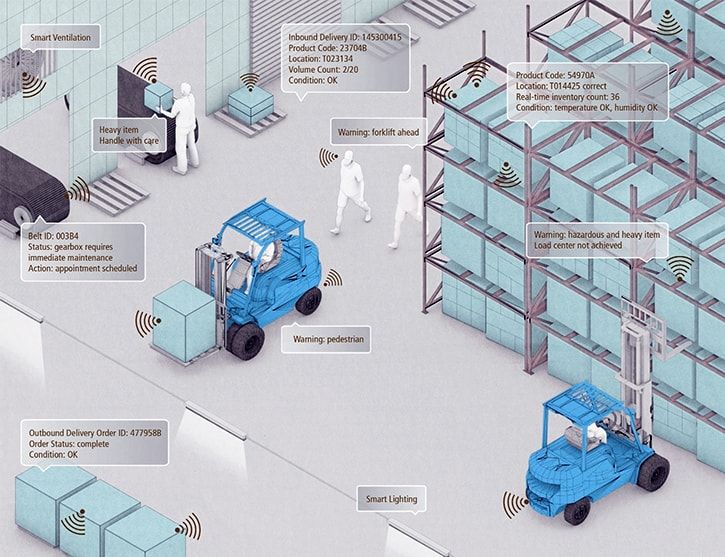 2. Transportation Management
Your transportation management system will be transformed into a super tool when it is connected to your system if it is fully or even partially IoT-enabled.
IoT will drive operational efficiency of your delivery, tracking, and other transportation-related variables. Since transportation is often the costliest variable in a supply chain, this is welcome news.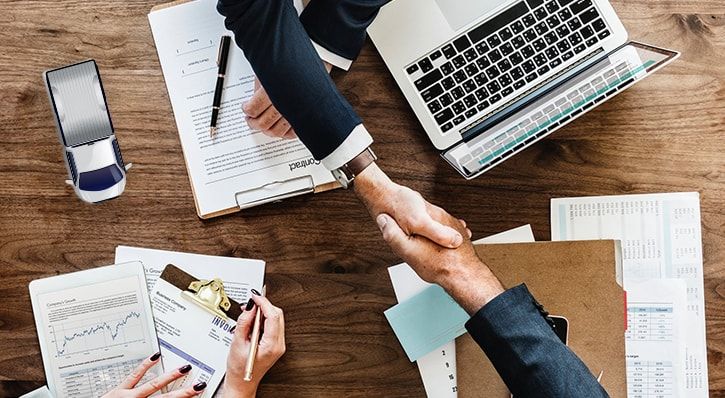 The increased connectivity between different truck fleets, GPS technology and ELDs (Electronic Logging Devices) will allow fleet management systems to easily monitor different metrics such as idle-time, speed, ETA, and others.
Using a combination of barcode scanners, RFID (Radio Frequency Identification) sensors, mobile ELDs and GPs will enable field technicians and drivers to obtain real-time updates on weather and/or traffic conditions.
Thus enabling them to respond accordingly to customer service requests. It will assist them in optimizing their time and resource allocation, thus contributing to the company's bottom line. Moreover, this information can be utilized to find the optimal route for drivers.

IoT infrastructure should be able to connect all possible assets: items, containers, carriers, sensors, and employees, in order to make sure that the entire logistics system can be tracked and managed as a single symphonic unit.
3. End-to-End Visibility
Even the best supply chain management software by itself cannot provide complete end-to-end visibility to a logistics chain. Complete visibility is essential in order to maximize the efficiency and sustain the profitability of the supply chain. It promotes timely operations and reduces delays by early problem-detection.
By incorporating RFID (Radio Frequency Identification) technology in the supply chain, visibility would increase in addition to a reduction in overall inventory costs. It can be used to track the location and movement of each and every item within a store or warehouse or in-transit.
Using RFID in conjunction with IoT infrastructure will enhance asset intelligence by providing access to real-time data across the entire supply chain.
Along with RFID, the use of smart sensors would also go a long way in enhancing visibility through improved operational efficiencies and asset management.
Even if your firm is using third-party logistics (3PLs) to move your shipments, IoT enables full visibility at each point of the shipment process.
Read more: Real-time asset tracking with beacons
Energy Management
This one often slips people's minds but it may be more important than anything else on this list. IoT-enabled sensors and monitoring solutions can easily shut down those sections of a warehouse or factory that are not in use, while automatically switching on power for those sections that are.
As warehouses get bigger in the race to get maximum space, manually monitoring its energy consumption becomes tougher and unnecessarily time-consuming.
IoT-enabled heat and motion sensors would allow warehouse management system to utilize their energy resources in a smart and efficient manner. In this age of increased sensitization towards the issue of energy conservation, companies can earn brownie points by taking such proactive, forward-looking tech measures to be conscientious about their energy usage.
Closing thoughts
at present, a good number of industries are scrambling to adapt to the Internet of Things and be a part of the IoT revolution. This is because IoT is the future and first movers will have a significant advantage over late adopters.
Companies that are involved in logistics and supply chain management should almost definitely look into investing in IoT infrastructure before all of their competitors do the same.
According to DHL and Cisco's excellent report titled "Internet of Things in Logistics", companies will need to establish a clear and standardized approach as well as a change in business mindset to exploit the full potential of the Internet of Things.
More than anything, IoT will streamline all your logistics operations and do wonders for your bottom line.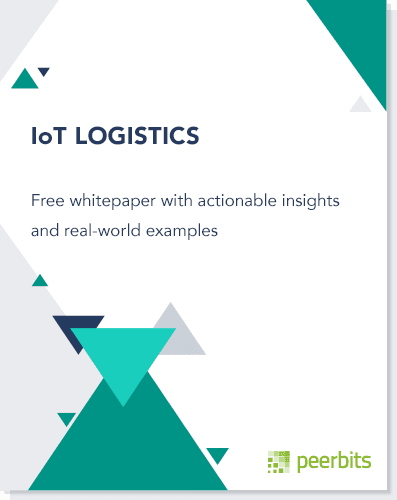 A complete guide to IoT in Logistics
A real-world example of how Smart Fleets make logistics operations a breeze to manage and supervise.
What is smart logistics?
What is the technology pool?
The power of sensors and cloud
Artificial Intelligence in logistics