In an increasingly competitive, fast-changing, and heavily regulated environment, managing offshore and onshore operations creates serious challenges for oil and gas companies.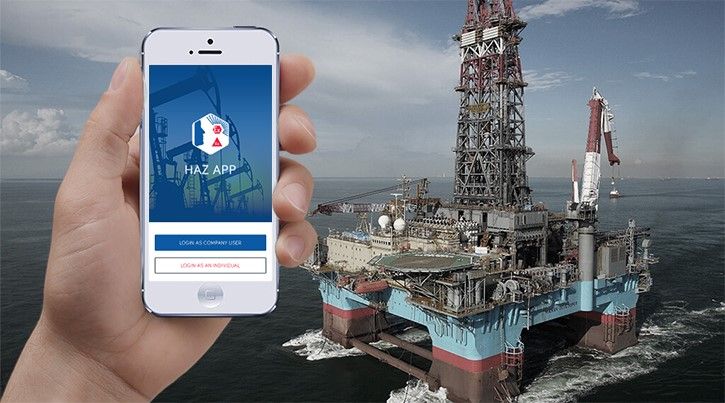 Up-to-the-minute information spanning their resources is vital. Real-time inventory and asset tracking enable companies to modernize their operations to find efficiency and productivity.
Many industry leaders are finding success in mobile technology. Without it, companies are unable to leverage their people and assets as efficiently as they should.
This inefficiency harms their productivity and undermines the effectiveness of their environment, health, and safety (EH&S) procedures.
How can professionals in these organizations access information when and where it is most needed? Is there a way to improve operational capabilities and reduce costs? To help them answer these questions, upstream oil and gas companies are turning to mobile-based solutions to deliver on-demand fuel, intelligence, improved information flow, and increased field-force productivity.
The growth drivers behind enterprise mobility
In an industry where mobile workforces and globally dispersed stakeholders are the norms, these solutions are becoming increasingly important.
Enterprise mobility solution already ranks as a top-three technology priority for energy companies. And ongoing developments in mobile technologies, coupled with advances in cloud services, analytics, and mobile application security, are extending its value to ever-more applications and users.
The constant evolution of mobile devices and networks
Mobile devices are in constant and rapid development, becoming smaller, more powerful, and smarter. Of particular relevance to oil and gas companies, they are also becoming more resilient, with explosion-proof phones and tablets now readily available.
As network bandwidth and coverage continue to increase, smartphones and tablets are becoming ever more attractive, and sales and adoption rates for these devices are growing all the time.
Global smartphone and tablet shipments exceeded personal computers for the first time in 2010, and demand has continued to surge. So, has the amount of time their users spend online.
With 6.648 billion smartphone users globally, which translates to 83.72% of the world's population generates 54.4 percent of global website traffic.

Shifting patterns in the oil and gas Industry
Among oil and gas companies, we see demand shifting from stand-alone mobile solutions to mobile solutions integrated into industry-specific enterprise systems.
This shift is in line with the wider trend in this sector for developing and contracting custom applications and hardware that suit the particular needs of oil and gas companies.
As per the latest study, 57% of oil and gas companies are interested in making mobility a top priority.
This trend recognizes that system and workflow requirements in the energy industry are beyond the scope of off-the-shelf software, while the harsh working environments call for ruggedized versions of standard devices.
Types of application in oil and gas industries
A wide variety to build a mobile application can now be deployed across engineering and operations (including drilling, well management, and EH&S). By enabling the seamless flow of information – whenever and wherever it is needed most – the technologies now available have effectively closed the decision-making loop, going beyond mere data capture to include real-time analysis and response in the field.
This advancement underlines the drastic shift that has occurred in how companies use mobile technology. Until recently, the primary use had been to get information "out" into the hands of field personnel.
Enterprise mobility for Upstream, Oil-Field Services, and Downstream Operations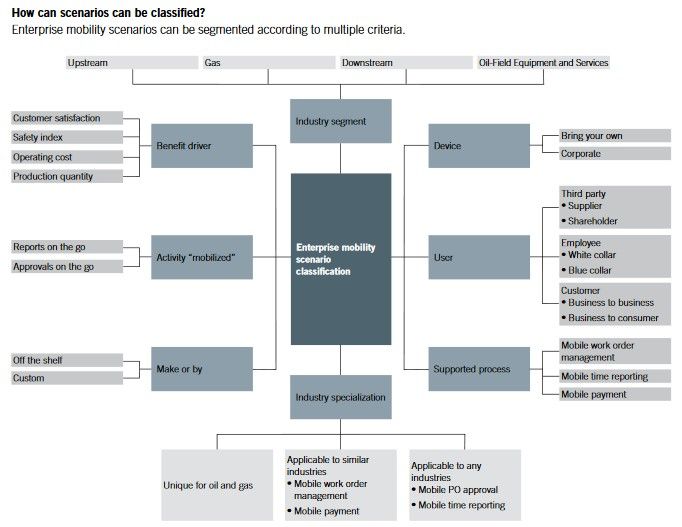 By extending vital systems such as enterprise asset management, calibrations, and project management to mobile devices, leading organizations in the energy sector are realizing significant benefits across upstream, oil-field service, and downstream operations. Examples include the following.
Asset management (upstream, oil-field services, downstream)
Covering the processes related to maintaining offshore and onshore assets, this would include work order management, maintenance management, assets and inventory management, and engineering data management.
Mobile applications deliver pronounced benefits by enabling rapid responses to unforeseen risks and timely preventive maintenance.
From drill rig and well maintenance to pipeline construction and vehicle maintenance, mobile apps for asset management can be used to accelerate scheduling and completion of work and monitor technicians' access to all the parts, tools, and information they need to finish assignments.
Inspections, condition monitoring, and assessment (upstream, oil-field services, downstream)
Oil and gas companies can achieve significant cost savings and improve operations by deploying mobile apps for inspecting pipelines, environmental assessments, refinery equipment, and other areas.
The principal benefit of these mobile apps is that they allow technicians to easily collect large volumes of data and immediately take the necessary corrective action.
Data capture can be facilitated using barcoding, radio-frequency identification (RFID), or global positioning systems (GPS) to identify the asset, and then using touchscreen menus, cameras, and other peripherals to record the observation.
Data-entry methods, including clickable image control, can be used to identify problem areas, speed up inspection processes, and provide uniformity to inspections data.
Regulatory compliance (upstream, downstream)
Most energy companies handle compliance reporting and management in discrete categories – by geography, business unit, or business function. Mobile apps can simplify compliance processes by enabling accurate monitoring and streamlined reporting on regulatory and safety issues.
Because these applications provide frontline managers and executives with real-time access to reliable, accurate information, they also enable rapid responses to potential compliance or safety threats.
Materials management (upstream, oil-field services, downstream)
Mobile devices can be used for materials management functions such as procurement, reordering, and stock transfer orders; collection and quality assurance and quality control inspections; issuing and stocking.
Field-force personnel can use ruggedized mobile devices to collect, update, and synchronize (in real-time or batch) to back-end ERP and EAM systems. Service companies and supply chain officers can leverage mobile apps for supply and rental inventory management of high-cost rental goods and equipment.
Mobile supply chain collaboration (upstream, oil-field services, downstream)
Mobile apps help specialist workers to collaborate in real-time across the global supply chain without needing to be physically present at the plant; this increases plant availability and reduces time to market and money that goes into oil and gas app development.
Workforce management and field-force enablement (oil-field services)
Oil and gas service companies often have hundreds of technicians working on assignments worldwide. Managing these resources is complex and time-consuming.
Travel documentation and certification need to be kept up-to-date, and schedules and rotations need to be aligned to priority, availability, and skills.
Tailor-made mobile applications that take all these issues into account can help services companies to predict demand and identify, validate, deploy, track, and manage people (in the field and on vacation).
Mobile analytics and dashboards (upstream, downstream)
Analytics-based mobile apps can be used to enable precise monitoring of key business indicators, with executive and operations dashboards providing real-time insights to inform effective decision-making.
In upstream situations, users can monitor drilling operations via smartphone from almost any location. In addition to logging in online, users can access a snapshot of drilling operations, with job cost, mud weight, daily drilling progress, production reports, and operations summaries all uploaded to the mobile app
Sales-force enablement (downstream)
Although there has been a massive increase in investment in sales-force automation (SFA) and customer relationship management (CRM) systems, user adoption remains limited.
Extending SFA and CRM functionality to accessible, easy-to-use wireless devices puts these high-value systems into the hands of mobile workers, where and when they need them most. This accessibility dramatically improves user adoption rates and end-user buy-in.
Fuel management (upstream, oil-field services, downstream)
Tracking fuel consumption and monitoring timely replenishment is critical to seamless and cost-efficient operations. Mobile apps can deliver functionalities including demand forecasting, fuel order forms, consumption tracking, remote monitoring, delivery management, alerts, reports, and key performance indicators (KPIs).

Electronic logbook (upstream, oil-field services, downstream)
Because offshore supply vessels' activity logbooks are either maintained manually or using Microsoft Excel, it has been impossible for oil and gas companies to standardize processes and scientifically manage voyage operations.
This challenge can be addressed using a stand-alone mobile logbook, with capabilities spanning voyage activity, daily vessel status, reporting via e-mail, and data synchronization with the back office.
GPS and GIS tracking (upstream, downstream)
GPS and geographic information system (GIS) vehicle-tracking systems are already used extensively in the energy sector, providing companies with real-time tracking of key machinery and matching asset demand with availability.
This capability increases asset utilization and reduces downtime by enabling preventive maintenance practices through real-time monitoring.
Capacity extensions and retooling
During capacity extension and retooling phases, companies need to increase employee productivity ("wrench time") and reduce maintenance backlogs, without compromising safety.
Using mobile apps, employees and contractors can capture key information on the spot, quickly route completed tasks to appropriate people for validation and sign-off, and spend minimal time hunting for information.
By recording all tasks electronically, the team will also automatically generate a detailed audit trail for regulatory compliance.
Shared services (upstream, downstream)
Mobile apps can play a key role in supporting shared-services organizations spanning human resources, finance, sales, procurement, service agreement management, and application lifecycle management.
Partner collaboration
Partner collaboration often involves a lengthy onboarding process, followed by time-consuming performance analysis, maintenance, and billing procedures. Mobile apps can streamline partner management – from partner selection to partner performance analysis and comparison.
A move to enterprise mobility
Mobile technology also brings multiple benefits to back-office operations, helping staff to perform essential administrative tasks and increase productivity by reducing reliance on paper- based processes.
Management can also realize significant benefits, with access to all key business data available whenever and wherever it is needed. And all these business-to-employee (B2E) benefits can be increased by extending the mobile value chain to the end consumer –transforming customer interactions to improve relationships and build customer loyalty.