Great day for Peerbits Solution Pvt. Ltd!
On 21st Feb, 2015 we at Peerbits had a one day office trip to a nearby resort located at around 40 km from Ahmedabad. The event was planned days before the actual day arrival with location being selected as 100 Acres Resort situated at Sanand on the Nalsarovar Road. Peerbits team was all excited and geared up eagerly waiting for this excursion. The actual day then finally arrived.
As decided earlier we all gathered in the office early morning at around 8 am to start the journey sharp at 8:15 – 8:30 am. To accommodate a staff of 45-50 people we had a good number of bikes and cars to cherish this outing in a more memorable way. We all reached the destination at 10 am, which was what expected beforehand. During this short transit, we had all sorts of popular Gujarati dishes at roadside.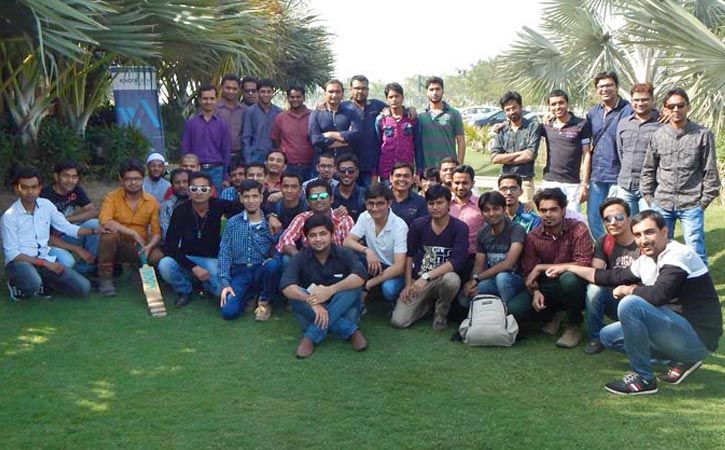 The day started with an individual introduction of every single Peerbits employee whether old or recently joined. It meant to let the colleagues know their subordinates closely in order to break the ice and get comfortable with each other while on work. It was great fun as people openly told about their personal lives and a healthy teasing took place in most cases. The top management got equally involved in the fun enhancing the whole session more.
After that, all of them disbursed, to explore the place, in their own way. Few of them went into the swimming pool to swim. Some went to play outdoor sports like cricket, football, and lawn tennis. Others were more interested in indoor sports such as table tennis, billiards, and carom. Sometime later, all of them jumped into the swimming pool to have a blast, with ball catching game, and music going on by side.
We all gathered for lunch at 1:30 pm. After having a lunch for about an hour, it was now time for relaxation with some of them capturing the sofas and others relaxing themselves by playing indoor sports. Then at 3:30 pm came the highlight of the whole event with a cricket match where all of them came together and played an exciting game lasting for about one and a half hour.
At around 5 pm once again, we all went back into the pool to have a blast with music and ball catching game. We all stayed in the pool for about an hour after which we went towards the grand finale with discotheque. We all danced like hell on all sorts of music and enjoyed even after draining throughout the day. After dancing no stop for an hour or so, we finally took a leave from there back home at 7 pm with loads of memories to treasure.