A leading business and technology magazine with circulation of over 95, 000 in many countries including USA, Canada, and India and a readership which includes CIOs, CTOs, CXOs, Entrepreneurs, Directors of leading MNCs and SMEs, Silicon India has awarded, Peerbits, an ISO 9001: 2015 and NASSCOM certified organization, Company of the Year 2017 under Mobile-based Solutions category.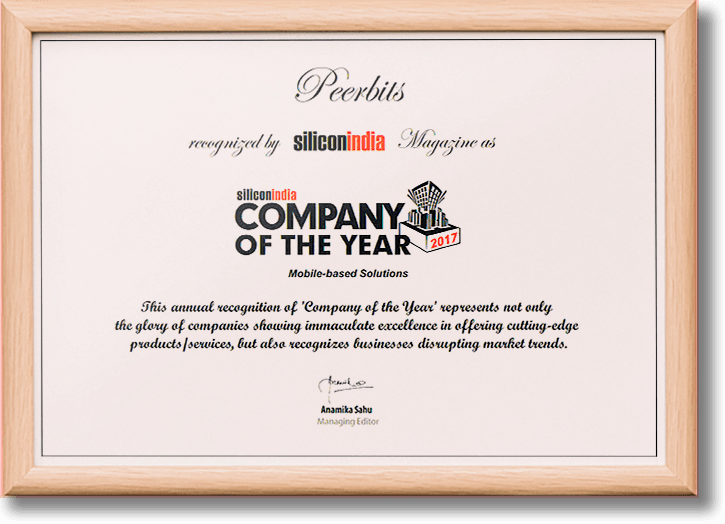 Every year in its December issue, Silicon India Magazine announces the winners of "Company of the Year" award for the year past by. The winners were announced in various categories.
For the category "Mobile-based Solutions", Peerbits is the current title holder of "Company of the Year" award.
The expert panel
An expert panel of CIOs, CEOs and industry analysts alongside Editorial Team at Silicon India performed a detailed evaluation of the prospects before announcing the winners of Company of the Year awards at a ceremony held at the magazine's headquarters in Bengaluru.
The most notable Indian businesses in the sectors: Automobiles, Aviation, Banking, Biotechnology, IT, Oil and Gas, Entertainment and Financial Services, etc. were chosen, making a tough choice for the jury to pick the one from so many businesses segments and categories.
The purpose was to spread the work about Indian companies that are making considerable advancement in their respective business areas, with excellence as their hallmark.

With the Magazine Edition, Silicon India wants to widen the perspective of readers with new and exciting insights into the Indian business landscape.
We are overwhelmed
To announce the news, Silicon India invited our CEO Shahid Mansuri for an interview. The December Edition of the magazine dedicated two pages to Peerbits. The editorial team based on the excerpts extracted from the interview, wrote down an article about our cores and strengths to be published on the website in addition to the magazine.
Our director's comment
We are glad to receive the award in the category we thrive at. As a 7 years' old mobile app development company, this is indeed a great achievement and indeed a moment of honour and pride for everyone who made it a possiblity: Senior Management, clients and above all, our developers.
About silicon india
SiliconIndia.com is India's largest professional news and media company and has been given 4th Rank worldwide for best Business & IT news (Source: Alexa.com). Silicon India has inspired the success for large number of startups, entrepreneurs, and industry professionals over the last 10 years, both in US and India.