TopDevelopers.co, a respected ratings and review platform for B2B IT service providers has in a press release declared the list of Top iPhone app developers worldwide and we are excited to announce that the name of Peerbits has received a prominent position in the list.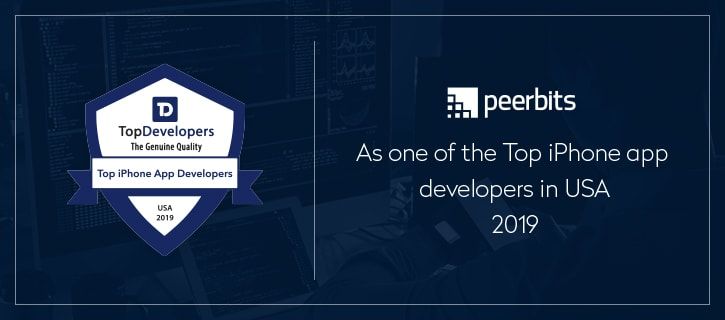 Peerbits is a company that has always valued its customers. By being focused on delivering value to our customers, we have been able to grow from a 4 member team to a team of 100+ members within a short span of 8 years.
We have successfully delivered more than 500 projects and have satisfied more than 450 clients in the process. All these attributes have contributed to our rise among the list of top iPhone app development companies.
With more than 2.2 million apps on its app store, the Apple app store has come a long way since its inception. In terms of revenue, the Apple app store leads the way by clocking a figure of $25.5 billion in the first half of 2019.
Peerbits has led the way by offering state of the art development services in emerging technologies like IoT, Bot, and wearable devices. We also provide services in the genre of Full-Stack development, Blockchain development, DevOps consulting, QA and maintenance & support.

We have provided solutions to a wide range of industries, which include industries like Healthcare, Retail, Finance, Logistics, Education, Oil & Gas, and Transportation.
When our client based in Qatar wanted to solve the problem of food delivery, we came up with a robust on-demand food delivery app. The app allows the restaurants to search and request delivery boys to deliver food to their customer's location.
Our portfolio with information about our technical implications, work proficiency, professional practice, and expertise to solve our client needs and demands has always been found as the right place to read about more such success stories.
2 of our clients have given us 5-star reviews and have said that they would love to work with us in the future. You can know more on what our valued clients have to say about Peerbits by visiting the profile of Peerbits on the website.
We e have all the updated details about our service, industry and client focus, special services, cost per hour details and more mentioned on TopDevelepers.co. We found that to be the right place to promote us better to our potential clients.
Who is TopDevelopers.co?
TopDevelopers.co is a directory service provider which classifies B2B IT service providers from all over the globe. The analysts at TopDevelopers.co ensure that they maintain the credibility of the platform by providing unbiased analysis of the companies on their platform.
The team at TopDevelopers.co ensures that only the best of the companies are able to pass their stringent quality norms. This ensures that customers searching for IT service providers have a sizable list of firms to choose from. The analysts at TopDevelopers.co have developed a clear and hassle-free communication channel.