Over the past couple of years, we have noticed that the app development market has exploded as more and more businesses are looking forward to having a feature-rich mobile application for their business to promote globally. However, developing and launching your mobile app is not an easy task, it needs technical expertise. Let us understand features, types of apps you can develop, and more in this blog.
As per the reports by Statista, in the year 2021, users downloaded 27.6 billion apps from the google store, and the apple store influenced the market in terms of app revenues assembling 21.5 US billion dollars. Mobile apps are estimated to generate 613 US billion dollars by 2025.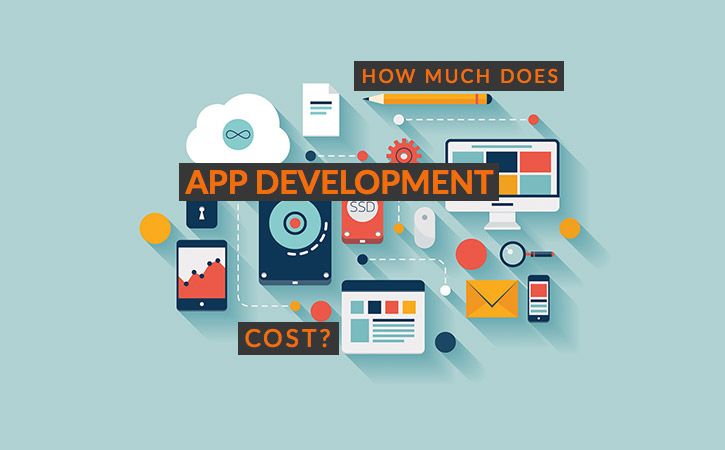 With the augmenting demand of mobile apps, most of the people are wondering that how much a mobile app development costs. Generally, superior quality and affordable rates are what everybody is expecting.
We are well aware with it as we exist in the mobile app development industry from many years and developing apps for enterprises, start-ups and large corporate.
When it comes to talking about the cost of developing an app, it depends on features and functionalities as the cost decided accordingly.
Let's have a look at different points that are affecting the cost of developing an app:
Across the world, there are numerous people, who are in the delusion that developing cost of the mobile app goes down to the connection between hourly rates and development time.
But in reality, the price depends on various other factors that control the app development cost, comprising features, developers' team, number of devices, platforms and more.
Features That You Wish To Include
Before you begin with developing the application, there are some of the major questions that you need to ask like what you want your application to do? What type of features do you want to include? Different functionalities that you are looking to cover.
These are some of the important questions that you need to ask yourself as these are the points that affect the cost of developing an application. The more features and functionalities you want to include, the more price you need to give to a developer.
For example, if you want your application to allow all the users to search nearby hospitals that are located, it means the application will need GPS or location feature to locate all the hospitals that are located nearby.
So, this way, the cost of the mobile app development will be affected by the features and functionalities that you want in your app.
Different Devices & Platforms
No matter whether you are going to develop an iPhone or Android app, it must be compatible with the latest and earlier versions of the device. It is also crucial that the app supports the latest and earlier versions of the OS that you are opting for.
Moreover, the more screens you opt for, the more design and user experience is required. Further, the more screens you are going with, the more ways are there to navigate through the application. But if you have decided to go with only one OS, it is not going to affect the cost.
Native App or Cross-platform
When it comes to developing an application, one of the most common points that tend to come up between companies and clients is whether the apps need to be developed as native or with cross-platform in order to optimize time and money.
However, both types of apps have their own pros and cons no matter whether you are going with a native app or cross-platform application.
If you have decided to with native application, you can enjoy 100% hardware support, fulfils all possible requirements into a functionality reality and more. While cross-platform gives a uniform look and feel.
The cross-platform developed app is reusable across different platforms and it is well-known for using known technologies.
So, whether you are developing a native app or cross-platform application, it will affect the cost of developing a mobile app.
Types of Apps You Develop
Generally, different kinds of applications are obtainable with different categories like food, lifestyle, sports, games, health and more. Let's have a look at some of the basic app types that you can develop:
Basic informative apps
Such types of applications are only showing basic static information. Diet planners, food recipes and calendars are some types of apps that fall under this category.
Database apps
When it comes to database apps, such kinds of applications are relying on data from a website, and users are allowed to find, produce results, and screen GPS, input data and more.
Such type of apps' cost affects the mobile app develop cost because these apps linked to databases need more programming and API's.
Gaming apps
As we all know that gaming apps need top quality graphics, wonderful user-experience, scoring system and social media integration. Considering all these points in mind, the cost of gaming apps can vary on the gaming features that you wanted to include in it.
Utility apps
Utility applications are quick-access types of application that take you to the right task or information that you require performed. Such types of apps are weather-based apps, sports apps, stock prices and many more.
Productivity apps
When it comes to productivity apps, they are little difficult as compare to other types of apps. Instagram to Shopify apps or anything from social media monitoring types of apps falls under productivity type of apps.
Wrap-up
Above outlined points can affect the cost of developing a mobile application that you should consider while developing a mobile app. Mainly, the app's cost affects by the features that you wanted to include in it. The more features the app has, the longer the development time needed.
Are you looking forward to make your dream app? Would you like to get a quote for it?