For anything that is not extemporary, there is a process, a reason, an aim, and a step towards benchmarking things which are never thought of. And we certainly believe that your business is not an accidental occurrence, but it certainly is a diamond in the rough.
We, being in the business of mobile app development since half a decade have been following business analysis process to ease up the project progression.
A dynamic team of business analysts and acts as a catalyst for clients and project managers alike to attain the singular objective – streamlining business processes with an amplified cost-effectiveness.
Once the project is acquitted by pre-sales team, the same is handed over to the post-sales team that comprises of business developers and analysts. And over here comes the spiral of processes that are simplified enough to follow the management's visionary goal of process rationalization.
Handshake meeting
Since the project is transferred to an entirely new team, there is an official handshake meeting that either happens in-person or over a Skype call. In this stage itself a unified aim to understand requirements and defining process to attain the same is achieved.
Project requirements are discussed and brainstormed cohesively for a fruitful and transparent handover. These sets of requirements are collectively discussed between the Business Development Executive, Business Analyst and the Project Manager.
Defining dissimilarities between the website and app offerings is important. There must be a strategic clarity on how distinctively will you offer the services through an app than the website.
It is critical to have a keen vision for building a mobile app. Additionally, it must be in alignment with the business objectives and the way how the app will accomplish the same.
Any of the persistent queries, if encountered, are resolved by gaining clarity from client or stakeholder(s). Perhaps, there is a holistic approach over here to get each and every team members familiarized with the project requirements at all the possible levels.
Market research
Considering the brevity of project duration, we steadfast our comprehensive market research activity to understand the market, industry, and prospective proliferation sector.
It includes competitive analysis to gauge where exactly a client's project can stand in a fiercely competitive business environment.
Not restricting ourselves into the shackles of market research, we do expand the horizon in identifying a precise market niche for the project in process. The same is updated to our client in form of a report.
This activity, we believe, helps to remove all the possible ambiguity which a client might hold with regards to the project by aiding them to strategize marketing policies beforehand to reach the desired audiences efficiently.
SWOT Analysis
As it stands universally, the critical self-evaluation practice for any business lies in analyzing its' STRENGTHS, WEAKNESSES, OPPORTUNTIES and THREATS.
Considering SWOT Analysis as a beneficial technique, we too, in the process of business analysis carry out research for understanding the Company's Strengths and evaluating its Weaknesses, and also strive to identify the best possible Opportunities against the Threats it faces.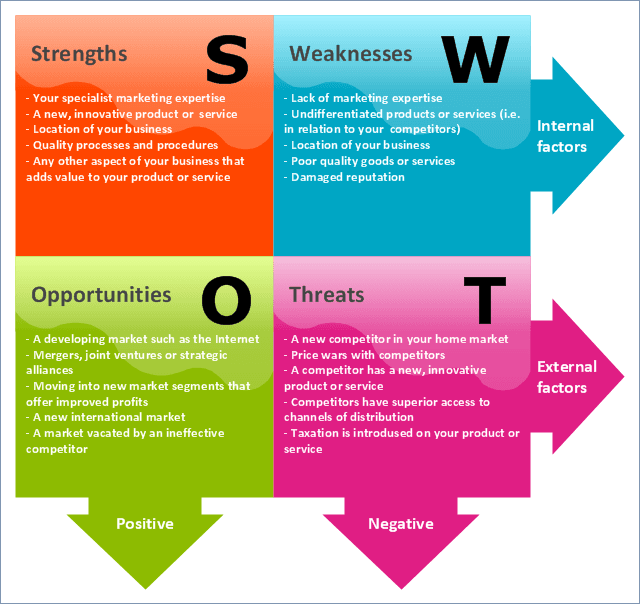 Notwithstanding the latent opportunities, we thrive to explore the potential capabilities of project to place it well enough in market for a guaranteed success.
Equally important is the process of understanding the business' weaknesses as it helps to manage and eliminate considerable amount of possible threats that would otherwise catch them off-guard.
A company has a formidable amount of chances to put itself in front-seat with regards to present market competition by implementing SWOT framework.
With SWOT deployment, things get relatively easy, making way to craft a distinctive market strategy that can stand against potential threats with adequate backups.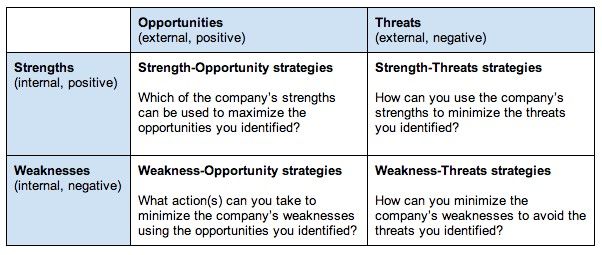 Strengths and weaknesses lies in the core of organization's capabilities and vulnerabilities respectively. While opportunities and threats are often dependent on various external factors.
Perhaps, this is the reason why SWOT analysis is sometimes referred to as thehybrid analysis comprising both, Internal as well as External Analysis. That's the reason why SWOT Matrix is commonly called as IE Matrix.
Resolving queries, clarifying doubts
Business Analyst and Project Manager initiates the communication with client so as to address their concerns. It is during the client meeting a query is brought upon from the other end regarding her/his business process.
We call a spade a spade and certainly are always up for tackling the challenges even if it means an ultimate refinement of output if required.
Subject to the nature of query raised by client, be it technical or related to process flow, everything is brought to the table for a perfect solution. The same is addressed meticulously by business analyst with the assistance of project manager and development team.
All the queries are resolved by taking multi-faceted considerations like technical feasibility, business process flow and module dependency. With certain repetitions, this process is bound to drive doubt clarification.
Creating prototype
Visionary business teams have one thing in common – addressing contingencies beforehand. With a proven excellence in our business processes, we keep ourselves abreast with rest of the business requirements to dig our hands deeper into the nitty-gritties of project functionalities.
For example, when it comes to zeroing down on app design, we also conclude upon the use of texts, text styles, and precise write-up during the stage of wire framing itself. This process saves a lot of time that goes behind altering design based on choice of texts and write-ups.
Indulging in to the process, we as a business team plunge to ensure that wireframes are shaping up precisely as expected. It is here where the tangibility of wireframes that is created for end-to-end workflow comes to life.
Any areas left untouched leaves a gap, giving rise to discussions. It is only with deliberate discussions the perplexities of project surfaces up. The business analysis teams is well-equipped with the wireframing tools like UXpin and JustInMind, to name a few.
It is to specifically design a business process flow elucidating dormant business rules (if any), identifying alternate paths, and creating a perfect platform for discussion on common grounds.
It is then the client is offered an exclusive design view of her/his entire business process pertaining to essential project requirements.
Archetypal walkthrough
Sharing wireframes with clients can give them the exact idea about the project advancement.
An archetypal walkthrough is shared with client so that the client can get well aware of the prototype in hand and suggest improvement if needed.
The process of guiding wireframes through an end-to-end work-flow can help in drawing decisive results.
Often we find few gaps as we skim from point A to point B only to ensure that all the requirements are fulfilled. But again, to err is humane, and therefore we work to roll back mistakes and all that what we have missed; a field or an entire screen and any of the unattended requirement.
SRS: Software Requirement Specifications
A pretty essential document that clearly states the project overview and aid client and developer to make decisions is essentially referred as SRS document.
SRS document comes with a set of predefined project goal, project overview, and individual module workflow along with the incorporated project technology. It also includes precise details about wireframes along with its structure, design, and functionality.
SRS covers these below points:
Overview of the project
Project Goal
Audience
Phases and Tools
Diagrams

Flow diagrams, use cases, architecture diagram

Functional Requirements
Non-functional Requirements

Features explained in detailed with the screens

Risk Assessment
Tools & Technology Used

Details relevant to backend and front end technologies
Information about development tools

Solution Document
Document Revision History (Versions of documents)
Once SRS has been approved from the client, we hold an internal meeting with development team and Project Manager
Handover all the relevant documents to Project Manager and Development team on the PMS system.
Conclusion
Business process analysis is important in searching for potential enhancements within your processes, as well as for huge initiatives. With this organizations can have better productivity and more control to manage their workflows process.
To keep your business running smoothly organizations must analyze the post-sales business processes.