The Coronavirus Pandemic has disrupted how the companies are managing their operations. Businesses must follow lockdown regulations and adopt work from home policy to stop the spread of virus.
However, the companies must focus on productivity, security and efficiency of their data before adopting work from home policies.
Here comes the role of enterprise mobility and security software, helping IT departments to hire remote employees without compromising on data security.
The modern workplace comprises remote workers, where they use flexibility of remote working to embrace their desired work-life balance from any location.
Mobile device management software
Mobile device management software (MDM) is one great way to back up any device that your employee will be operating on in the bring-your-own-device model.
Many companies in fact institute mandatory requirements for those looking to operate on their personal machines.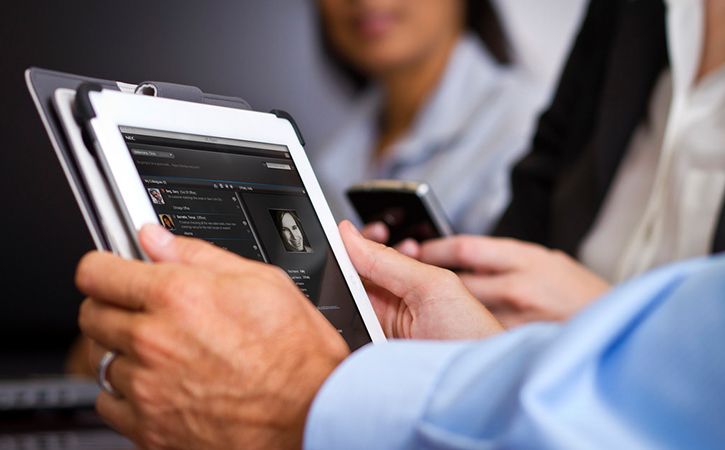 But this is by no means a panacea. The biggest drawback of MDMs is that they aren't designed to manage data. This can obviously be a point of frustration for those looking to find a comprehensive security tool.
But the tools needed to secure data fall under the purview of data loss protection (DLP) applications. MDM works on managing your device, while DLP is focused on the data side of things.
DLP can set restrictions for downloads or sharing on specific files, while MDM is more involved in the device itself.
But what MDM can do is quite comprehensive, data shortcomings aside.
Many MDM applications work at the hardware, operating system and application levels.
They allow for remote software installation, configuration management, security and asset management, and they also have the added benefit of being able to track the location of a device or wipe its data in the event of a theft or loss.
These features are crucial to maintain a secure system despite employees running around with highly sensitive data on their machines.
Containers
Another good tool for managing devices across the board for your employees are containers. They allow for users to protect, partition and erase corporate emails, address books, files, application data and any other sensitive piece of information that you may want to wipe in the should the need arise.
Again, like MDM, containers have their drawbacks. The increased need for IT support could rack up costs to you and your company. Another issue is finding the correct type of software to fit your business and your devices.
Ultimately what you're looking at is more legwork to ensure better security, but also possibly taking on a few headaches and obstacles in the process. For many companies that's a worthy trade in order to protect their data.
Managing enterprise mobility in the cloud
At the moment, there is no comprehensive solution to monitoring and controlling what data is stored on mobile devices by employees.
Your best bet is preventative care, like education paired with reactive solutions such as remote memory wipes.
The Cloud is a fantastic innovation in a number of areas and is one of the biggest proponents of enterprise mobility by providing that ability to collaborate effectively online says managed cloud services provider Techolution.
But it also has its issues, and Cloud security in the age of enterprise mobility is one of the top struggles for companies. But in the case of data sharing, the Cloud can be mana from heaven.
If a company opts to store all its data in the Cloud, this grants your IT service complete control and can be configured on the fly to prohibit, restrict or provide access as needed.
Users can access files as if they were operating on a local drive, but of course with the added benefit of being able to access the data from anywhere. It might even be advisable to totally eschew local data storage and opt for Cloud file sharing instead.
While not an ideal solution for everyone, it does fill several holes when it comes to enterprise mobility while also maintaining a high degree of security.
As mentioned above, however, the Cloud does have its own security issues, so while it provides more functionality in some areas, it does create other vulnerabilities.
It's all a matter of what is the best solution for your company specifically, and in many cases, the Cloud offers the most comprehensive solution with the fewest detriments.
Needs of enterprise mobility
Enterprise mobility refers to the management of cloud technology, database, hardware and processes, enabling businesses to achieve agility and scalability.
Amid the coronavirus pandemic, the companies tend to hire remote workers or adopt work from home policies to stop the spread of infection.
In such a scenario, it is essential for the companies to protect their data and to achieve mobility for growth.
The enterprise mobility enables the businesses to enhance their mobility, while still ensuring the security of the data. It focuses businesses to enhance their IT system's security while still providing the system's users with flexibility, protection of data and advanced efficiencies.
Thus, companies can experience enhanced security, easy accessibility, efficient management and information protection through cloud computing.
Final thoughts
Enterprise mobility provides businesses with aligned cyber security systems that don't compromise with the productivity and flexibility of the employees. For employees, they also need to accept the importance of data and that they could not easily access data they need on multiple devices.
Connect with us to know how we can help your business to achieve agility with scalable enterprise mobility solutions.