Beacon technology is already a hit among malls, hotels, airports, and retail stores. Beacons can track users' moment inside a space relative to their distance from a nearby beacon device.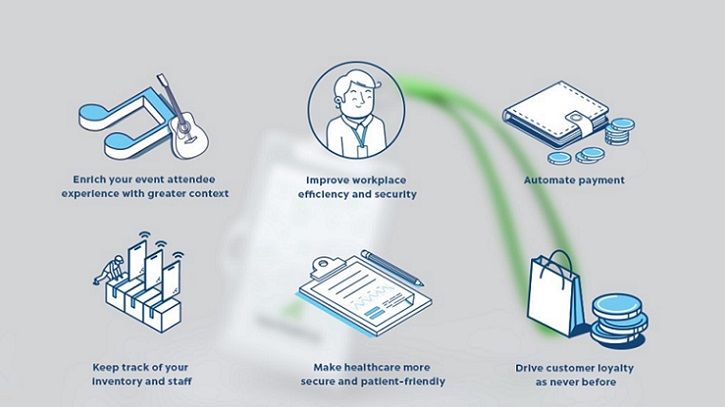 Source : kontakt.io
Based on the distance, a beacon can detect the user's location inside, for example, a retail space, and push promotional and marketing content on his smartphone provided the right BLE application is installed.
The global beacon market in 2018 was 1.36 USD billion and it is estimated to reach 31.61 USD billion by the year 2026.
The way beacons make life of retailers better the same can go for employers and managers. I mean for SMEs with more than 200 people on each floor, managers must have a hard time learning about the whereabouts of each employee.
A beacon based tracking app development is the answer. Not just whereabouts, there is so much that can be done with the help beacons in addition to pushing company news and team updates to employees' smartphones.
Beacons for employee time tracking
With a beacon infrastructure in place, managers can track each employee's working hours without having to go through the hassles of tracking an age-old, cumbersome 'timesheet' system.
Employees would no more have to go through the stress of clocking in and out every time they step-in or step-out of the premises.

Help your employees evade long queues at the start and end of a work day. Companies with very large number of employees after run into this problem, which in turn frustrates employees before a long day at work.
Employees often complain about travel time abuse and missed punches. This technology is damn useful for the employees and businesses alike: employees can claim overtime pay and businesses can save businesses thousands of dollars in incorrectly paid hours.
Read More: Finding the perfect location identifier for mobile apps
Eradicates human error that may arise because of payroll processing of written timesheets.
Employees manage their tasks better with beacons
A retail beacon Beacons pushes offers and coupons to customers' smartphones. Likewise, beacons at a workplace can push daily tasks' list to the employees, even remind them of a missed appointment.
This can be achieved by connecting the default reminder app with specific beacons.
Book conference room with beacons
When was the last time, you entered an argument with another manager over occupying the conference room? For some workplaces with too many teams for a few conference rooms, this is a daily problem.
Place a beacon around the conference room, which with the help of an app can be used to book conference rooms for meetings. If there are more than one conference rooms, with help of the beacon device the app can find an unoccupied conference room, book it for a particular time period and mark it unoccupied to avoid anyone else to occupy at the time. This should avoid the argument for a very long-long time.
Proximity solution for your business by Peerbits
The benefits of beacon-based solutions are incredible. The future, indeed, looks positive. We, at Peerbits, have an impressive record of accomplishment in IoT app development.
Moreover, we have developed and implemented many beacon-based solutions based on our clients' ideas. Bluecheck is among the many BLE applications we have developed for our clients.
Health and security of the workers
The safety and security of the workers are mandatory. In industrial workplaces, beacon-based applications work as a savior as it generates specified action on the worker's smart device such as workers can be notified to wear personal protective equipment when they are near heavy machinery or any risky places.
Beacons can also be installed throughout the area of a workplace to alert the workers about any incident like fire, or gas leakage. It will send alert messages to control room operators on their phones.
These alerts sent by beacons will boost the transparency of workers and all situation can be managed with caution.
Conclusion
With the help of beacon app development, businesses are already benefited in diverse ways. It will boost efficiency and security of the workplace, upgrade attendee experience, increase customer loyalty and satisfaction like never before.
Beacon app development numbers are evolving continuously and allied resources are catching speed at a high rate.