I still remember the time when posting letters was a norm; people used to wait for days and even weeks to receive a letter from their loved ones.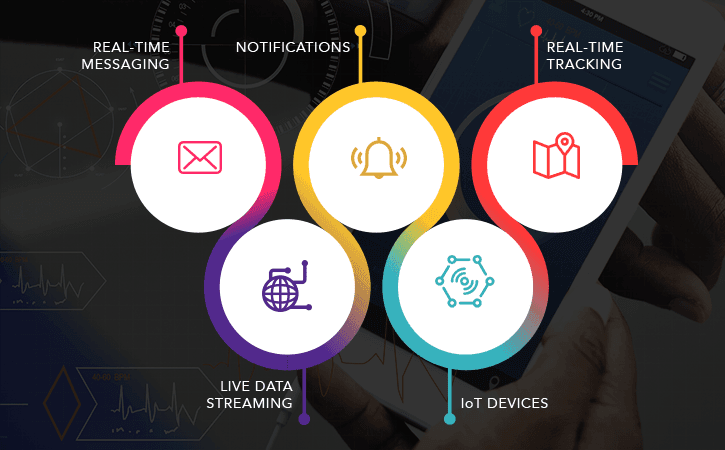 Then the time changed and technology reduced the waiting period from a few days to a few minutes as SMS replaced the letters.
The technology kept evolving and the waiting period kept on shrinking. To the point that, now you don't even have to for more than a few seconds to respond to your friends and family.
Real-time instant messaging apps such as WhatsApp, Imo, WeChat, and Line has made it possible.
According to a report, the on-demand apps economy is valued at 57.6 billion $ on average. And this surely means that in upcoming years we will witness a huge growth of startups pertaining to on demand economy. So Real-time feature in an on-demand app is more important than any other.
However, real-time technologies are just not limited to messaging apps. They have applications in variety of applications of diverse sectors.
In this blog, we will discuss how real-time features have impacted various industries making it a must-have feature for any application.
Real-time messaging
Real-time messaging apps have become an integral part all the smart phone users.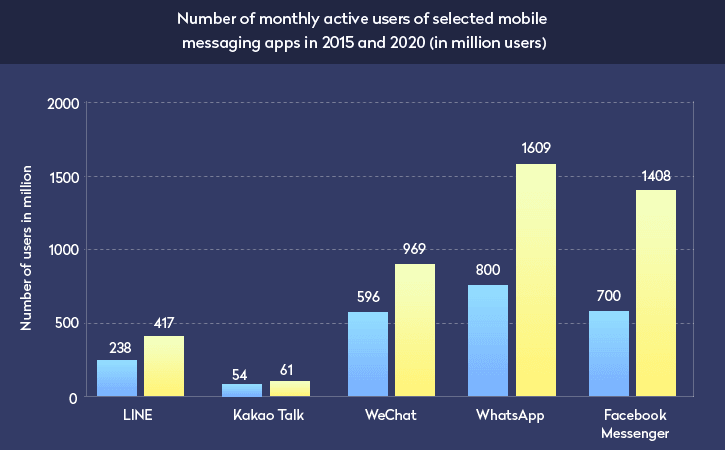 They have successfully replaced SMS which now only serves as a medium to receive OTPs and other advertisement messages.
According to Statista most of instant messaging apps have already witnessed a steep rise in their users since 2015.
The graph shows that the users of Line, WeChat, WhatsApp, and Facebook messenger will almost double by 2020.
However, a key point to note is that real-time messages are no longer exclusive to instant messaging apps.
We see the real-time messages integrated in various apps hailing from diverse industry. In fact, real-time messages have become a must-have feature for every on-demand app development.
The major sector that have benefitted from the real-time messages are the social, medical, dating, marketplace applications, and the on-demand applications.
Real-time messaging in healthcare
Healthcare has seen some tremendous changes in the past few years and Real-time messaging is one of them.
Communication plays a huge role in improving the healthcare services. Similarly, lack of communication often results in medical errors.
The Joint Commission which is a legal authority that carries out medical accreditations and certification has estimated that 80% of the serious medical errors occur due to the miscommunication between the caregivers while the transfer of patient is taking place.
Similarly, American International Group has identified negative culture, lack of teamwork, and poor communication as the factor possessing hindrance to the patient safety in hospital.
The integration of Real-time messaging in the healthcare mobile applications can comprehensively solve the communication issue. It can provide:
Patient-Physician Chat for patients to communicate directly to their physician and vice-versa.
Patients can present their medical reports as attachments on the messaging client swiftly and securely.
Real-time messages play a major role in on-demand nursing apps where a patient can find a nurse on the mobile app.

Real-time messaging in on-demand taxi apps
Almost all the leading on-demand taxi booking applications have real-time messages inbuilt in it.
Real-time messages help the passengers as well as the drivers to chat with each other in real-time.
They both can instruct each other regarding the pick-up & drop-off location.
Effective communication between the driver and passenger prevents all sort of misunderstandings and makes your taxi services more efficient and hospitable.
Real-time messages in On-demand delivery applications
On-demand delivery apps whether food-delivery apps or eCommerce apps have readily integrated the real-time messages in their applications. The purpose is like that of taxi apps.
In on-demand food delivery apps, the customers can specify their special requirements in the form of chat messages to the restaurants or the delivery boys.
Similarly, for eCommerce apps, the customers can pass on important information regarding the delivery of the product.
Notifications
Real-time push notifications have been a game changer for several businesses over the years.
They act as an effective communication channel for all the businesses which require only a single click on the phone.
Stats by Localytics suggest that enabling push notification increases the retention rate by two or three times.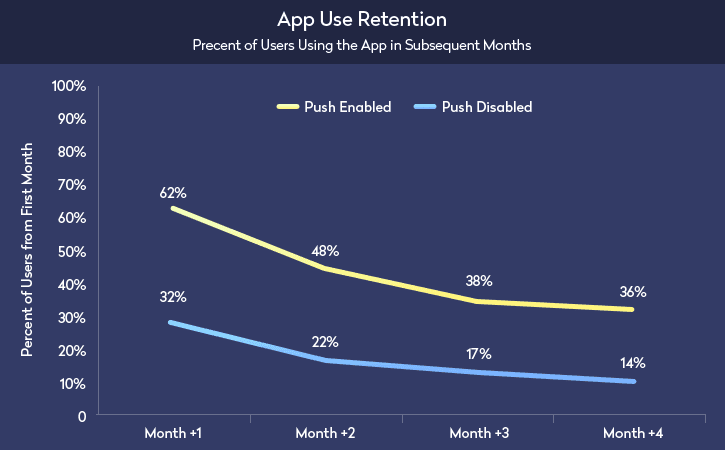 Stats also shows us that enabling the push notifications increases the app launches by 88% as compared to those which have disabled the notifications.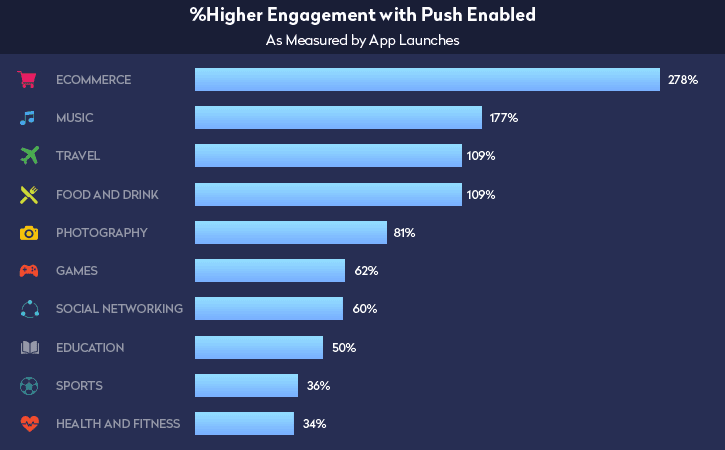 Health & fitness app
Health & fitness apps have presented themselves as an effective alternative to gym. And all those people who don't get time to go to gym couldn't ask for more.
Real-time notifications play a major role in the success of a health & fitness application. The fitness application can send push notifications for the following reason:
To remind the user about their workout schedule.
To send near goal push-notifications to motivate the user to complete the missions.
To send push notifications that provide crucial information based on the foods you've scanned and consumed.
eCommerce
eCommerce is one of the biggest beneficiaries when it comes to push notifications.
It helps them to reach the pick-up locaeCommerce website uses push notification as an effective tool to increase their sales.
Which explains why our phones are usually bombarded with notifications of various eCommerce companies.
eCommerce companies create various sections among their users based on their previous purchases.
Afterwards, they send targeted notifications to them whenever a new product is added to that category or section.
For example, it could be the addition of the latest book of the novel series the reader bought before or a new collection of the fashion brand they always prefer.
eCommerce companies also send notifications to announce their sale. The prime motive of their notifications is to create the urgency among the users.
eCommerce websites are quite aware of the cart abandonment. That's why they send push notifications to remind the user to buy their chosen products.
Read More: A complete guide to build a successful eCommerce app.
Real-time notifications in taxi application
Real-time notifications are crucial for the success of any taxi-hailing app as all the major processes are heavily dependent on it. Push notifications are used for following processes.
Whenever a passenger requests for a cab, the nearest driver will receive the request in the form of a real-time notification.
The driver either accepts or rejects the request. Whatever action the driver takes a real-time notification is sent to the passenger about it.
When the driver is about to reach the pick-up location then the passenger receives a push notification to get ready for on-boarding.
When the driver reaches the location, the passenger gets a notification about the same.
Once the trip is concluded, the riders will get a notification that will ask them to rate and review the driver.
Real-time tracking & order status update
Real-time tracking has proved to be a catalyst in the transportation industry as it boosts the overall process and thus making your business more efficient.
Similarly, order status updates have become an inevitable component of logistics and courier industry.
It's because nowadays, people want to know from where their product came from.
Moreover, they also want the timely updates as to when it will reach to their homes.
Real-time tracking in transportation
Real-time tracking systems in taxi hailing apps and logistics apps help the drivers to navigate in a better way.
It helps them to reach the pick-up location and destination more quickly and accurately.
Apart from that, the GPS tracking system provides the driver with multiple routes and suggests the fastest route as per the current traffic.
Order status updates in eCommerce and logistics
Order status updates helps in enhancing the transparency and customer relationships.
The customers receive push notifications whenever the product is packed, dispatched, and delivered.
Live data streaming
In the recent past, live streaming has been extensively used in various business sectors.
From social media to logistics and real-estate, live data streaming has allowed the applications to simultaneously create as well as deliver data to the end users.
Live data streaming also gave birth to livestream which allows the user to stream their video content by using their phone or computer in real-time. Let's see how it benefits the different sectors.
Social media apps
Live video streaming has become an important element in social media app development.
Twitter acquired Periscope made the concept of live video streaming trending and the sooner it was adopted by leading social media apps like Facebook, YouTube, and Instagram.
Stats published by Facebook says that the daily watch time for Facebook live broadcasts grew four times over the course of a year.
Trading
The trading industry pioneered real-time technology in a true sense. It helped stock markets to close as early as possible by updating the charts instantly.
Now, live data streaming has become an integral part of all the existing trading apps.
Real estate
Live streaming has made the house hunting convenient and have also helped the real-estate agents in a great deal.
Nowadays, realtors go live various platforms like Facebook, Instagram, YouTube, and other applications for a live tour of the space.
In the live they show all the details and also answers queries related to it.
IoT devices
IoT is another great example where real-time features play a significant role to transfer data instantly from the devices to the end-users.
This is the reason why we see so many IoT app development with real-time features. Let's see how the IoT devices works.
Sensors/devices : Firstly, the sensors/devices collect data from the surrounding environment. The data collected could be as simple as temperature monitoring sensor or as complex as a video feed.
Connectivity : Once the data is collected, it's then transferred to the cloud infrastructure through various mediums such as WAN, Bluetooth, Wi-Fi, cellular network, and satellite network.
Processing : The acquired data is then processed and analyzed by the software that governs the IoT devices.
User interface : At last, the processed data is made available to the end-user. This could be done simply by texts, emails, or by triggering alarms.
Home automation
Home automation is one of the most popular applications of IoT devices.
Nest is considered as one of the best home automation companies as it allows users to control the lights, locking and unlocking of doors, and to receive alarms and notifications remotely in case when something odd happens.
Logistics
IoT device control can also be applied to logistics, since it's an effective way to manage fleets and assets.
With the help of special devices, you can always be aware of the location and condition of your vehicles and assets and be notified if your inventory or a vehicle is stolen. Or you can track the current situation in a warehouse.
Amazon went a step ahead and filed a patent for a IoT wearable wristband. It monitors the working of all the warehouse workers.
It tracks the product bin a worker is using and monitors a worker's efficiency to fulfill orders.
Moreover, it also tracks the location of each bin and notifies the workers in the form of a vibration or alarm to let them know that they are going for the right bin.
Healthcare
IoT is having a huge impact on the healthcare industry as it enables the doctors to send the information about X-ray, MRI, EKGs, and CT scans directly to the patient without printing.
It also helps the patients to buy the prescribed drugs from automated or semi-automated pharmacies.
Smart alarms notify the hospital staff in case a patient leaves the hospital or an expensive device goes missing.
Conclusion
In this blog, we saw how real-time features have impacted applications from every industry.
In today's time integrating your application with real-time features has become synonymous to speed and convenience.
Whether its on-demand applications, social media, IoT app development, or marketplace applications, real-time features have transformed all of them.