Are you a startup & thinking to reduce costs for custom software development without compromising quality? Your search ends here. We have covered key aspects that affect the cost of software development and steps you can focus on and follow to reduce the cost of your MVP.
Minimum Viable Product (MVP) is a version with key features that are enough to attract early customers, validate a product idea, and get feedback for future product development.
As per the expert, adopting the MVP module for software development over all other cost reduction strategies is most effective. Luckily, a minimum viable product (MVP) makes it possible to launch the product fast, test your business idea, reduce the development cost and minimize the risk of startup failure.
In this article, I will tell you the factors that affect the MVP development cost? How you can focus on them, and proven hacks and insights of each factor that will help you deal as an expert with the development company for your MVP development.
Curious to know how? Let's dive in.
Intelligent Planning provides a competitive edge
Efficient planning provides a competitive edge to the startups & enterprises over their competitors. This is because it is able to estimate the future motives of its competitors that help in facing future challenges. Adding more, planning may involve changes in work methods, quality, quantity designs, an extension of work, redefining of goals, etc.
Did you know?
"82% of successful business owners admit they have the right qualifications, plan with a clear vision, and backed up experience to run a company, even with limited cash flow.(Source – Small Business Trends)
Successful businesses plan before initiating. Your project planning will largely determine if you will succeed or fail.
The goal of the software development plan is to understand the objective of the project, and cover two major components as follows:
Consulting & Planning
Consulting an agency will help you engage with a business expert who can advise and support you in getting a solution. No matter if you have or don't have domain expertise. Consulting a software development company can help you to manage and plan out a complete MVP development process which can often be detailed, obscure, and time-consuming.
With their expertise, you will be able to build a complete project plan (Ideation, information gathering, making Wireframes that is putting an idea onto paper, a design that is giving shape to your vision), and recommend the right technology & platform to bring your idea to life.
The best thing is, if you want to develop an MVP from scratch or fine-tune the existing one, you can get your project executed from anywhere with this plan.
Product Engineering
From design to development to launch, Product Engineering covers these all.
Consider, you have an idea and also domain expertise but don't have the right skilled developers who can meet your expectations, then what you will do?
You can consult the IT agency and engage with the domain experts who can take complete responsibility for your product from design-to-develop-to-market. This is suitable for both, the existing product as well as new products.
As per the study made by Failory, 90% of startups fail and the reasons can be seen in the image below.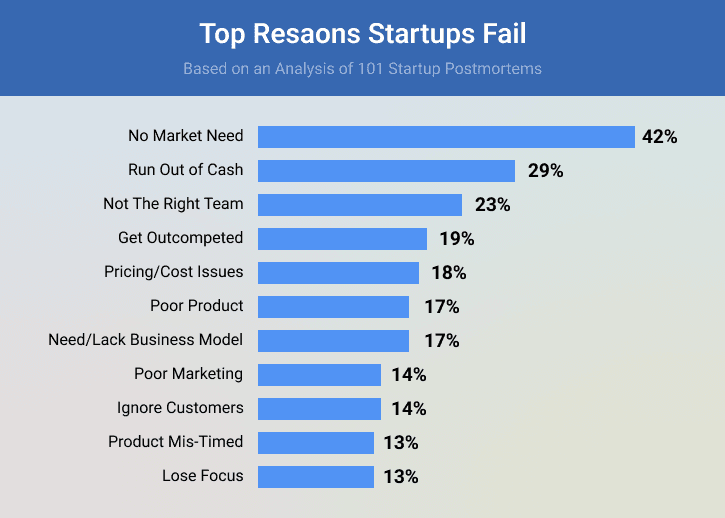 Referring to the image, what seems obvious are the key reasons for business failure. And this is possible because of no or poor planning. Thus planning out your software development cost considering your budget is the first and most needed step.
Consult Experts to Choose the Right Technology Stack
Now that you know the importance of planning and the secret behind the startups' success is "proper planning". There is another factor that comes after planning that affects the cost is consulting the right experts that have real knowledge and not just written or demonstrated one over social media or websites.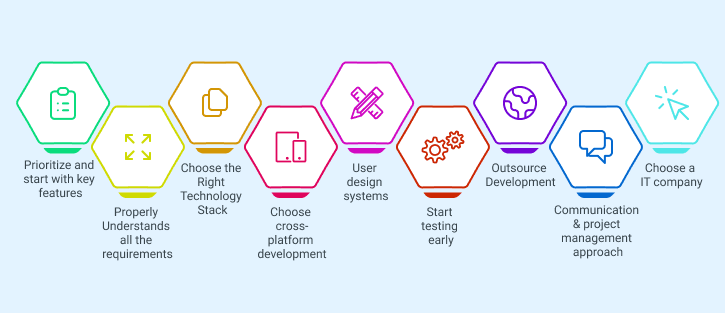 Yes, you heard it right.
The next factor that influences MVP cost is to choose the right tech stack. When you are a startup and lack knowledge in how and which tech stacks to use to develop an MVP? Then, consulting an expert would help to make advantageous decisions despite constraints and limitations.
A Tech stack is a set of tools, front-end and back-end frameworks, programming language, and other components used for building an application. In a nutshell, it's a combination of server-side and client-side technology.
Consulting an expert makes you mitigate risks in the face of uncertainty and change, helps you pick the right tech stack for your MVP, saves time and cost, and most importantly allows you to release your app in the market without any delay.
Your selection of tech stack defines the overall application's strengths and weaknesses. Your choice of tech stack should be inspired by software architecture, the latest trends, and strong community support.
Based on the research, successful startups choose technology that is effective, trending, reliable, & has strong community support.
Furthermore, it allows you to upgrade the version, is reusable, and easy to maintain codes. Do not hesitate to adopt the footprints of successful startups. This will cherish your future.
Successful entrepreneurs use the method of "Decision Tree" to decide tech stack for the development of their MVP or any other software.
A decision tree is a decision support tool that uses a tree-like model of decisions and their possible consequences, including event outcomes, resource costs, and utility. It is one way to display an algorithm that only contains conditional control statements.
A decision tree is a support tool designed in the form of a tree-like model that symbolizes its decisions with branches, possible consequences, and more.
Add example (res delivery – customer app, driver app, and admin panel)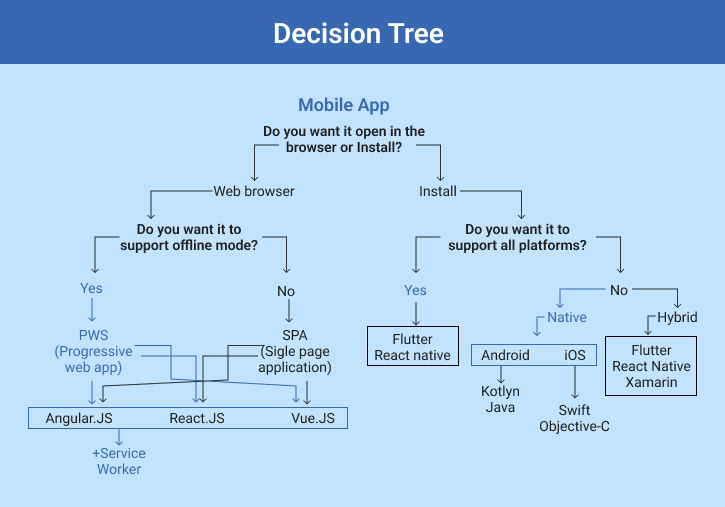 Choosing a reliable software development team
Starting from planning to consulting an expert, you have discovered 2 factors. And the cycle goes on with the further factor that is choosing a reliable software development team.
Choosing your developers would be the 3rd factor in reducing MVP development costs. There are mainly 3 ways to develop an MVP. You can hire Freelancers, an in-house developers team, and highly skilled developers from software development outsourcing companies.
No matter with whom you go, it is going to affect your bank balance. The cheapest option for you would be hiring freelancers, an extremely expensive option is hiring an in-house team of developers and a reasonable option would be outsourcing your project to a reliable outsourcing company.
When it's about MVP development, it's about your dream, and you want it to become true. For that, you need to make your selection wisely considering your project's complexity, time, and assurance of getting uncompromised quality under your budget.
Let us discuss all 3 options one by one.
Hiring Freelancers for MVP development
Hiring In-house Engineering Professionals
Outsourcing MVP development to the right team
Hiring Freelancers for MVP Development
Freelancers are easy to find and cheaper to engage. And they do have extraordinary skills that can help you in building your MVP. But the limitation is, a single developer cannot develop your MVP alone. And it is nearly impossible to find a freelancer that can alone develop an MVP.
If you know one, consider yourself lucky as it is not less than a miracle.
Yes, there is an option of hiring a team of freelancers. You can also include the project manager in that team that can manage your project. And this will help you reduce your MVP development cost.
Let us shed some light on hiring freelancers. Look at some pros and cons below;
| No: | Pros of Hiring Freelancers | Cons of Hiring Freelancers |
| --- | --- | --- |
| 1. | Hiring Freelancers is a cost-effective method to develop an MVP. | Price affects the product. Yes, cheaper the freelancer, lower the skills and product quality. |
| 2. | Flexibility in adding or removing the developer. | They can disappear, and hard to track the time invested in an MVP development. |
| 3. | You can have access to highly skilled talent. | They are Freelancers, which means they are free to work for multiple clients to earn extra money and so they work for multiple clients at a time. |
| 4. | You interact directly with the developer thus decisions are quick. | Supervising the freelancer is an added task for the client. |
| 5. | You can make a team of freelancers and hire them. | There is no fixed place where they work. High chances of poor communication, and possibly they are unavailable when you need them. |
| 6. | You will get someone that can work dedicatedly only on your project. | It is harder to find a candidate that understands your requirements, vision and meets your specific guidelines. Additionally, your idea is also at risk. |
You now know the pros and cons of hiring freelancers. But it seems a bit risky handling your projects to freelancers is not just compromising with the quality but also your dreams. Thus, Make your decision wisely.
Know the expert's view:
When you are creating an MVP, it is important to have a development team with expertise in development, design, creating a great product from a user's perspective as well as business-wise.
The fact you should know:
Successful startups prefer in-house development teams or outsourcing their project over freelancers. And this is why they are on the list of successful startups.
Hiring In-House Engineering Professionals
Developing an MVP hiring the developers in-house is the first way. When building an MVP, Money plays a vital role. Building an MVP in-house assures you of quality, enables you to check on their work, and asks for new alterations if required.
You need a team of professional developers to get an exceptional product. Having a skilled team on your side will be a major ingredient for your product's growth and success. There are a number of costs that are included in the MVP development.
These include salary, hiring costs, holiday pay, medical insurance, paid sick leaves, free lunches, accountant fees, IT infrastructure expansion, hardware & software expenses, paid benefits, technology training, and Overhead costs.
Furthermore, to retain any of the employees you have in-house, you have to bear employee retention costs and pay them perks to make them continue working for you.
To further better understand in detail hiring an in-house development team, let us examine its pros and cons.
| No: | Pros of Hiring In-house Team | Cons of Hiring In-house Team |
| --- | --- | --- |
| 1. | No language or cultural boundaries as you hire the team from the same country/city. | When starting the project from scratch, hiring the in-house team requires a long process of filtering the best-suited candidate and that consumes time and money both on a huge note. |
| 2. | Direct face-to-face communication allows you to maximize your customization and ask for alteration if and when required. It speeds up the development process. | Chances of onboarding candidates with a low level of expertise or receiving resignation due to unfavorable conditions. This leads to staff dismissal and you will again have to invest time and money in new members to form a team. |
| 3. | Niche-based domain expertise that possesses expertise in building any specific product. This helps in reducing the chances of bugs while developing. | Often times candidate lacks in meeting the other project requirements with technical aspects at the time of project expansion. This situation forces you to hunt for other resources and you have to invest time, money, and energy again. |
| 4. | You have full control over the team. | You hardly get a multi-talented developers that can compete with the complex situations if arrived while developing and at the time of expansion adopting any new technology. |
There are pros and cons of everything, what matters most is the situation you are in.
Hiring an in-house team is best suited for you when you already have a product and looking for some modification or expansion.
Let's check some examples of the companies that follow the in-house team model.
Amazon, Paypal, Salesforce, these 3 companies are existing companies, they are not startups, neither they have any new ideas. What they have with them is the vision to maintain their brand and customers for which they need constant modification.
Their situation demands in-house hiring to make that possible, and that is why they have an in-house team as they are settled and filled with strong financial backup that can bear all costs to maintain in-house resources.
When you are a startup, choosing an in-house team for the development would directly affect your budget. And that is why there is another model that can help you achieve your dream and that is simply outsourcing the project.
Outsourcing MVP Development to the Right Team
Now that we have wrapped our heads on the pros and cons of hiring an in-house team and for whom it is suitable. We will now cover the most reliable model for startups that has been booming for the years and is even the first choice of onshore agencies.
Yes, if you reach out to any onshore software development agencies, there are high chances that your
project will be outsourced to an offshore software development company.
For startups, the most trusted and affordable way to develop an MVP is by outsourcing to an offshore software development company.
There are a bunch of expenses that you need to bear in in-house hiring, whereas outsourcing does magic. When you outsource, you pay only for what the developer compensates. Your job is to just pay and ask for progress. An outsourcing company is responsible to provide end-to-end product development, building the MVP software right from defining scope to final delivery.
When using the outsourcing model, your only cost is to pay developers hourly charges and sometimes one-time hiring fees.
Outsourcing MVP Development Saves Costs
One of the major advantages of outsourcing is that it helps cut costs for hiring in-house specialists and renting larger offices. The whole business model is based on this idea and is still very effective.
Be it MVP or Custom Software Development, companies like Google, Alibaba, WhatsApp, Basecamp, Skype, Slack, GitHub, Opera, MySQL, Apple, and more use outsourcing models to save costs and optimize their business development.
Did you know?
As per IBMoutsourcing is not helpful to only save costs but also to speed up business operations. 27% of the companies outsource projects to cut costs, while 36% outsource with a broader vision of boosting innovation, getting new ideas, and optimizing their business development.
Check out some eye-opening facts with stats:
"With around 70% surveyed saying outsourcing was used as a cost-cutting tool, another 40% said outsourcing provided organizational flexibility to deal with the changes felt by the pandemic; remote work and fast-paced digitalization- Deloitte"
Application development is one of the most frequently outsourced IT functions in 2021. More than 60% of tech companies are outsourcing at least a part of their application development.[ Avasant IT Outsourcing Statistics report]
34% of companies outsourced to get access to a broader IT talent pool.[ITexico]
As per the study made by the experts, more than 50% of the tech companies in 2021 admitted that they outsourced their MVP and other development projects. And the good news is, the majority were satisfied with their outsourcing partners and are willing to continue in the future.
Why should you outsource?
Outsourcing your project helps you save more than 50% of your development cost.
How?
Reduce costs
It's a pay-as-you-go model. here, you only have to pay for the services that you need and avoid paying for infrastructure, software, and personnel.
Saves your IT infrastructure charges
It cut costs for hiring an in-house team
Prevents you from renting larger offices
Increase focus on core business
Outsourcing prevents you from monitoring developers all the time. This saves you time that you can use to focus on the core business objective and its expansion.
Solving capacity issues
Offhosre developers are highly skilled in multiple technologies and have experience working on multiple projects of various industries. They can deal with any complexity if arrived during the development phase.
Improving quality
Offshore development team follows a standard process of CI/CD, which enables them to constantly improve quality.
Accessing the pool of talents and skills
You get access to the large pool of talents that possesses expertise in multiple domains. You can interview them and select the best-suited candidate at a reasonable price.
Speed up Projects
Making the center point to a company by outsourcing the project to a reliable offshore development company can prevent you from transforming vision to each developer which ultimately will make your project development process fast.
Security Guaranteed
Since, outsourcing companies are known for their expertise and make their bread and butter over providing outsourcing services for years, they ensure that the process of your MVP development would be highly secure.
Improve your in-house operations
Outsourcing the projects enables you to invest more time in focusing, planning, and executing tasks to improve your in-house business operations.
Get the latest technology stack
Outsourcing companies keeps themselves updated with modern technologies. You get the chance to get your product developed in the latest technology by hiring offshore dedicated developers that have expertise in the latest technology stack.
So, you are now clear what freelancer is capable of? What in-house team will contribute and how much you can rely on them? And what you will get from the offshore development team and how much they will contribute to your project development and success?
But, when it comes to outsourcing, choosing the right engagement model also plays a vital role in your project success and reducing MVP development costs. Offshore development companies work following the below-mentioned engagement models for every project.

Choosing the best suitable engagement model
Fixed Price Engagement Model
When you and your technology partner agree on some norms like completing a specific task in a given time frame within a pre-fixed budget is termed as the Fixed price model.
You can choose this model when you have a short to medium-term project requirement with a clear vision about the development process, task allotment, deliverables, and acceptance.
It is a Cost-effective model where you are only bound to pay for what you agreed to.
Dedicated Team Development Model
When you engage with your technology partner to augment your team with a few remote specialists or appoint a full-fledged Offshore Development Centre for your software development need is termed as Dedicated Development Model.
This model is perfect for a long-term project with a complex and unique requirement.
This model is best for clients that are technically sound who can monitor and manage the entire development process by themselves.
However, this model is not limited but has a wider scope that covers 3 more factors that you should know and choose wisely as it has a direct impact on your MVP development costs.
The factors are as follows:
Onshore development model
When we talk about the onshore development model, everyone on the earth who belongs to the IT and Outsourcing industry, knows a formula that is "Onshore model = near but expensive".
In general, the onshore software development model is an option for the companies to outsource their projects nearby their location that is within their country, or in the same city.
The advantage of working with an onshore team is you don't have to face the communication challenges that you often face dealing with offshore companies.
But remember, a solution offered onshore does not reduce the cost and high cost does not always guarantee quality & adequate results.
The term "near but expensive" has a dual meaning where near means you can have your software developers in the same country and can meet them face to face. But the major disadvantage of this model is it's expensive.
How?
The developers that you hire belong to the same country you live in and you know better, that the charges would be as per the minimum wage and as per the cost of living of these countries. We are talking about developed countries that include the USA and the UK.
Hybrid development model
Hybrid that is also known by other names like dual development model or mix development model is a type of model where it covers the operation types of both models Onshore and Offshore.
Fundamentally, it is the amalgamation of the onshore and offshore development models.
Operations that are performed on-demand and as per your requirements where it is possible you need the resource in your premises for a few months and after the task is completed, the resource can commute back to basic operations office is considered as Hybrid development model.
Here, resources can be asked to commute to your office when you need them. It could be for 3 months, 6 months or as per the requirement.
It is one of the most flexible development models that is designed to keep the core functions of design and architecture onsite and backend operations that include 70% of the major tasks in the completion of the project (development and testing) offshore.
Along with the benefits, it also covers the disadvantages where you will have to bear all the expenses from flight tickets to accommodation and infrastructure to daily operations costs for the resources you want onsite.
Though it is flexible but is comparatively expensive to offshore delivery model. And we are here talking about reducing costs, right? So whatever is disturbing your budget is not a good option to choose.
So what is a good option to choose? Below it is.
Offshore development model
Yes, the offshore development model is the perfect choice for every startup that is planning to build an MVP with a minimum budget without compromising in quality.
The best part about offshore development is it includes developing countries. And here the cost of living is low and developers can manage to survive with lower per capita income.
Choosing the offshore development model for your MVP will be at its minimum level. You will have access to the world's top talents that keep themselves updated with the latest technologies and choose the best-suited tech stack for your product keeping the future requirements in mind.
You get the developer that has an equal skillset, experience to your onshore team or developer or even more as maximum projects are outsourced and software engineers here are constantly coding, using their creative brains to deliver fast but unparalleled results.
The hands-on years of experience in software development make offshore developers the first choice of onshore companies.
What do you get hiring an offshore development team?
You get highly experienced developers under your budget.
You save almost half of your development cost outsourcing to the offshore development team.
Since the years of experience in serving global clients, communication is no longer a barrier. You can rest assured about the communication. They understand well what you say, your vision and can meet your expectations.
You don't have to pay for infrastructure.
The offshore team enables you to focus on your core business operations.
Outsourcing to an offshore development company increases your in-house productivity.
You don't have to manage yourself, you will have the manager for your project that will be responsible for the successful delivery of your product.
You get quality service.
Time zone is no longer a barrier. Offshore developers can serve you as per your timezone.
You can rely on them as they are trained minds with intelligent fingers to handle multiple tasks at the same time.
This model is suited to all, be it large-sized, small-sized, or medium-sized projects. If you want to launch your uncompromised product to the public in your expected timeframe, the offshore development model is for you.
However, your project requirement and the situation will play a vital role for you in deciding which model to choose. Thus make your selection wisely as the ultimate goal is not developing the software but meeting the success by serving customers with your unique concept.

Time and Material Engagement Model
A model where the costs of development depend on the number of resources you hire and the time consumed by the company to develop your project.
In layman's terms, it is one of the most trusted working models that is used to initiate the professional relation assigning a small task to identify quality, communication level, delivery, and more to decide if should continue further or not.
This gives you an opportunity to test the skillset, commitments, and working standards of the offshore agency, further, it helps you save your money and time.
For example, you can hire a service for 40 or 80 hours from the company at an hourly cost. You will get a team of a senior project manager, senior developer/designer, and a senior QA person to perform a regular quality check for your project to assure the quality is maintained.
In addition, the team will update you about the progress sending you weekly reports over your choice of communication tool.
To maintain transparency, the team will send you a detailed monthly report that will have a bifurcation of the total working hours spent on your task.
If you are satisfied with the work quality, you have the option to extend your agreement. This helps you to discover the talented people that you need for your project.
This project is perfect for medium to large-sized projects whose duration is from average to long-term.
This model is best suited for clients whose requirement is unclear and need the flexibility to add more tasks in between the development process.
Are you a startup and looking for a cost-effective solution? Want to test an offshore development company first assigning a small task?
Read more: Read more about all three engagement models
Leverage Design System
A design system is a set of interconnected patterns, code snippets, UI elements, reusable components, and style guides to manage the design and build products such as apps or websites.
A design system enables the team to focus on quality and innovation, removes 50% of the time needed to design, develop and test. In addition, it ensures maximum returns on time spent, reducing the need to reinvent the wheel and creating a more efficient process that reduces design and engineering time.
Launch product with essential features
"More analysis leads to paralysis."
Following the quote, startups that are successful today, launch their MVP with essential features without investing more time in features that can be added in the future.
Spending your time behind the inferior features over key features will make you bear the loss in both ways, timely and monetarily.
The standard way of launching the MVP is to list down the features, segment them and label which features are essential and which are inessential.
Essential features are those that deliver true value to your users, which means a lot to fulfill your business objective & without which your app cannot exist.
Giving more value to what's important first helps you to launch your product early in the market and ultimately reduces your software development cost.
For example, the core functionality for an e-commerce app is to allow users to search for the product and order them. A feature of "related products" can be added in the future. This means you can launch your product without adding the "related products" feature.
Start Testing Early
Testing your software enables you to find, fix and prevent vulnerabilities. Experts say that defects discovered later in the software are more expensive to fix than defects identified in the early stage.
Starting testing your product in the early phase enables you to reduce your cost of development. To do so, you need to engage your QA team with the MVP as quickly as possible.
Regular testing will improvise the software development process, enhance the development cycle and eliminate tiring hours of complete rework that lead to project delays. And this is how you can achieve the greatest quality in your product.
Strongly recommended: Partner with only the offshore software development company that has a proven result of delivering successful MVP and other software products, especially one that follows early testing.
Use Continuous Integration and Continuous Deployment
The CI/CD model is another important step that helps in reducing the development time and cost. Continuous integration and continuous deployment is the practice of performing two operations simultaneously that includes testing code changes and pushing the changes to a staging or production system.
This practice is usually carried out to get a higher quality of the product. This software development process helps developers discover errors and bugs early, update the codes as required rapidly which ultimately automates the process of building, deploying, and testing the app.
If a company can deliver the product fast without sacrificing the quality, that means they are following the standard process or CI/CD process. And this is the signal to you to get relaxed that you are in the right hands. You can completely rely on them and start focusing on core business objectives of enhancing business profitability.
In short, CI/CD assists developers in identifying the bug and fixing them in run time. It speeds up the development process and ensures:
Software quality
Early launch to market
Drastic reduction in costs
Worried about where to find the company that delivers what they say? Looking to accelerate your product development process?
Communication and Project Management Approach
Remember, the idea is yours, and you have a vision. Neither company nor project manager or other stakeholders will walk on the same path as you are and want.
Communicating and injecting your objective into the minds of professionals is a challenging task but is a must to keep MVP's development cost under control. The secret of your project success is within the proper transformation of your vision to the developers and making sure they heard and understood it the same you said.
The proper communication leads to proper understanding & the proper understanding makes the developer's vision clear to build the MVP. Regular but effective communication helps you get projects on time with uncompromised quality.
Did you know?
Over 30% of the projects fail due to a lack of communication.
To reduce the failing ratio, there are several project management approaches like Kean, Agile, and Waterfall that you can use when you plan to develop your MVP or any other software. This will help you get the quality product within the timeline, under your budget. It will also help you reap rich ROI for the business.
A result-driven software development company follows a standard process of development where we first understand the project, gather its requirements, communicate with the client to explore more about the objective of the product and client's vision, and accordingly, we bring in the top talents that fit perfectly in the frame.
Conclusion
Finally, now you know key factors that affect costing to most startups while developing an MVP. It will still be a challenge for you to find a reliable company that ensures quality product development and deployment at a significantly reasonable price. There may be even more ways to save MVP development costs, what we discussed above are tested and proven major tips that if followed will help to reduce costs and simultaneously get a quality product.
If you are looking for an MVP development partner at a reasonable price, want to save your money, get a robust MVP product that is on time, then the above-mentioned tips are for you.
We are giving 20 minutes of free consultation to startups and helping them in developing and delivering world-class MVP.