Are you unsure whether developing a mobile application for your restaurant would be a prudent investment for your business? Are you thinking of diving into the online food ordering a delivery business? Take a look at these statistics to understand exactly what you're missing out on: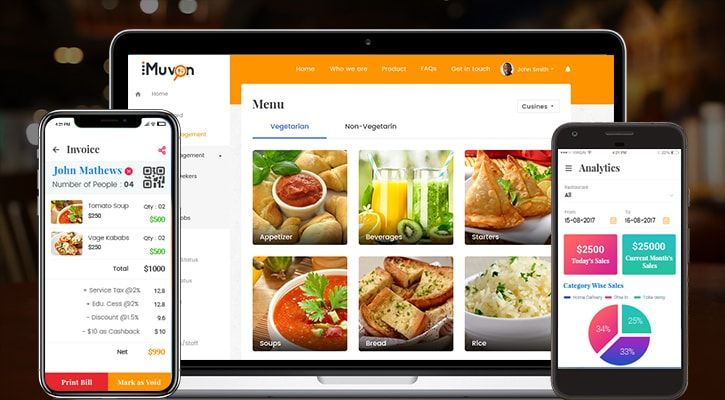 Online Ordering and Delivery Statistics
The food industry is changing quickly. Technology is the key, making it simple to order food online and have it delivered. Today, nobody has enough patience to pick up the phone and order pizza or takeout.
As per statista, around 43% of population prefers to order online. According to Frost and Sullivan, the total online food ordering revenues is expected to be $200 billion (approx.) by 2025.
Moreover, statista further forecasts that food delivery markets is predicated to show a CAGR of 16.23% (approx.) for the period of 2021-2025. Besides this, the food delivery markets will have a projected volume of $25,416 million (approx.) by 2025.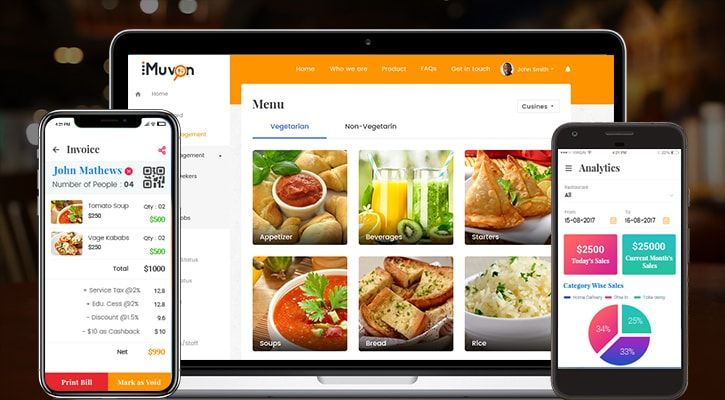 A consumer facing mobile app is not the only way to improve your sales. You can invest in a holistic mobile solution that lets you improve not just your sales but your restaurant side management of waiters, table reservation, ordering system, payroll, ingredient purchases and much more.
Essential features for restaurant app
Now that you've rightfully decided to Create restaurant food ordering app, the next thing to decide on is what features to put in it?
We've compiled a list of 5 of the most important features every restaurant app needs to have to be loved by the customers.
Sure, you can add more features into it, but you shouldn't compromise on the must have features of a restaurant app that are as follows:
Major restaurant application types
Owning a physical restaurant is not necessary to operate your restaurant delivery app. There are ample apps to cater a customer's restaurant needs, ranging from directory type apps to on-demand food delivery apps.
So, if you are thinking of investing into restaurant app development, then you should refer to the below-mentioned restaurant app types:
A restaurant review app
A restaurant review app is a kind of application that lets the user check out the reviews of other customers about nearby food avenues to get detailed information about them.
Foursquare, Yelp, EAT24, Zagat, Urbanspoon, etc. are some of the prominent restaurant review apps.
A local restaurant finder
A local restaurant finder is a location-based directory that lets you find the restaurant near your localty Restaurant locator, OpenTable, Dine, TheFork, HappyCow, etc. are some of the famous restaurant finder applications.
A restaurant menu app
Broadly, a restaurant menu app lets the users access different menu items virtually of their desired restaurants on their smartphone screens. ReastApp, eMenu, and OkMenu are some popular names of restaurant food menu apps.
A restaurant delivery app
A restaurant delivery app can allow you to place an order at a restaurant using a mobile app and have it delivered on your doorsteps. There are two categories of a restaurant delivery mobile app:
Aggregator apps
On-demand delivery apps
A restaurant booking app
A restaurant booking app enables the users to reserve the table at their favourite restaurant. This functionality can be implemented as a feature in a standalone restaurant reservations app.
So, these are some trending restaurant apps that are thriving across the global markets. Now, it's time to see the remarkable features of a successful restaurant app.
Features for Admin
A restaurant business needs to go mobile with essential features by keeping the user experience in mind. Because it is the only way to serve your business in return.
Here is a list of the key features of a restaurant admin panel that can give your startup a boost start:
Reports and Analytics
Reports and analytics is an extremely important feature of an admin restaurant mobile app that allows the user to get an extensive database. This database is useful to view the orders right from the initiation of delivery to its absolute acceptance by the customers.
Besides this, the reports and analytics feature of an online food delivery platform provides a detailed record of daily sales, daily online payment, and delivery person commission.
Site Settings
This feature of a restaurant admin app allows you to design general look and data that is necessary for your website such as site name, logo and much more.
Thus, this admin panel feature makes it easier for you to design a website that suits your business needs.
Payment Settings
Adding multiple payment option to your food ordering app is a great way to understand customers and their purchase behavior. It is also super convenient for customers as well.
However, the tricky bit here is getting customers to adapt to this app idea of using several payment options from a single platform.
You can integrate different advanced payment method into your food ordering platform like credit card, debit card, mobile payment or cash on delivery.
Delivery Zone Settings
This feature allows you to assign the deliveries location wise to a particular delivery partner. By doing this, you can ensure robust and faster deliveries that can eventually make your food business popular.
Delivery Tracking
With the delivery tracking food delivery app feature, food delivery startup admin can know the food delivery location at any point in time. Moreover, he can instruct the driver to divert the delivery route in case of any road closure or related discrepancy.
Dashboard
This feature is one of the remarkable features to run your business effectively. With this feature, you can run your business in a better way. In this feature, you can quickly view your orders, deliveries, and payments on the dashboard and it will also assist you in managing your food delivery business.
Customer Management
Customer management feature of an on-demand app for food delivery oversees all aspects of customer experience, such as easy signup, member history/profile, and account details.
Category Management
Manage categories or product characteristics to sell the food item of any range or quantity.
Manage & Add New Restaurant
Now, you can integrate contact information, restaurant information, open and close timings, minimum order, delivery charge, commission, and invoice period and set offers to their customers.
Features for Restaurant Owners
Nowadays, restaurant owners have expressed the need to have a dedicated online restaurant food ordering app that can bring more value to their business dealings.
Furthermore, restaurant mobile app development is the best way to launch targeted market campaigns, inform your customers about your restaurant events and activities, and the latest food items on your menu.
But what are the features that can make your food delivery service expand its user base? Here are the features that can make your restaurant's online food delivery app more appealing to the users:
Staff management
To manage your restaurant staff and increase efficiency you must have this feature.
This feature ensures that your restaurant is never over or underemployed. It also enables you to track your employees' performance to date.
You can make necessary changes based on your employees' performances. It eventually increases the efficiency and production as there would always be an optimum number of employees present to finish the task in time.
Kitchen management
The prime purpose of this feature is to ensure proper coordination between the chefs and waiters.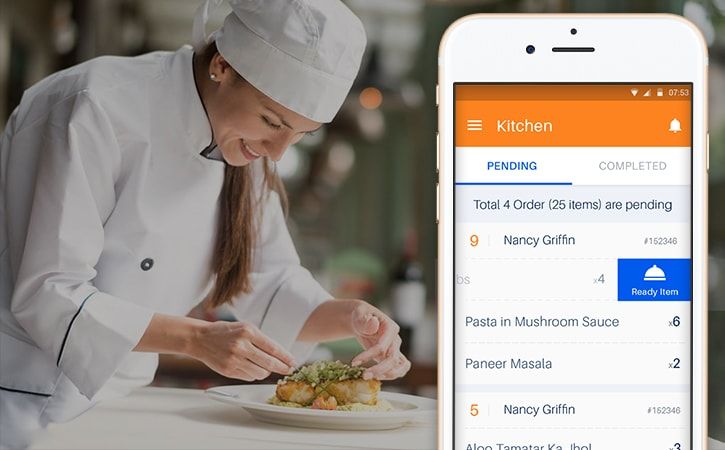 It avoids all the miscommunication between them; which ultimately results in increased production with less time consumed.
With this features a chef can channelize their effort in such a way that it produces a maximum result with minimum errors. It also helps them to prepare orders sequentially.
Social media integration
Social media integration has become a permanent feature for every app out there. For the restaurant industry even more, the customer's need to review their experience, take pictures of and upload them to their social media accounts like Instagram, SnapChat, FaceBook etc.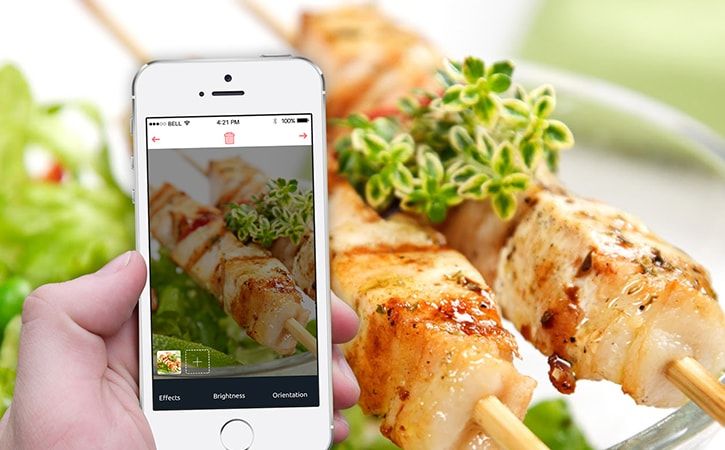 Not just that, you can leverage social media and tie it with your loyalty/discount programs to entice existing customers to earn points and rewards for inviting new customers/friends.
This greatly helps in attracting new customers, while at the same time enticing a onetime customer to become a repeat customer.
Personalization
Personalization has become a significant feature in On-Demand Applications in the recent past.
In this feature the app tracks and analyses the user's activities & behavior and suggests relevant products & services. It helps in engaging and building your relationship with the customer.
Read More: Loopholes of restaurant mobility system
It also helps in retaining your existing users as they are getting what they want with minimum effort.
With personalization, you save them from the hassle of searching their favorite restaurant or cuisines repeatedly.
Restaurant Reviews
Harness the power of the restaurant reviews given by the customers. Use these reviews to promote your restaurant by highlighting the more SEO friendly review.
Moreover, a customer review will create a good image of your restaurant in front of new users and position your restaurant app on the top of the game.
Cuisine Management
Restaurant admin can easily add new cuisines to sell multiple food items irrespective of quantity or range.
Order Management
Online ordering management features to manage all aspects of order size, reject or accept orders, status update, food preparation status, and delivery completion.
Food Items management
A restaurant app offers you the flexibility to add the latest offerings and food items into the app.
Restaurant open and close timings
Choose your time as you want it or customize the time that suits each restaurant's specific closure and opening times.
Menu Management
Easily classify menus and submenus to make information easily accessible for customer benefit.
Features for Users
Food ordering apps for users let your customers access the popular restaurants within their city or locality to get lip-smacking food at their fingertips.
Besides this, a restaurant customer application allows the users to place orders on the go.
Here is a list of some key features you can implement in the restaurant delivery app or into your restaurant's online ordering system to make it easy to use:
Push notifications
Push notification is a double-edged sword; it can make or break your customer app. Your app will be successful if you use it in a sophisticated and subtle manner.
However, if you overuse or abuse it then push notifications can annoy your users resulting in a subsequent loss.

Push notifications must be managed smartly and carefully. Sending an alert in the middle of the night is never a good idea.
Instead, ask your customers about the medium in which they want notifications (SMS, Email, Push Notification), and also ask them the specific time.
For example, if a customer says that he would want only texts between 6 PM- 10 PM on Fridays, then you must comply with your notifications accordingly.
One more thing which you must ensure is that your food delivery app notifications add some value to your users and are not plain advertisement or gimmicks.
Manage Push Notifications in this manner, and it will help in growing your on-demand food delivery application substantially.
In-app, online ordering and mobile payments
Online and in-app ordering lets your customers avoid the lines or the wait for the order to be taken and processed.
The ability to pay for their orders beforehand takes customer convenience one step ahead.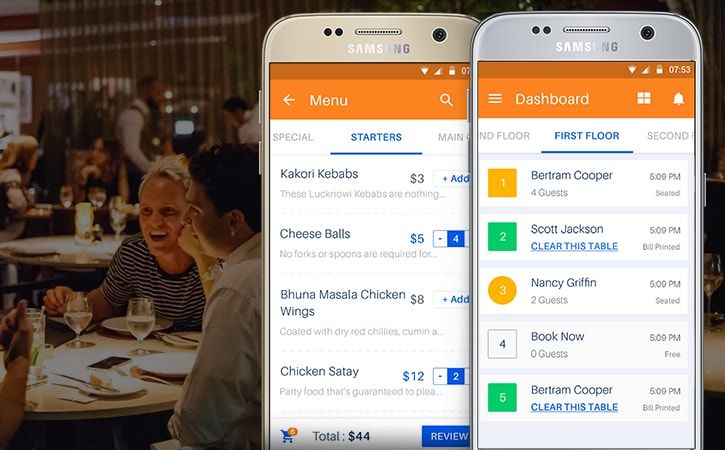 Loyalty, rewards and discounts programs
As per Accenture, over 90% (approx.) of the companies are having some kind of customer loyalty program. Furthermore, a report by Bond says that approximately 62% of millennials are heavily influenced by loyalty programmes.
According to PDI, nearly 50% of customers joins a loyalty program to get some kind of result.
Besides these stats, the most important is the fact that the cost of attracting/acquiring a new customer is 5 times higher than the cost of keeping one i.e. earning brand loyalty is cheaper than creating brand awareness and attractiveness.
This is exactly why some of the big names in the industry pay close attention to their loyalty programs.
For instance, Starbucks successfully increased their sales by 80% when they introduced loyalty programs.
Location based services
The prevalence of location based services like beacons and geo-fencing have given brands the ability to engage with potential customers, even before they step into the brick and mortar location.
Consider it as the modern day equivalent of handing out flyers to passer-bys, promoting the restaurants deals, discounts, menu improvements and other news.
According to LevelUp, restaurants using beacons successfully see 8%-12% new customers, each week.
Multiple platforms
It's obvious after developing an app you want everyone to notice it. Moreover, that would be only possible if your app is accessible on different platforms (App Store & Play Store).
Multiple avenues to your app make it visible to all the users of a different platform which in turn results in them downloading and subsequently increasing your users.

Ensure that you maintain the quality of your Apps in each platform. There are few apps whose versions work fine on one platform and struggles on the other as it lacks the quality.
You can hire a Restaurant app development company to make your app development process faster.
Table reservation
Your restaurant may be small but it may be popular enough that your customers find it difficult to get a table at walk-in.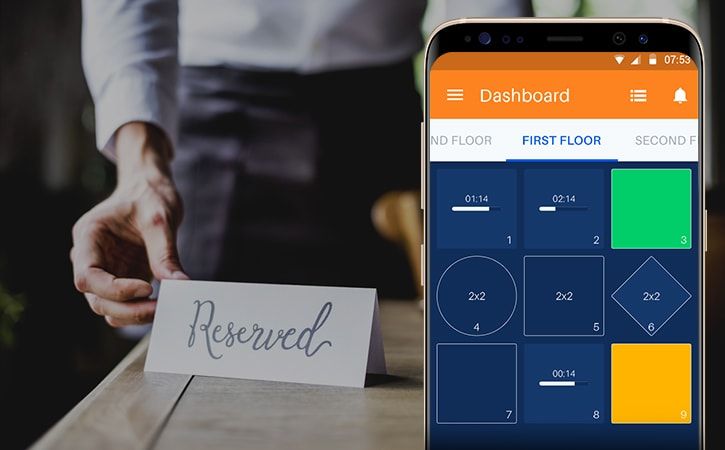 Or maybe, your restaurant is a high-end eatery that only accommodates prior reservations and not walk-ins.
Whatever your situation, your restaurant mobile application should have a table reservation option for your customers.
This helps cut down customer frustration that undoubtedly arise from long waits to get a table and gives them the opportunity to perfectly plan their evening.
Chatbots
A chatbot is a relatively new technology, and restaurant owners are embracing it with both hands.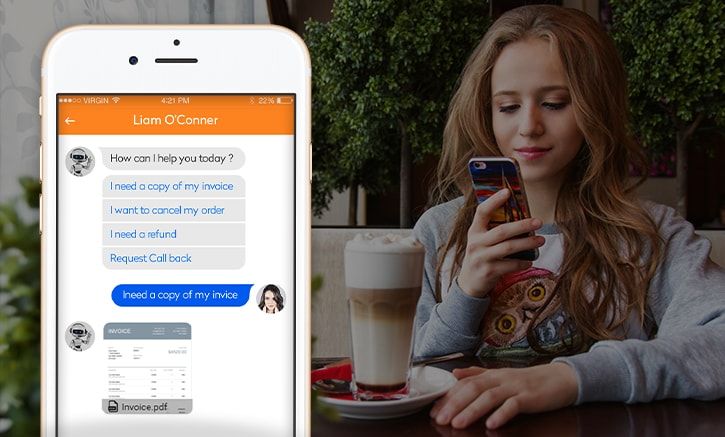 Chatbots are computer programs or AI (latest versions) which mimic conversations with users to provide a solution to basic queries like answering FAQs.
With the use of AI, chatbots are no longer limited to an answering machine which answers fundamental questions.
Instead, they have taken personalization to another level. Including this feature can give make your app stand out from the rest.
Customer feedback portal
Customer Feedback is the simplest and most effective way of getting a complete visibility of insights to improve your app.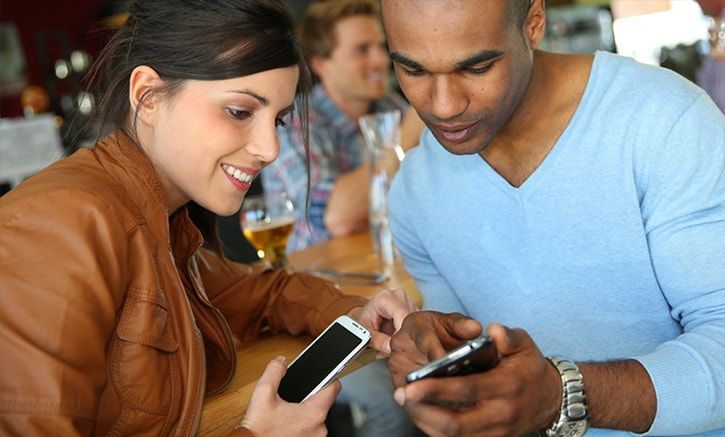 It is imperative to continuously review and make necessary changes in your app to keep yourself up with the competitors.
Moreover, who would be the best to review and suggest changes than the users themselves? You must include a feedback system which allows your users to share their experiences as it helps you to know the customers' demands which you would fill later to enhance user experience.
Gamification
Gamification is another feature which is emerging quickly in many food ordering apps for restaurants. The key reason behind its success is the psychological in nature.
It's scientifically proven that human brain produces dopamine whenever they are jovial, happy, and receive rewards.
Gamification simply uses the game mechanics in the Online Food Ordering Application to reward its users for task completion. You also create challenges for your app users that would boost engagement.
Register Profile
This is the very first step into your restaurant app for customers and it is the first step for your user to interact with the app. In addition to this, the registration feature lets the user enter their details and a specific delivery address into the app and customize it as per their liking.
Include the social media website options to make the registration easier. The quicker and easier it is for the user to register to your app, the quicker they can get to searching for their favourite food.
Search Restaurants
After finishing the login process, the user wants to choose what it wants to eat. The easy search and find feature of the app for restaurant is going to be super useful.
With this feature, you are only going to make it easier for the user to find what they want to eat. All they have to do is to look through these lists to find recommendations of all the restaurants that cater to their needs.
Add to Cart
Add to cart is one of the extremely important food ordering app features. This feature lets the customer to ordering food from more than one location. With this Cart feature, they can add the items on the cart and simply place their order in one go. No need to place orders more than once for over one place.
Real-time Tracking
After the order placement, it's a matter of waiting, but there is no need to make the wait unbearable for the users. Let them track the progress of their order and the location of delivery personnel in real time.
This way they will be assured of their order. This is also going to make the waiting process less annoying for the customers.
Reviewing order history With this feature, users can always place the same orders just as their previous orders. By adding this feature in your app it will be helpful for costumes to place or check their previous orders and they just have to skip the procedure of searching dishes and menus.
Schedule the Orders
Imagine leaving the office and you are extremely tired, knowing even if you go home and order food, you'll have to wait for your food. But, with the order scheduling, the customers of your restaurant app doesn't need to wait much longer.
They can just order the food as they are getting out of the office, and as they reach home, they will get their food at the perfect time.
Thus, these are the food ordering app features to consider at the time of your food delivery app development. They are surely going to make them love your app even more.
Conclusion
Whether you're a restaurant owner looking to improve sales, customer loyalty and retention or you're an entrepreneur investing in your next venture of online food ordering and/or delivery service – the above features are a must to include into your food delivery application.
However, depending on the range of your business and cost of app development your needs, your app can be both consumer-facing and/or business-facing.
If you're looking to have both, then your app can be your comprehensive solution for handling the day-to-day management of your business as well as your delivery process.