Lately, for retailers, prompting customers to download and utilize their mobile app has become the holy grail of online shopping.
The rise in the retail mobility solutions is because of the fact that customers are increasingly shifting toward their smartphone devices for retail requirements.
A couple of decades ago. customers might have anticipated a grouchy sales associate and jumbled sales floor.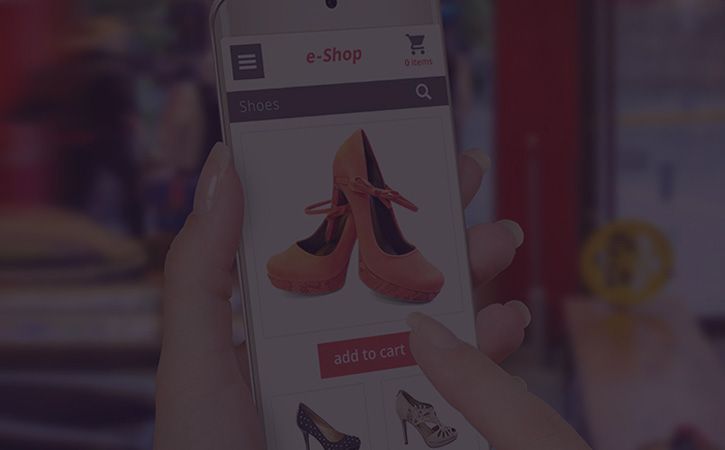 But as the technology and e-commerce have unfolded over the years, customers have come to experience and expect convenience, both online and in-store.
Technology and especially mobile apps have changed the face of the retail industry and the customer experience drastically.
Not only did it affect the way how customers shop but also their interaction with the brands.
With nearly $123 billion revenue recorded last year, mobile commerce witnessed a good 39% increase when compared to the numbers of 2015.
In the digital age where retailers can efficiently compete with competitor's brands from across the globe, customer experience is increasingly becoming essential than ever.
Mobile apps not only supported shape this expectation for convenience but also gave a means to deliver it.
Amazon India is the most preferred retail mobile app. But what sets such top retail apps apart from the peer competition? Well,
here are some of the important strategies that you should consider to make it wide popular app.

Reduction of friction in the purchase route
The ultimate goal of any retailer is to enhance sales. So if you minimize the friction on the path to purchase through smartphone apps by letting customers get whatever they want and whenever they want, with minimal interference you can direct sales.
Smartphones are the best ways to reduce friction in channels. Retailers can utilize to make sure their smartphone app is as frictionless as possible.
Functional in-app search
According to a study, over 83% of customers said that a product search is "Important" or "Extremely important" to them while shopping. However, shockingly,
35% of the respondents said that they were not satisfied with the search results on smartphones and surprisingly,
38% of the customers said that they had some worst experiences regarding search results with a few mobile apps while shopping.
Hence the lesson of the story is that retailers shouldn't take product search for granted. For a good shopping experience, making in-app search the foremost priority is just as important as any other.
Your mobile app search results should personalize to your customers and prioritized by relevance depending on your customer's past shopping behavior.
Read More: Way to make customer happy with a mobile app
Utilize OTP
Minimizing friction in the purchase route does not need to be a big restore. Simple features can really make a huge difference in the comfort of use in mobile apps.
By implementing one-time password, you can make the login process simpler for your customers. So that every time customers try to log in they don't have to remember the username and password.
Making shoppers' lives more convenient
People adopt technology that saves their time or makes things simpler for them. Retailers who build shopping apps to make their shopaholic's lives more convenient are more expected to witness an increase in the app downloads and engagement.
Here are some of the very fine examples of successful retailers who put customer's convenience above and beyond.
Walgreens has made customer's experience exceptional by focusing on getting their shoppers in and out as soon as possible.
Kohl recently launched a rewards program; Yes2You. The focus of this reward's program is that the consumers can earn rewards for their purchases without having to swipe a different card to claim their rewards.
Apart from the global ones, there are apps such as Delhi Mandi, Flipkart, etc. that are revolutionizing retail industry at the national level.
Retailers, who are looking to customize and optimize their mobile app strategies can learn the best ways of how to deliver exceptional customer experience from Amazon, Walgreens, and Kohl.
These retailers have implemented thriving mobile app strategies that have led them to the top of the charts.
If we have learned, it is that the above goals retailers' can aim for to fix their mobile apps special from the intense peer competition; Minimize the friction to the purchase route and making shoppers' lives more convenient.
Mankato takes far more time than reading the street address takes. Delivery boys you hire are perhaps well acquainted to the city,
but you, certainly, can't expect them to know where Mrs. Chapman lives or every other place in mankato.
There are endless ways that retail brands can execute to accomplish these goals.
The ways you choose will be based on the wants and needs of your shoppers, but now is the right time to spend in enhancing your retail mobile app.
Read More: Retail app development predictions & trends
Personalization
In recent times, we have seen the major e-Commerce firms have heavily focused on providing highly tailored made personalized services to their customers.
In this firms record and analysis the customers shopping patterns and then suggests them with products accordingly. They also make special combo packages keeping in mind their customers' preferences.
Many other companies provide discount or loyalty points along with the combo packages.
Personalization is an effective way to boost sales as it makes a customer feel valued. The customer feels that the service provider really cares for what they are purchasing.
Building brand loyalty
Mobile applications provide a great platform for the retailers and eCommerce company owners to expand their business.
First, it's a great platform since it provides you with high visibility as compared to any other platform. It's because mobile application has a far deeper penetration to customer's life then any other medium. The customer can access all your services easily with a mobile application.
With such high visibility and accessibility, you can offer various discounts and promos to all your customers whether new or old. This would help in adding new customers and retaining the old one.
One more benefit that mobile application offers is the advertisement opportunity. It is quite sensible to spend more money on ecommerce app development then to spend on any other billboard.
Provide 24*7 seamless services
One of the biggest advantage that retailers have with mobile apps is that now they can provide 24*7 services to their customers.
Customers don't have to worry about the time as they can place an order of a product at any time and any day. This is one of the biggest benefits of mobile applications which enhances the customer service for retailers with a considerable impact.
Moreover, eCommerce companies can enhance customer services by introducing new technological elements such as virtual assistants and chatbots that makes it easy for the customers to buy products.
Conclusion
For any retailer, ensuring customer service is the biggest challenge. However, with mobile applications in place you can very well provide services of utmost quality to your customers.
In this blog we saw in what ways retailers are providing quality services to their customers which ensures constant growth in their sales.
So, if you're a retail store owner then having a mobile application is the need of the hour. So, just get the estimated cost of retail mobile app development and get started.