The retail industry is soaring with the advent of e-commerce and this brings a lot of brick-and-mortar player to try selling their products online.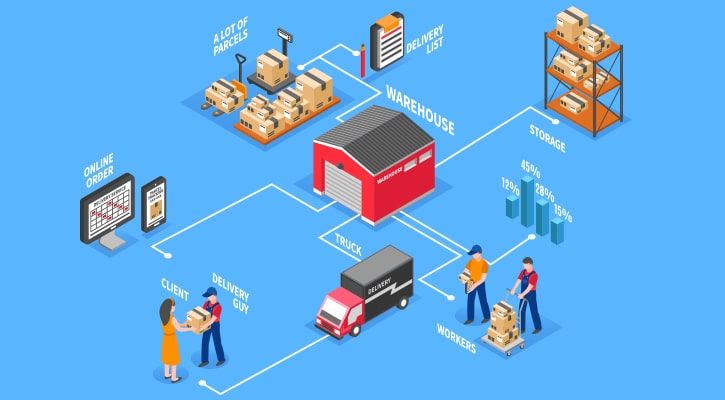 This leads to tighter competition and wider product and specialty assortment amongst the branded products.
Be it electronics, fashion, home furnishing or groceries, the supply chain management is the only way out to cater the market demands and profitable sustainability.
The key is efficient product lifecycle management and structuring the flow of products through customized e-commerce logistics solutions.
And with e-commerce sales sprouting at a pace of 10%-12% CAGR the retail foot-falls in brick-and-mortar stores keeps shrinking 2%-4% every year.
Customers are making mobile e-commerce purchases easily these days and with a rise in such habits the mobile sales of e-commerce retail are expected to acquire 54% of the market by 2021.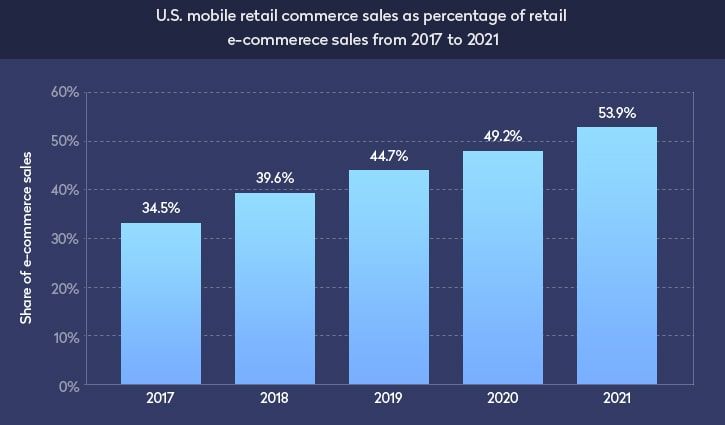 All these demands a proactive approach from e-commerce retailers eying to match the ever-increasing demand
But most of the retailers on e-commerce find it difficult avail logistics optimization and considers it as a business constraint on the supply chain front.
The key is to optimize the process by enabling multiple depts to supply to multiple stores rather than just keeping it to one single depot.
Businesses should move from utilizing just one fulfilment centre to cater to all the online orders in any given city.
Such businesses may well utilize retail supply chain management to optimize processes to maximizing their fulfilment capacity driving efficiency.
Winning a customer in the environment of a cut-throat competition will need you to speed up the delivery process.
But in that process, you shouldn't be losing out a large chunk of money to delivery vendors as well.
And this calls for leveraging last mile delivery and logistics solutions to make the entire exercise affordable to your business and customers as well.
For e-commerce retailers to yield positive results the logistic app development may offer an ideal solution with cross-department functional integration.
This means, opting for e-commerce logistics app development will optimize the entire process – right from raw materials purchase to timely product delivering.

Moreover, big corporations are putting in a lot of money and manpower to woe prospective customers.
And this is spoiling end-user with a lot of options and raising their expectations.
Retail and e-commerce integration require giving different delivery options to various locations and sometimes even multiple locations in a single order.
All these without any errors in delivery and accurate and on-time with affordable shipping options.
The ideal way out for retailers going the e-commerce way is too apt for a retail mobility solution that can aptly react to anomalous situations.
There may be a time when you will have supplier failing to deliver required stock, delivery vehicle breakdown, transitory accidents, and even unforeseen spike in demand.
Your only option to tackle such issues is to opt for best logistics companies for e-commerce logistics app development.
Here you try and make your e-commerce business as much robust as possible that is not constrained or gets stifled lacking the required logistic technology.
How to begin with implementing optimization technology?
The first step in optimizing and building a world-class supply chain is to map out your current supply network.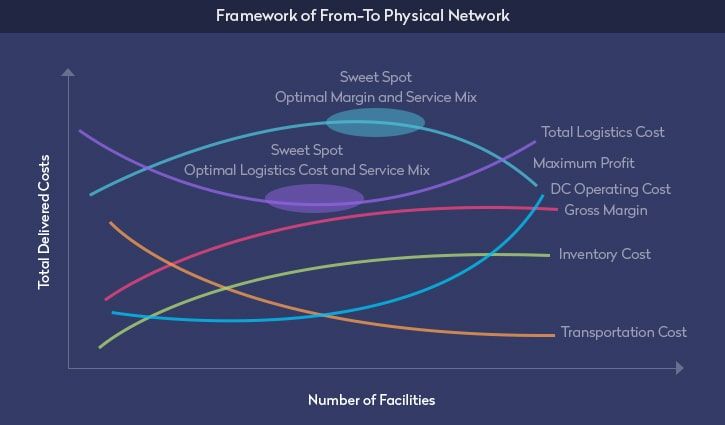 To start updating logistics technology for efficiency you will need a lot of data as shown in the above diagram.
Looking at the complete picture is an ideal way out with strict data monitoring with regards to supply chain.
And a holistic outlook means considering everything from workers' salaries and even the hours of work they put in.
Integrating multiple cost centers in logistics app development can help gauging supply chain cost structures.
Try collecting the following information:
SKU to customer flow
Costs of distribution and order fulfilment
Facilities' components like the size of the order, staff, capacities, etc.
Internal and external fleet characteristics (internal, external)
Location sources and its flow to SKU
Inventory matching based on SKU location
Shipping turnaround time
Such insightful data will enable mapping e-commerce logistics in an effective manner.
The key lies in looking at the bigger picture and crafting customized retail mobile solutions.
Here is the chance to identify pain areas and dwelling deeper to work out a cost-effective yet advantageous way out for prospective and existing e-commerce customers.
Make sure you counter the startling e-commerce hurdles and streamline your retail logistics with scalable and responsive supply chain management system.
Here's how you aim to scale fast in retail and e-commerce business through efficient logistics optimization.
Fulfilling the same-say delivery demands
Successfully running an e-commerce business in the retail segment will require moving beyond the existing fulfilment strategy to cater to increasing online buying preference.
You also need to suffice customer demands of same-day delivery, especially in metropolitan and tie I cities.
As much as 96% of customers expect to consider faster delivery synonymous to same-day delivery.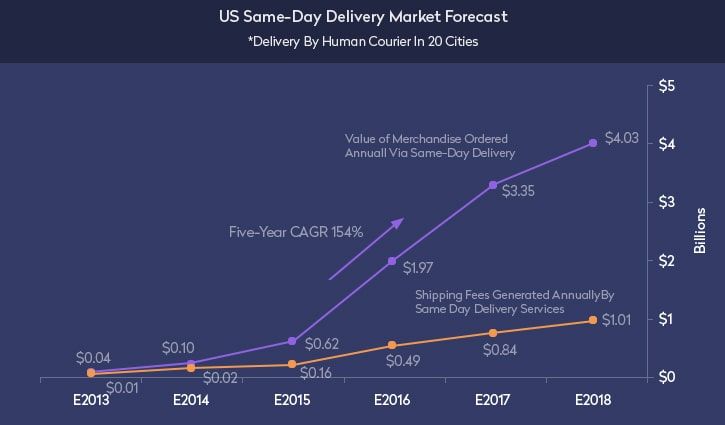 This means you will be getting the shipment ready by 3-4 hours of them placing an order.
A staggering 154% CAGR in same-day delivery indicates the importance of supply chain management logistics.
Ensuring next-day or a same-day delivery with zero delays and errors will require you to implement last mile delivery solutions.
This involves equipping your delivery process with the efficient route planning engine that has integrated machine learning and artificial intelligence guaranteeing utmost accuracy and speed.
Depending on the type of backend storage and warehouse options for your e-commerce business in retail segment your store logistics requirement will differ.
Gaining an upper-hand in competitive market
The key to successfully running an e-commerce store lies in saving your expenses as well as providing faster delivery and reduced shipping charges to customers.
Lowering the costs associated with the supply chain can help you shrink the end-delivery costs and saving a lot of customers' money and thereby offering ideal customer experience.
Lower costs help to build faith amongst first-time customers and have them keep coming for more.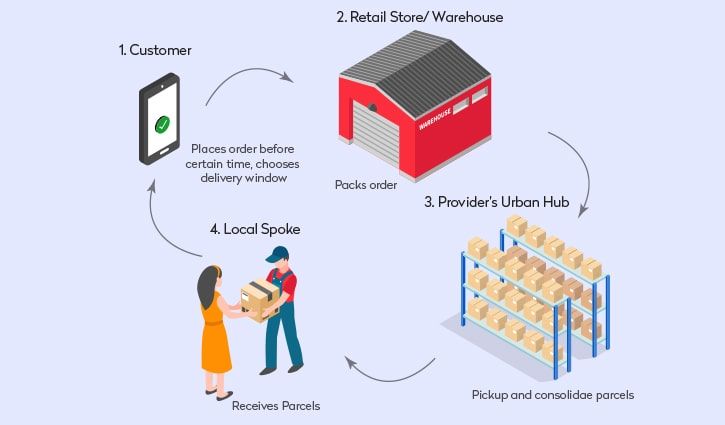 Around 48% of online shoppers consider delivery date guaranteed as a value addition factor while checking out from cart.
Leverage best delivery route optimization technology for a consistent timely delivery.
Optimizing supply chain will give you a competitive advantage in the market to reap the benefits of faster delivery.
And when you are optimizing the entire supply line then even your routes from vendor warehouse to your goods warehouse will be optimized.
With margins of error very low and speed becomes the need of the hour, try consulting best logistic app development company to prioritize modes of supply and delivery.
Developing cost-effective supply chain system
Just as mentioned above, blending speed and affordably can yield you success, it also a cost-effective method to tackle logistic problems and solution.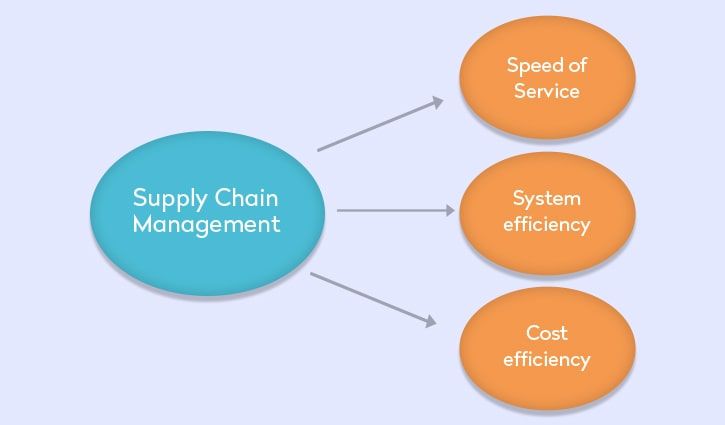 Deep dive into your supply chain system to determine areas of cost optimization and automating every possible step in the system will have you end up saving more in the end.
The end result will be inflated bottom line even at lower sales volume. The areas of cost savings lie in improvement in supplier relationships, streamlining storage strategy, and integrating business intelligence for analyzing customer demand patterns and fast movement of supplies.
You end up breaking the data silos with a streamlined process of the supply chain which helps you overcome associated logistics challenges.
Speeding up order processing and delivery will also lower your revenue turnaround time and save more on technology costs in the longer run.
Start with existing process evaluation to find the gaps and determining cost-effective ways to improve delivery standards capitalizing on possible market opportunities when the demand is higher.
Read More: How much does It cost to develop an app?
Generating revenue through inbound logistics
The current evolving market scenario will require you to gauge ways to optimize operations related to e-commerce order fulfilment while keeping a tap on retail trends.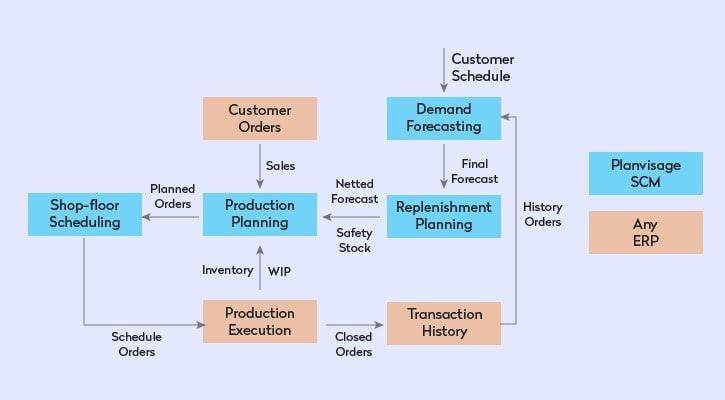 This is only possible through inbound logistics as it can positively impact the customer experience.
Though customers may not know what you are working within the back-end, the ultimate delivery experience in terms of timely order fulfilment will drive conversions.
With retail mobility solutions, online retailers on an e-commerce platform can shrink the two-day shipping to one day or even same day as discussed above.
With more power to logistics app development all the involved entities in the supply chain ecosystem right from the shipping company to inventory management and order fulfilment and delivery team – all functions on same page.
This symbiotic relationships between multiple entities give retailers a holistic outlook at a functional level.
Inward logistics will help to bring in dynamism and to achieve all the delivery KPIs successfully.
Integrated supply chain for timely demand fulfilment
Competing with the giants like Home Depot and Walmart will require staying agile with your existing supply chain management.
E-commerce companies working at an international level function independently with a dedicated supply chain department.
With more demand and more order generation, even the suppliers optimize their last mile delivery system when it comes to catering the giants.
All you need is to get the best logistics mobile app development done to integrate your retail systems.
You will have all the power to compete for the giants with products so unique and now with delivery standards almost matching the market, 2-day free shipping is possible through integrated advanced logistics operations.
Managing live delivery with end-to-end visibility
E-commerce logistics optimization makes the engine to automatically allocation the nearest, best-suited driver for a timely delivery.
The engine immediately assigns it to the closest and the best-suited driver. The same goes for return pickings for cancelled orders.
Ultimately, this will provide you with a faster way to process return order adding another dimension of customer satisfaction associated with your delivery standards.
The UI makes way for live tracking through a map providing managers with real-time driver information along with necessary vehicle information.
The system is empowered with choosing the optimized route, suggesting drivers the live traffic and other updates.
Such best delivery route optimization technology aids bringing down the reaction time at almost zero levels in a jiffy.
By adopting such technology and last mile delivery solution you are retaining 60% of your customers and having 40% of those vouching for your services and brand.
E-commerce has greatly magnified the importance of optimizing the inbound supply chain and opened up many areas of opportunity.
Companies can develop efficiencies in this area and also enable their e-commerce business by leveraging their vendors to ship products inbound to their own locations as well as directly to their final customers.
Concluding thoughts…
The growth of electronic commerce has driven online retailers to increasingly work closely with other firms to enrich the assortment of order fulfilment services offered to customers.
Online retailers also have started working with logistics service providers to tap into resources and skills to fulfil their customers' orders more effectively and efficiently.