140.68 billion mobile app downloads worldwide in 2016 and the number reached 230 billion by 2021. According to Statista reports, mobile apps revenue is projected to be $613 billion by 2025.
Are you serving yourself a piece of this very lucrative app-pie?
If your app distribution strategy focuses on just one region, then you're sorely limiting yourself. Going global offers your app greater exposure, more active users, and eventually a greater piece of that $77 billion.
The Shift in Global App Downloads
Up until a few years ago, the highest number of app downloads (regardless of stores) came from 3 primary countries: USA, Canada and Britain.
However, that trend's changing.
Smartphone penetration and internet connectivity have changed the trends of every country and their customer behavior. According to a survey conducted by Apptweak, India has become most popular country for mobile app installs followed by the USA.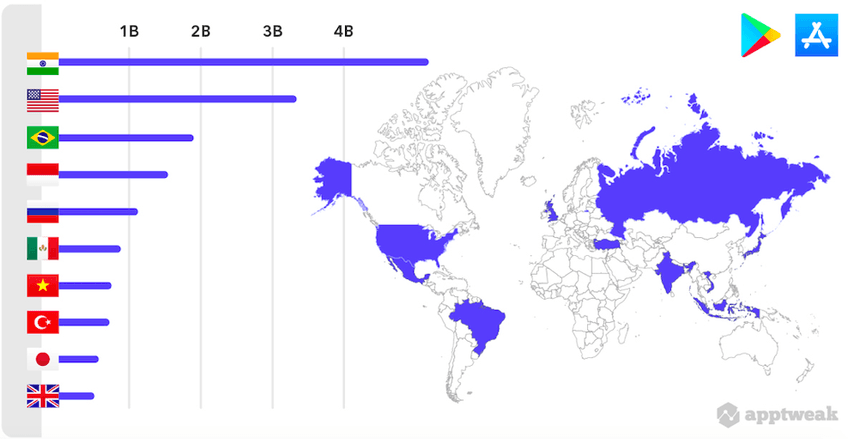 A World map with the top 10 countries is being cited above which shows how India with more than 5 billion downloads leads the world. Google Play has become the leader store generating more than 74% of total app downloads.
Figure Out if Your App is Globally Relevant
Before you get all excited and start envisioning mountains of green, you need to find out whether or not your app will be as relevant in other countries.
Of course, if it's an app that caters to a particular geographical area, for example a cab booking app, delivery app or a local restaurant's table reservation app, then it cannot be distributed globally.
On the other hand, if it's a game, an entertainment app, a travel app or a utility app – then it could flourish with a little global attention.
3 Strategies to Help You Bring Your App to the World's Attention
Now, you know your app will be well received by people, no matter where they live. You need to figure out how you can engage people living in China, Japan, India, Mexico etc. and eventually entice them to download your app.
The app submission guidelines for the app stores remain the same, more or less, no matter which country the app is uploaded from. However, you can implement different strategies that will help your app be popular not in just your region but, the world over. Here are a few ways you can gain global exposure for your app:
Translate the App into Foreign Languages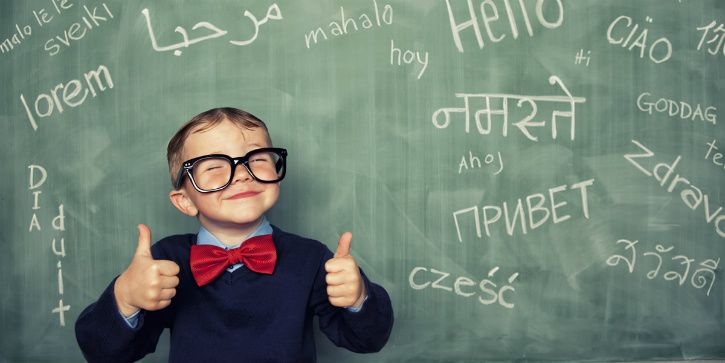 Translating your app into the language of the countries you're trying to penetrate is one of the most important strategies to gaining international exposure.
That's exactly what Zombie Ragdoll and SayHi did.
The results were instantaneous and astronomical. After releasing a multi-lingual version of their app, Zombie Ragdoll found that 80% of their installs came from non-English speaking users. Targeting them greatly improved their user engagement.
The dating app SayHi, had the app translated in to 13 different languages and saw a 120% increase in their app downloads.
Of course, make sure that you use professional translation services to have the app translated. If the users download the app, only to find the app's been crudely translated into their language, you'll not only be sabotaging the user experience but it might just drive the users away.
Take Advantage of National Events
Every country has its own national events, holidays and religious customs. Be aware of these opportunities in the country you're trying to distribute your app in. Take advantage of them by offering special discounts, deals or add-ons for your app, on these days, to entice users to download your app.
Cases in point: Kungfu Taxi, Coloring Animal Zoo, A to Z monsters and many other apps took advantage of the Super Bowl weekend this year, to offer special discounts for a limited time period to engage users who were reluctant to pay for the apps.
Although, they had to forgo the revenue buying the app would have generated but, the apps will be able to earn it back (and more) because ultimately they increased their active user base.
Kungfu Taxi was already the top-grossing game in China but they hadn't had as much luck with the US markets. With this strategy, they were able to penetrate the market and generate user interest at a time when people were in a festive spirit and open to trying new apps.
Use Relevant Trending Hashtags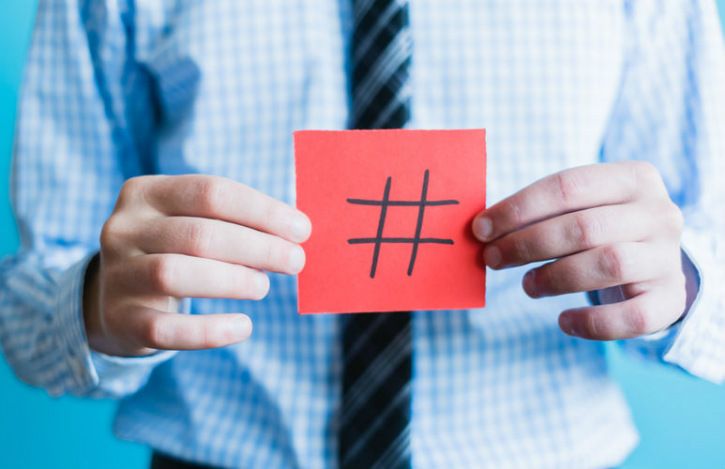 This might be an age-old practice, but that's because it's effective. Leverage social media to learn the most trending topic in the countries you're trying to penetrate. Then generate interest by using the relevant trends and associate/market your app with it.
Create your app's Twitter and Facebook accounts (or any other social media platform that may be popular in the country you're targeting) and start creating posts that Hashtag (#) to the most trending topics for a specific country.
This way, even if you don't have a huge following, you'll be able to put your app in front of international users that are interested in those trends.
Conclusion:
There are many other strategies that can help you gain global exposure for your app. Ultimately, these strategies can come under the umbrella of app marketing.
However, apart from the 1st strategy (where you'll need to hire professional translators) you can implement the others with little to no investment.
That being said, if you're not confident in your ability to pull these strategies off by yourself, you can partner with the right mobile app solution company to help you gain global exposure.