Gone are the days when all you needed to launch a successful startup was an outstanding idea. If you had a great idea, good luck would follow in the form of angel investors and business funds willing to take a chance on you.
Now, in this innovation-hungry era, just a good idea is simply not enough. You need execution and custom business apps make a tremendous difference to that end.
They not only improve organizational efficiency, but apps actually make it that much easier for startups to keep track of their company vision and execute it, successfully.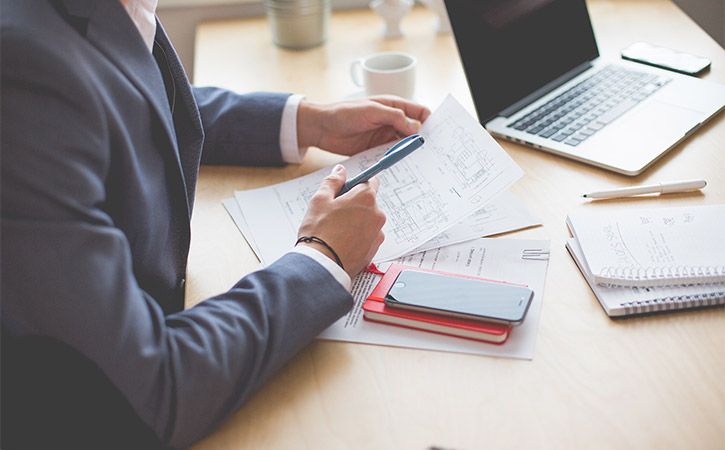 With 66% of the population now accessing the web through their smartphones rather than their laptops, not investing in app development for your business means you're not reaching a great part of your potential market.
Depending on the niche the startup is in, it may need a custom app, geared towards improving internal operations and increasing employee productivity, long before investing in a consumer facing app becomes a viable business strategy.
But, how do you know you're in a niche that needs to invest in app development? Well, that's where getting in touch with experienced app development companies, comes in handy.
Not only do you need an app development company that will develop awesome apps for you, but one that has experience stabilizing and growing startups from incubation to maturity.
Types of Startup that Grow Substantially
There are 6 main types of startups that entrepreneurs tend to jump into. Throw an intuitive business app into the mix, and you will have multiplied the potential for growth substantially.
Here are the 6 kinds of startups that can benefit exponentially from a business app, from the get go:
1. Lifestyle Startups
If you're a person generating a profit by living the life you love, then yours is a lifestyle startup.
This type of startup owners do what they like and make their passion their work. This passion fuels them to do better every day and ultimately entrepreneurs' achieve their dreams.
Say like, a surfer who opens up shop and earns a living by giving surfing lessons. Take Mathew Jones, a former Australian Surfer on the WQS Circuit, turned full-time school teacher for instance.
Mr. Jones aspired to be more than a teacher and turned his passion for surfing, fitness and wellness into, not just one, but several mobile apps.
One of his most popular iPhone apps iSurfer, which offers surfing lessons, has garnered quite a following. Or let's assume that you're a designing student who loves to make logos. And you're contemplating to begin your logo maker startup
Or perhaps you've discovered a way to make life easier for others and build a product.
Say like, Bond Thaiyanurak, the proud entrepreneurial father of Washbox24, which is changing the way laundry is done in Bangkok. The premise is, you sign up for their service, buy a package, drop your clothes off at one of their "wash boxes" and you're done!
Washbox24 will pick up your dirty laundry from the box, launder it at a central facility and drop it off back into the box. Once, delivered they will send you an SMS notifying you, after which you can simply pick your laundered clothes from the same box.
Right now, it's an SMS based service, with the company uploading pictures of the laundry for your review on their website. However, once they expand, as Bond says, "Asia first, then we would love to be Singapore and Hong Kong." A mobile business app will inevitably be a requirement for sustained growth.
In recent years, more than 80% of the time being spent on smartphones is just to use apps. This surge in mobile app usage has created unprecedented avenues for customer interaction for companies, which ultimately translates into revenue growth.
As per the research made by the Statista Research Department, The number of mobile apps downloaded globally has been increasing continuously since 2016 and surpassed 200 billion in 2019.
In the year 2020, global revenue from mobile apps increased to around 318 billion US Dollars, and in the next few years, it will reach approximately 613 US billion dollars in the year 2025.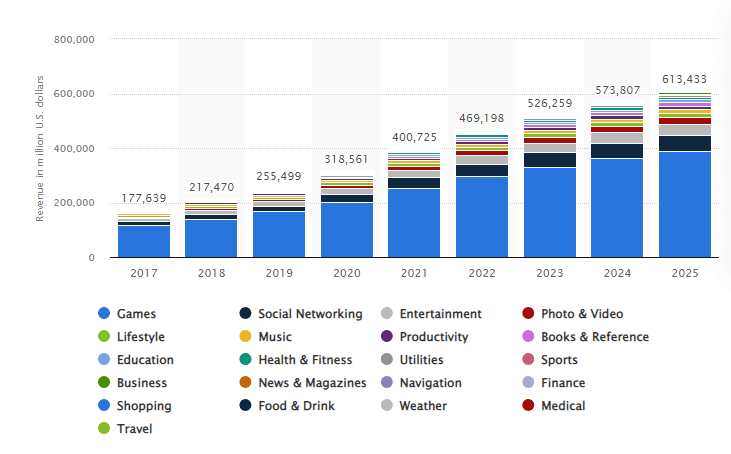 The data clearly shows the huge growth potential for Lifestyle startups investing in app development can be.
2. Small Business Startups
Small business startups are small businesses started by regular people you might meet on the street. They're not aiming to be big, but want to create a comfortable living for their family and friends.
That being said, technology plays an integral role in every business, no matter how big or small.
If you're a small business, you probably won't need a business or consumer facing app (unless you decide to expand). You will need, however, a responsive specialized website that has the ability to navigate, order and track the products/services a customer may want to buy.
In such circumstances, a shopping cart with several options for online payments helps increase sales, tremendously.
In the past few years, SMEs have constantly generated employment. SMEs are key players in contributing to innovation. Over 90% of the business population represents small and medium-sized enterprises(salesForce 2019).
SMEs are responsible for building numerous jobs and contributing to global economic growth by offering employment, encouraging industrialization,etc. These contributions depend widely across industries, firms, and countries.
82% of the SME's studied in the research said mobile technologies are giving them a tremendous edge against their competitors i.e. greater agility and flexibility in their operations as well as interaction with customers.
You can read a summary of the results of the study over here.
Yogibo LLC is the perfect example of a small business startup that's become very successful, just on the back of a well oiled, specialized responsive website.
Not just Yogibo, but other small startups like the Chocolate Pizza Company Inc. and Cabinetparts.com, also benefited immensely from investing in web app. You can read a bit about their successes,here.
3. Scalable Startups

Twitter, Google, Facebook, Skype – are all perfect examples of scalable startups. Scalable startups, more often than not, are always in the tech niche.
That's because, as the name suggests, they are scalable i.e. they have the potential to keep increasing their revenue while keeping their incremental costs at a minimum.
For example, a startup launches a new intuitive software program. They have to invest their initial investment on creating the first software only; the rest can be mass produced without many alterations to the source code.
In short, their incremental costs for mass producing the product will barely increase.
This is exactly why Venture Capitalists and investors only invest in technological startups and never in services startups.
According to VC Fred Destin, "Scaling refers to the period in a startup's life when management and board feels like they can systematically accelerate growth with confidence that the resources they put in will yield great and measurable results.
It normally happens after product-market fit has been found and the search for a repeatable sales or customer acquisition model has yielded enough positive data".
Considering scalable startups bring technological solutions to the market, they already invest heavily in mobility technologies.
Uber, AirBnB and Basecamp are present day examples of successful scalable businesses.
Conclusion
When the in-house development team can't keep up with the demands of the users, it's paramount that the company seeks help from an experienced software development company. Otherwise, it will risk losing its customers.
The remaining 3 types of startups has been discussed in the second part. Be sure to check it out!