Since the past recent years, mobile apps have been changing our daily lives constantly. And because of their enormous popularity and usefulness, they serve to be a significant opportunity for appreneurs as well as enterprises.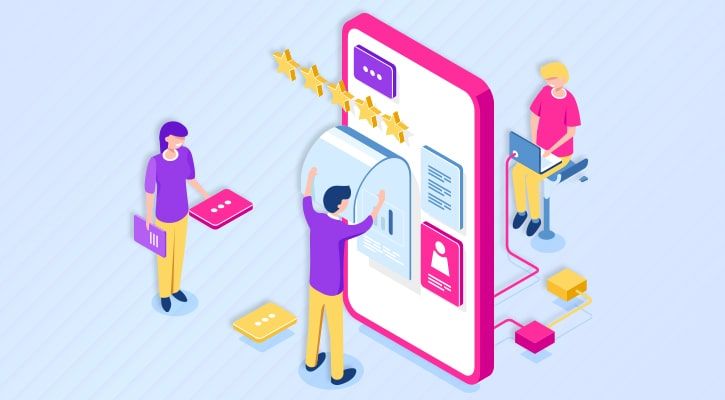 According to Statista, mobile apps are supposed to generate around $189 Billion US dollars in revenues.
Not only that, but many experts have already said that the mobile app development industry is one of the fastest growing industries and that it shows no signs of slowing down mobile application development trend in future as well.
With the latest technological advancements and new inventions coming to our everyday life, it's not wrong to think that 2022 will most assuredly be the year of mobile apps and both appreneurs as well as enterprises will have more business opportunities.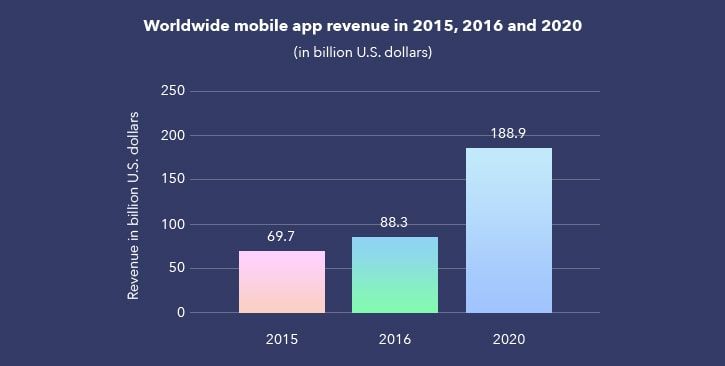 After conducting thorough research by our business analyst team, we've identified and listed below the top mobile app development trends in 2022.
The era of AR/VR has just started!
AR and VR, both are cool! There is no doubt about that. But in 2022, their use cases will not be limited to just gaming applications anymore.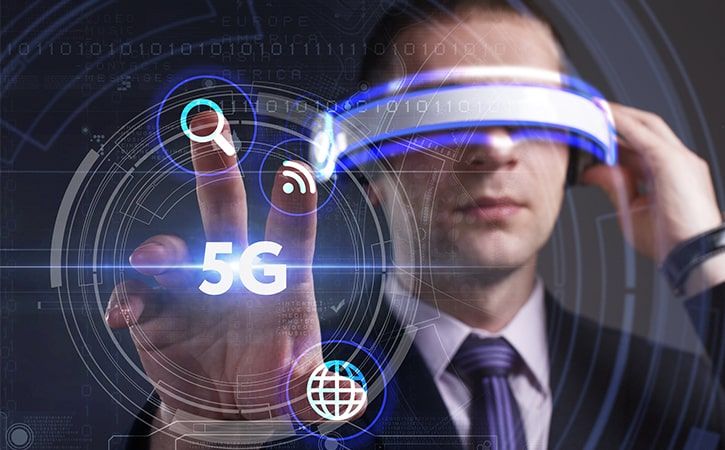 Tech giants are already innovating tons of new use cases for both. For instance, Google and Apple both are releasing new AR demos on their latest devices, which is proof that AR/VR is going to be a game changer in the near future.
In fact, these technologies are also predicted to seen on social platforms for branding as well as targeting potential customers through 'Beyond The Screens' AR/VR apps.
For example, Snapchat and Instagram have already released their AR filters that can turn a human face into various digital funny characters.
A few examples of AR & VR trends
Mobile AR disruption
AR in marketing & advertising
AR in healthcare
AR in manufacturing

Smart things - the new age of mobile-connected smart objects
The word 'smart things' or the 'smart objects' was originally created by a relatively advanced technology – the Internet of Things.
Also known as IoT, it is basically a network of physical objects that are embedded with sensors, electronics, and software which are all interconnected within the network itself.
For instance, Samsung, Xiaomi, Bosch, Honeywell, and many other big brands holding a big market share already.
And a few of these recent IoT app development trends include Kisi Smart Lock, Nest Smart Home, Google Home, etc.
Overall, the IoT is considered to be one of the game changing web and mobile technology in the mobile app development world.
Future trends of IoT
Smart homes & smart areas
Routers equipped with more securities
Self-driving carsIoT in healthcare and digital wellbeing
IoT in healthcare and digital wellbeing
Read More: How IoT is building the business centres of tomorrow
AI & machine learning
Artificial Intelligence & Machine Learning both have dug their heels quite deeper into mobile app market.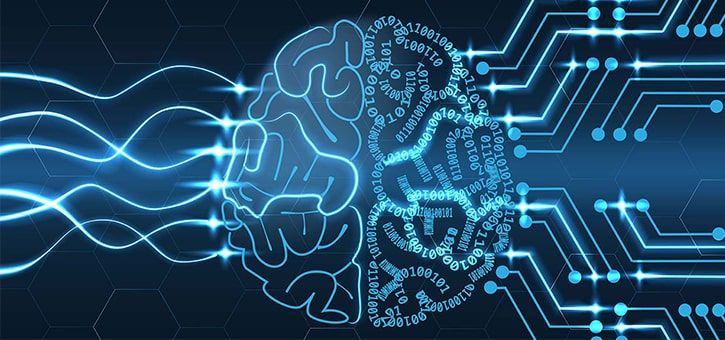 AI for the most part, has made itself manifest in the form of chatbots, while Siri, the combination of machine learning as well as artificial intelligence is now a very much part of mobile app innovations that cannot be separated now.
And in 2022, the power of AI & Machine Learning will not be just limited to Chatbots and Siri.
Many organizations have already started embracing AI app development to grow profitability as well as decrease operational expenses in various forms.
In fact, according to IDC, more than 75% of workers who are using ERP solutions will now leverage the capabilities of AI to expand their proficiency in the workplace.
This means, not only do AI & Machine Learning have deep roots in today's business app, but they've a significant opportunity for innovation in future as well.
Future mobile trends of AI & MI that you may see
AI automated DevOps through AIOps
AI-enabled chips
Automated machine learning
Interoperability among neural networks
Beacons - the market worth millions!
Beacons is not really a new innovation anymore. There are now various industries including Museums, Hotels, Healthcare, etc. that use Beacons technology in their mobile applications.
We think it's safe to say that Beacons technology has become more understandable for common app users.
However, their use cases will not be limited to this. Beacons have a far greater capability than that.
For instance, Beacons combined with IoT in retail can help smartphone users with valuable information regarding sales as well as other ongoing promos that they may find within their vicinity.
Future trends for beacon technology in 2022
Mobile payments beacons
AI-enabled chips
Automated machine learning
Beacon treasure hunting
Read More: The retailer's guide to beacon technology
Cloud - the necessary element of future mobile apps
Though many still consider Cloud Computing to be a luxury option, in 2022, that won't be the case anymore.
The world has already started waking up to the benefits as well as possibilities that Cloud has to offer.
For instance, reducing costs in web hosting, improved loading capacity, and streamlined business operations are only a few benefits Cloud provides.
Nowadays, there are many security-related concerns being solved with the help of the Cloud, making mobile app development more secure, fast, and reliable.
Plus, with the help of Cloud technology such as AWS cloud solution, Dropbox, SlideRocket, and many more, it is now possible to develop powerful cloud-based applications. That means, we should also expect more powerful apps, requiring minimal storage space from smartphones to be released in 2022.
Cloud computing trends in 2022
Quantum computing
Hybrid cloud solutions
Evolution of cloud services and solutions
Mobile wallets - the mobile banking game changers!
There is no doubt about the fact that the demand for Mobile Payment solution app development is on rise, and with security being the top most concern among mobile app developers, the usage of mobile wallets is only going to increase in the year 2022.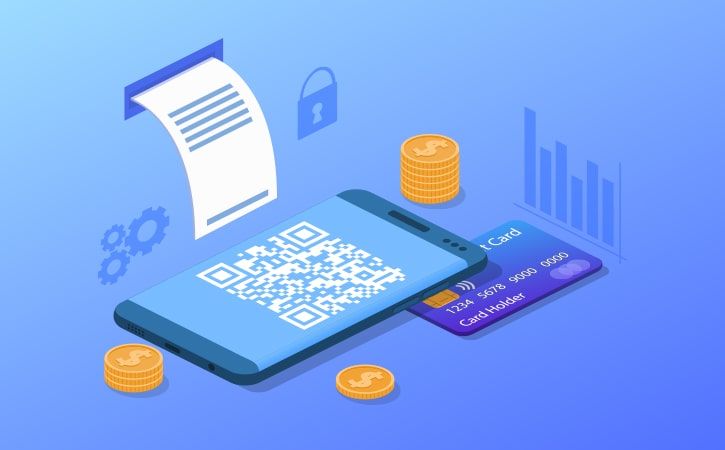 In fact, frictionless payment methods are what today's customers love to see in the mobile apps that they use.
So, in 2022, mobile wallets as well as payment gateway integration that offer highest level of secured encryption will become mainstream in the mobile app development world.
Mobile wallet trends
Over 2 billion mobile wallet users
More secure mobile wallets
Contactless payment
Blockchain - things beyond bitcoin & smart contracts
Ever since its debut, blockchain development has opened up a world of newer & exciting opportunities in the IT sector.
While in 2018, we all mostly saw the use of blockchain technology in creating cryptocurrencies and smart contracts only. But in reality, blockchain is more useful than you can ever imagine.
For instance, with the use of blockchain, it is possible to develop decentralized mobile applications.
Decentralized Mobile apps or the DApp is basically an application that is not only not owned by anyone, but it is also impossible to shut it down nor it has any downtime.
In simple terms, Blockchain is expected to contribute more to the mobile app industry by making the mobile app itself decentralized, just as bitcoin's blockchain did for money.
Future trends of blockchain technology
Asset tokenization
BAAS (Blockchain-as-a-service)
Trading on crypto-currencies exchange
Crypto space and gaming
Wearables - future's must have accessory
There is no denying to the fact that the market of wearable technologies is experiencing a rapid growth.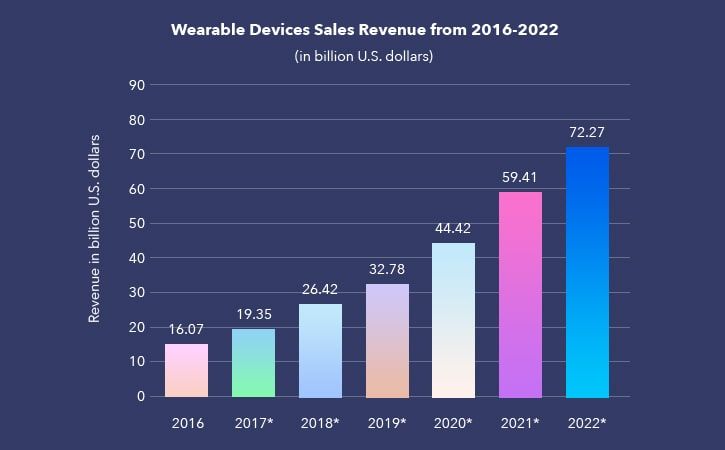 This means, there is not only evident amount of investment appropriated to the wearable market, but in the future the word wearable mobile devices and mobile phones will become just as superfluous as the word smartphone right now is.
Today, the main control panel of any wearable device is the smartphone. It means, to create a wearable the mobile devices must be paired with it and they also must be in close proximity.
But, according to the Co-Founder of UNA, Ryan Craycraft, our smartphone will no longer be the main hub anymore in the near future.
In fact, the wearable app development will have more ubiquitous connection directly to the web and may be even to our body. Apple Watch and Samsung Watch can be considered as prominent examples of this.
Wearables future trends for 2022
Wearable technology claims first spot in fitness trends
Increase in wearable watches causes decrease in sale of traditional watches.
On-demand development apps - the most successful business model of modern era
On-demand business model was once used to be called an inevitable bubble in the world of mobile apps. But today, On-demand is the future of mobile app development.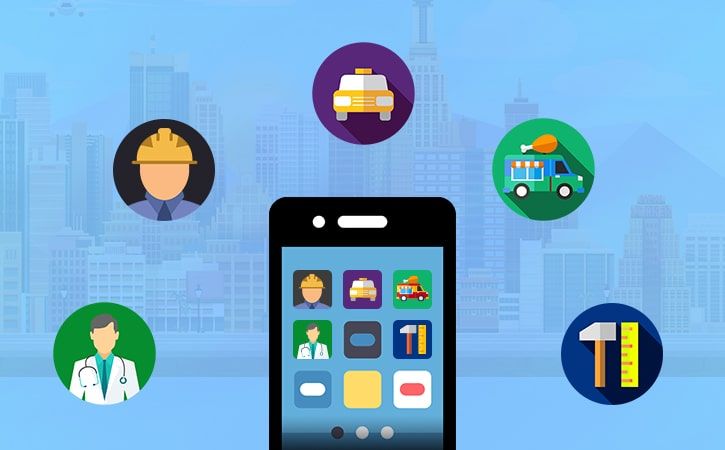 In fact, almost all industries have embraced on-demand like an old friend, and no industry is going to let go of such a successful business model in 2022.
To date, 42% of adult population have used at least one on-demand service. And, there is no evidence that this on-demand trend is going to fade away anytime soon.
All in all, the on-demand app development trend is here to stay, and the businesses that will not adapt, are definitely going to get crushed by their competition.
On-demand trends in 2022
On-demand food delivery
On demand grocery delivery
On-demand parcel delivery
On-demand medicine delivery
More focus on B2B sector
5G Technology
5G technology is a new-gen telecommunications network innovation that is providing lightning connection speed to mobile users. As per Opensignal's 2021 reports, South Korea tops the 5G speed ranking with 361 Mbps (approx.) download speed. On the other hand, Netherlands shows the highest 5G Upload speed of 34.7 Mbps (approx.).
5G is the latest networking norm that is on the verge of becoming one of the latest mobile app trends. Moreover, it is transformative for mobile developers as it expands the app functionality.
Going further, 5G also opens a door for creating more sophisticated Augmented Reality and Virtual Reality apps, streaming quality 4K and 360 videos, and introducing more interconnected IoT display devices into the competitive market.
Mobile Commerce
Since the beginning of the COVID-19 pandemic, mobile development has seen several brand new areas of focus. But the omnipresent threat of coronavirus has changed the user behaviour online, and users will continue using m-commerce apps to shop even after the pandemic recedes.
As we have already witnessed from the immense success of businesses from grocery delivery to all kinds of retail, mobile commerce holds its position among the steadiest and most promising mobile app industry trends. One-click ordering, voice shopping and omnichannel shopping are examples of this.
Building Apps for Foldable
Are you missing the old flip phones? Then you must be excited about foldable devices and smartphones. Creating apps that fully use the possibilities offered by an innovative foldable phone will put you ahead of the competition.
The app should be able to expand itself when the screen becomes considerate to a great extent. Also, the user can let it open new menus or tabs over the enlarged screen. In a nutshell, foldable devices can open up a lot of avenues for mobile app developers.
Cross-Platform Development for Future Apps
There is a vast range of operating systems available on the mobile market. That is why optimizing and coding applications for each platform is becoming tougher and time-consuming for developers.
Cross-platform mobile application development is the one-stop solution for this issue. It seems like the obvious choice of any developer or an app development company in today's time. A majority of developers today are edging closer to adding cross-platform mobile application development as part of their expertise.
When you create an app for the Android play store, you miss out on the iOS app store. But in the case of a cross-platform app, it means a huge market reach and increased profits in the future. So it is advisable for the business owners to choose application development type and mobile app development company wisely.
Voice technology
When smartphones get combine with AI, IoT, smart devices and smart speakers, the outcome is voice search. From Alexa and Siri to the latest Google Duplex that can mimic humans, tech giants come a long way.
Voice search integrated with artificial intelligence is reshaping e-commerce & m-commerce. Being one of the popular mobile development trends in 2021, businesses and service providers can extend their market reach by developing a wide range of AI chatbots or voice assistants.
Biometric authentication
Passwords are the oldest and popular way of securing data or sensitive financial information. However, passwords often become the soft target of hackers and cybercriminals.
This fingerprint function is used as a substitute to verify transactions of greater transactions, making it simpler and quicker for the target audiences to complete their purchases.
On the contrary, the facial recognition payment service is where consumers can use their faces to make a payment. This will ensure the utmost security & privacy along with offering a rich personalised experience.
Geolocation-based apps
Integrating real-time GPS tracking software into your mobile application is a prevailing mobile app trend. Nowadays, you can serve your customers directly by developing an on-demand app for your delivery business. On-demand apps will let you deliver anything directly to your customer's doorsteps.
Delivery apps can improve user experience by informing clients where their delivery person is at the moment and how soon they will arrive. Besides on-demand delivery, geolocation-based apps are useful in the automotive industry, travel, hospitality, and sports apps.
Virtual events streaming
Video streaming is helping both event organizers and attendees by letting them choose the way they wish to communicate and attend these business conferences, webinars, presentations, large meetings, or live discussions to boost customer engagement and reach out to more potential customers.
Apart from this, streaming apps help with ongoing training sessions on a daily, weekly and monthly basis. You can even use them as an event planning app to conduct a panel discussion on a particular topic and ask viewers for opinions. This will eventually extend your user base.
Enterprise Monitoring and Management & Application Performance Management
APM stands for Application Performance Management that helps a business organization to ensure that its critical apps can meet pre-established expectations of availability, performance, or end-user mobile experiences.
Information Technology environments are interdependent among several cross-functional intersection points and interconnections. And enterprise monitoring is the first step towards an efficient interconnected IT infrastructure that allows you to deliver the best customer experience. Splunk, Nagios and Tanium are some popular enterprise and management systems.
2022 & Beyond…
We believe that staying up-to-date with current trends as well as technologies is the key to keeping up with ever changing customer demands as well as the competition.
And we hope that with this blog, we've shared great insights for mobile app industry trends for 2022.
If anything, by any chance, has been left behind by us, please let us know in the comment section below.
We are a reputed mobile app development company that promises to perform thorough research and provide in-depth insight on request.
Also, while it would be difficult to identify the exact benefits to your business of all these mobile app development trends, and if that's the case, just reach out to our expert. We will guarantee to make your app stand out in mobile app market.