Money has been an important aspect of all our lives for more than 3000 years of human history.
In this long period, the concept of money has undergone tremendous transformation right from the barter system to the Bitcoin.
From making payments by exchanging goods & service to establishing the concept of fiat currency and then going to cryptocurrency, we have seen a lot.
Nowadays, money is available in both physical and digital form. The latter is more prominent in the age of technology.
Digital money has solved many of our problems and have laid a platform for the creation of numerous payment methods and technologies to further make our payment experience convenient.
Digital wallet solution is one such method. In the past 5 years, digital wallets have grown to become one of people's favorite modes of payment due to its ease of access and utmost convenience.
It's also true that in the year 2021, digital wallet apps are no longer used to store just money. In fact, they have become a way more than just a simple wallet app.
Each year we see new technologies being introduced in the wallet apps that makes it more advanced.
And 2022 is no different. This year we will see a tremendous growth in the usage of wallet apps.
So, if you're an entrepreneur and are looking to develop a digital payment app, then you must be aware of the trends which will dominate in the year 2022.
So, let's have a look at the top five digital wallet trends that will dominate the year 2022.
Smart speaker payments
Home assistant or smart speakers have a tremendous growth over the years. It allows its customer to speak with them.
Moreover, customers can give commands and receive voice responses. They can give commands for various tasks such as: getting a weather update, booking Uber, or getting info about a nearby restaurant.
Big names like Google, Amazon, and Apple are in this smart speaker race. Amazon was the first to take a stride by launching its first smart speaker way back in 2014.
Whereas, the Google joined the race in 2016 with Google Home. Apple was the last to come up with its smart speaker in 2017.
Home automation has become mainstream in the past few years and it has contributed to the advent of the smart speakers.
And now, smart speakers have become a convenient way to control home automation.
According to Statista as of November 2017, 82% of the people used voice assistants to seek information. Whereas, 67% of respondents used to play music and stream videos, and 35% of the users bought products like groceries, home care, and clothing.
28% of the users used voice assistants to make direct payments and to send money. Similarly, 34% of the users ordered meals and 28% of them booked an Uber or other taxi services.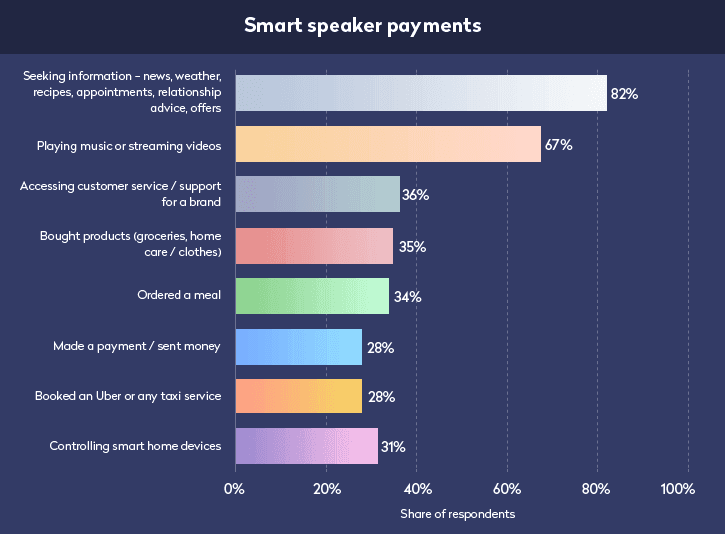 The proportion of users using smart speakers to make payments is less as compared to those who used it to seek information due to security concerns.
TNS in its press release confirmed this as it found that 74% of the users had security concerns for the payments made over voice assistant and said that they might stop making payments due to it.
However, it's also true that the voice assistant or smart speaker technology will become more secure and convenient with the time.
And that's the reason why we see big names like Google, Amazon, and Apple investing heavily to be the first to come up with an advanced smart speaker solution.
Perhaps Amazon has taken an early lead with Amazon Echo, where a user can simply command the voice assistant by saying "Alexa, what's the weather forecast for today?" and the assistant would respond to your command.
Other companies have also partaking in payments via smart speakers. For example, Domino's now allows its users to place orders via Amazon Echo.
It's important to notice that Amazon early on decided to allow various vendors to use their smart speakers.
In future, we may see many other vendors tying up with Amazon to render a smooth and convenient payment experience to their customers.
The future of smart speakers in US seems promising. BI predicts that the usage of the Smart speaker for payment will increase from 18.4 million users in 2017 to whooping 77.9 million users by the end of 2022.
In other words, almost 30% of the US population would be making payments over smart speakers.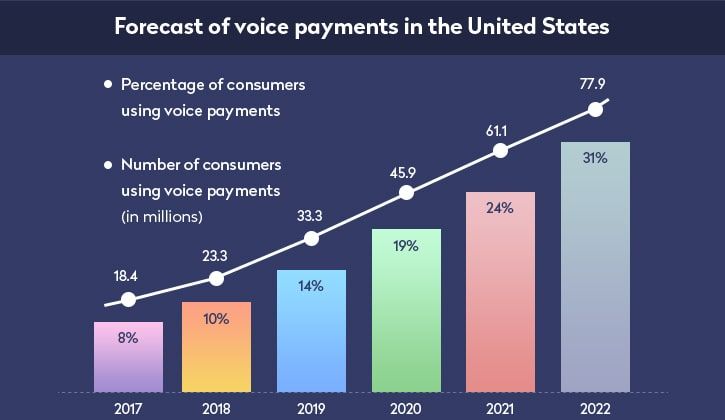 Juniper has predicted that the IoT payments which includes the voice payments will see a mammoth growth from $24.5 billion in 2018 to $410 billion in 2023.
Sound waves-based payments
The sound waves technology is relatively new and is compatible in most of the smartphones. With this technology, the transactions are processed without any active internet connection.
Many digital wallet solutions are looking to leverage this technology for its ease and convenience.
In this type of digital wallet system, the transactions are processed through sound waves that carry the encrypted data of the payment.
The sound waves originate from a terminal carrying the data to the mobile phone. Here the phone converts the data into an analog signal which concludes the transaction.
As mentioned earlier, the sound wave technology is in great demand and it's due to many factors. Unlike NFC, which uses the inbuilt technology, in sound waves, you just need a simple software installation.
Moreover, there's no need of an extra hardware. All these factors make this technology, simple, effective, and most importantly cost efficient.
Read More: How Much Does It Cost to Make Wallet App ?
Cryptocurrency wallets
Till date, there has been astonishingly over 40 million cryptocurrency wallets created. There has been a steep rise in the number of cryptocurrency wallet users despite of the market ups and downs.
This positive trend has continued throughout a span of two and a half years. Moreover, it has steepened in the last year.
According to Statista, that has compiled the quarterly data for a three-year period from Q1 2019 to Q1 2021 shows that the total number of cryptocurrency wallet users have rocketed from 34.6 million in Q1 of 2019, to 63 million in Q4 of 2020 and over 70 million at the end of March 2021.
It's clearly visible from the graph that there has been a constant increase with each quarter witnessing more users than the previous one.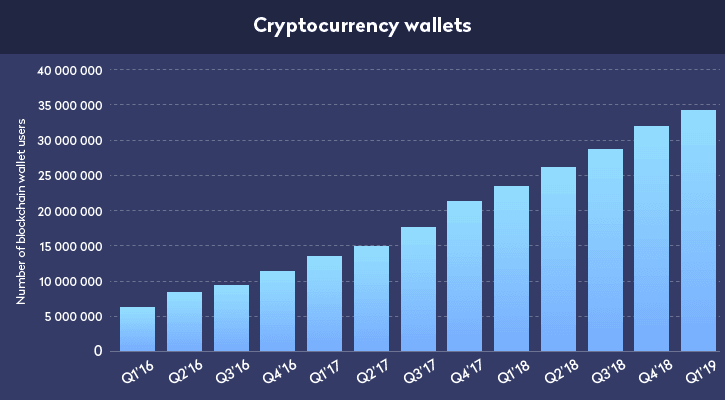 What's more interesting is that, this trend dates back as early as 2013. The below graph by the blockchain.com shows you exactly this where you can notice two major spikes.
The first spike occurred somewhere between November 2017 and January 2018, where the number of users took a huge jump by 2.5 million.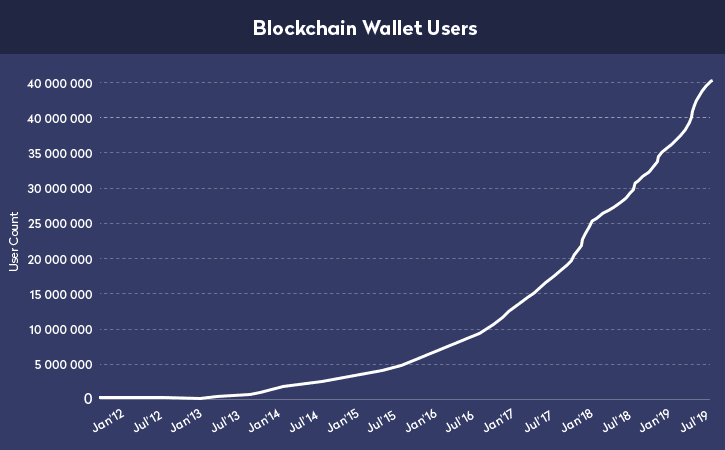 The second spike is pretty recent which saw a jump in users by almost 2 million. This occurred on April 2019.
According to the Blockchain.com, the total number of cryptocurrency wallet users by 17th July 2019 is 40,519,048. This number was a meagre 5,800 in April 2012.
The difference between the two numbers tells you the story of cryptocurrency wallet's exponential growth over the years despite of all the hurdles.
It's expected that more than 2.1 billion around the globe would use a digital wallet solution.
With the digital wallet market expanding every year along with fast internet services enabled by 5G networks, we might see many players coming and incorporating various technologies to build their cryptocurrency wallet.
Near-field communication (NFC) payments
NFC payments are growing rapidly in the UK. The below illustrates this fact well. Here you can see that how the usage of contactless card transactions has undergone a steep progress in the last five years.
The number of contactless card users were 14 million in 2014 which became 644 million in the initial months of 2019.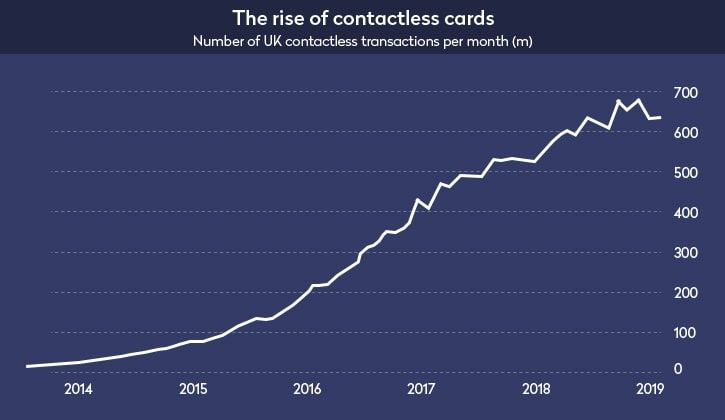 Contactless digital wallets that use NFC technology are Google Pay, Samsung Pay, and Apple Pay.
Now, let's see how it works. Phones enabled by the NFC technology communicate via NFC card machines by close proximity radio frequency identification.
These mobile phones are not required to touch the point of sale in order to transfer the information which is money. However, they do have to touch it if it's a few inches away from the terminal.
NFC is better than the PIN technology since it almost instantaneously transfers the encrypted data to the point-of-sale device. Whereas, the PIN technology takes a longer time.
NFC is used in many countries for various applications. For example, in London, it's used in tube stations and buses where the commuters tap their travel card and make payment via NFC.
Similarly, in China NFC is a widely used mode of payment in all the public transport. In Japan, NFC is used to give identity card information.
UK finance which represents many banks and other financial institutes believes that in coming future the usage of NFC contactless payment will increase.
They predict that 36% of all payments will be made via NFC enabled contactless cards by the year 2027.
International remittance
International remittance is one such another trend that has witnessed immense growth in the last year.
As per the statista, the total global remittances for the year 2020 amounted to 702 billion U.S. dollars which expecte to increase in coming years.
They also estimated that the remittances for the countries having lower and middle income will grow at a slower speed of only 4% in 2019.
However, in the US the number for international remittance will grow at a rapid pace.
Only in 2019, the estimated total amount of remittance in the US is $79,327. And this number will increase by up to $143,096 in the year 2023.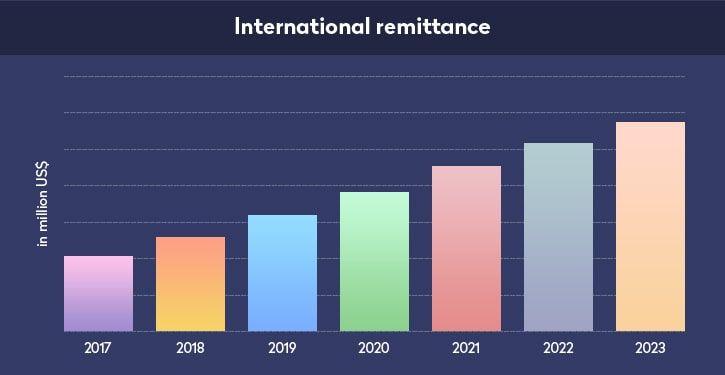 A rampant penetration of the mobile phones has aided heavily in the adoption of digital wallet solutions for the remittance.
It is estimated that by 2024, the adoption rate of mobile wallets globally will be 3 trillion.
Digital technology is quickly transforming the whole landscape of the remittance industry.
India ruled with remittance receipt of total $80billion which was followed by China's $67billion. Mexico and Philippines were at $34billion and $26billion respectively.
In the coming years, we may see such numbers from all the countries across the globe and as total revamp for the remittance industry powered by mobile wallet solutions.
Conclusion
Digital payment solutions are here to stay. It won't be wrong if I term it as the future mode of transactions.
Mobile wallets which started as a simple mobile application for payments have come a long way. But its journey is not over yet.
In the coming years, we will see many pathbreaking and cutting-edge technologies introduced in the realm of digital wallet payment. As of now, these five are the most interesting trends of digital wallet solutions for the year 2022.