The idea of developing a mobile app may scale with time as it involves several modifications throughout evolution.
A mobile app development idea may turn into a solution addressing some of the existing crucial problems that your prospective end-user may be facing.
One has to be considerate for MVP app development as the early stages of planning involve an app to deplete before growing big.
And that is the reason why your idea of developing a killer app needs a feature set to start with.
Understanding feature set for app development
A feature set comprises of a bird-view of all sets of a description of the functionalities that you want to include in an app.
This comprises of all the 'must have' features and information necessary for users to address their concerns.
Moving towards an end-product will need to have all solutions offered to users for that including the best UX/UI design.
Imagine a user needing the taxi app for booking cabs. You will need to integrate not only the booking features but also maps and alerts.
Solving the user problem becomes the part of a feature set and therefore adding more value to app means enable in-app calling, in-app navigation, route sharing, ridesharing option, and also the real-time location sharing.

Listing down such features will help you to gauge user expectations versus the app offerings.
While it looks easy at first but features set not merely a list of cool, relevant features without having any specific agenda.
Best if you create a centralized hypothesis for the feature set depending on your targeted users to get discover its real value.
Mobile app development ideas that scale to feature list need to have an approach that involves the following:
Finding and targeting your app audience
You simply cannot proceed further towards without identifying your target audience as app users.
No, you cannot have 'everyone' as your target audience and that is why there is a need to funnel your TG precisely.
Like, even if you think US teenagers are your TG, you still need to dig down to our niche because that's plenty.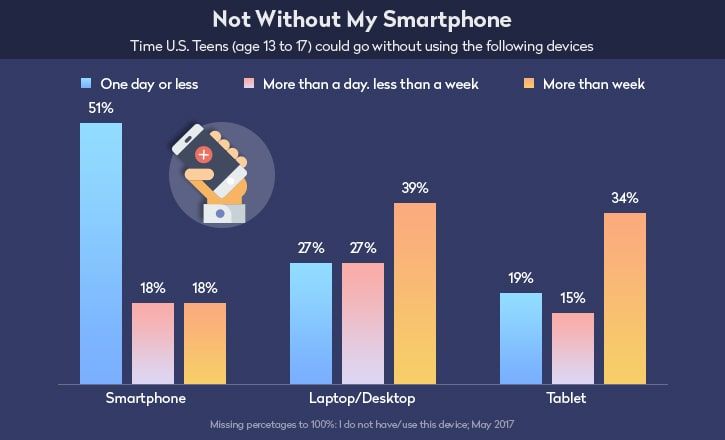 They can do away with their computers and other hand-held devices but not their mobile phones.
Start finding the data that gauges a specific audience for your new Android or iOS app.
This activity also helps app marketing and in the idea development process. Ideally, at the stage when you are developing an app idea, look around in communities and subgroups who actually need a mobile app to solve their problems.
Try asking how can your ideas of making a mobile app can simplify their day-to-day life? If you fail to answer this question, then you probably need to start from scratch and figure out how and to whom this app idea will work.
Uber is an ideal case study for this. Just when taxi drivers and passengers were both finding it difficult to catch hold of each other, it came to rescue.
Such mobile application ideas can really turn the fortunes of all the parties involved.
Turning ideas into the product by eliminating all the possible friction is a great way to launch a mobile application.
Read More: 10 Questions startups must answer before build an app
Start with clearly defining the audience group and build your own product accordingly to ease up the process of validation.
Picking up the right app platform
No matter the idea of app development – be it iOS or Android app development. Understanding the difference between Apple's App Store and Google's play store is important.
Consider the below stats to know who uses what the most.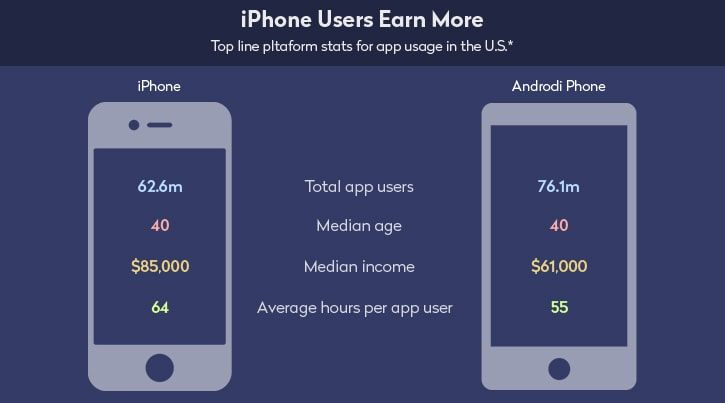 Again, simply following the data to have a rational conclusion is not an ideal way out. Consider the app spend too as iOS users are likely to spend in-app compared to Android users.
If you an android app development idea, go ahead and make an app exclusively for Android as its easier to create an publish.
This is because of lesser restrictions on Google Play as compared to Apple's app store. Its quicker, easier and cost-effective option to accelerate from MVP stage.
Note that it's a decision to make and not apt of this route because it's cost effective as there are plenty of factors involved in developing an app from an app idea.
Right from target market to device availability to ease of use and UX, you need to get all things covered. You've got to go back to the target audience that we defined earlier.
Considering the target market for the platform makes a huge difference in defining the feature set.
For markets outside the USA, designing app for Android makes much more sense than creating an app for iOS as there are more users of the latter in the US.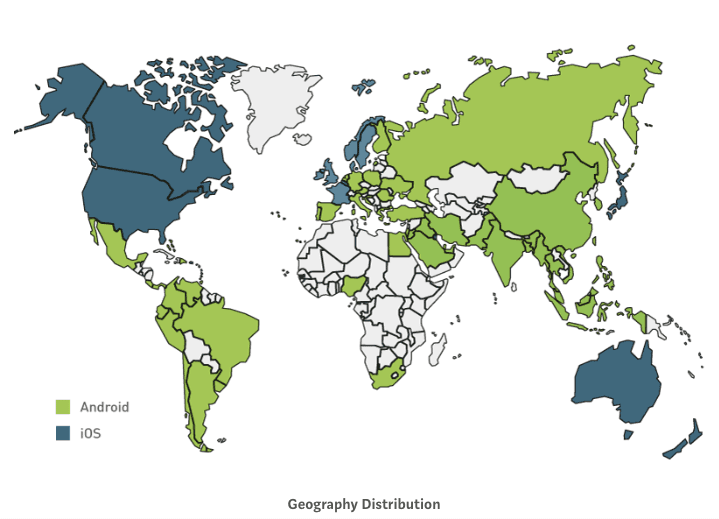 While the USA is half-divided, globally, Android phones are well soaring over 80% of users.
Another aspect here is to consider what strategy you are opting to monetize your mobile app idea.
Your monetization strategy can also impact which platform you decide to develop for mobile app ideas.
When strategy involves charging people for downloading the app, iOS app development is a better option.
If you want to charge users to download your app, it's better to build for Apple. For Android app ideas to develop and make money the two best options are in-app purchases and ads.
You'll get less money per purchase, but have access to more users. And then there is another option altogether caters to both – Android and iOS users.
A separate app for android and iOS users giving them the power to utilize feature-set of both.
But, this is certainly not a feasible option as app startups are may incur a lot of cost in developing such an app by hiring two distinctive development teams.
An ideal workaround in such a situation is to develop a hybrid app that suits the Android and iOS platform. This is because it spares you from writing two sets of distinctive codes.
The cost of an app development here reduces significantly with the ability to build PWA with minimal functionality.
This means you will have to plan your feature set accordingly depending on the type of app that you're making.
For hybrid apps to leverage the maximum capacity of both platforms, both the OS need to match somewhere with the existing technology.
Read More: Native Mobile Apps VS Hybrid Mobile Apps
Shaping up high-value, high-target feature set
Getting a feature request from multiple sources quite usual for the one who's in charge of overlooking the mobile app development process.
It may come from an internal team, users, prospective users, current customers, sales team or even from stakeholders.
Each suggestion may not yield value or prove feasible on the first go, but looking it from a different perspective may add value.
Consider risk associated with a particular feature and see if it is worthwhile to take such risk.
Another thing about blending in the high-value suggestion is getting way too overwhelmed with the noise around it.
Try filtering such noise and focus on something that is more relevant. You may even end up identifying gaps in the product development idea.
The primary goal and function of the app should never deviate. Each feature that you add in a feature set must contribute to the cohesive app idea and be able to achieve app goals in an effective manner.
Don't have a mixed bag of features as a marketing gimmick as this deteriorates the user experience and is a counter-productive technique.
Never offer everything that's possible but cover a couple of aspects in the best possible manner. This helps in developing high-value features that add far more value to usability.

Driving app marketing through launching features
Sharing the significant app data is most crucial when it comes to chart out the app feature set.
Only then you can successfully proceed towards creating a roadmap and move away from app idea towards the development phase.
Start by defining what customer demands to what they need and then see what you can provide.
This helps to funnel your feature set better to tailor the mobile app exclusively for your target group.
And once you plan to cater to that requirement plan to include that feature in a more intuitive manner without compromising the app's ultimate goal.
Expecting users to immerse in the app is a bad bet and you should always comprehend how users are going to use it in their everyday use.
Such a proactive way to develop application will involve marketing team to gather feedback and contribute to scaling the app development idea towards final product development.
Bringing in real time users for usability testing is a great way for targeted feature development based on data collected from the first-hand input.
Developing a feature set is not an end but the beginning and it starts with polishing and finishing up the features you mount on the mobile app.
Testing and QA for such feature set is important to help market the app to its target users.
Also, allowing the marketing team to blend in at this point makes sense as they will have a better idea of customer expectations and therefore may have some suggestions and tweaks to make the final product more appealing.
No feature set is complete without the training given for it to all the people involved.
This not only includes sales team but the marketing team, tech team, and support staff along with the marketing team.
The best testing happens internally; within the team and outside the development team to see if all the implemented features deliver what it promises and see making everything that works best as a part of app launching feature.
This is the best way for your app to create its own distinctive identity right at the launching.
Conclusion
Again, it boils down the above-mentioned points to implement step by step in the process of an idea for app development.
Right from the color scheme, look and feel of the app, logo, design, and typography, everything should be a true reflection of app stands for.
With right research on a target market and designing app purely on those grounds will require the mobile app to deliver just what is expected and in fact, surpass the current industry standards to stand out amongst the rest.
The feature set will have all the necessary branding elements blend in the app to make it a comprehensive experience for users to create a buzz at the launch stage.
Most businesses delay the app launch until all the features are integrated into an app.
This not only wastes time but also pose a threat to the business of snatching its exclusivity.
For any feature that may be the market first delaying the app release will only compromise the first mover advantage that you may get.
The app idea to development will involve a range of feature set mismatch and balance but nowhere will it deviate from the final goal of developing a mobile app that you defined initially.