People living in Alpha cities like New York, Dubai, London, or Mumbai have two biggest vows: busy traffic and lack of parking space.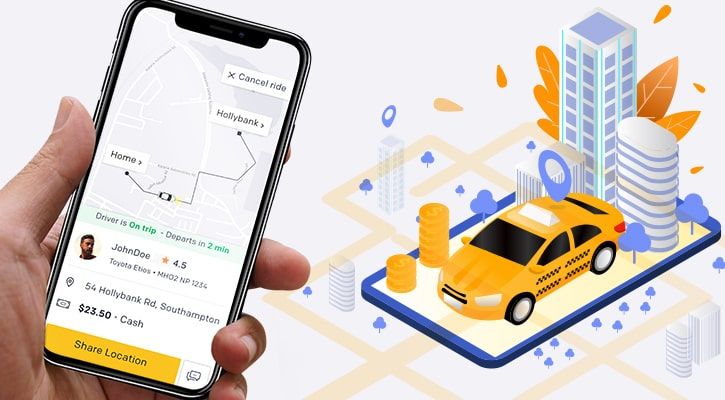 They are less likely to buy cars and rather rely on ride hailing apps like Uber and Lyft. The advantages are many.
They don't have to worry about car repairs, a permanent parking space, and driving themselves in busy traffic.
For investors seeking a fresh investment opportunity, investing in an app-based taxi booking service is a great idea if they are not investing building an Uber-clone of their own.
Even with dominant players like Uber and Lyft in the market, private-hire car business is still a thriving one as long as you stick to a staunch roadmap and learn from your competitors' mistakes.
Staying relevant by bringing changes
What sets apart Microsoft and Google is the latter's tendency to stay relevant to changes. The same goes with Uber and most of the modern-day startups. Like Uber, they don't make many mistakes.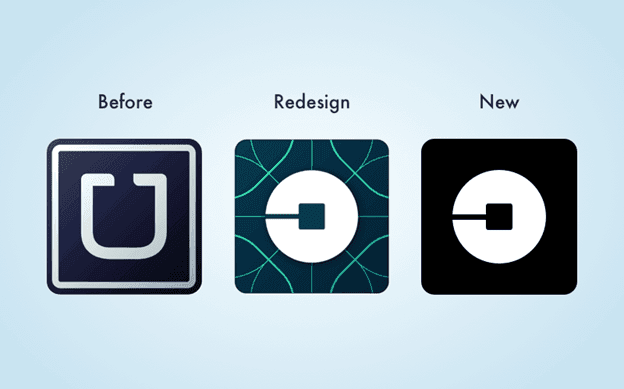 Despite being on the top of private-hire car business for many years now, Uber keeps reviving its brand identity. Did you notice Uber changed its logo thrice since its inception?
Booking apps are mushrooming everywhere. Mobile technology has made it pretty easy and possible to run a business through just an app.
But, the problem with mobile startups is such that there are plenty of good ideas already in the market. What is missing in the business is the uniqueness of idea.
Because of the rapidly advancing technology, there is a fair amount of possibility of your indigenous idea wooing plenty of customers in some corner of the globe.
Take a look at Uber's success. Since its inception, in 2009, Uber is pleasing users across the globe. But this doesn't restrict the idea of taxi app development services.
If you consider the idea exploration globally, there are more than hundreds of taxis booking apps.
But what has evolved over a period of time, since the inception of Uber, is technology development on the booking front.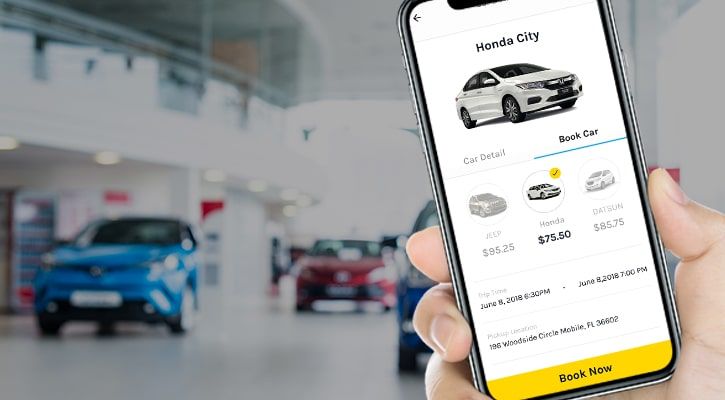 Effectively adapting ride-hailing apps as an extension of your taxi business.
There are several examples of cab booking apps in the market. This kind of business can create mobile apps for the extensions of their services.
A complementary mobile application can surely make end user's booking experience easier; while at the same time ensure growth in client base.
The app tracks your booking history and offers credit and cash booking options.
Extra features for this type of app might include driver location IDs and taxi tracking for those customers who are especially impatient.
Read more: Understanding the Taxi app Development
Read More: Understanding the Taxi app Development
It must be ensured well in advance, that developing a mobile app for taxi booking should yield feasible business goals.
So, it is always advisable to ask few of these questions before launching a taxi mobile app.
What is the scope of developing this app? Envision one

Who are your competitors? Identify them

What are competitive strengths and weaknesses of your application? Understand those

Is there enough audience to download your app? Conduct a survey

Is the future quantifiable? How long-term or short-term the app goals are? Get them right
After this, take the generic decision as to which way you plan to develop an app. You can either go for a native app or a cross-platform app.
Once you fix upon the desired platform, the next step is to chart out the requirements. Generally, these requirements are then communicated to the app developers.
The two crucial parameters must be followed all the time while communicating the requirements to the developers. This includes;
Marinating greater transparency: In order to create a cohesive taxi booking experience, it is very crucial to follow the fair pricing policy and maintaining the booking rates for users.
Maintaining the customer-friendly fair pricing policy is very crucial to the success of taxi booking app and this must be communicated precisely to the developers.
Speed and efficiency in hiring: There are many customers who are always in need of the taxi on urgent basis.

While on the other end there are drivers who are idle and constantly looking for the customers.
The symbiotic mechanism must provide a cohesive solution to meet the needs of both the parties involved.

Once the requirements are up, there are certain places where app must function effectively to ensure the highest amount of customer satisfaction.
Few of the points must be kept in mind while developing taxi app like uber. This includes;
The app must have a user-friendly studio which provides benefits to both passengers and drivers.

Ensure all the features are available easily to customers by with simple yet effective UI.

The app must be competent enough to calculate the fare based on the selected route.
But whatever you choose, make sure that you implement right tools for developing a taxi app. This includes;
Features for riders
Ride-hailing mobile application like Uber consists of three parts: Rider's Application, Admin panel, and Driver's Application.
The admin panel mainly remains behind the scenes whereas the other two are the direct means of providing your services to both riders and drivers. Below are features you must have in your taxi app.
Fare calculator
Uber and other taxi booking services have often faced the criticism of surge pricing. To ensure that your service doesn't have to face this criticism, you must take some measures.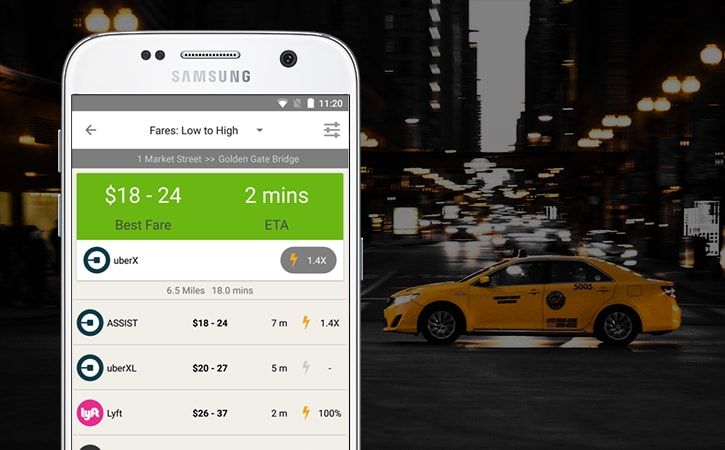 Introducing the feature of Fare Calculator is one of them. Fare calculator helps the customer to know how much they have to pay when they are about to book a cab.
These prices are subject to change due to a few factors. However, it will provide a rough idea which will be very beneficial for the customers.
Saved locations
It was found that most of the commuters in Uber were traveling through the same routes where the place of origin and destination is often repeated.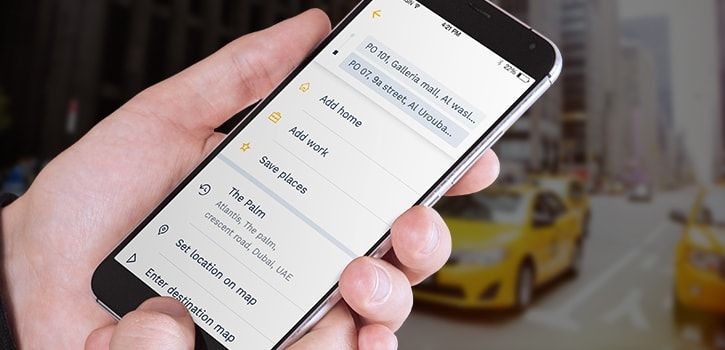 So, Uber included an option in which riders can save their destination and source.
This feature helped passengers in a significant way as they don't need to search for the destination every time they book a cab.
ETA & status
It's human to get late by few minutes due to several reasons. However, it is highly inconvenient to let your loved ones waiting for you.
Uber integrated a feature which allows you to share your trip status with your friends and family, assuring them that you have a safe trip.
Family members and friends would receive a text with details such as drivers name, vehicle number, location and estimated time of arrival.
Payments
Payment is one of the most crucial aspects of a cab app like uber. Make sure that service accepts payments in all forms.
Cashless payment mode of Uber was not much appreciated in developing countries where riders prefer cash.
Ensure you have Wallet, Debit & Credit card, Cash and Net Banking options available.
Taxi tracking – In this feature, passengers can track the location of the taxi driver. In this way, they can determine how much time they will reach.
Fare splitting
Many times, users travel in groups and face difficulty while calculating the share of each rider.
Uber introduced the split-fare feature which splits the fare and calculates share percentage for each passenger. Hence, saving riders to do complex mathematics!
Extra stops
Rider many times needs to make multiple stops during the trip. For example, someone is going to his or her friend's place and unexpectedly realizes that he/she forgot to take the wine.
You don't want to be a rigid service who can't accommodate such urgent needs! So, you need to make sure that your service is flexible enough that a rider can make multiple stops if required.
Book for someone else
We all have faced the situation when our parents struggle with technology, and we are their only savior.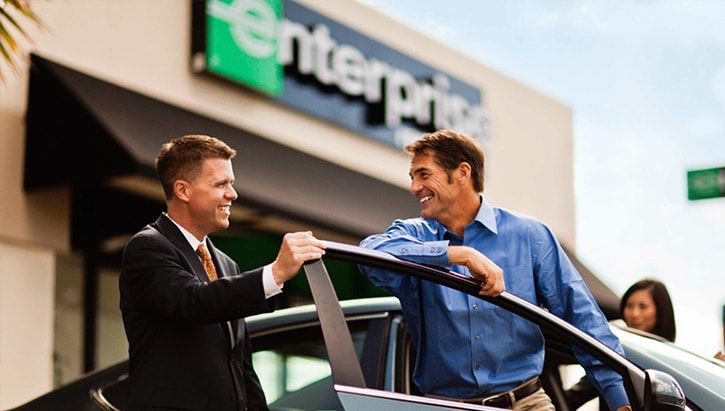 Many a time we are away from them, and they can't book a ride on their own. For such instances, Uber introduced the feature in which you can book trips for others.
Features for drivers
Working on Driver's feature is equally important as they are the backbone of your service.
You should try to meet their demands and keep them happy. Below are a few features which you must have in your Taxi App solution.
Driver's profile
This feature includes complete details of the driver. These details are its basic info and vehicles number and registration details.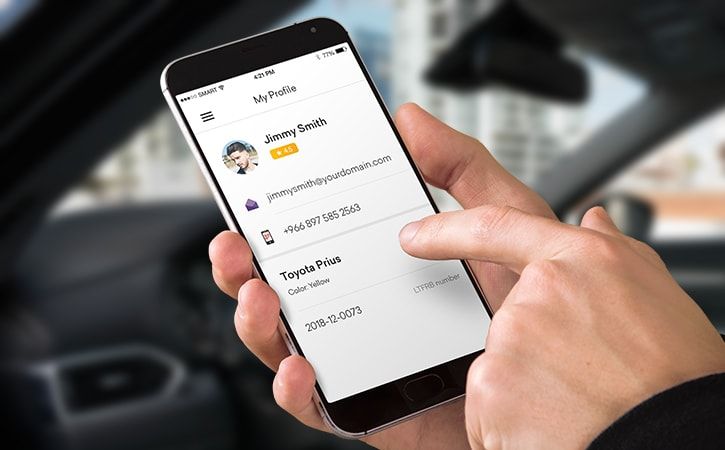 This feature serves during verification of the driver.These details are important as they enable recruiters to know whether the driver is available or not.
GPS tracking
It is impossible to imagine a driver's app without GPS tracking. It is the most important feature as it assists the driver to search customer's location, drive through optimal routes, and reach the destination with the utmost accuracy and minimum delays.

Alert & notification
This feature is an essential one as it allows drivers to receive notification as soon as a customer nearby them has requested for a cab.
After receiving notification, the driver will choose the shortest route to reach the customer at earliest.
Track earnings
This feature lets your driver track its earnings after a certain period. It helps them to plan their day in a better way.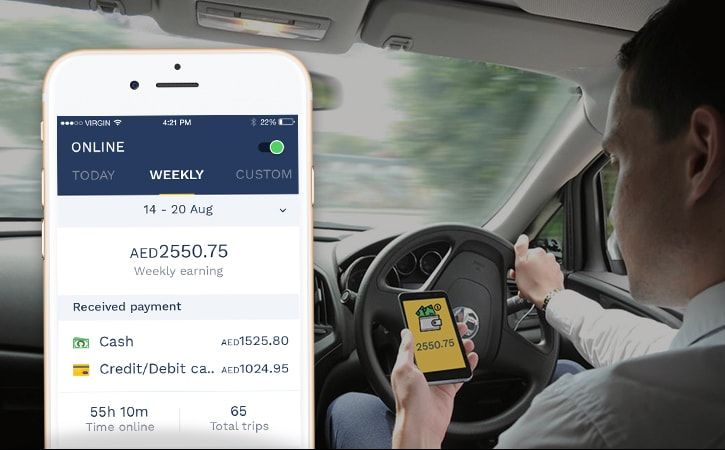 Uber announced integration with Quickbook software which allows their drivers to check all their expenses including toll and gas payments.
Finding nearest fuel station
Uber introduced Fuel Finder in 2016 which helps the driver to find the nearest gas station as soon as possible with navigation and fuel prices.
Choose your route
To make the driver's life easy you can also include a feature very similar to Uber which allows the drivers to choose their most used paths.
Once the driver sets a route, then Uber automatically finds trips along that route.
Advanced features
Preferred Vehicle
Users can select their own type of vehicle or taxi with the help of this feature.
Heat Map
This is an important feature, it shows the busiest time of one location. It assists to see the real-time driving map of the cars so that the concerned driver can take appropriate decisions. It also helps in keeping the track of surge prices on the app itself.
The all-important admin panel
If you're looking to starting a business like uber, then a robust admin panel becomes an essential component of it.
An admin panel is nothing but a web app that stores, reviews, and manages all the activities pertaining to the ride-hailing app.
It offers a comprehensive overview of all the processes along with suggesting accurate navigation to the drivers.
Moreover, it also manages payroll, revenue, and collects all the important data on your clientele.
To manage all the daily operations and processes without a robust admin panel is a task next to impossible and especially that too when operations are scaled.
So, it's highly suggested that while you create an app like Uber, you must start working on its admin panel from the day one.
GPS based implementation of maps and locations
Taxi booking app needs to be dedicated for handling multiple user requests. This makes sure that taxis are routed to user's desired or current locations. Also, it is important to ensure that taxis reach on time.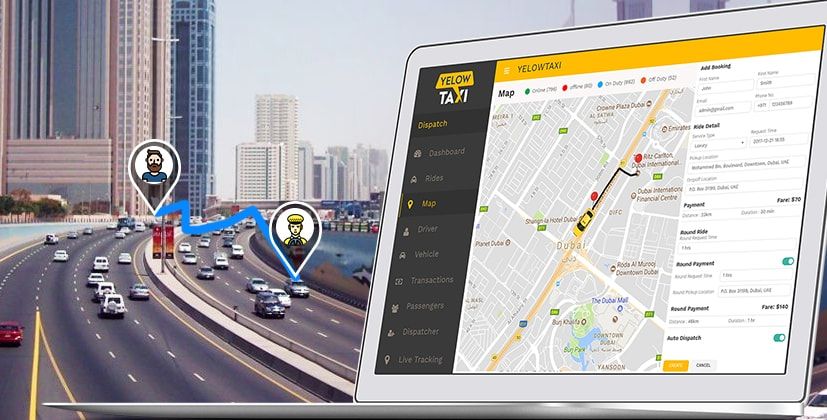 Therefore, estimated time of arrival (ETA) must be generated on the basis of current traffic scenarios.
In order to incorporate above-mentioned requirements, it is important to integrate Apple Mapkit framework. This helps to embed fully functional map interface.

This provides compressed user surroundings. For Android-based taxi app development, Google Geocoder is to be used.
Credit card information for hassle-free bookings
The client may change his mind after making taxi reservations. This may lead the probability of cancellation wide open.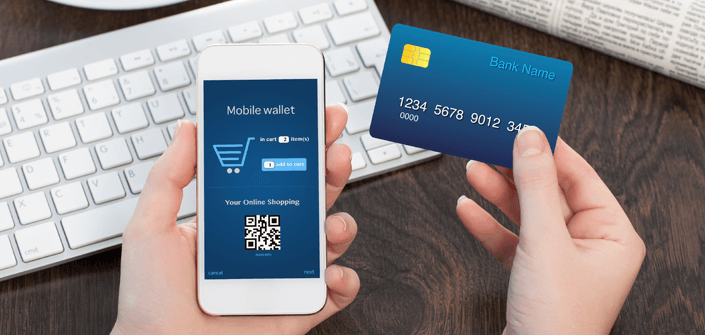 In order to avoid this situation, it is recommended to implement payment via credit reservations with the user's credit card details.
Integrating the variables
One of the simplest ways to integrate single app for all the taxi clients should typically include a list of cab services.
This information is merged with their prices along with the possibility to call and order the cab directly from the app.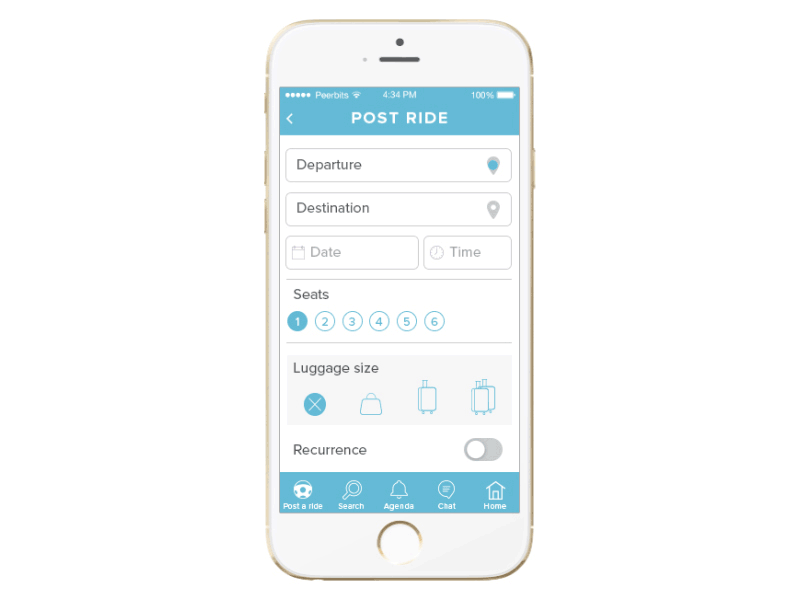 Ideally, adding a map with the destination points and an approximate price calculation of the ride according to the given service prices.
Solving the server problem
The most comprehensive solution involves building relationships with a server. The ideal way is to partner with either a taxi company or individuals by building an app with two discrete interfaces — one for taxi riders, the other for taxi drivers.
It is important to deliver push- notifications for both the parties involved – the passenger-facing apps, and driver-facing apps.
Check our programming article on how to implement and enable push notifications in your taxi booking app.
Once the requirement alert is sent to the driver, the ball goes in the driver's court. Here, the driver has to press the button on his mobile device and start the car.

It is important for the driver to have customer's correct location. This is done from another server which fetches the customer's location information and transmits the same to the driver.
Integrated payment system
There are plenty of ways through which you can implement various payment gateways.
One of the most important aspects in incorporating the framework is selection of suitable framework for the app. various frameworks include;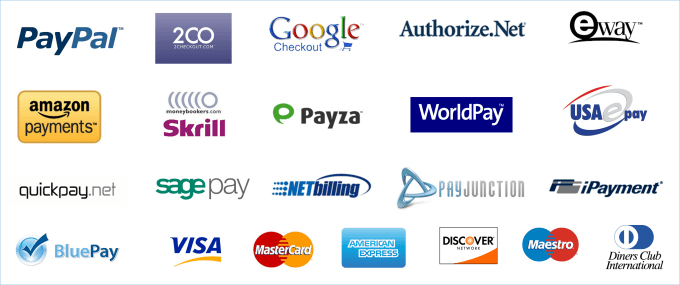 Braintree payment system; collect customer payment information via client SDK in a number of ways.

Venmo touch; incorporates one-tap purchase without the credit card information input.

Stripe APIs; One of the most robust and developer-friendly APis for cross-platform taxi app development. This includes Android and iOS.

Paypal SDK; RESTful and NVP/SOAP APIs to help you create a payments solution for the most popular platforms and languages to simplify integrations.
The above-mentioned roadmap can have one last milestone; a feature to rate drivers. This will contribute add to customer experience improvement and your app's overall rating.
Getting the cost of developing an uber-like app
It must be clear that cost of developing an Uber-like app depends on various factors.
But the first step towards developing a taxi app involves building an MVP for the mobile interfaces.
The native experiences are expected to derive from the parallel development efforts while building for Android and iOS.
In order to control the critical operations, there is an admin which doubles up as a CRM and a dashboard at the same time.
The entire model is connected with the help of APIs operating on the central databases and control logic while part of the backend framework is constantly up and running on the cloud.
Hence by keeping all of the above factors in mind, the cost of developing a taxi mobile app varies as there are different needs adopting the distinct set of protocols.
Let us assume that developing a scalable platform which can handle 500-1000 transactions a day will require anything in between 450 to 600 hours.
Not only this, but the entire ballpark amount depends on other factors also, this includes;
Number of platforms on which MVP is launched

The structural complexities of the business model. E.g.; using referral code, integrating social media for booking taxi, competitive pricing, etc.

The region or a country where the app is developed as the hourly rates hugely depends on the same.
Conclusion
Taxi app development is risky yet worth a try. Uber, Ola, and Lyft are already leading in this vertical.
However, the saying "Change is Permanent" encourages us to remain optimistic.
Cab service market is still open for exploration and with new technologies arising and changing market dynamics you can be the owner of the next big thing in On-Demand Cab Services.