The ongoing protracted crisis between Ukraine and Russia has shaken the geopolitical and economic world systems. Historically, every previous conflict has resulted in catastrophic loss of life that brought along human misery with irreversible economic devastation.
Even though the battle takes place between the two nations, its long-term effects are felt worldwide. The pandemic's negative impacts were still being felt throughout the globe, and this war just added up to the pile of crises, humanitarian and economic.
This holds true for western European IT companies that relied on nearshore. Usually, businesses from Germany, Italy, France, Spain, etc., would nearshore the IT services to eastern European countries like Ukraine, Poland, Latvia, Romania, and others.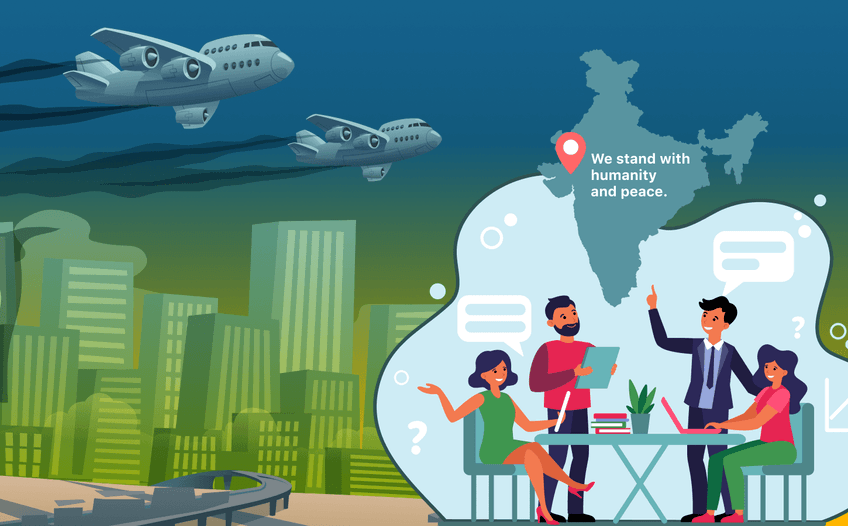 This was because of comparatively low-cost talent and similar time zones. But the ongoing war means that these western European countries would need to look elsewhere.
Consider this: Ukraine's IT services earned $6 billion in revenue in 2021 and aimed to reach $16 billion in 2025, which would have accounted for 10% of the country's GDP.
For now, these figures look distant as many companies shift their tangent from nearshore to offshore outsourcing. Here, India can make up for a preferred location, making it a safe haven for western European countries to hire Indian software developers.
Let us find out how and why!
The Current Impact
IT businesses in Ukraine were seen as a low-cost outsourcing destination for high-end value-added work like systems architecture, business analysis, and user experience design for most rich European nations.
This implies that the more than 240,000 IT professionals in the country are putting down their computers and taking up firearms to safeguard the country.
Here, we are speaking of talent that was once a part of creating global unicorn startups like Gitlab and Grammarly.
Ukraine was one of the top spots in Eastern Europe offering outsourcing for startups. It snatched the fifth spot in a global ranking of the best software developers and the second spot globally for Unity3D game developers and C++ engineers.
Currently, the country's dynamic tech clusters — in Kyiv, Lviv, Kharkiv and Dnipro — are all compromised.
Several businesses (with branches in Ukraine) are attempting to evacuate their staff and contractors from Ukraine to lessen the effect of the crisis. Most IT companies that hire dedicated developers in Ukraine are now navigating a way out of Ukraine.
Without Ukraine, the global IT talent gap is worsening in Europe, and the future is still uncertain. In this situation, India serves as an ideal option that provides an equally talented workforce at a lesser cost.
Since Indian IT companies are already contributing to US and UK markets, time zone differences won't cause a serious problem with rotational shifts in place.
Why Western European Companies Should Outsource to India?
India is home to several of the world's top IT businesses like Microsoft, Cisco, Amazon, IBM, etc. This means the country has enough talent to abide by the working standards.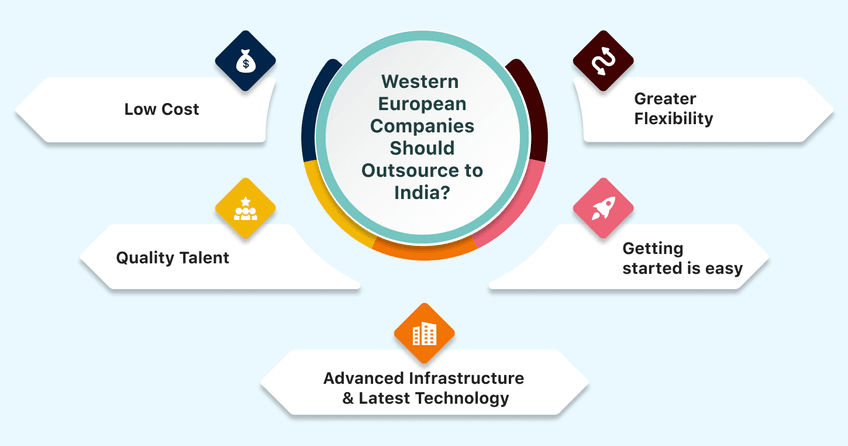 Moreover, many global IT projects formerly outsourced to Ukraine and other East European nations are expected to be transferred to India. It is one of the world's largest English-speaking countries, greater than the United States and the United Kingdom put together.
Companies seeking to outsource their work are drawn to the region because of the high quality of the labor pool.
Low Cost
The main reason for outsourcing (70%) is cost reduction. On average, a decent developer will cost around $60-150 an hour and employers also need to look for employee-centric benefits like health insurance and travel.
If a company chooses a recruitment agency, it will need to pay an extra amount. Almost 70% of businesses consider outsourcing to save costs. Employee-centric benefits like health insurance, vacation, and other allowance add up to the company expenses.
Outsourcing to India is cheaper as the cost of living is 66.2% cheaper than in Ukraine Therefore, the average developer wage in the country is much lower than in other nations.
Companies outsource their company to an Indian agency that gives them a committed workforce that works just like in-house personnel would work for the agencies in the EU nations.
As a result, it saves money on both up-front and ongoing expenses such as infrastructure, labor, and supplies.
Quality Talent
India is the world's second-most populous country with a sizable pool of youthful, technically proficient workers. According to C Sharp Corner, India will overtake the United States as the world's largest software development center by 2023.
It is expected that India's workforce will grow to over 110 million people over the next few decades. This makes European nations opt for quality talent in a highly competitive market.
NASSCOM suggests that 40% of India's workforce is anticipated to upgrade their abilities to match advanced requirements over the next five years. India is one of the countries with the biggest concentration of ISO-9000 certified businesses, ensuring that quality is never compromised.
As a result, outsourcing services in India provide a variety of advantages, with the primary focus on the quality of project delivery.
Advanced Infrastructure & Latest Technology
Usually, Indian IT businesses prioritize technology and infrastructure deployment. Since they are used to working with US-based software companies, their tools and technologies are always up-to-date.
Their approach also focuses on educating their employees on the latest technology.
Indian businesses engaging in IT outsourcing keep their staff at the top of their game by holding regular training sessions for their teams. This enables Indian companies to meet stringent requirements that suffice global standards.
Getting started is easy
Hiring an IT service provider in India is easier than in the other countries because of its ease of doing business, as it ranked 63rd compared to 70th of Ukraine (in 2020).
Higher 'rankings' would imply a lesser numerical value (rank) which defines simpler rules, better processes and ensures the safeguarding of property rights.
Therefore, you do not need to go through lengthy hiring formalities. You can agree on a job and price, sign the paperwork (NDA, Contract, etc.), and the work begins immediately.
Before you do market research, it is best to determine your specific outsourcing requirements. Take the time to go through the various Indian firms that provide the services you seek so that you may select the one that is most suited to your needs.
You can consider conducting a trial run to check if their resources are competent enough. Start with providing them with a modest assignment and check how effectively they handle it. If you're satisfied, go ahead assigning the complex tasks and define a reporting process.
Indian IT talents are easily accessible over any communication platform like Slack, Teams, etc. Leverage these tools to hold a virtual meeting program coupled with project management tools like Jira, Basecamp, Trello, etc., to keep track of the progress on projects. This will ensure that they stay on top of deadlines.
Greater Flexibility
Seasonal businesses like e-commerce have to adapt to shifting demands and increased competition by sizing up and down. Also, the uncertain times would require you to bring down or expand the scope of your project as well.
Outsourcing to Indian IT companies offer different types of outsourcing models, giving access to a large pool of resources that can handle great demands when the project's scope expands.
This means you need not spend money on hiring and terminating an in-house employee when thinking about growth.
The ability to scale the team size up and down as needed cost-effectively can swiftly help you expand your business. Flexibility is built into most Indian outsourcing contracts, including clauses allowing for changes in requirements and even contract termination.
Read More: Why Indian developers are the best option for outsourcing
Why Outsource with Peerbits?
Peerbits is a custom software development company that has been in the business since 2011 and includes experience in mobile app development. If you are looking to ride on over 10+ years of experience, you are right.
We are overcoming the challenges of today's technology-driven environment by providing custom engagement models to hire talent.
When you choose Peerbits as your outsourcing partner in India, you get the right value for money that works wonders for your business. Typically, you'd see an increase in cash flow and reduce the expenses with our talent at your disposal.
You can also check out our case studies to see how we help businesses unlock their true potential by offering the right technology, guidance, and skilled resources.
Our outsourcing services offer you to hire dedicated mobile app developers on iOS and Android, hire dedicated web app developers, flutter developers, and more.
Also, you benefit from our years of experience in working with clients from the USA, Canada, UK, and western European clients from France, Germany, Spain, and other countries. This means we are well aware of EU compliance and highly emphasize quality and data security.
We use a wide range of communication technologies, including email, audio and video conferencing, chat project management, and more, to help you stay connected with your offshore developers
Ultimately, we help you thrive on the power of robust collaboration with a dedicated offshore project manager who makes sure that our tasks are aligned with your objectives.
No matter the project's complexity, we have specific resources of distinctive skillset to move the needle.