India is becoming an emerging market for global software outsourcing. Increased demand for infrastructure and cloud services contributed to a huge share of the revenue of USD 191 Billion in 2020. We are recognized as the leading providers of software development solutions including Fintech, SaaS, and network security to the world.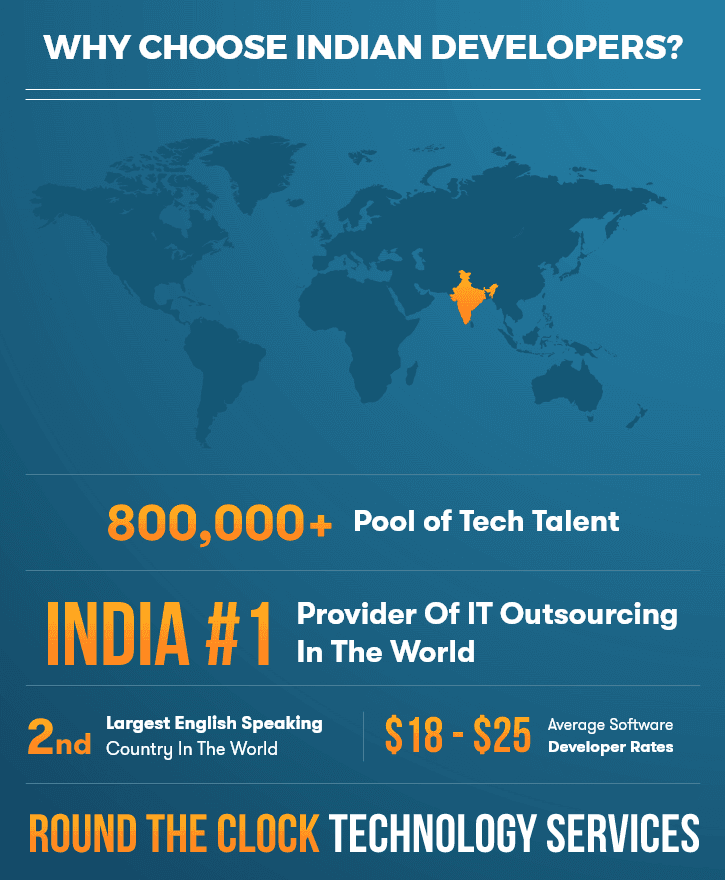 Over the last 5 years, India's tech industry has grown tremendously at the rate of 7.5% and is expected to grow at a much faster rate in the coming years. It is predicted that India's IT industry-generated revenue will surpass USD 300 Billion by 2025.
India's growing pool of Engineers, Software Developers, and IT Professionals are recognized globally for their creativity, problem-solving skills, solid expertise in various old and new technologies, high English proficiency levels, and most importantly, cost-effective services.
Cities like Bangalore, Pune, Noida, Delhi-NCR, and the recently developing Hyderabad have become hubs for tech giants like Microsoft, Facebook, Amazon, TCS, Infosys, Wipro, etc. India has emerged as one of the leading countries in the race of technologies and outsourcing developers and engineers to the world.
India is the largest provider of IT Outsourcing in the world
Among all the globally digital nations, India is the leading country providing 24×7 outsourcing services, and the latest technology and specialized IT and software solutions. Indian outsourcing serves Banking, Finance, Insurance, telecommunications, Manufacturing, Healthcare, etc.
India went from being an outsourcing service provider to a developer of innovative software solutions based on advanced technologies. Our services and talent are recognized all over the world. Apart from being a huge name in Asia itself, some of the major countries and regions working with our outsourcing solutions are the UK, USA, and Europe.
Among the top 10 countries to outsource software development, India stands first.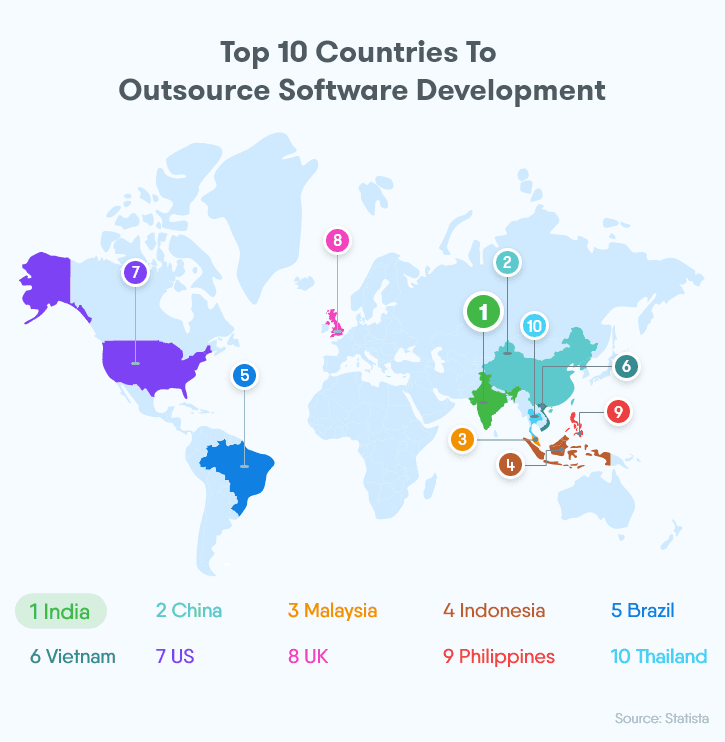 India will be ahead of the USA in Software Development by 2024
According to GILD, Indian programmers are better at Math and Logic when put to coding tests and rigorous exams compared to American programmers.
By 2024, India will have the world's largest developer base with a growth rate of 39%. India is skyrocketing in terms of the number of software developers and computer engineering graduates.
The USA will have 4.4 million software developers whereas India will have 5.2 million software developers by the start of 2024.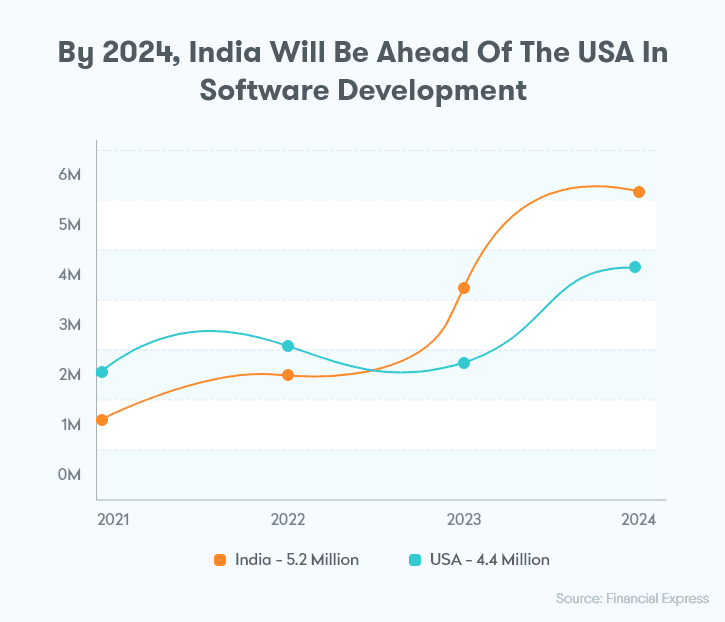 Core Technologies used by Indian Developers
India has a talent pool filled with skilled software developers in many relevant and core technologies such as Python, JavaScript, C/C++, and PHP.
According to the PYPL Index (PopularitY of Programming Languages Index), these are the top languages used by Indian Developers.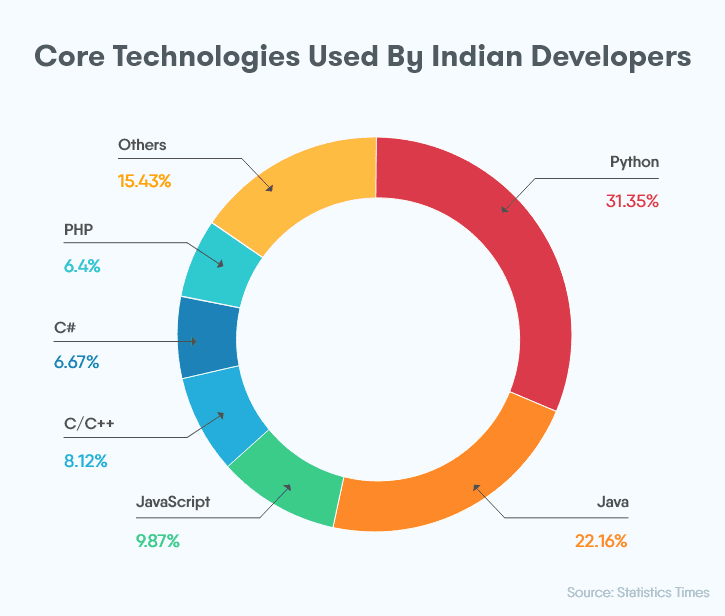 Python is one of India's most popular and widely used languages with a share of 31.35%. Meanwhile, Java is second which holds 22.16%. Other languages such as JavaScript, C/C++, C#, and PHP hold 9.87%, 8.12%, 6.67%, and 6.4% respectively. Other languages such as R, TypeScript, Kotlin, etc among others hold the remaining 15.43%.
Read more: Hire our skillset develoeprs across technology niches
India stands in the top 5 when it comes to developers using the most popular languages. Our developers are not only proficient in these languages, but also use them because of the popularity and the novelty of these in-trend languages.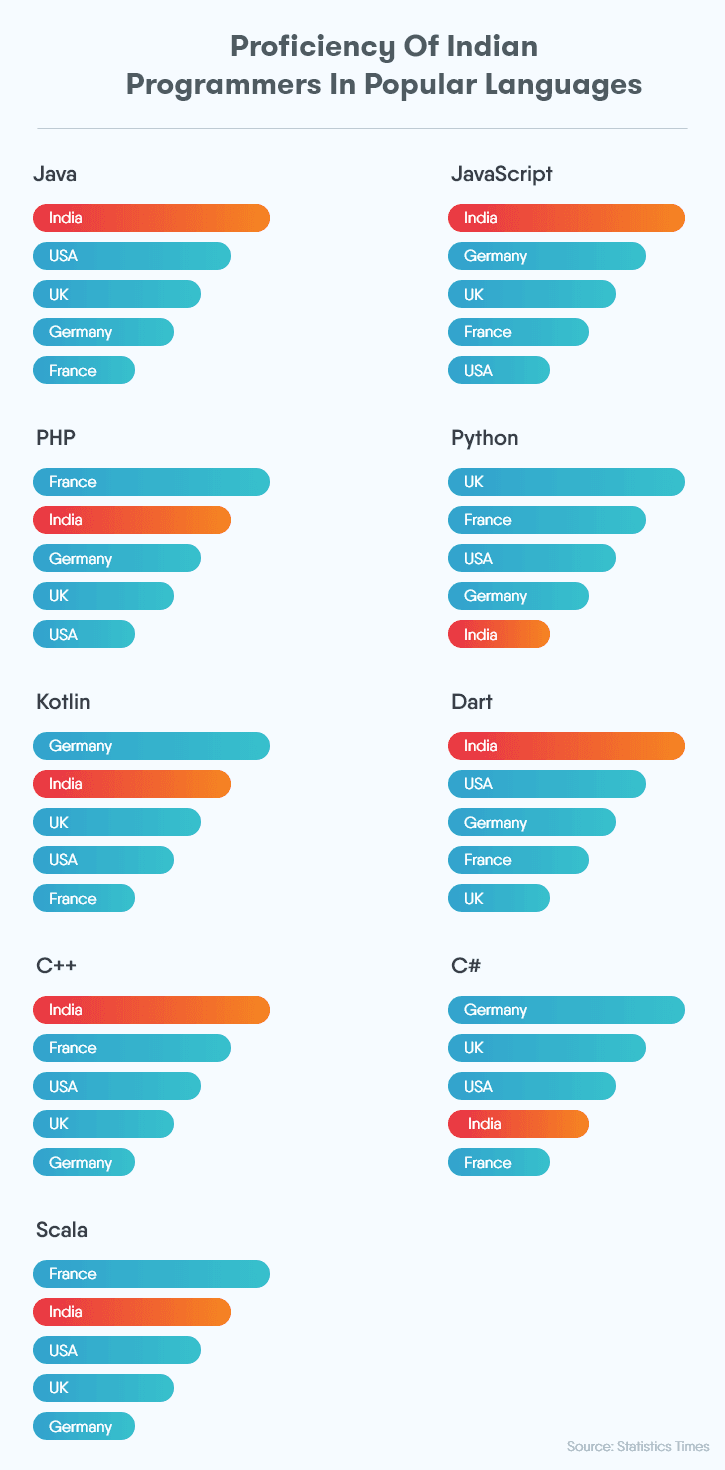 Mobile development trends in India (iOS, Android, Cross-Platform)
Developers in India are proficient in all kinds of software development with a diverse range of skills in all frameworks, languages, and technologies, specifically, cross-platform development.
Currently, native development is there in the industry with Android and iOS ruling the market. But, cross-platform development is taking the lead slowly. With React Native and Flutter, more and more development projects are getting diverted towards a cross-platform approach.
Some of the major apps like Facebook, Instagram, Coinbase, Discord, Pinterest, Myntra, Shopify, Flipkart, Walmart, Salesforce, etc were made of React Native.
Even on Flutter, major apps such as Google Assistant, Google Ads, Alibaba, Hamilton, Reflectly, Watermaniac, etc. were developed.
Indian Software Developers are proficient in not just native but cross-platform web and mobile application development.

India is the 2nd most promising source of Global Innovation
While the USA maintains the top spot yet again, India is right behind with the second position for being the country with the most promising source of Global Innovation. One of the major contributors to this is the city of Bengaluru, our very own Silicon Valley.
Bengaluru is now among the top 10 cities in the world to be the technology innovation hub. It is in line with Singapore, London, Tel Aviv, Tokyo, New York, Shanghai, Beijing, and Seoul that were ranked as the top eight cities with Bengaluru being 9th.
Indian outsourcing services are very cost-effective
This is one of the biggest advantages that is provided by India to the outsourcing industry. The IT spend of companies can be decreased by about 20% to 30% by offshoring their custom software development needs to India.
Bangalore which is considered the most expensive IT hub of India is still 140% cheaper than the cost of living in California. Consider, that if the most expensive city here is still cheaper compared to your big IT hubs, what if you were to outsource to other cities such as Ahmedabad, Pune, Hyderabad, Noida, etc.
India provides a lot of transparency to its clients and there are never hidden charges for the clients. All the programmers and developers are very well trained and constantly keep on learning to enhance and upskill themselves.
India's average hourly rate of software developers is low and cheaper compared to other countries.
India's rates compared with Asian Countries
Let us take a look at the software developers' hourly rates in India compared to that of the other Asian countries.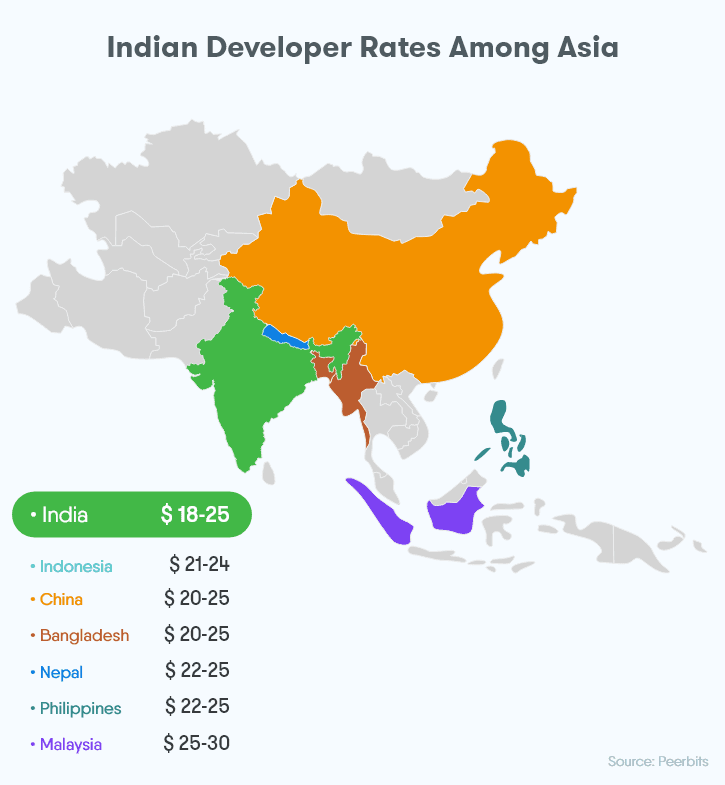 India has the lowest hourly average rates of developers in all of Asia which is $ 18-25 whereas one of the giants, China has $ 20-25. Even The Philippines has $ 22-25 which is above the rates of China.
Read more: A Guide to Offshore Developer Rates
India's rates compared with Eastern Europe
Let us take a look at the software developers' hourly rates in India compared to that of the Eastern European countries.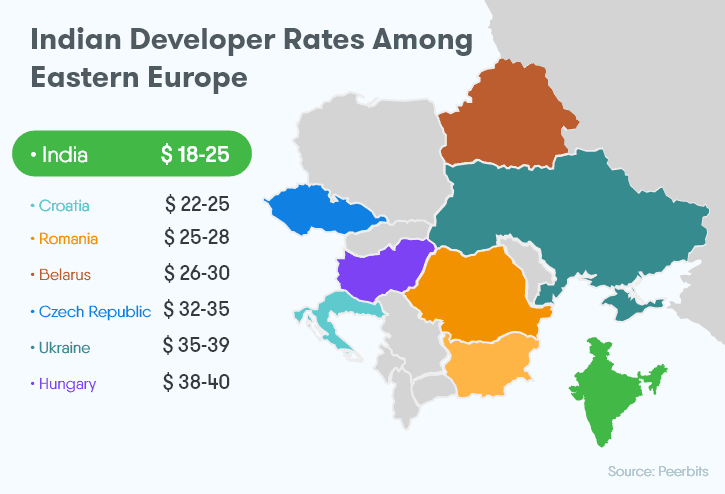 Compared to Eastern Europe where the rates start at around $25-30 an hour on average, India is the lowest again. Even Ukraine which is supposed to be a hub for outsourcing in Europe has hourly rates of $ 35-39.
India's rates compared with Latin America
Let us take a look at the software developers' hourly rates in India compared to that of the Latin American countries.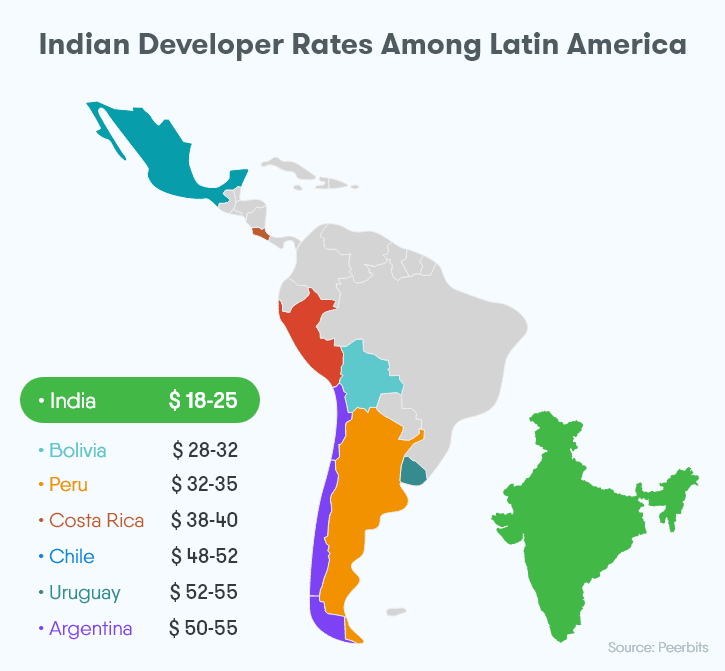 Compared to Latin America where the rates start at around $35-40 an hour on average, India is the lowest even here.
Best quality providers in the world
Indian developers are cost-effective, but what they offer the best is their quality work. India holds the first position in providing custom software development. Having the highest number of companies that are ISO certified, India is always focused on good quality services and timely delivery.
The process followed by Indian Software Developers that they use to ensure quality work is: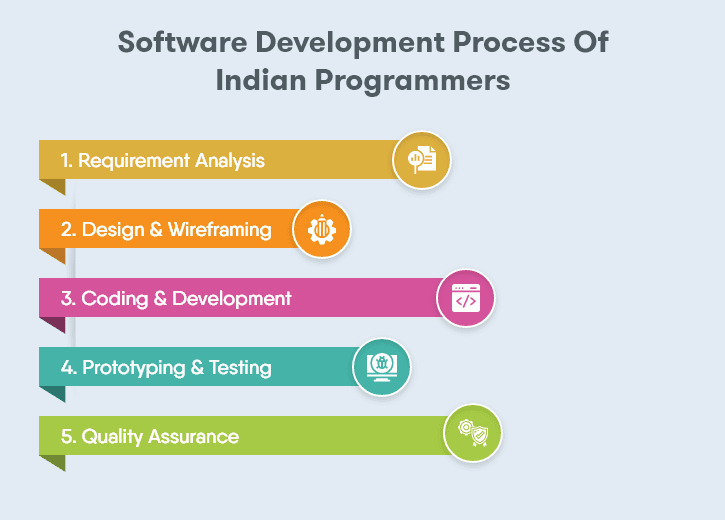 The development process goes through testing and bug fixes even before the project is delivered to the client, thus the good quality of deliverables is always maintained.
India does not require time-zone adjustment
Indian software developers are known to be providing services round the clock. This pattern boosts productivity and ensures that there are quality and on-time deliverables.
Compared to Europe and the USA, where they have it difficult to tackle time differences due to there being only a few hours of the time difference, it is easier for Indian programmers to communicate with and work in a different time zone.
If you have an in-house team of developers and hire a software development company, you will be at the advantage of being live 24×7. Let us say, you have a software development team in-house, you get to complete your project during your regular work hours. But, if you outsource your work for quicker delivery of your projects to Indian developers, you will get good quality and timely delivery of your project.
India is the second-largest English speaking country in the world
After the USA, India is the Second-largest English-speaking country in the world.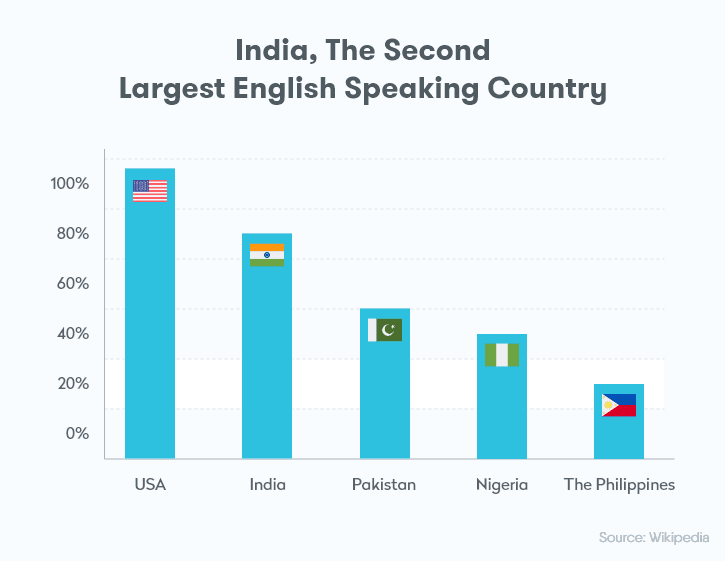 As mentioned before, Indian entrepreneurs and Indian IT companies have already adopted a global mindset where language is no longer a barrier for Indian outsourcing developers.
The best programmers and developers here are demanded in this line of work. Geographical or cultural challenges are no longer there as there is a higher adoption rate to the client's needs.
Indians stressing a lot about education in the English language is also one of the plus points here as that would mean that the future developers and programmers are also going to be well prepared.
Indian entrepreneurs work with a global mindset
Indian Tech Companies follow a western business model and a western business culture. The programmers are diligent and eager to solve problems, bring innovation, and personally get involved in facilitating success for the firm.
There is no strict adherence to hierarchy and the developers have a certain sense of freedom and independence for their work. The majority of the firms have their offices present in the UK, the USA, and Europe.
Information access has brought about a global mindset among the up-and-coming startup companies and entrepreneurs. There is also a global flow of capital continuing year after year in the name of FDI.
This has been one of the major contributing factors to setting a westernized, globalized culture among the minds of Indian entrepreneurs and developers.
India's software and IT industry is growing at a very fast pace
The software industry in India has seen a 10% growth over the past 5 years and is expected to grow 7.5% even more in the next 5 years. The industry is primarily being led by digital services which hold a 30% revenue share. There will be accelerating investments in talent reskilling and development of areas such as SAS Ecosystem, Cybersecurity, Data, Artificial Intelligence, 5G, IoT, product engineering, etc.
A total of 17 Indian companies including Infosys, TCS, HDFC, etc have been named in the list of Best Regarded Companies by Forbes. IT giant Infosys has been ranked third in this list. Another Indian company in the Top 50 in the world was TCS.
India has the highest number of Engineering Graduates in the world
Being the second most populated country in the world, India also has the highest number of Engineering graduates in the world. Across different streams such as Mechanical, Computer Science, Electronics, Civil, and Electrical, there have been over 350,000 new enrollments each year and counting.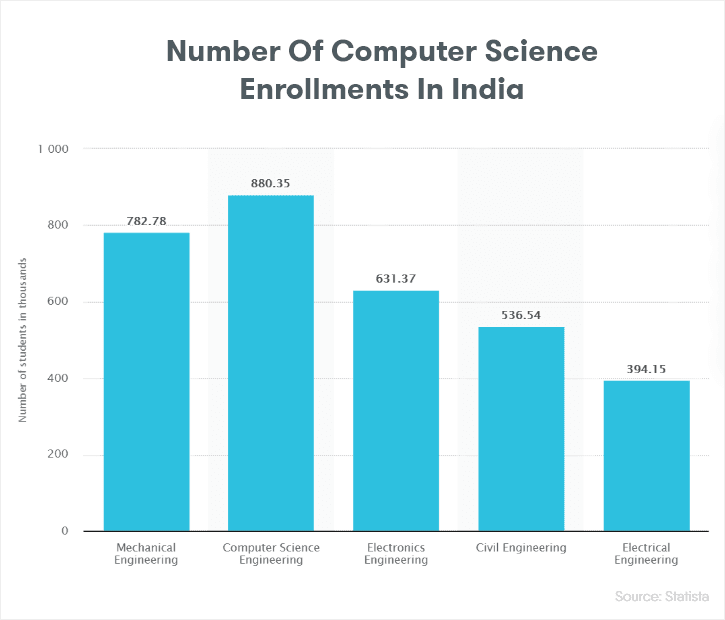 Out of all of the fresh graduates from last year, the highest number of graduates are in Computer Science Engineering. We have huge manpower to offer for all the software and IT-related jobs and solution requirements.
India also has some of the best Institutions in the world for learning Computer Science and Technology. One of them being the chain of IITs across the country that provide some of the most quality education in engineering. Even students from around the world try to apply and get admission in IITs for studying IT and its related programs.
India is the number 1 destination of employment in the IT industry
From the financial year 2011 to the year 2020, the past entire decade in India has seen tremendous growth in employment opportunities.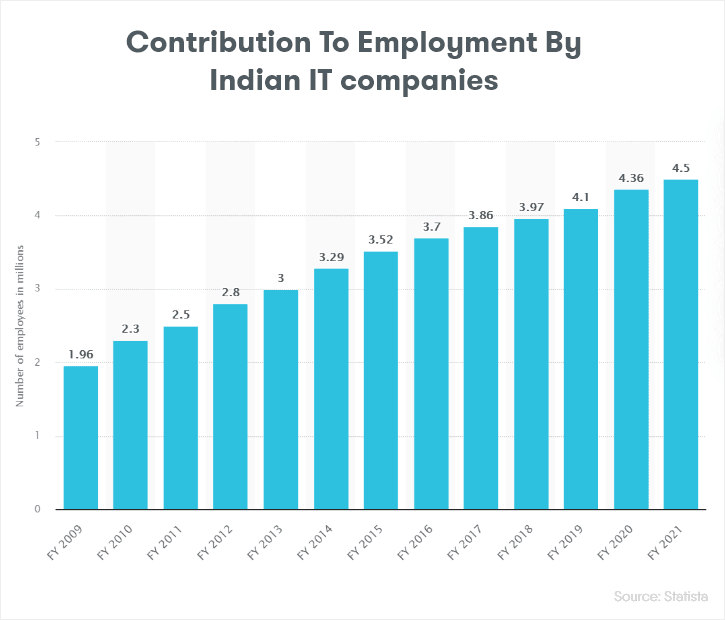 The Indian information technology and business process management industry had over 4 million employed personnel during FY2020. India is the largest offshoring destination for IT Companies across the globe for this very reason among many.
The sector has not only generated 4 million jobs but provided indirect employment of 10 million. TCS alone has generated over 4 lakh jobs with Infosys right behind at 2 lakh jobs in the FY 2020.
India has also attracted a cumulative Foreign Direct Investment (FDI) inflow worth $ 44.91 Billion in just the first half of 2020.

Indian programmers are some of the most reputed creative problem solvers
India has the advantage of Youth, Experienced Veterans, Programmers in tech giants across the world, and now the new educational reforms.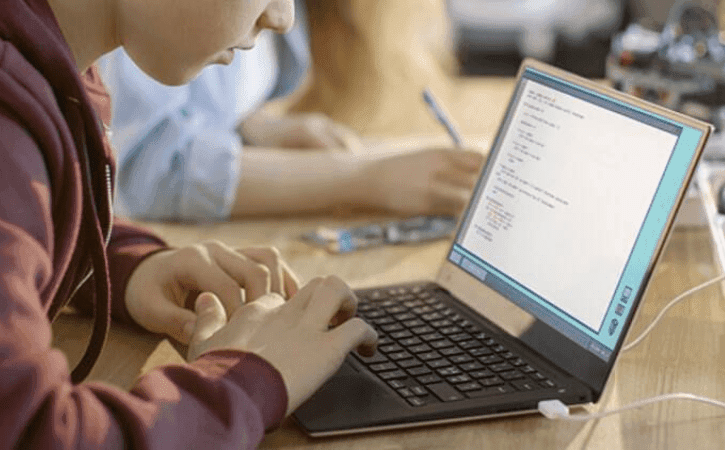 The youth population of India has surpassed over 200 million which is according to the Census conducted in 2011. 34% of the population share is of the youth from the age group of 18-35.
Out of these, over 800,000 students are enrolling in Computer Science Engineering programs across the institutes in the country every year. These are just students who study in their home country.
Every year, over 100,000 CS graduates migrate to different countries to study post-graduation and join different tech companies as developers and programmers.
Indian origin leaders in the tech world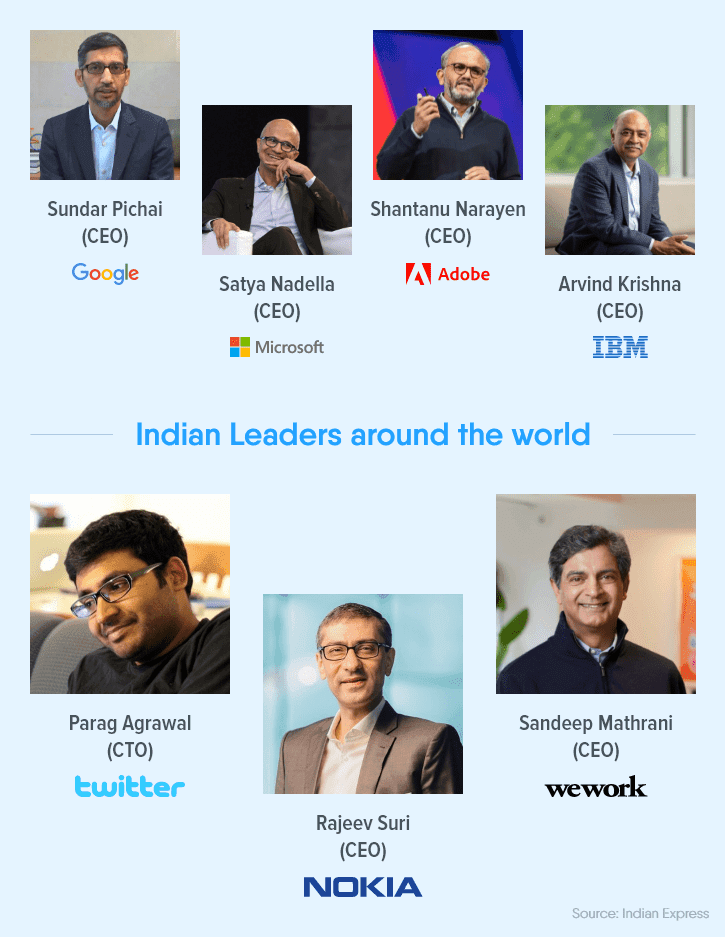 India has always played a very important role in global technological reforms for decades. Major IT companies of the world are led by Indian-origin leaders.
New educational reforms in India
India approved a new Educational Policy in July 2020 which focuses on providing quality education with freedom of choice of subjects to the students from a very young age. Primary kids will learn subjects they select and the ones that are taught later on in their secondary education.
One of the best instances is WhiteHatJr, the online learning platform for coding for Kids. Byjus's acquired WhiteHatJr and is now one of the largest online learning platforms for kids in India. Children learning coding from the age of 5 have a huge scope of increased developer base for India in the future.
India has a diverse and unique work culture
India has a diverse offering of programmers that specialize in technologies such Machine Learning, DevOps, IoT, BigData, Artificial Intelligence, Blockchain, CyberSecurity, etc.
This is all thanks to the vast youth population out of which every year, there are over 800,000 Computer Science graduates. They have a variety of offerings that any type of requirements can be fulfilled.
40 working hours a week and holidays with paid time off
The majority of Indian software developers spend over 40 to 50 hours a week at work. There are only 14 publicly observed holidays in a year compared to that of the USA and Europe going over 19 which makes it advantageous for their requirements.
Conclusion
Outsourcing is a huge industry that is emerging with a lot of scope in today's digital world. It is essential to choose the right development team for your business' software needs with new technologies and innovation.
Rather than having an in-house team, it is much more cost-effective for businesses and specifically small businesses or startups to outsource their projects to India.
Interested in outsourcing your software development needs with India then just contact us here.