About
Category
Delivery Services ,
The main aim of the app is to optimize communication and data sharing across their extensive network, facilitating a seamless experience for all parties (drivers, customers and stakeholders) involved. The app has played an important role in this journey by fostering centralized communication among our drivers, dispatchers, location managers, yards, terminals, customers, and regulating agencies.
All the processes were manual and we had to align drivers through the phone.

All the documents needed to be maintained as they were available in hard copies.

Vehicle maintenance charges were not properly calculated and they did not know the actual results.

Need to constantly keep track of each driver manually to match the payment terms.
We created a platform where drivers can join, including new registrations who are willing to serve and get paid.

Admin can upload the documents related to delivery, so the driver doesn't need to carry physical documents related to shipment.

In case of breakdown or maintenance, the driver needs to upload the e-report so that admin can get an exact idea about the problem of the vehicle and also the cost of it.

We added a payroll system for drivers to ensure transparency between both the parties.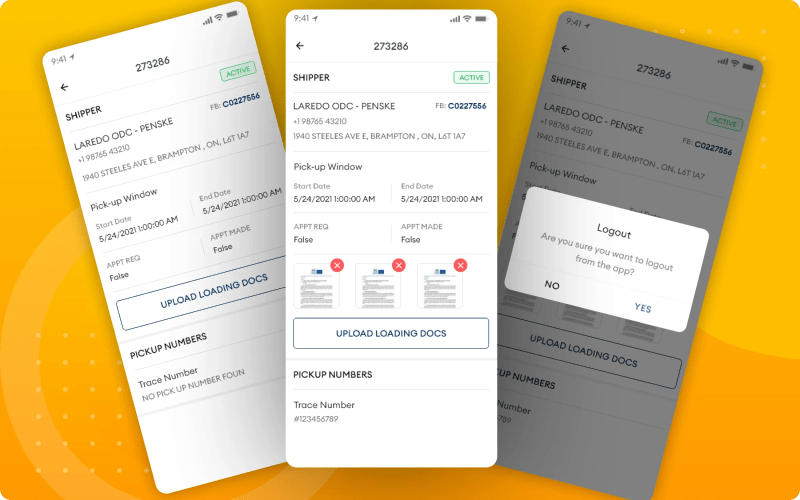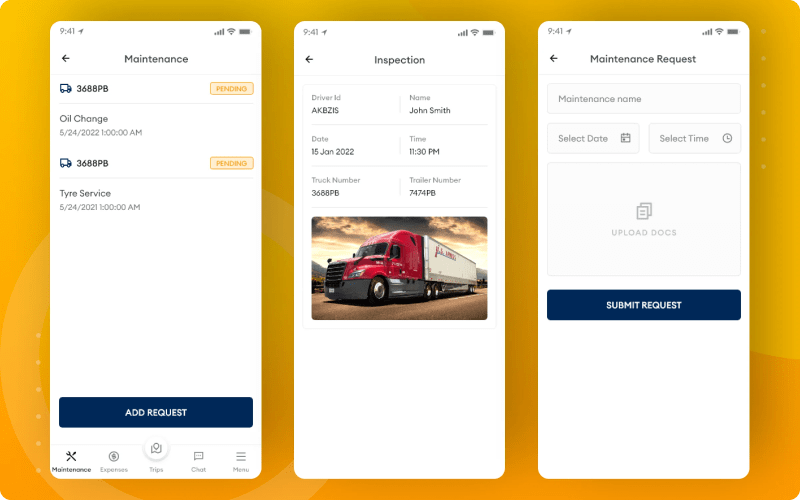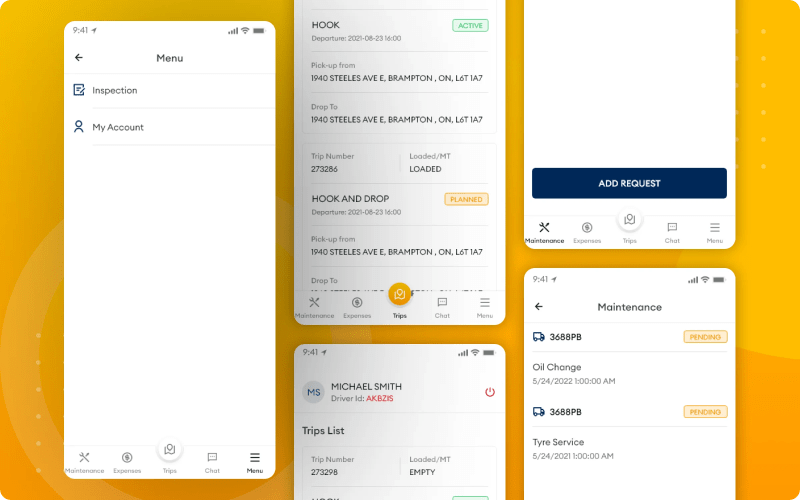 Improved efficiency

Real-time communication

Improved driver experience
Digital Trip Management : Digital Trip Management is a pivotal app feature that equips drivers with tools for optimizing trip planning and execution, resulting in more efficient logistics workflows. By offering route optimization and real-time tracking, it enhances driver productivity and ensures timely deliveries.

Document Capturing : The Document Capture feature streamlines document management, enhancing operational efficiency by simplifying the storage and retrieval of essential documents. It ensures quick access to critical information, reducing administrative burdens.

Driver Payroll : The feature simplifies and automates payroll procedures, resulting in more efficient financial management for your operations. It ensures accurate and timely compensation for drivers, reducing administrative complexities.

Trip Navigation : Trip Navigation empowers drivers with seamless route navigation, optimizing their journeys for timely and efficient on-time deliveries.

Real-time Messaging : It facilitates instant communication between drivers and operations, promoting seamless communication and efficient logistics management. - Chat.

Electronic DVIR (Driver Vehicle Inspection Report) : This feature simplifies and streamlines vehicle inspection reporting, ensuring compliance with regulatory requirements and facilitating streamlined adherence to the standards in the United States.
Programming language
React Native
Database
AsyncStorage With Redux
Have a look at
Our
success stories
Over the years, Peerbits have delivered several customized solutions to their clients across the globe. You can get a closer look at few of such success stories here.