About
Leazzer lets you rent a variety of items of domestic and commercial needs listed on app. It could be miniscule piece of furniture, a provisional car or kitchenware to manage sudden rush of guest. Conversely, when you have too many items to house list those items on the app and earn some extra bucks. Leazzer is open to businesses too. Office can rent surplus furniture or equipment to offices with shortage.
Expertise Delivered
Industry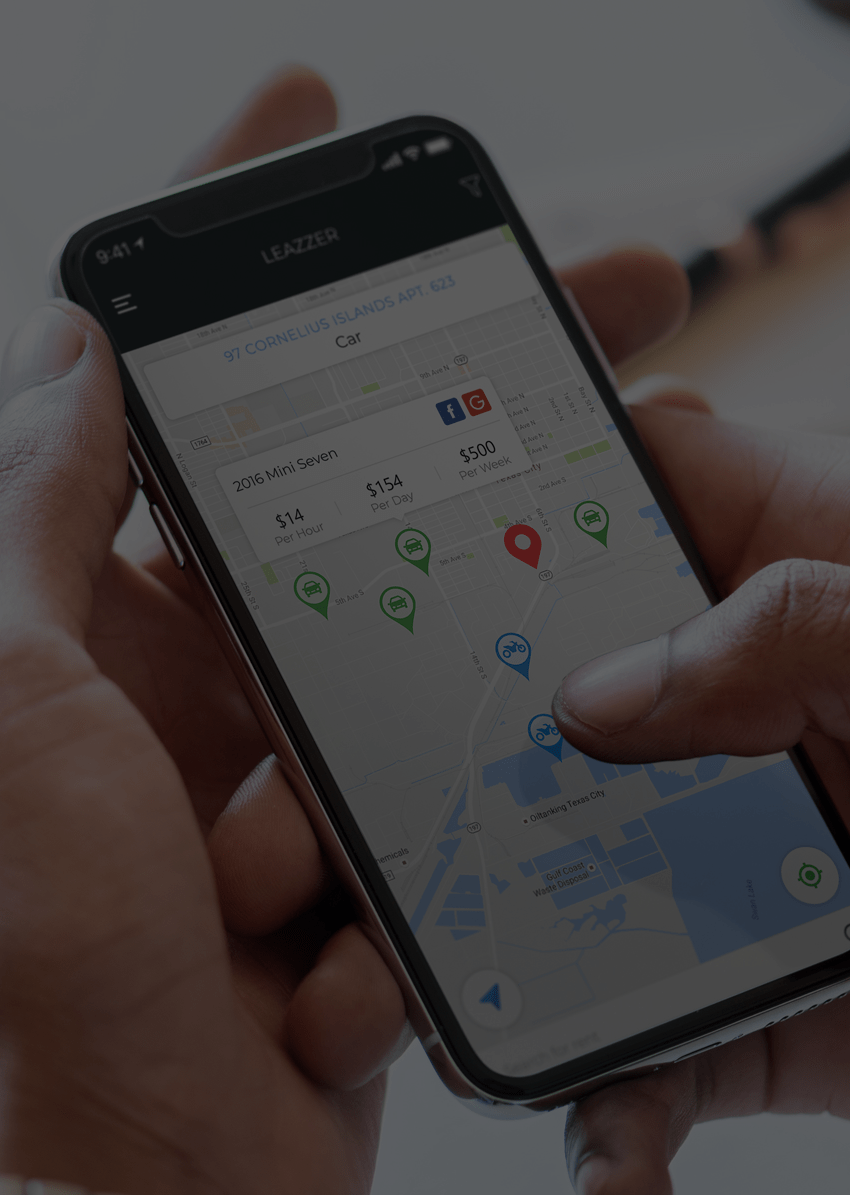 A key challenge remained calculating deposit that a person renting an item has to pay and refunding the deposit once the rent period is over.
The app required a person to select the period for which he wants to rent an item. Upon the expiration of that period, the app must end the rent and release the item.
Moreover, implementation of Points Management System and drafting Cancellation Policy for unlike rental scenarios remained a persistent challenge throughout the project.
To make sure the right deposit amount is collected and refunded without delay, we used Stripe Payment Gateway's auth and capture mechanism for capturing and refunding the deposit amount post completion of rental transactions
To make sure the app works as expected and ends the rent, releases the item upon rent expiry, refunds the deposit on time to the renter, we included a batch job to auto end the rent post rent period.
To ascertain Points Management System and Cancellation Policy are in place regardless of the scenario, we used complex logic implementation through custom APIs. We rebuilt the entire Points Management System Engine over custom APIs from scratch.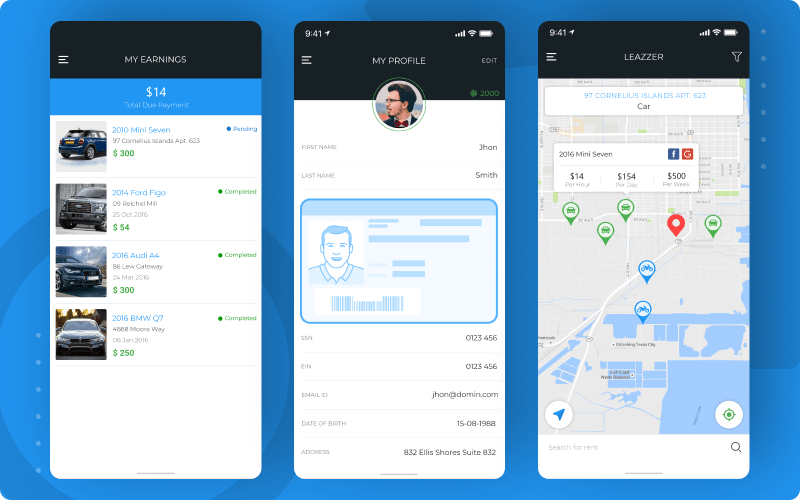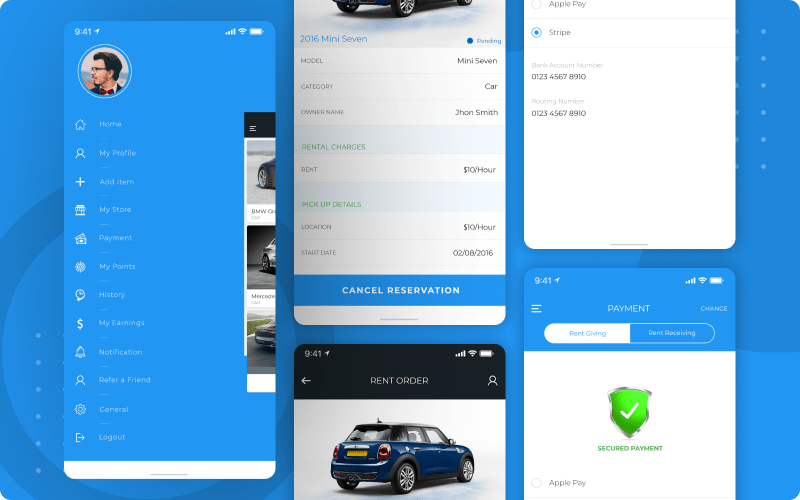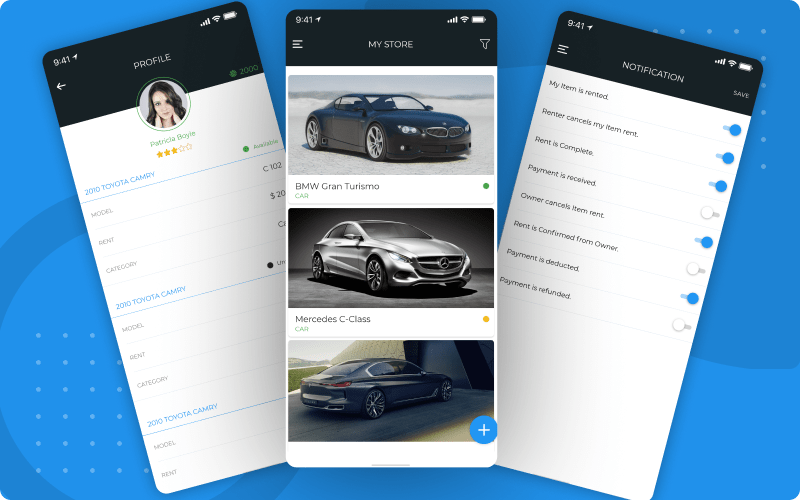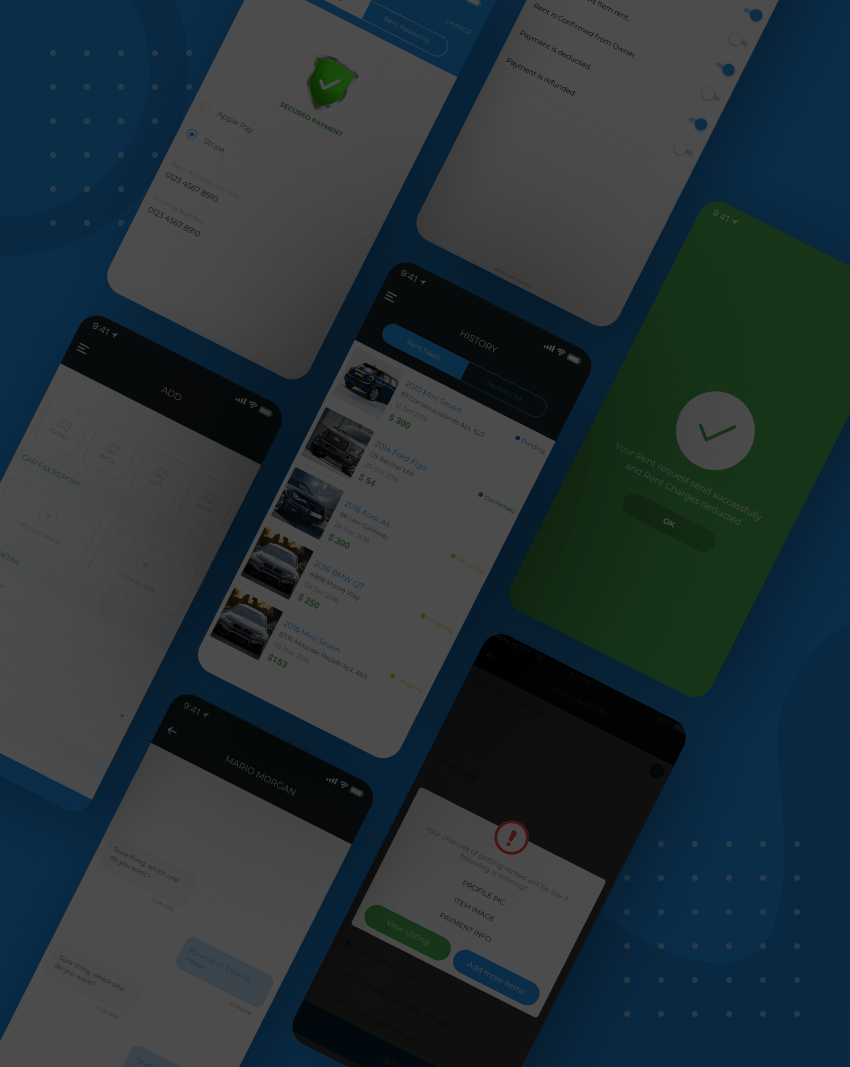 User Profile
'My Profile' is the place where a user can check and edit his personal details like First Name, Last Name, email etc.
Rent Store
'My Store' is the place to check items you have put on rent. You can filter those items to category, price point, product, location etc.
Earnings
'My Earnings' shows total earning a user earned from putting his items on rent. He can also check which of his items are on rent, which are up for.
Easy Payment
Users can choose what they want to rent, from where, for what time and enter a promo code and proceed to pay. They can also use point you accumulated as payment.
History of rents
A user can learn what he has taken as rent in the past. What he is holding up as rent and which item his has confirmed and will rent soon.
Customize rent
A app user can choose rent price, availability, and put any comment when listing an item on Leazzer for rent.
Technology stack
Wireframe tool
Just in Mind
Backend development
Python
Have a look at
Our
success stories
Over the years, Peerbits have delivered several customized solutions to their clients across the globe. You can get a closer look at few of such success stories here.